Summer is finally here, which means that my girls will be heading straight for the junk food in the pantry. This time I promised myself that I would be better at making sure they get a healthier snack, which is why I created this amazing list of 50 Easy Prep Kid Snack Ideas + Printable list to go along with it!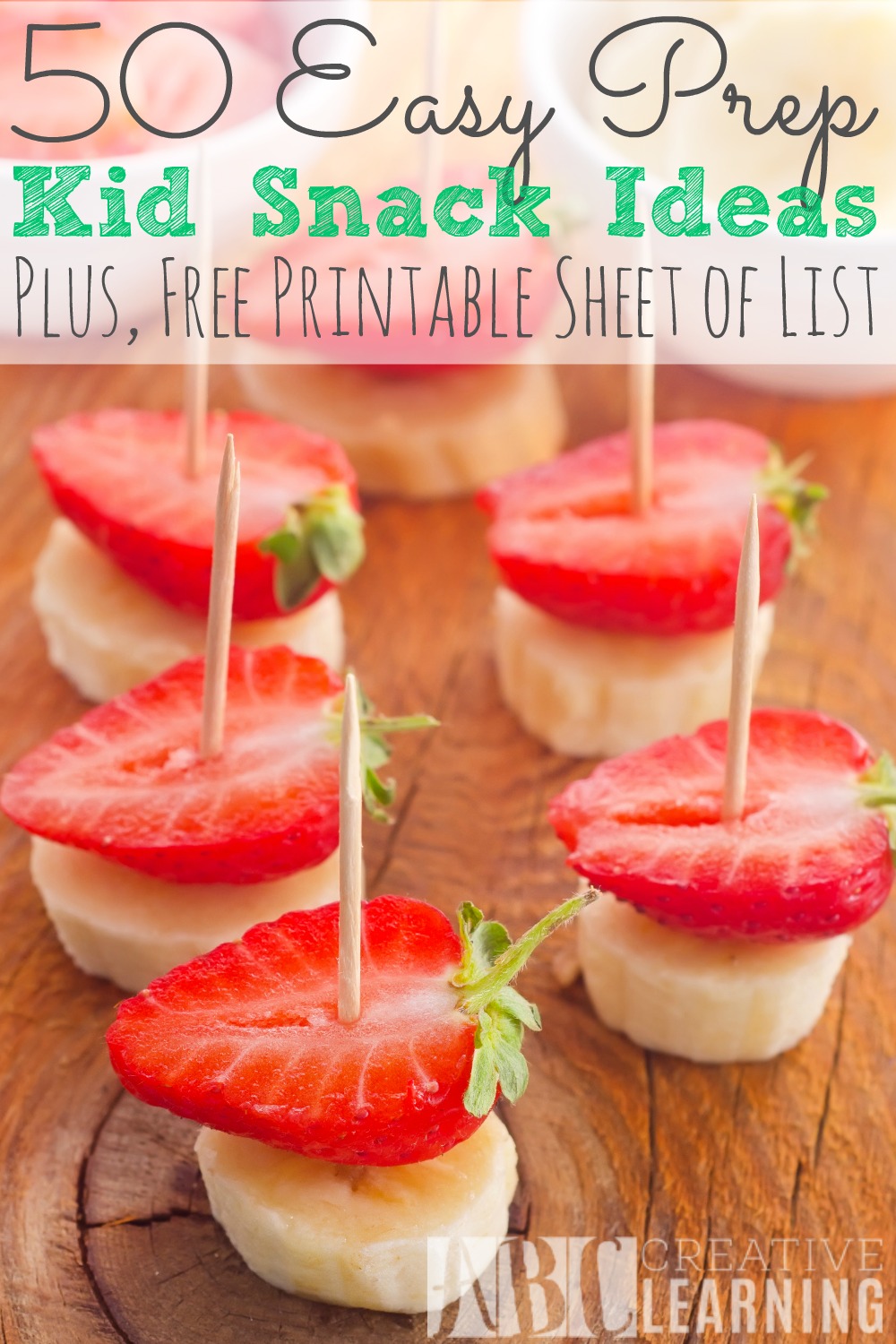 50 Easy Prep Kid Snack Ideas + Printable
Providing healthy snacks for kids doesn't have to be hard! We as parents just need to be prepared ahead of time to make sure we are offering them the best snack possible. To help you get started here is a list of 50 easy prep kid snacks that my girls love.
50 Easy Prep Kid Snacks List:
1. Sunbutter Covered Banana
2. Carrot Sticks w/Ranch Dressing
3. Cheese Stick Wrapped in Turkey
4. Frozen Yogurt Pops
5. Bread Slice w/Banana & Raisins
6. Nutella Banana Sushi
7. Frozen Yogurt Blueberries
8. Apples Slices w/Sunbutter Dip
9. Cucumber Hummus Sandwich
10. Yogurt Frozen Treat
11. Fruit Salsa w/Cinnamon Chips
12. Apple Slices w/Caramel Dip
13. Yogurt Strawberry Bark
14. Fruit & Cereal Parfait
15. Saltine Crackers Cheese Sandwich
16. Hummus & Pita Chips
17. French Toast Roll-Ups
18. Pan Fried Cinnamon Bananas
19. Ritz Cracker & Cream Cheese
20. Chocolate Banana Pop
21. Sunbutter & Jelly Roll
22. Banana Nutella Frozen Treat
23. Baggie Ice Cream
24. Graham Strawberry Cheese Cake
25. Ham & Cheese Kabobs
26. Chocolate Crescent
27. Cinnamon Sugar Donuts
28. Trail Mix
29. Frozen Grapes
30. Fruits w/ Fruit Dip
31. Edamame
32. Apple Cinnamon Chips
33. Cucumber Sandwiches
34. Parmesan Green Beans
35. Panko Cheese Sticks
36. Apple Raisin Sandwich
37. S'mores Cone
38. Chocolate Kiwi Pop
39. Fruit Smoothie
40. Frozen Pineapple Pops
41. S'mores Trail Mix
42. Fruit Cone
43. Sunbutter Oat Balls
44. Mozzarella Egg Roll
45. Banana Chips
46. Creamy Orange Smoothie
47. Carrot Chips
48. Chips & Salsa
49. Homemade Fruit Roll Up
50. Cheese & Crackers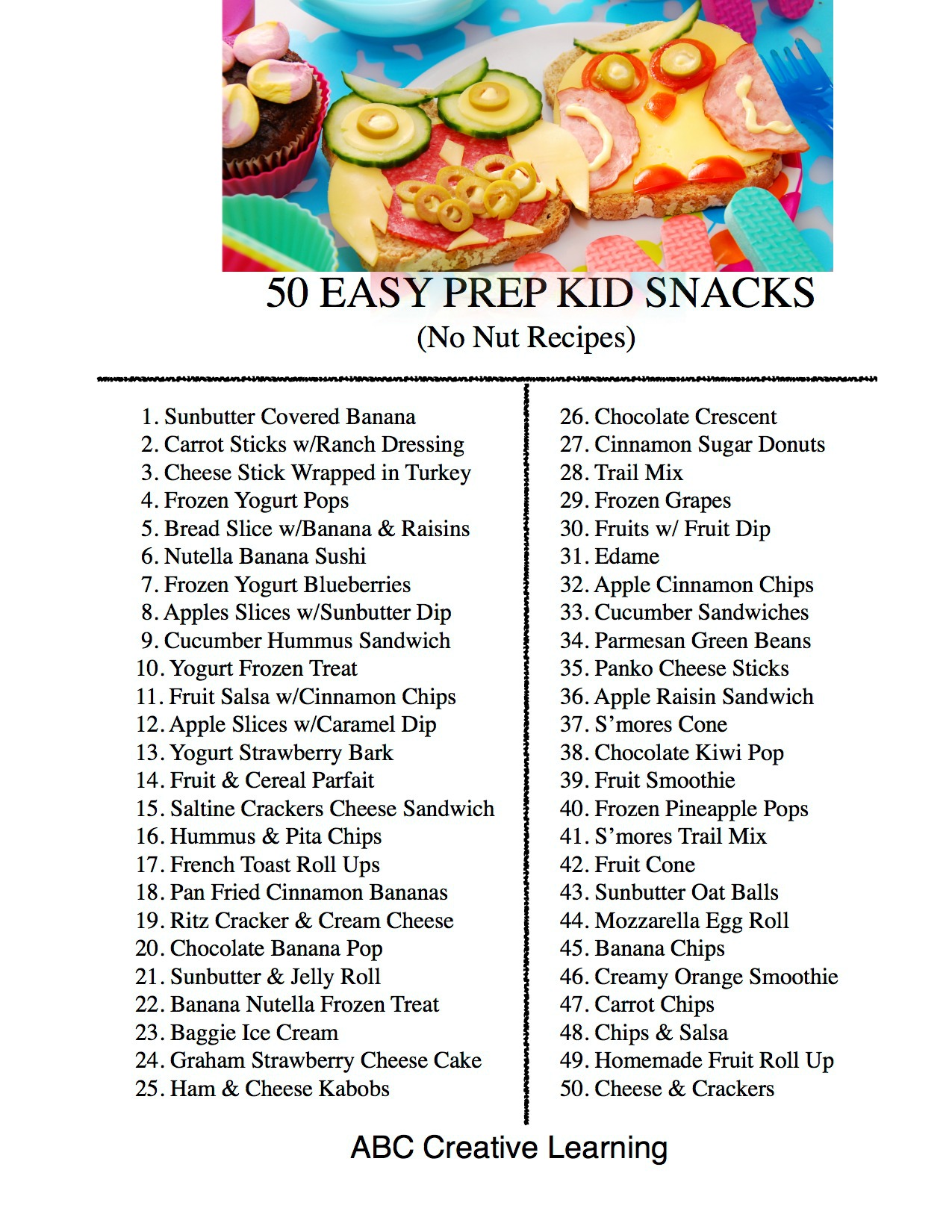 You may have noticed that we do not use nuts in any of our recipes, instead, we use Sunbutter (soy based) protein, but you can easily use regular peanut butter in any of the recipes.
I hope this free printable makes it easy for you to provide a healthier snack time for your kiddos this summer.
Your Are Also Going To Love:
If you loved this list of 50 Easy Prep Kid Snacks, then you will also love the following kid-friendly recipes I have put together for you:
What is the one healthy snack your kids can't have enough of?