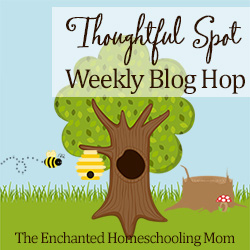 It's been a busy few weeks homeschooling, crafting, and enjoying the holiday activities around town!  We finally got a chance to visit Universal Studios this week to check out Grinchmas and the Macy's Parade, which by the way was absolutely FANTASTIC!  We are going to try and visit one more time before all the local kiddos are out of school 🙂  Will you be homeschooling during the holidays or is everyone taking a well deserved break?  We will continue to homeschool and just take a few days off here and there.  We started our new curriculum so I don't want to fall too far behind.  I want to wish you all a wonderful Holiday and a Very Merry Christmas from my family to yours!
A Thoughtful Spot is a place for you to share your amazing family friendly posts, arts & crafts, educational ideas, recipes, and anything fun you can think of!  This Blog Hop is inspired by the one and only Winnie the Pooh character in the classic A.A. Milne children storybooks.  Brought to you each week by Enchanted Homeschooling Mom, Something 2 Offer, Ironic Adventures, Me and Marie Learning, Montessori Nature, and ABC Creative Learning.
We do hope that you will visit our neck of the magical woods every week and take a quick rest by the tree on the tree stump while you read everyone's blog posts that they have so thoughtfully shared with all of us. The posts are presented below in no particular order except that the number one bee always gets here first because it is powered by the most "clicks."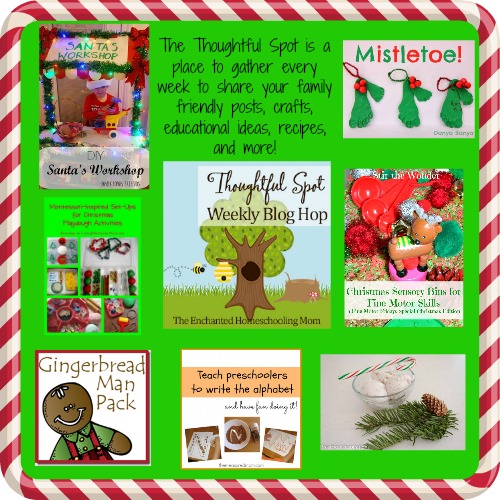 Here are some of my favorites from last weeks link up!  Make sure to stop by and check them out 🙂

by: Homegrown Friends

Christmas Sensory Bins for Fine Motor Skills
by: Stir in the Wonder

Gingerbread ABC Matching Cards
by: Royal Baloo

Montessori-Inspired Set-Ups for Christmas Playdough  Activities
by: Living Montessori Now

by: Danya Banya

Teach Preschoolers to write the alphabet – Letter N
by: the measured mom

Candy Cane Ice Cream
by: Preschool Inspirations
Here at the Thoughtful Spot Weekly Blog Hop we know how hard everyone works to make the holidays special for their families. As we work hard for our families sometimes we tend to forget about a little time for ourselves here and there. To help make those times we can steal ourselves away for a few quiet moments we would like to offer everyone the opportunity to win a $30 gift certificate to Bath and Body Works. Hopefully you can pamper yourself a little or make that quick quiet moment that much more relaxing after make the holidays special for your loved ones.
The winner will be randomly picked by Rafflecopter and will be notified by Enchanted Homeschooling Mom via email and posted here. This giveaway is open to all people ages 18 and over with an active USA address for delivery (United States Domestic and APO/FPO/DPO as designated by the USPS) of the prize. This giveaway is in no way associated with Facebook, Twitter, Pinterest or any other entity unless otherwise specified.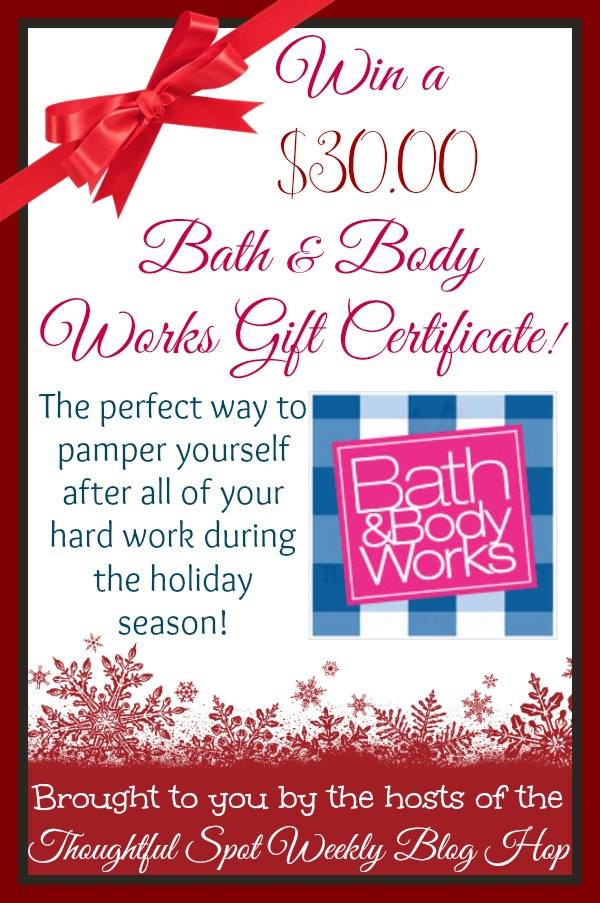 a Rafflecopter giveaway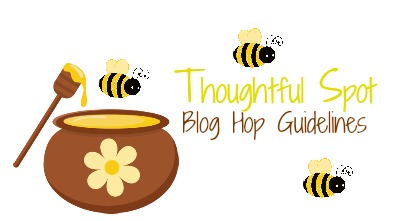 Welcome to the weekly Thoughtful Spot blog hop! Please make sure to link directly to your post (not your main blog page) so we can all find the thoughtful post you want to share. Each week I will select someone's blog link up that my readers "clicked" with the most and share some of my favorite posts that were linked up both in this blog hop! Please be thoughtful and if you link up visit at least 2 other bloggers who have linked up this week. Thank you!
Please make sure to display the Thoughtful Spot Weekly Blog Hop button on your blog post, sidebar or tabs. Were you featured on my Thoughtful Spot Weekly Blog Hop? Congratulations! Grab a featured button to proudly display on your blog or website.
A thoughtful spot to gather every week to share your family friendly posts, crafts, educational ideas, recipes, and more! Inspired by the philosophy of the Winnie the Pooh character in the classic A.A. Milne storybooks for children.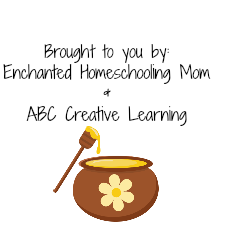 Here is our Pinterest Board so that we can help spread the word on the blog's that have had featured posts on my Thoughtful Spot Weekly Blog Hop. Make sure to stop by and check it out HERE. Please link up your "thoughtful spot" blog posts below:
*By linking up to the Thoughtful Spot Weekly Blog Hop, you are granting Enchanted Homeschooling Mom permission to use and/or re-post photographs from your blog or website post that you linked up to this blog hop for purpose of use for this blog hop.
Clip art used in this blog hop by:
http://www.etsy.com/au/shop/blackleafdesign
http://www.etsy.com/au/shop/pixelpaperprints
Thank you for stopping by, linking up, and for visiting these amazing blogs!  See you next week!