I attended an early screening of The BFG. As always, all opinions are my own.
When I think of Roald Dahl, imagination is the first thing to cross my mind. HIs wonderfully written The BFG had been loved by many for many years and to see an artistic director such as Steven Spielberg take on such an incredible task, really just mades you go beyond what imagination can really create! Check out The BFG Review: A Gigantic Adventure, that both myself and my daughters truly enjoyed.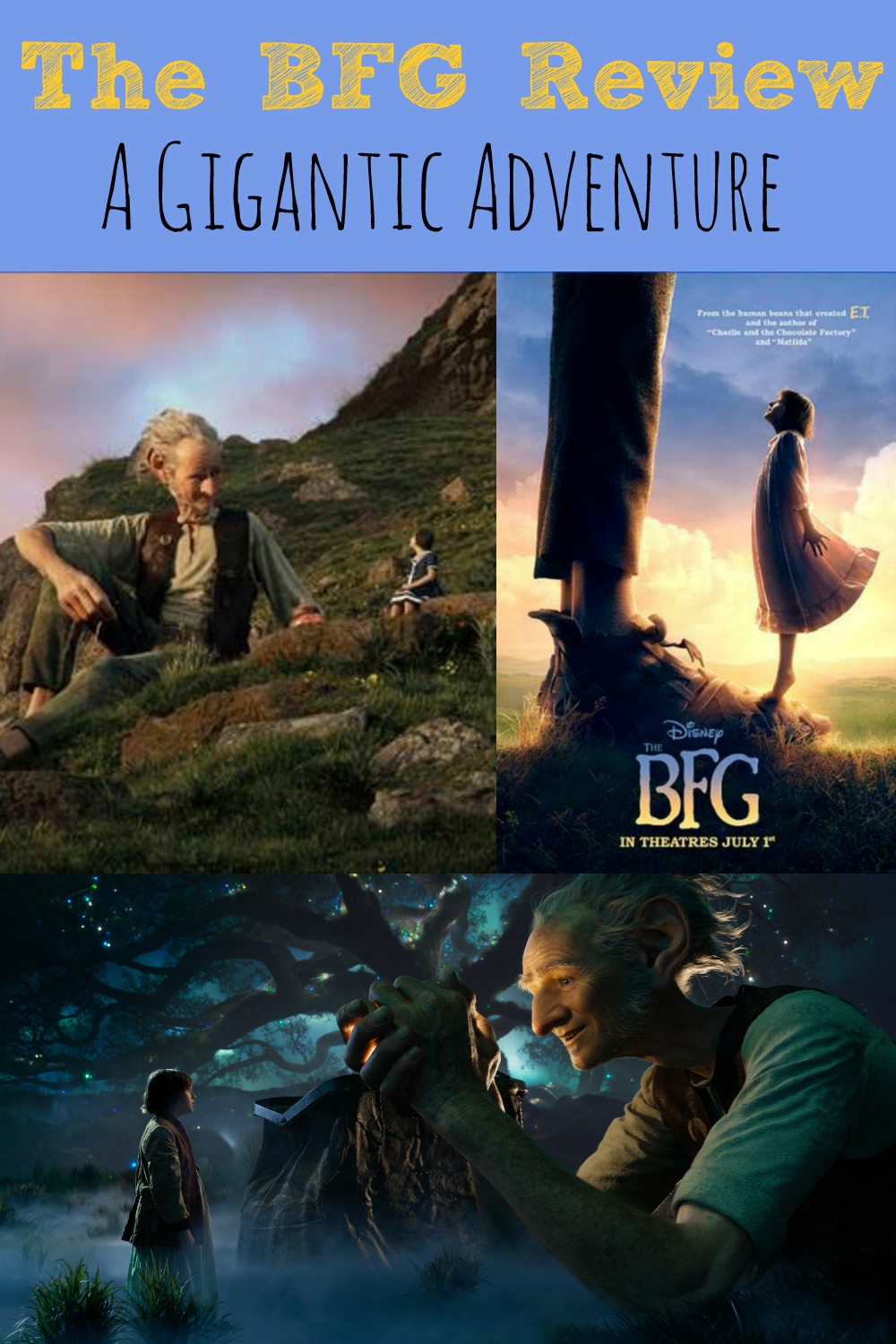 The BFG Review: A Gigantic Adventure #TheBFG
Personally, I enjoy using my imagination, even still as an adult and mother. It's definitely something I want my girls doing more of and to really use that imagination to create a life long childhood. The BFG definitely gives children the opportunity to experience these emotions and for parents as ourselves to relive stories that we as children read ourselves.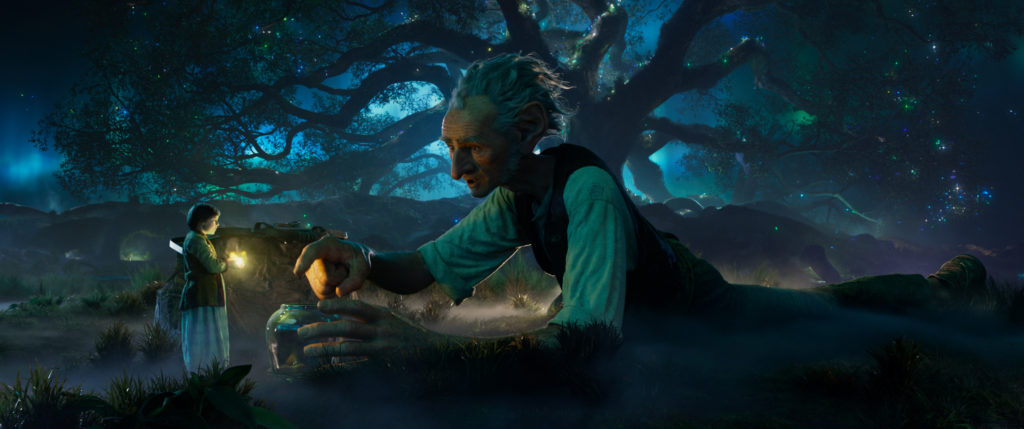 The Animation
Personally, I loved the dark mysterious way the movie was filmed. It really is exactly what I pictures when I read The BFG by Roald Dahl as a child. This is something that kids now a days are really not used to because of all the bright colors movies bring into the big screen. This really gives the movie watchers an idea of a story in London set in the 1980's could have been for an orphan little girl.
One of the most beautiful scenes is the one pictures above, when The BFG shares dreams with Sophie. Even though the scene is a dark one, it really magnifies the significance of dreams and how powerful they can be. Especially after you wake up!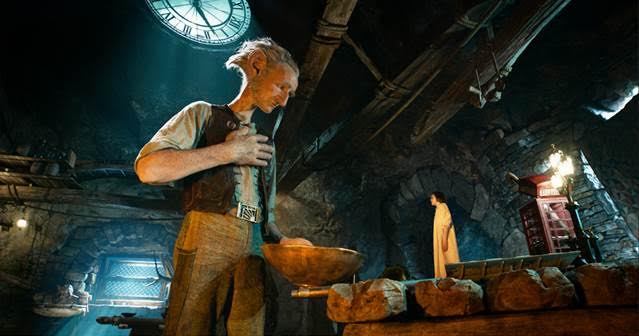 The Story of friendship
I believe that director Steven Spielberg did an amazing job capturing the story that author Roald Dahl really wanted to the reader to create in their heads. From the giants to The BFG, I really do think that he did a fantastic job capturing the essence of these characters, scenes, and even the humor thrown in the movie!
My 6 year old and myself, along with everyone else in the theater were laughing so hard in one of the scenes that I was actually crying. Tears! This never happens, so much so that my husband always says that I don't have a sense of humor, but apparently The Big Friendly Giant brought out that humor in me, because I couldn't stop laughing!
It is a story of friendship, between two unlikely characters! Who really do believe in each other, even though they are as different as night and day.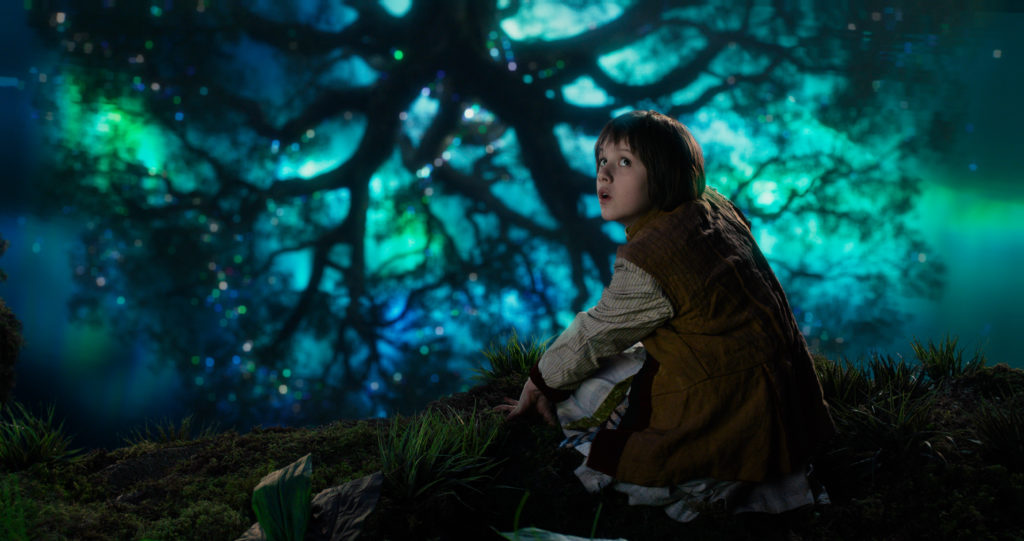 The Acting
Personally, I believe that Disney has done an absolutely amazing job finding these young talented actors. Just like Neel Sethi from The Jungle Book, Ruby Barnhill, who plays Sophie, is absolutely wonderful. Her talent and naturalism really does come out in her character. Her love for The BFG and her belief in him really makes us fall in love with the young actress and again just like Neel Sethi her acting with this kind of technology is just incredible!
I can't wait to see what else she does in her career! Oh, and just a little bit of tid bit information, Steven Spielberg also added her dad in the movie. So just watch for the person guiding The BFG into the castle!
Mark Rylance, who plays The Big Friendly Giant, was of course phenomenal. The way he brought the giant to life was incredible and to really bring out Gobblefunk language to live was absolutely the best part! It really brings out that character that Roald Dahl created in his book. Check it out the The Gobblefunk Glossary here!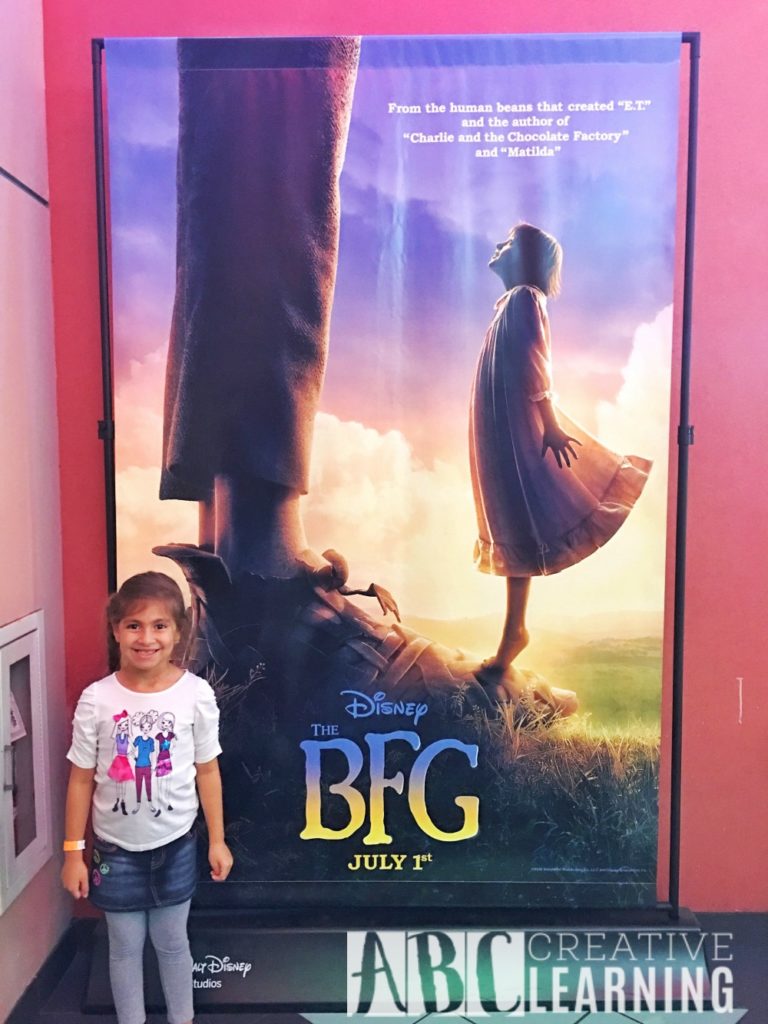 Will Kids Love It?
If you are looking for a story of friendship and light heartedness, then The BFG is the movie to see this summer. If your children have read the book, then definitely take them to see the movie come to life and see what they think.
Personally, my 6 year old absolutely loved it and I know that my 4 year old will as well, but we will wait until is comes out in DVD for her to watch it. I definitely think it's a family movie, especially for kids who really enjoy this type of imaginative adventure, which is exactly the type of adventure movies my oldest daughter loves to watch. She said that she will definitely go see it again if I would let her!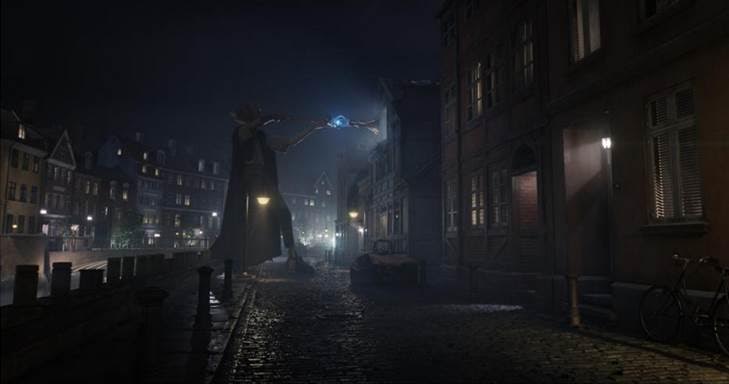 About The BFG
The talents of three of the world's greatest storytellers – Roald Dahl, Walt Disney and Steven Spielberg –
finally unite to bring Dahl's beloved classic "The BFG" to life. Directed by Spielberg, Disney's "The BFG" tells the imaginative story of a young girl and the Giant who introduces her to the wonders and perils of Giant Country. "I think it was kind of genius of Roald Dahl to be able to empower the children. It was very, very brave of him to introduce that combination of darkness and light which was so much Disney's original signature in a lot of their earlier works like in 'Dumbo,' 'Fantasia,' 'Snow White' and 'Cinderella,' and being able to do scary, but also be redemptive at the same time and teach a lesson, an enduring lesson, to everyone, it was a wonderful thing for Dahl to have done, and it was one of the things that attracted me to want to direct this Dahl book," says Spielberg.

The BFG (Mark Rylance), while a giant himself, is a Big Friendly Giant and nothing like the other inhabitants of Giant Country. Standing 24-feet tall with enormous ears and a keen sense of smell, he is endearingly dim-witted and keeps to himself for the most part. Giants like Bloodbottler (Bill Hader) and Fleshlumpeater (Jemaine Clement) on the other hand, are twice as big and at least twice as scary and have been known to eat humans, while the BFG prefers Snozzcumber and Frobscottle. Upon her arrival in Giant Country, Sophie, a precocious 10-year-old girl from London, is initially frightened of the mysterious giant who has brought her to his cave, but soon comes to realize that the BFG is actually quite gentle and charming, and, having never met a giant before, has many questions. The BFG brings Sophie to Dream Country where he collects dreams and sends them to children, teaching her all about the magic and mystery of dreams.

Having both been on their own in the world up until now, their affection for one another quickly grows. But Sophie's presence in Giant Country has attracted the unwanted attention of the other giants, who have become increasingly more bothersome. Says Spielberg, "It's a story about friendship, it's a story about loyalty and protecting your friends and it's a story that shows that even a little girl can help a big giant solve his biggest problems." Sophie and the BFG soon depart for London to see the Queen (Penelope Wilton) and warn her of the precarious giant situation, but they must first convince the Queen and her maid, Mary (Rebecca Hall), that giants do indeed exist. Together, they come up with a plan to get rid of the giants once and for all.

Directed by three-time Academy Award® winner Steven Spielberg ("Bridge of Spies," "Schindler's List," "Saving Private Ryan") from a screenplay by Melissa Mathison ("E.T.: The Extra-Terrestrial," "The Black Stallion") based on the best-selling book by Roald Dahl, "The BFG" stars three-time Tony Award®, two-time Olivier Award and Oscar® winner Mark Rylance ("Bridge of Spies," "Wolf Hall"), newcomer Ruby Barnhill, Penelope Wilton ("The Best Exotic Marigold Hotel," "Downton Abbey"), Jemaine Clement ("Rio 2," "The Flight of the Conchords"), Rebecca Hall ("The Gift," "Iron Man 3"), Rafe Spall ("The Big Short," "Prometheus") and Bill Hader ("Inside Out," "Trainwreck"). The film is produced by Spielberg, Frank Marshall ("Jurassic World," "The Bourne Ultimatum") and Sam Mercer ("Snow White and the Huntsman," "The Sixth Sense") with Kathleen Kennedy ("Star Wars: The Force Awakens," "Lincoln"), John Madden ("The Best Exotic Marigold Hotel," "Shakespeare in Love"), Kristie Macosko Krieger ("Bridge of Spies," "Lincoln"), Michael Siegel ("Charlie and the Chocolate Factory," "Rise of the Guardians"), Frank Smith and Naia Cucukov serving as executive producers.

Roald Dahl's "The BFG" (Big Friendly Giant) was first published in 1982 and has been enchanting readers of all ages ever since. To date, the book has been published in 41 languages. Dahl's books, which also include "Charlie and the Chocolate Factory," "James and the Giant Peach" and "Matilda," have sold over 200 million copies worldwide. Originally created as a bedtime story, "The BFG" was Dahl's own favorite of all his stories. "It was very important for us to be loyal to the language," says Spielberg, "and the great writer Melissa Mathison, who also wrote 'E.T.: The Extra-Terrestrial,' wrote 'The BFG.'"
The scene above is only a very small part of one of my favorite scenes in a movie! I don't think I have ever, ever laughed so hard that I started crying in a movie. Even my 6 year old was just cracking up! I can't wait for everyone to see it!
Like THE BFG on Facebook: https://www.facebook.com/thebfgmovie

Follow Walt Disney Studios on Instagram: https://instagram.com/disneystudios

Follow Walt Disney Studios on Twitter: https://twitter.com/disneystudios

THE BFG is now playing in theaters everywhere!
Will you be going to Giant country this weekend?