Is anyone else feeling the Spring break fever and is ready for some warm weather? I know we are and my girls are ready to head outside for Spring! In the meantime, I have to keep them busy and create some fun games that go along with our weekly lessons. Like this Shamrock Place Value Math Activity perfect to help kids with math counting.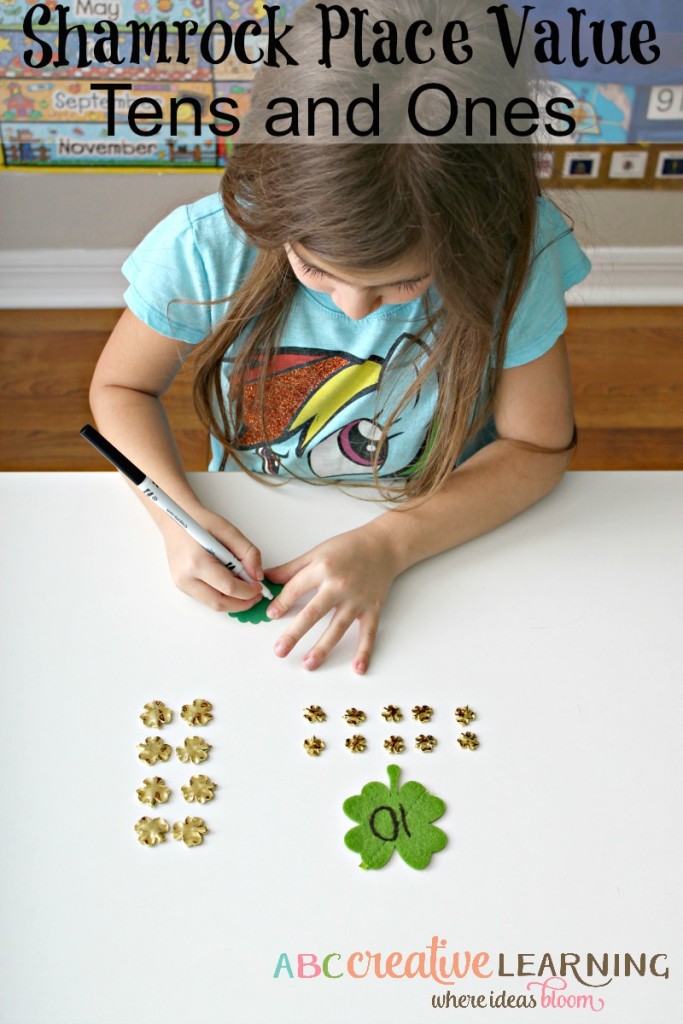 Shamrock Place Value Math Activity
Last week we learned about place value, so I headed to Target's dollar section and found some great items to create this fun Shamrock Place Value Activity for our Tens aOne'snes lesson.
Materials Needed:
Felt banner (which I cut into individual pieces)
Shamrock gold necklace (cut out shamrocks)
Pieces of construction paper
Marker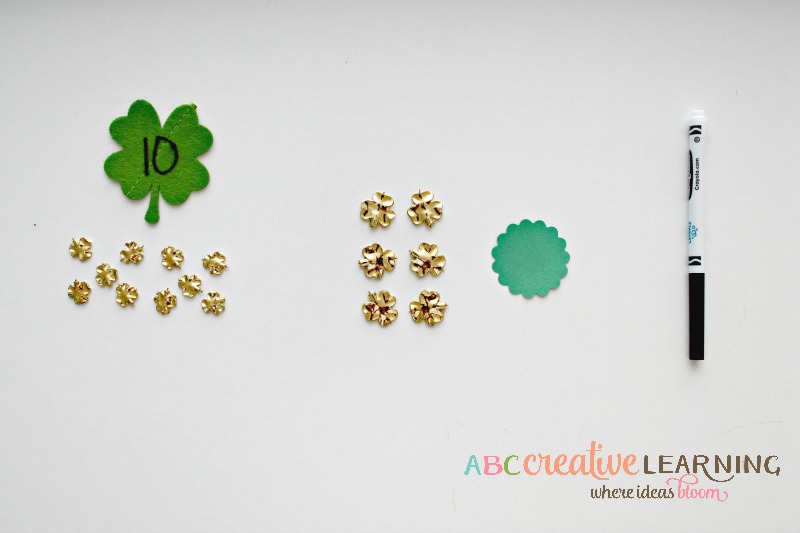 To create the shamrock numbers I cut out each shamrock from a St. Patrick's day banner I found at Target's dollar section. I also took a necklace and used the small gold shamrocks as manipulatives so that Kaelyn could use them as counters.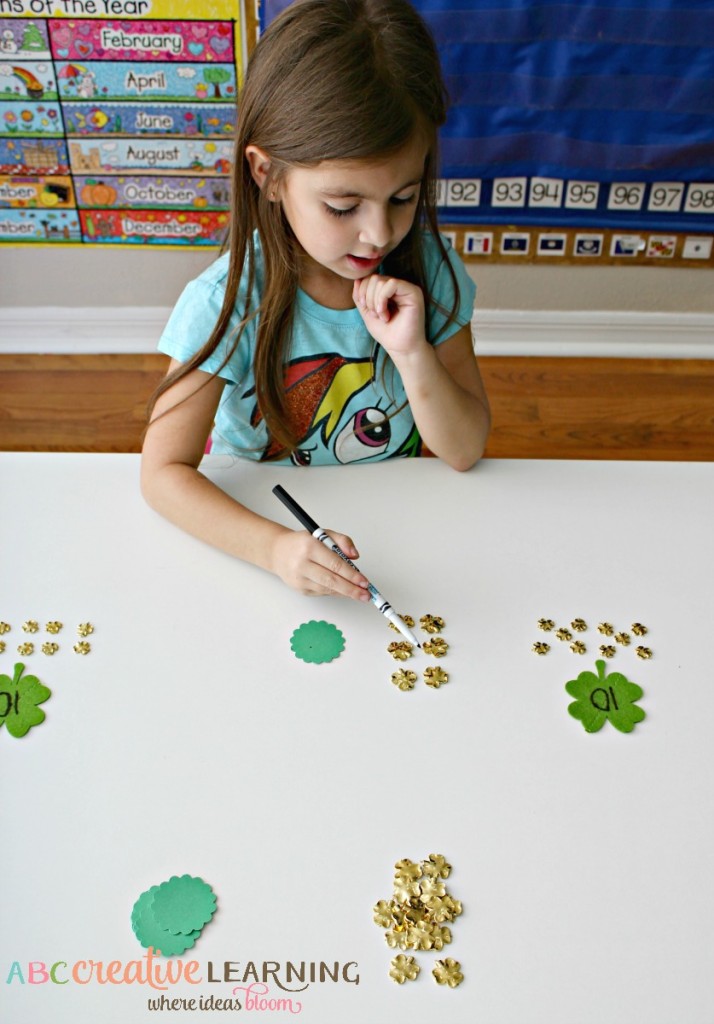 I grouped 10 shamrocks together on the left side of the table (I kept them there the entire time she was doing her activity). I then added pieces of shamrocks next to the group of 10 so that she can add on.
I also gave her a piece of construction paper and a marker so that she could write her answers and also practice number recognition and writing. We are still working on writing some numbers like 21, instead of 12.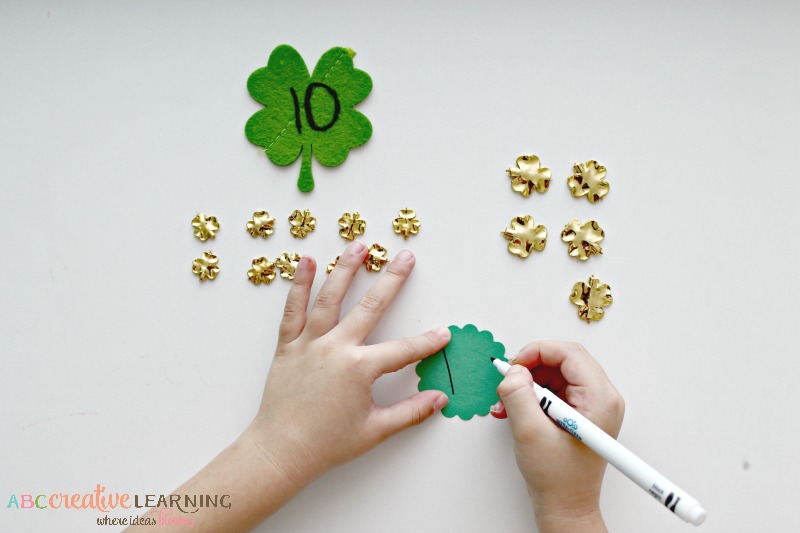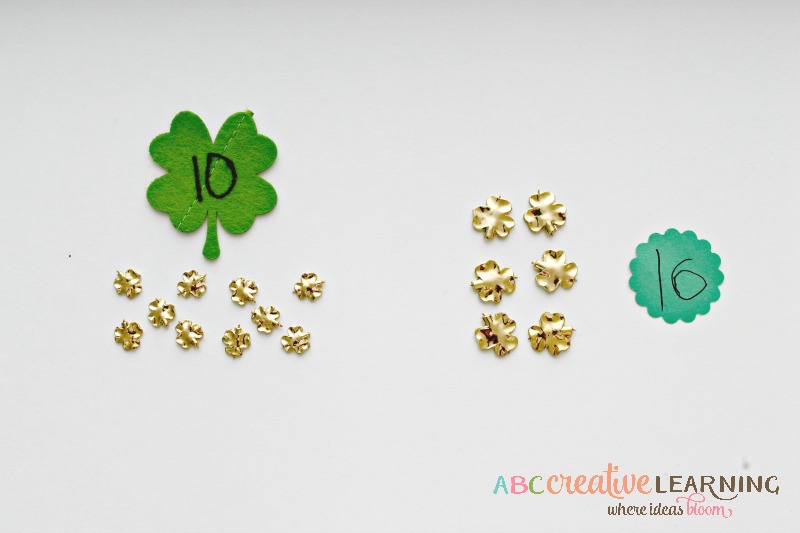 I think this was a great inexpensive way to create a fun math game for my girls. Kaelyn really loved playing it so much that I created zip block bags with labels so she has easy access to the pieces whenever she wants to play.
I also created a fun game for my preschooler to play with the same items. Make sure to visit Enchanted Homeschooling Mom to check out how Kaidence is using these fun shamrock pieces in the month of March!

You Are Also Going To Love:
If you loved this Shamrock Place Value Math Activity , then you will also love the following St. Patrick's Day activities I have put together for you:
What other ways do you like teaching place value?