A single 2-day ticket to Disney World can cost you $200+ before you've even set foot in the park. Add food and drinks for the day, and you could be looking at an expensive trip. Theme parks can quickly drain your wallet if you're not careful. However, you can still have a good time AND be frugal. Here are a few ways on how to save money at amusement parks.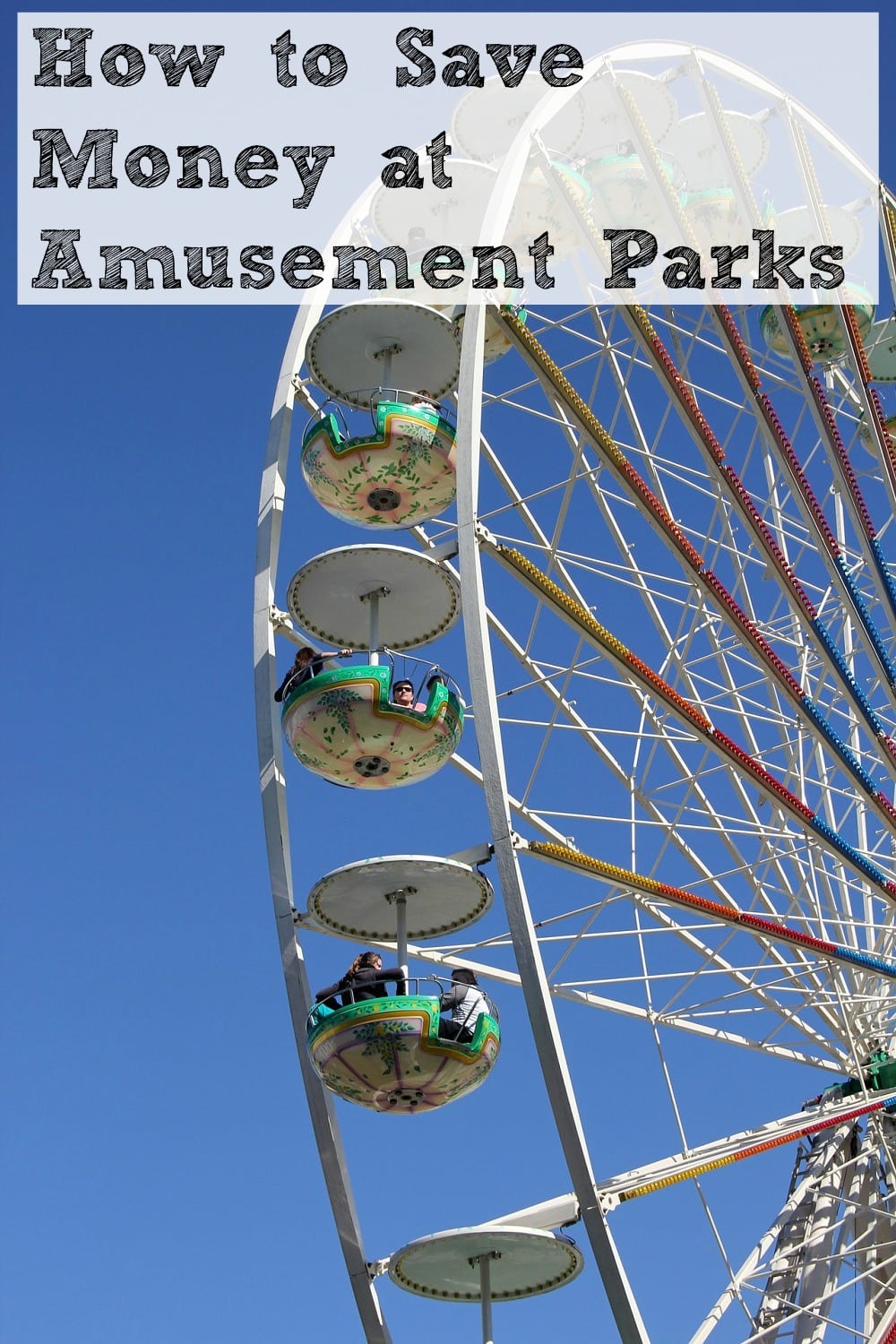 How To Save Money On Amusement Parks
Buy your tickets ahead of time
You usually will end up paying top dollar when you purchase your park tickets at the gate. Nearly every theme park offers discounted rates online. Check the website of the theme park you will be visiting, sometimes you can find day passes discounted up to 30%! Be sure to check Groupon for deals on tickets as well. We were able to save $77 on our Busch Gardens tickets by purchasing them through Groupon. If you're planning to visit during the summer, participating grocery stores and fast food chains may offer discounted tickets.
Use your membership
AAA, AARP, or even a warehouse club such as Costco or Sam's Club can offer you deals and discounts on theme park tickets. Check your local chapter's discount page for a complete list of all the discounts available through your membership.
Check social media
Look up the park's Facebook or Twitter accounts. Occasionally, they may offer promotions or discounts for fans and followers.
Consider the timing of your trip
When you're planning your trip, consider going later in the day or during off-season. Starlight admission tickets could save you $20 or more on your tickets. During off-season, any time other than summer vacations or during holidays weekends, parks will offer discounted ticket prices to attract visitors. Weekdays are also going to be better than weekends, in terms of both crowds and sometimes price. Check online for sites for your theme park such as Undercover Tourist for crowd calendars. There will be fewer people and you'll be saving money!
Parking
Most amusement parks make a ton of money by charging you high prices for parking. Theme parks such as Disney offer transit and shuttles to the parks, even from hotels that aren't Disney owned properties. If you must park, consider carpooling to avoid paying for more than one car. It will be much cheaper to take a minivan full of people than paying to park two cars.
Bring a water bottle
Amusement parks charge high prices for food and beverages once you are inside the park. Most parks will have water fountains located around the park for a quick free drink. Bring your own water bottle and fill it up at the fountain. You'll be saving yourself around $4-$8 a refill, and you'll have cool water free all day long.
Pack your lunch
If you are able to, consider packing a lunch or bringing your own snacks. Amusement park food can get pricey and most of it is unhealthy food. Even packing your own snacks can end up saving you $10 or more per snack at the park.
Bring your own poncho
Ponchos will be marked higher in the park, especially if it starts raining. You'll pay a lot less by picking up a poncho from the dollar store or Walmart. Ponchos are easy to fit inside your bag and they are lightweight. Plus, if the weather is nice and you plan on hitting some water rides, your poncho will keep you dry!
Multi-day passes
The one-day park pass visitor never gets the best deal! You'll start to see real discounts on three, four, and five-day tickets. This works great for theme parks such as Disney because you can visit a new park every day. A few years ago we went to Disney and ended up getting two days free when we purchased three days.
Skip the photos
Theme park photographers will overcharge you on photos at the park. You can easily snap the same shot with your own camera! On our trip to Disney, we kindly asked if someone would take our picture for us. We got a shot of the two of us in each theme park, including in front of Cinderella's castle! You should always be careful who you hand your phone or camera to, there is a small chance you won't get it back. If you absolutely MUST have your picture taken by the professionals, look for a discount. Many parks will offer deals that allow you take several pictures and even get a digital copy.
Consider an annual pass
Annual pass holders usually get extra perks such as free parking, free guest days, and some will give you discounts on food and souvenirs. Before considering an annual pass, you must first decide if you will use it enough to justify the cost. Wet N' Wild Emerald Pointe and Carowinds have annual passes that would equal the cost of going twice. However, it would take you 7 trips to Disney World to match the cost of the annual pass. If you know you will be going more than once during the year, consider looking into annual passes to save money.
What do you do to save money at theme parks?