Many of us have waited six years for Ralph and Vanellope to be on the big screen once again. Today I'mm sharing my no spoiler Ralph Breaks The Internet Movie Review and if it's appropriate for kids. Thank you to Disney for allowing me to attend the Ralph Breaks The Internet Movie Premiere event.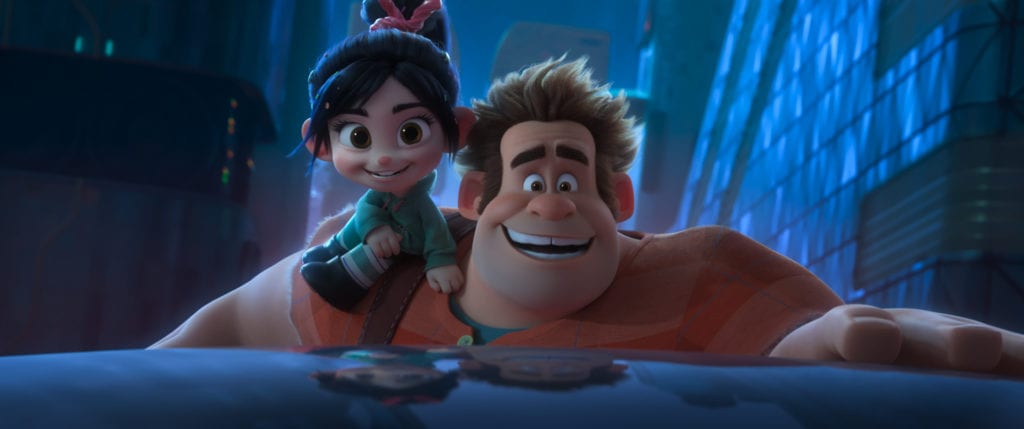 Ralph Breaks The Internet Movie Review | Is Is Appropriate For Kids?
Now, the only thing about having high expectations for a Disney movie, especially with how amazing Wreck-It Ralph was, is that fact that many movie sequels are usually not as good. I'm here to tell you that the film did not disappoint! I won't say that it's better than the first, but for a sequel film created by Disney, I believe it was exactly what it should have been. Oh, and don't leave before the two end-credit scenes!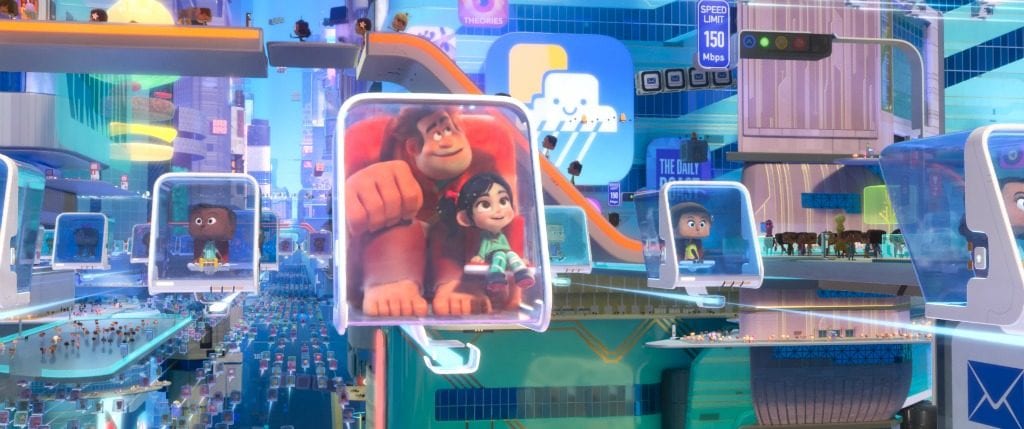 A Mix Of Retro and Modern 2D and 3D Animation
As always we expect great things from Disney's animation team and they didn't disappoint for Ralph Breaks The Internet. We all know that both Ralph and Vanellope's games are arcade games and the mixture between the retro look and modern games was perfectly combined in the film. Plus, we can't miss the amazing 2D and 3D animation created by Walt Disney Studios, especially the princess scene. Between that princess scene and the Oh My Disney scene, the details of the character are very clear and concise. So different then when they first appeared on the big screen in their own movies. The details from their faces, wrinkles in clothes, and even the bounce in Vanellope's ponytail are more precise.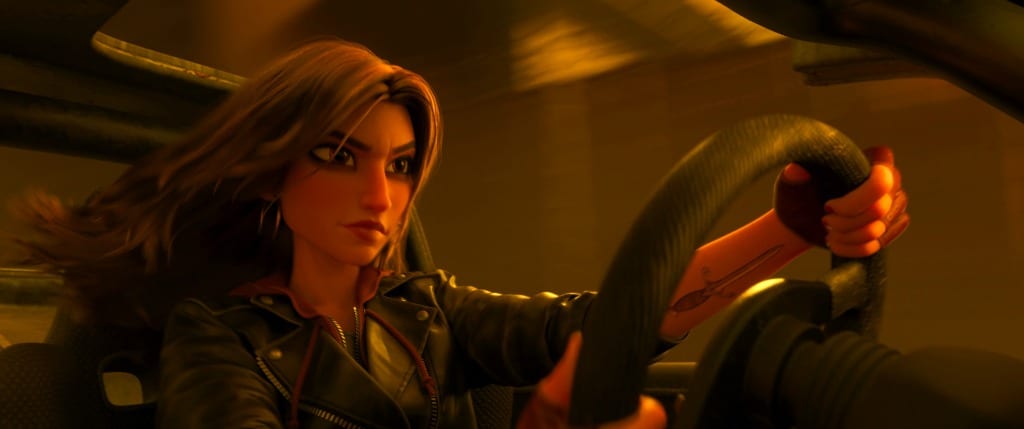 New Characters To Watch Out For
When I told my daughters that Wonder Woman, Gal Gadot was playing a character named Shank they were immediately excited. They brought in Shank who is this rough, strong, and independent car racer who Vanellope admires. Perfectly playing into Gal Gadot's young girl fan base already. I know that she will be a new favorite character and little girls are going to be dressing up as her for Halloween next year. Just keep in mind that Shank is a race car driver in a game called Slaughter Race, which pretty much lets you know it's a bit violent (see tips for parents below).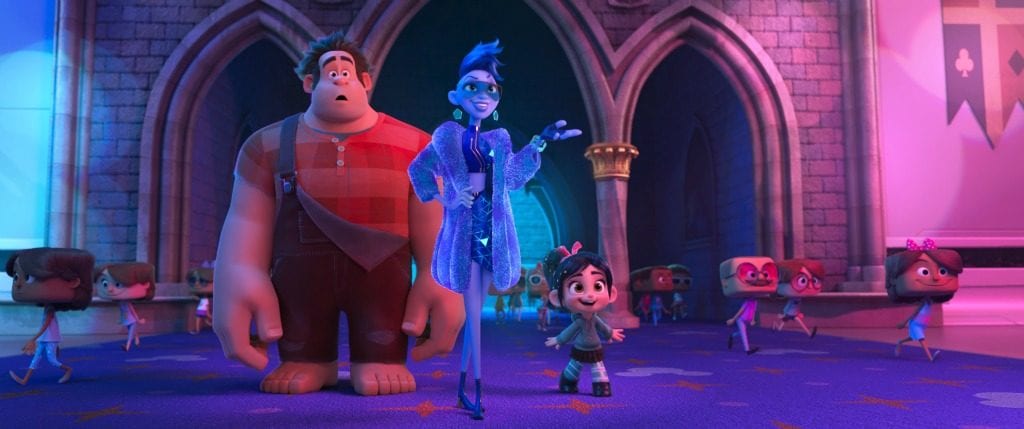 Another new character we will see in the movie is KnowMore, which is resembling a Google Search Engine, in a very funny realistic way. Voiced by Alan Tudyk who was in Wreck-It Ralph as King Candy.
We also see the character Yesss voiced by Taraji P. Henson, who will be a favorite among fashion fans.
We can expect some of our favorite characters voiced by the same actors than in the first, but the addition of new characters was phenomenal!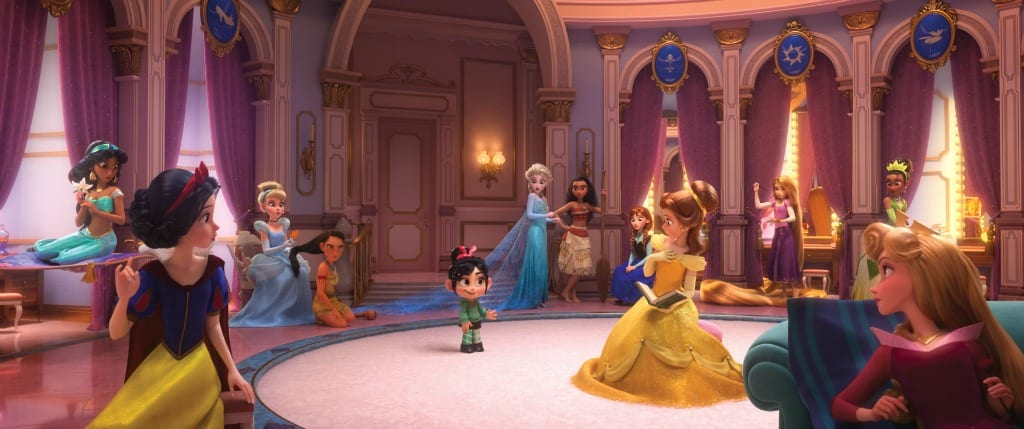 Cameos And Yes, That Princess Scene
We have all seen that princess scene where Vanellope appears in a room with all of Disney's Princesses. I will not spoil anything here, but I will say that the scene will be one that is talked about long after the movie has been in theaters. It's a scene that was remarkably created by Pam Ribon and so perfectly added into the film. Little girls everywhere will squeal for this scene but don't lose sight of all of the other cameos in the film as well. I don't want to spoil it, but keep an eye out for tons of Easter Eggs, plus Disney, Pixar, Sony, Marvel favorites in Oh My Disney that both adults and kids will enjoy! But for me, THAT princess scene stole the show!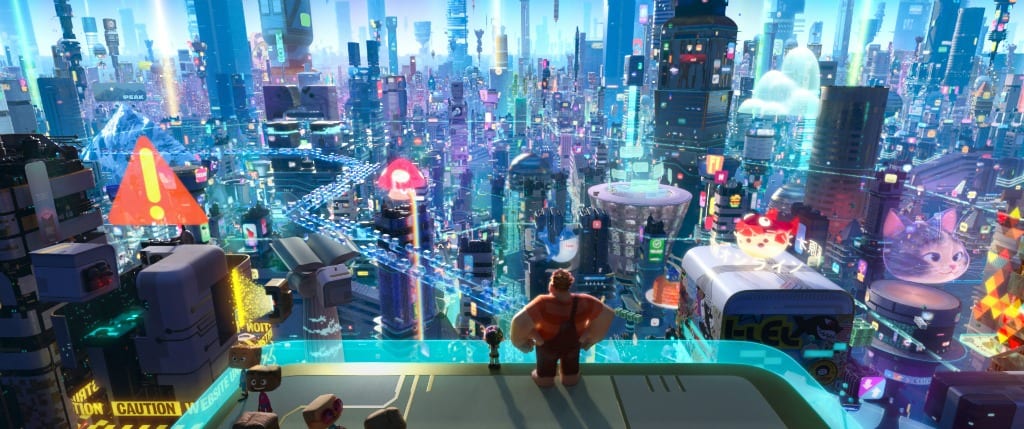 Internet-Based Jokes and Humor
As someone who was around when we had "You Got Mail" coming up on my home computer, all of the internet-based jokes and humor was awesome! I loved getting all the jokes that I know my girls would have no idea what it means. Again, it's Disney adding that adult fun for parents in the film as well. You will also see lots of references from eBay, Twitter, and BuzzTube which you know is a joke to YouTube and Buzzfeed.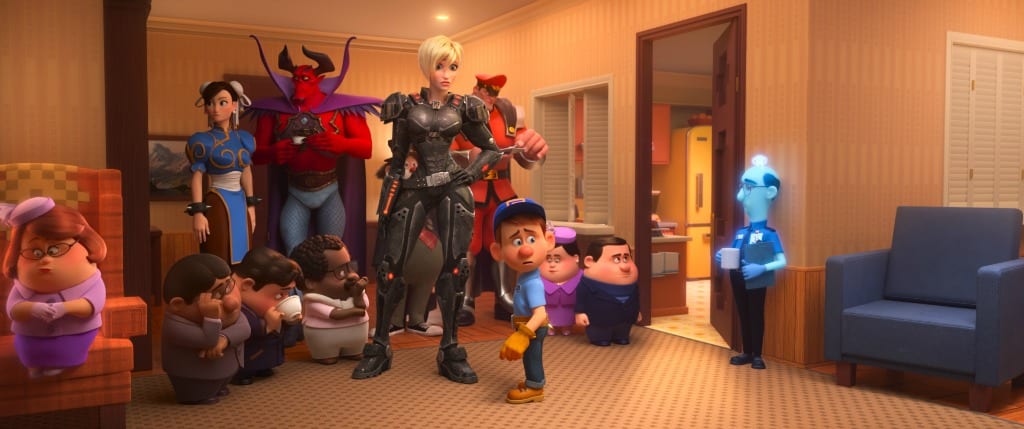 Is It Appropriate For Kids?
I will say that other than some humor in the film that the kids will most likely not understand about the web, a virus scene (more of that in a bit), and some of the darker parts of the film towards the end, I say that the movie is appropriate for kids as young as five-years-old. Personally, I can't wait to take my girls to see the film because I know they will love it! Plus, little girls everywhere will be loving that princess scene! Just to make sure we covered everything I wanted to share specific things to watch out for in the movie for the younger kids.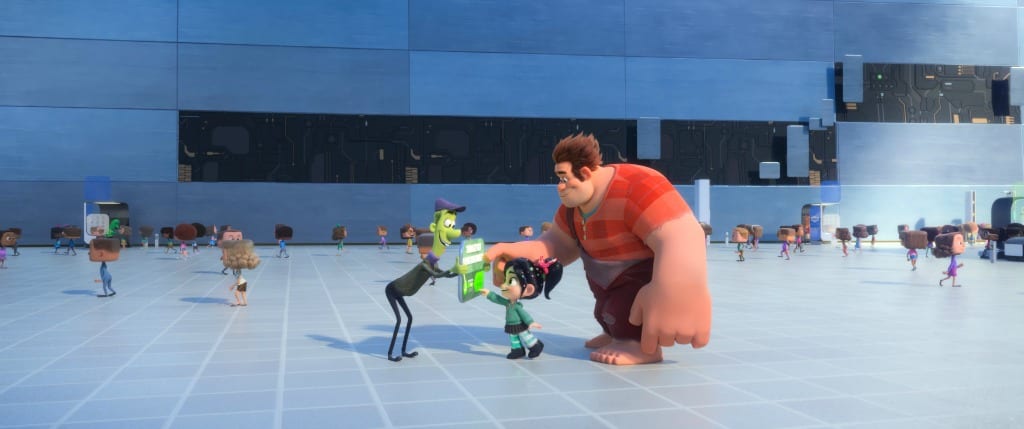 Social Media Negativity
Another thing worth mentioning is about how the film touches on cyberbullying and how negatives things are said on social media. It's a hard reality that we deal with on a daily and Disney couldn't have gotten it any truer, but that doesn't mean the younger kids will understand it, already should be exposed to it, or that they need to know how crude the outside world can be. Just be aware that you may have to explain to your kids why people would be mean to Ralph or to others.
If we think about it the internet can be such an amazing thing where it connects people from around the world easily, but it also has a darker side that can be mean, gross and ugly.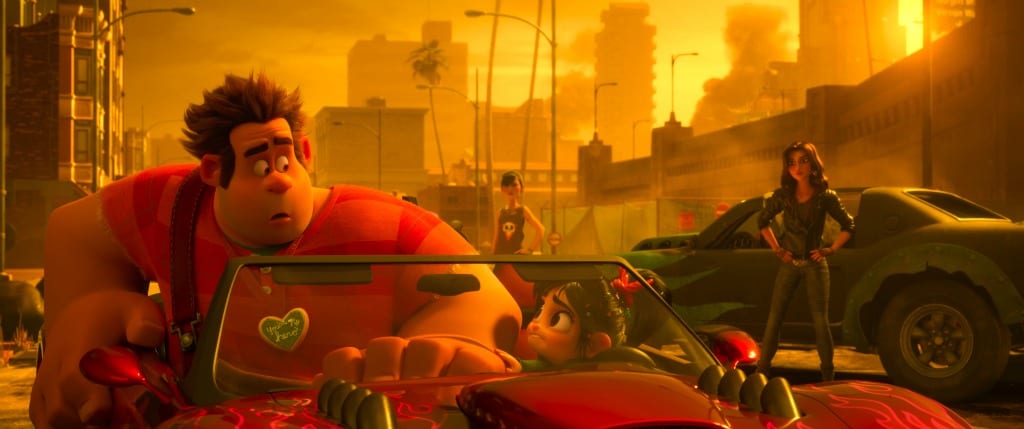 Crude Humor
As always, Ralph loves his crude humor and other than a stupid here and doodie there (which is also in the first film), I say that Disney did a fantastic job in keeping the language pretty clean for this one. This makes a mama very happy and more opened to take their daughters to see the film. Now if you need more details for the film as a parent to keep reading below.
Violence
We all know that Ralph Breaks The Internet is all about video games, which takes us to Slaughter Race, which is the game in which Shank is the main character. With a name like Slaughter Race, you can easily use your imagination on the violence. It's not any worse than you saw in Wreck-It Ralph's Hero's Duty.
*A bit of spoiler information below for parents to know ahead of time!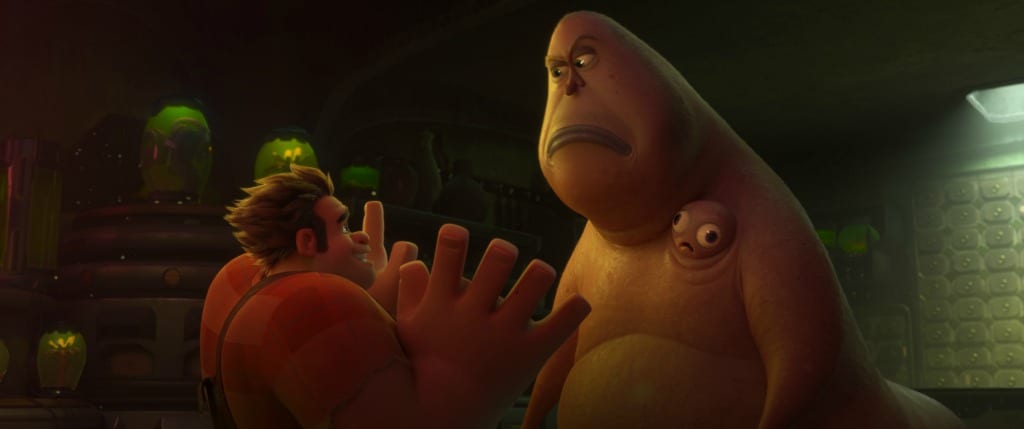 Eerie and Darker Scenes
Now, let's talk a bit about a specific virus scene that for me lasted a bit too long and realistically unnecessarily gross! There are a good 20 minutes towards the end of the film when the plot thickens, there is a new character who is what we know as a virus in the web. To be straightforward with fellow parents who want to know, the virus is gross and a bit disturbing. It was one of those scenes where you want to look away and when the scene doesn't end you are just waiting at the edge of your seat for it to finally finish.
The character looks like a type of worm maybe, but it has a second head (tumor-like) that is suppose to be his brother. After this scene, the movie takes on a bit of a darker view, well, because of the virus. I don't want to give away anything on this part because it's important to the ending, but if your kids don't like dark and eerie this might be a great time to take a potty break with them. Especially the younger kids.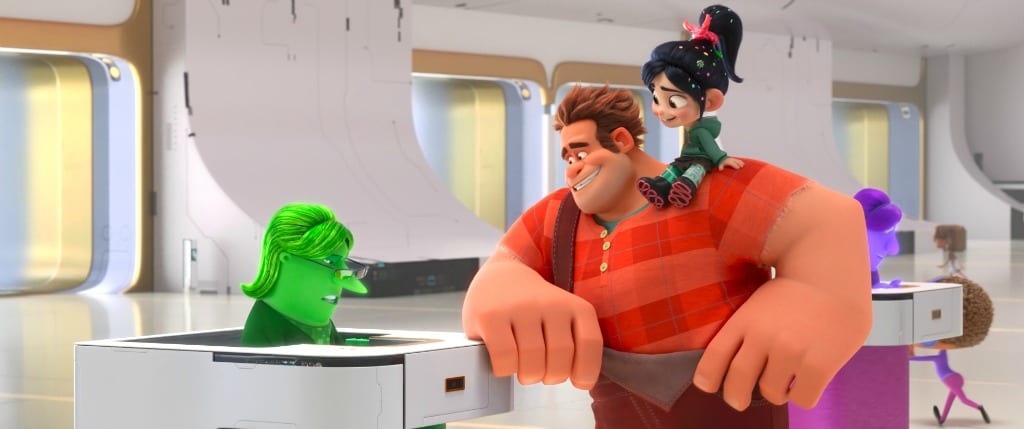 One more thing I want to mention, a scene in which many Ralph's together combined make a giant Ralph in a scene towards the end can be a bit dark and weird. I think it's the movements of all the Ralph's put together that gave me the creepies, exactly the same way that the Mouse King did in Disney's The Nutcracker and the Four Realms. In fact, for me, it was exactly the same thing, but this one was definitely more animation than CGI.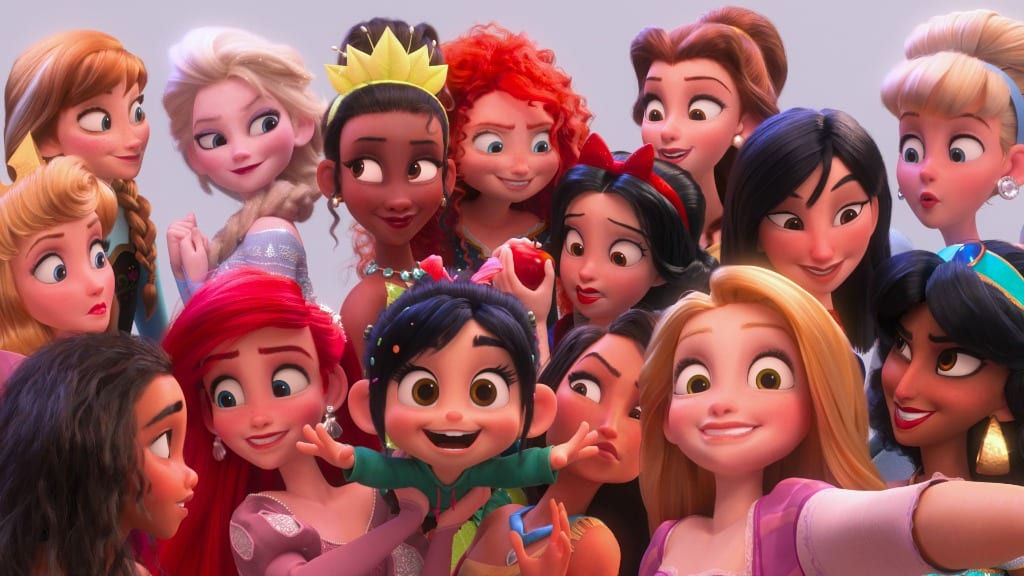 Overall Thoughts
I can't say that Ralph Breaks The Internet is better than the first one, but as a sequel film it sure lived up to all of my expectations. I can't wait to take my girls to see it and it's going to be perfect for all the holiday time off they have coming up. I think Disney did an amazing job bringing back some of our favorite characters and adding that princess scene was the best decision they made in the film. As an 80's kid and social media person, I love all the humor and jokes in the movie. Even though they will go over my kid's heads. That's okay with me, adults should be able to enjoy a movie as much as their kids. I think it's a film that it's a family-friendly movie that can be enjoyed by all. Don't miss Ralph Breaks The Internet in theaters today!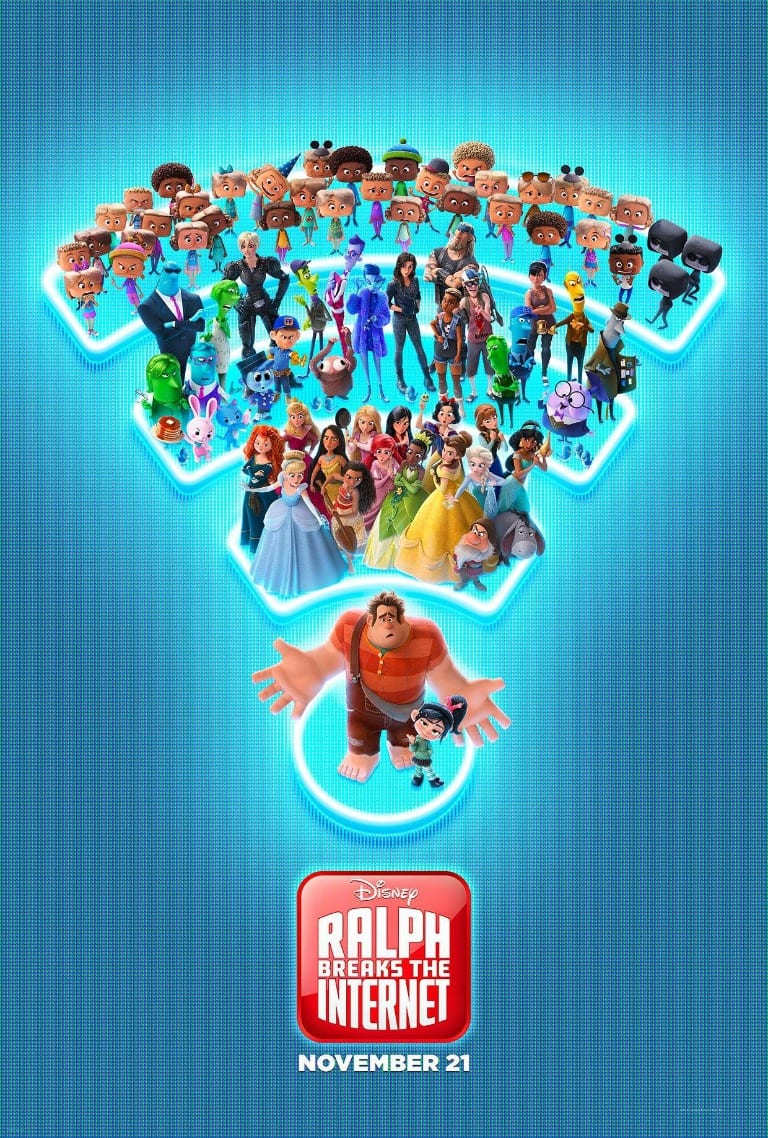 About Ralph Breaks The Internet
In "Ralph Breaks the Internet," video-game bad guy Ralph (voice of John C. Reilly) and best friend Vanellope von Schweetz (voice of Sarah Silverman) leave the comforts of Litwak's arcade in an attempt to save her game, Sugar Rush. Their quest takes them to the vast, uncharted world of the internet where they rely on the citizens of the internet—the Netizens—to help navigate their way. Lending a virtual hand are Yesss (voice of Taraji P. Henson), the head algorithm and the heart and soul of the trend-making site "BuzzzTube," and Shank (voice of Gal Gadot), a tough-as-nails driver from a gritty online auto-racing game called Slaughter Race, a place Vanellope wholeheartedly embraces—so much so that Ralph worries he may lose the only friend he's ever had.
Go See Ralph Breaks The Internet In Theaters Today!!

Have you seen Ralph Breaks The Internet yet?