We are beginning to see sure signs of Spring outdoors in the garden. Our daffodils are poking their heads out of the ground; each time we look at them we spot another bud forming and our rhubarb patch is showing off its first bright pink fruits of the new season. So it must mean that it is time to start adding some touches of Spring to our walls indoors. We made a start with some very colorful Paper Plate Rabbits. Here are some more Paper Plate Crafts ideas for spring!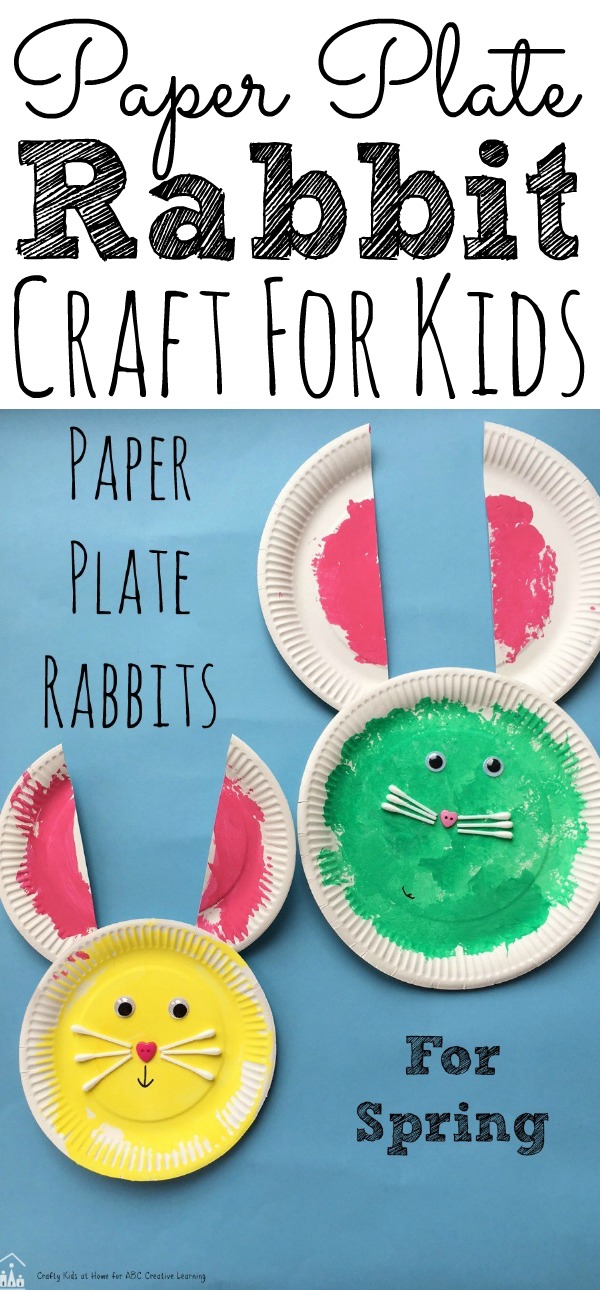 Paper Plate Rabbit Craft For Kids
Post contains affiliate links.
Supplies
Paper plates (large and small)
Red, yellow and blue paint.
Googly eyes
Q-tips
Heart shaped buttons
Black marker pen
Double sided sticky tape
Clothespins
Cotton balls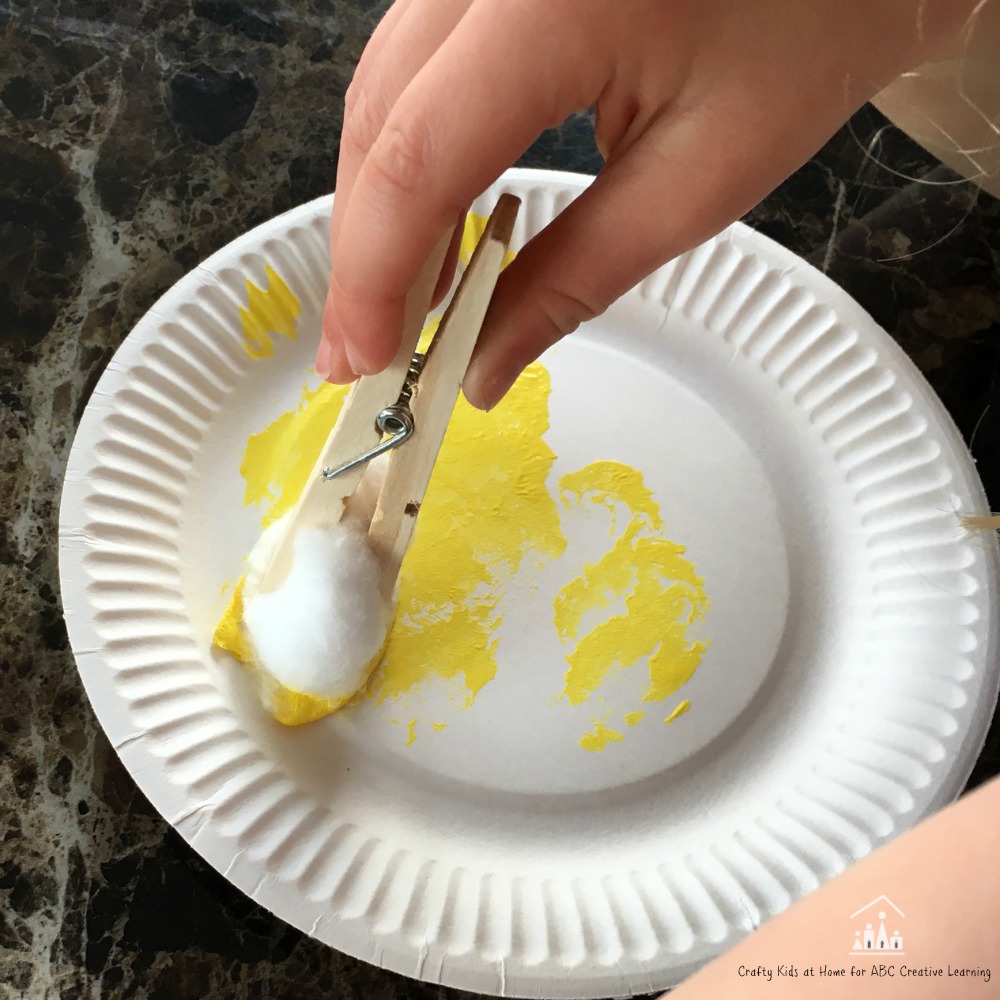 Ahead of the Activity
My kids like to get stuck straight into our activities, so I like to prepare the materials before we all sit down together. This also means that I can sit straight down with them, to help and referee the inevitable "He took my googly eyes" type squabbles.
I loaded up the paper plates with their chosen Spring themed colors.
Attached cotton balls onto pegs to use as their paintbrushes. (Great for fine motor skills development, plus they look like cute rabbit tails.)
Cut out strips for the rabbit's ears from paper plates.
Snipped q-tips in half to use for the rabbit's whiskers.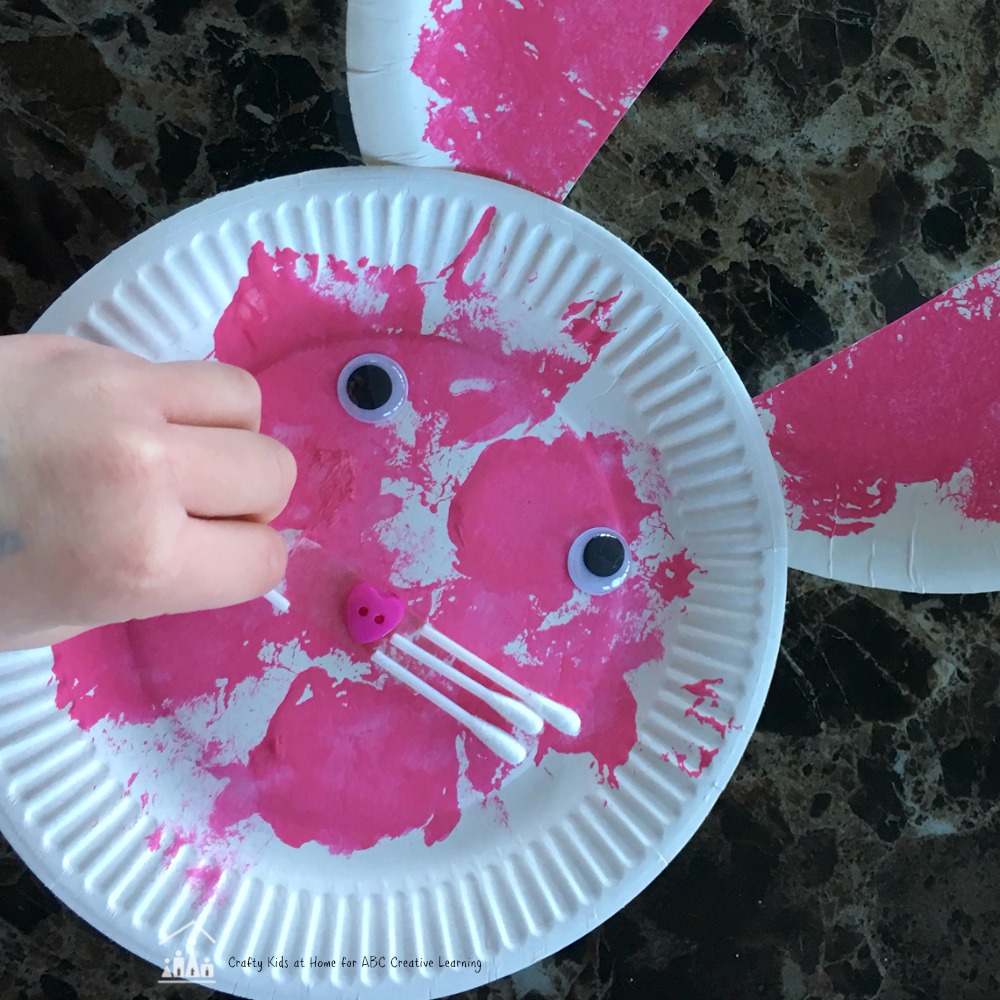 How to make Paper Plate Rabbits
We chose to make a Mummy and Baby Rabbits using large paper plates for the Mummy and smaller paper plates for the Babies.
The kids began by dipping their cotton ball paintbrushes into the paint and covering their chosen paper plate.
They took a clean cotton ball brush and covered the inside of their rabbit's ear with pink paint.
Once the paint had dried they had fun creating their cute rabbit faces. Attaching our favorite goggly eyes first.
To secure the rabbit's button nose and q-tip whiskers, we placed a small piece of double sided sticky tape into the center of the plate and pressed them onto it to hold them in place.
They then finished off their rabbits with a smile.
We had lots of colorful rabbits by the end of the session all ready to go up on our kitchen wall.