This shop has been compensated by Collective Bias, Inc. and its advertiser. All opinions are mine alone. #SipIndulgence #CollectiveBias
As busy moms one of the things that we don't do for ourselves is to actually sit back and relax. With Mother's Day just around the corner I wanted to invite a few of my closest friends for A Party Break For Moms, where we would be able to sit back, relax, and enjoy creating something for our own moms.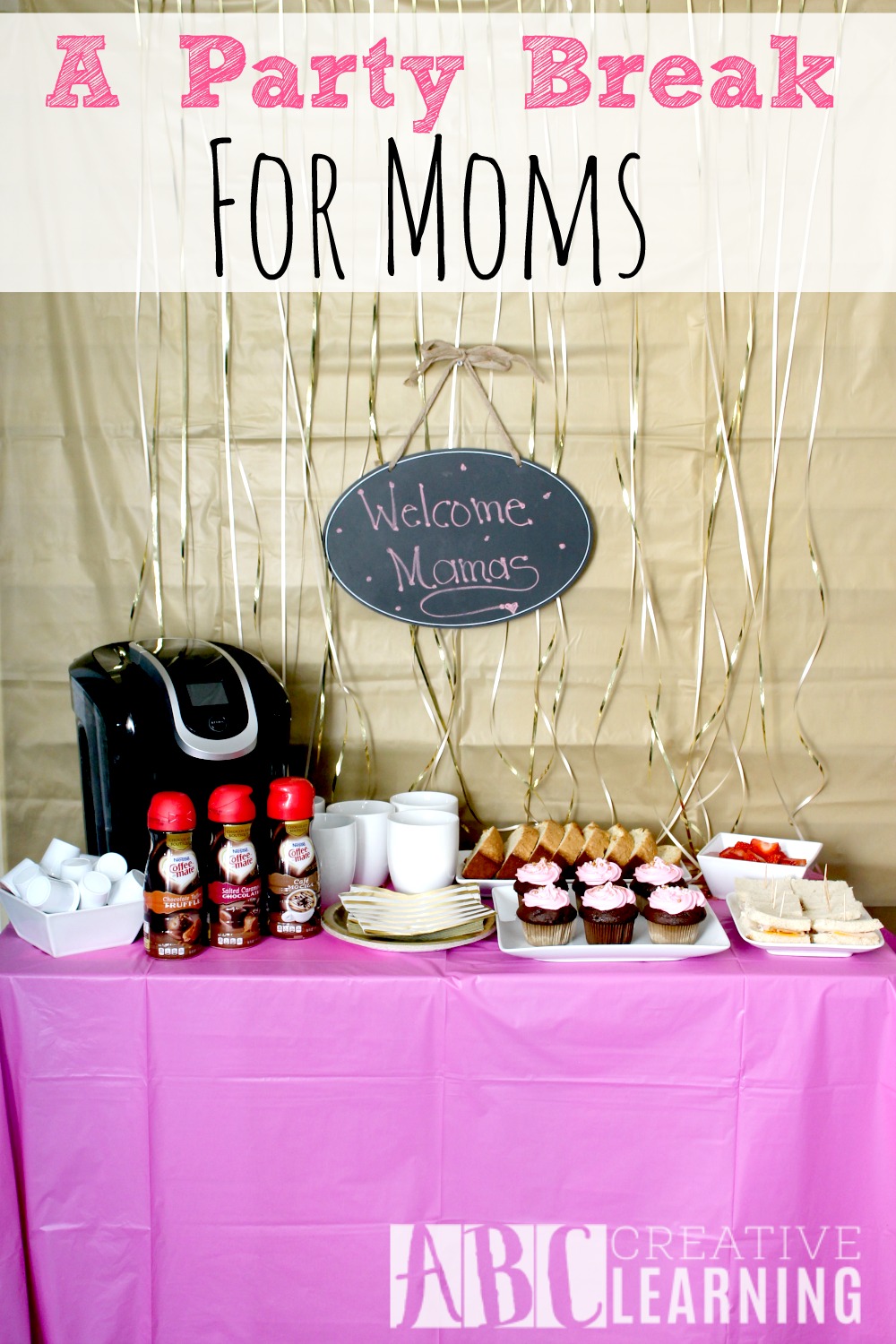 When I decided to throw this little get together with my friends I wanted to make sure that it was relaxing, but fun all at the same time and what better way to start thinking about those Mothers' Day gifts for our own moms. So, I set out on my little adventure to come up with the perfect little brunch.
I headed over to my local Walmart store where I knew I would be able to pick up everything I absolutely needed for my little event. Because I was only having a few friends over I knew that I could get crafty when it came to our gifts. All of my friends are coffee lovers, so I just had to pick up some of the newest NESTLÉ® COFFEE-MATE® Liquid Coffee Creamer Chocolate Boutique Flavors found in the refrigerator isle, for all my friends to enjoy!
Hopefully no one else wanted some at my Walmart, because I literally bought every single one they had! The teenager ringing me up asked if I really liked coffee! I simply replied, "Yes, and 5 other moms I know too"! Oh, and make sure to get your Ibotta savings offers too!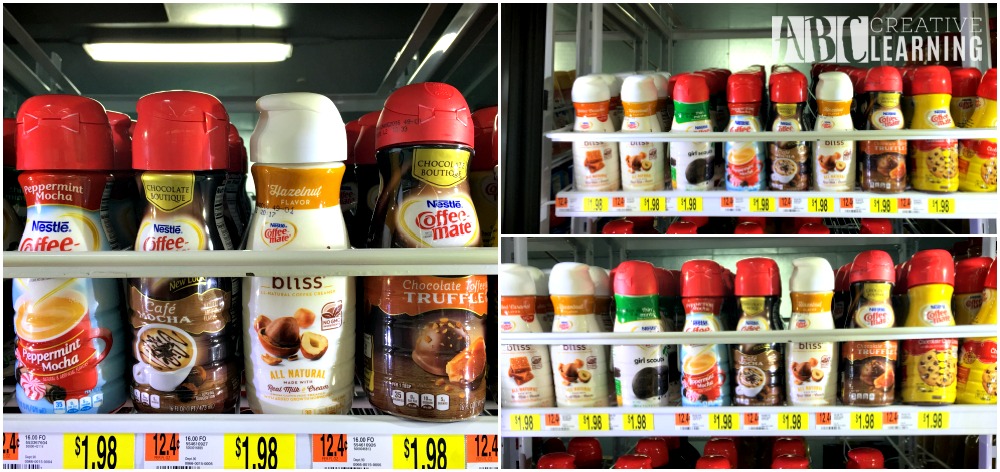 I wanted to make sure that my mom friends not only enjoyed themselves, but they also took something with them that they could give to their own moms. I knew my friends would love this idea, especially when I told them they all got to take a basket filled with some NESTLÉ® COFFEE-MATE® Liquid Coffee Creamer which they would pick out for their moms, a personalized coffee mug created by them, and some of our favorite coffee flavor cups to use at home as well!
Lets just say when they arrived they couldn't wait to get into the glitter! Literally!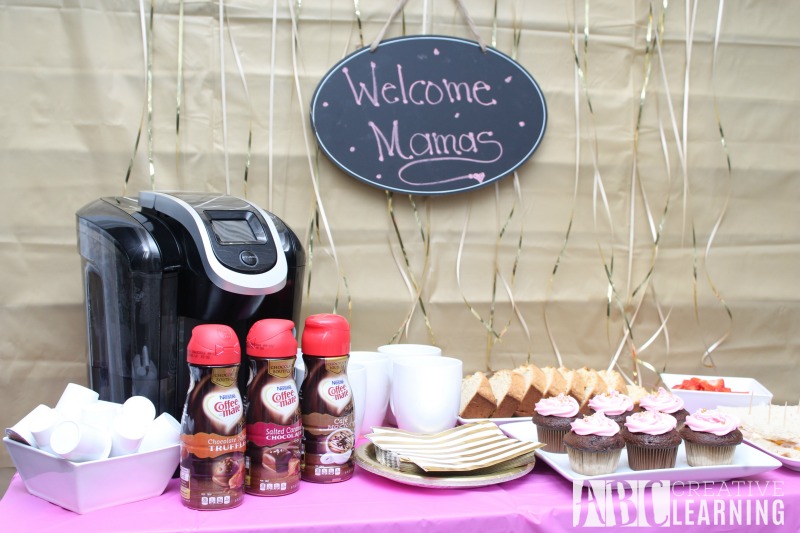 I tried to keep the decorations simple, but I also wanted it to look pretty. As busy moms we don't have much time to set up before a party, but that doesn't mean that we can't make a space look fun and festive.
I used a gold tablecloth to hang as my background behind my food table. I then used gift gold streams and taped them behind the tablecloth and then allowed them to fall over the front. Super simple, cost efficient, and it's my newest favorite way to decorate!
Of course I had to make some yummy treats for my friends to enjoy while we created our baskets filled with yumminess! Best of all, I already had some great ingredients to work with, like the NESTLÉ® COFFEE-MATE® Liquid Coffee Creamer in Salted Caramel Chocolate perfect for a pound cake and the Café Mocha perfect to create some delicious cupcakes with.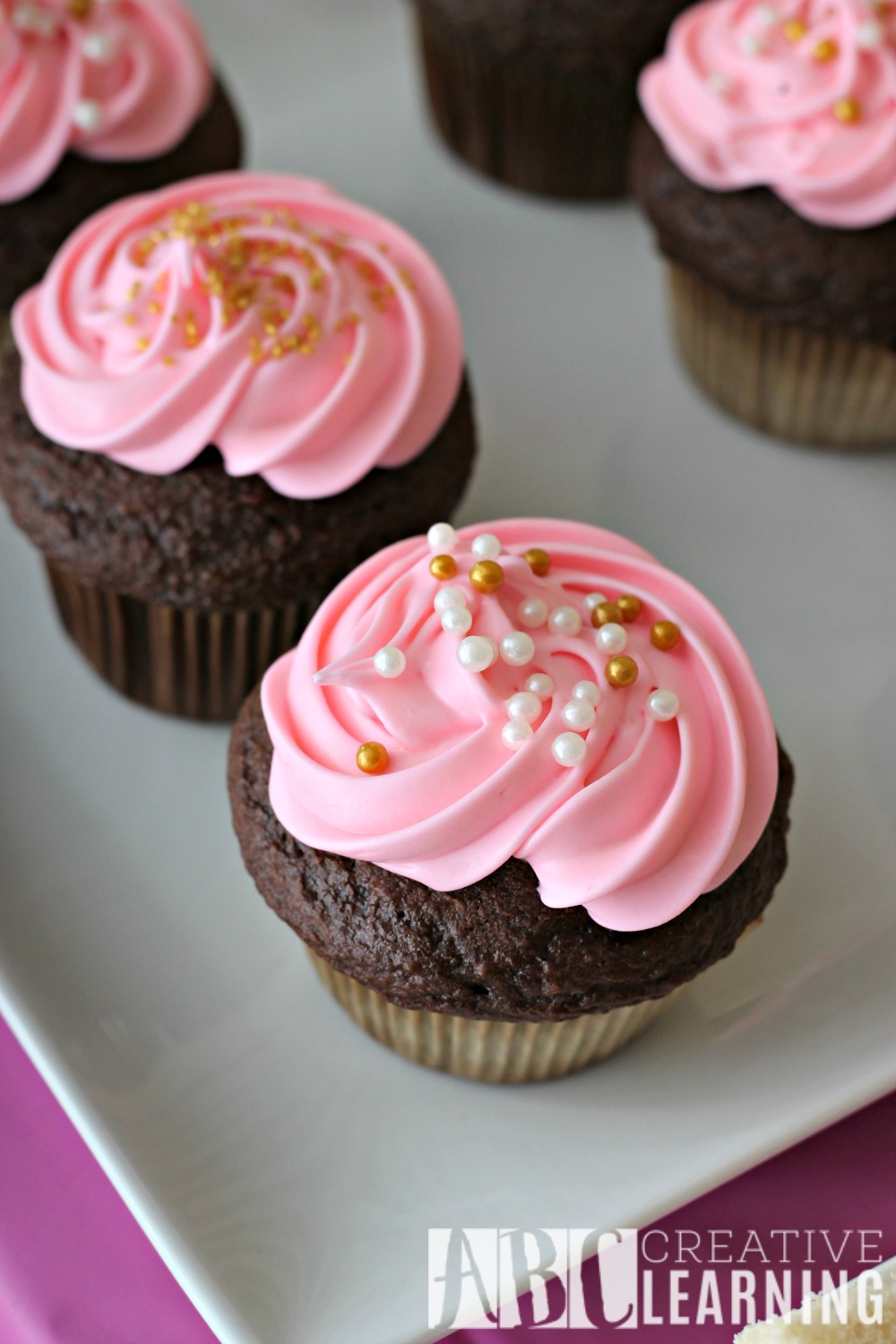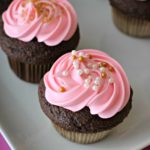 Cafe Mocha Cupcakes with Buttercream Frosting
2016-03-07 20:34:49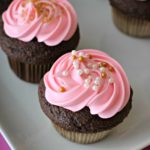 Cupcakes
1 box of chocolate cake mix
1/2 cup of NESTLÉ® COFFEE-MATE® Liquid Coffee Creamer Cafe Mocha
Buttercream Frosting
2 sticks (1 cup) of unsalted butter (room temperature)
4 cups of powered sugar
1 teaspoons of vanilla extract
3 tablespoons of heavy cream
Pink food coloring
Cupcakes
Follow the directions on the cake mix. Instead of adding water you are adding your Cafe Mocha NESTLÉ® COFFEE-MATE® Liquid Coffee Creamer.
Mix everything together.
Bake according to the directions on the box.
Buttercream Frosting
Using a whisk attachment, whip up your room temperature butter.
Start adding your powdered sugar one cup at a time while alternating with the heavy cream. Mixer should be on as you add sugar and cream.
Add your vanilla extract and mix.
Once your buttercream is all set add your food coloring to change the color.
Add your frosting into a pipe and decorate your cooled down cupcakes. Decorate with gold sprinkles.
Notes
If your buttercream is not as thick as you would like, just add more powered sugar to thicken it.
Simply Today Life https://simplytodaylife.com/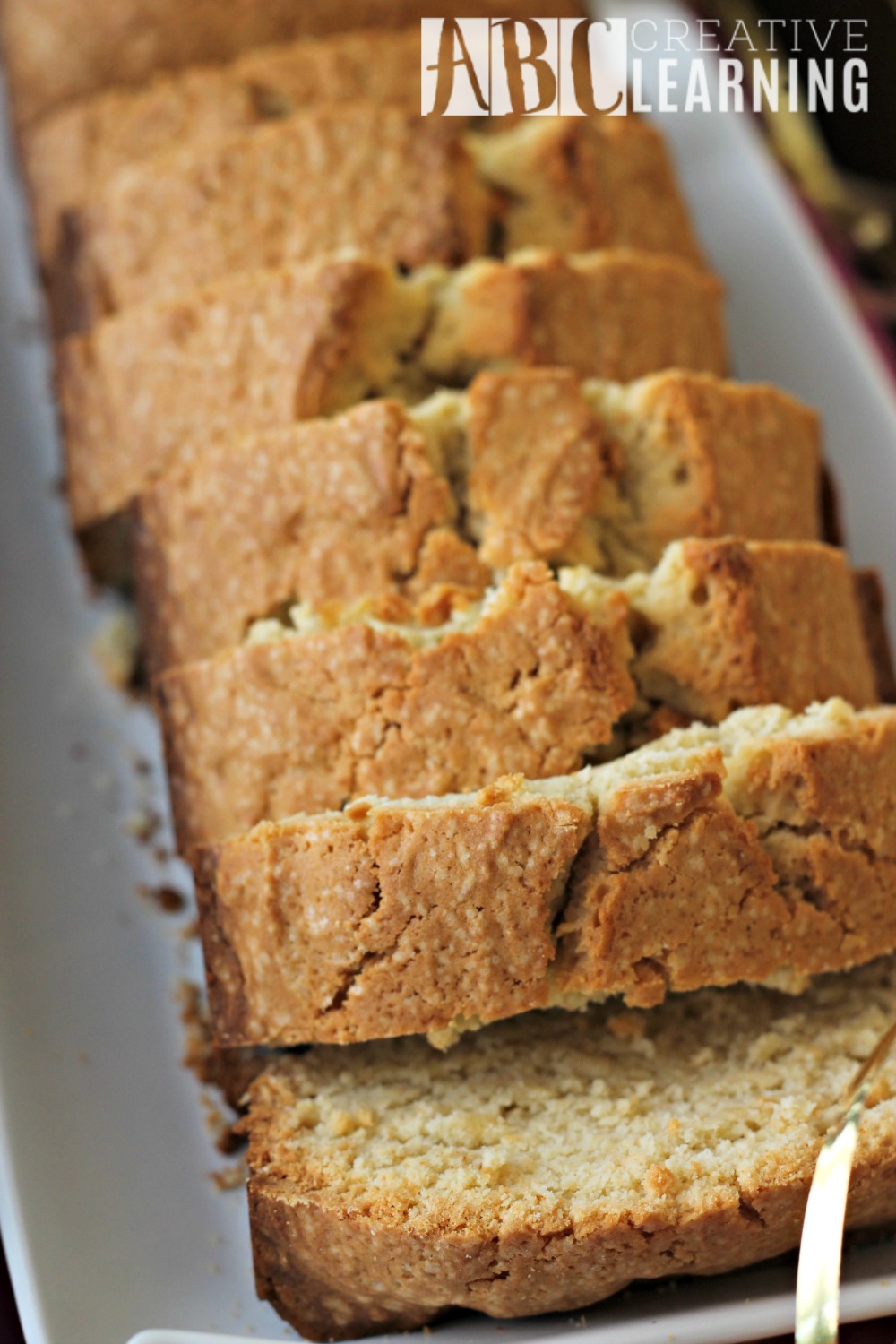 This pound cake recipe follows my original recipes that I've shared before, but I tweaked it just a bit to change the flavors!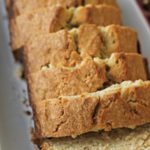 Salted Caramel Pound Cake
2016-03-07 20:42:17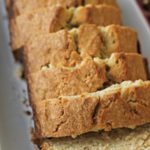 Ingredients
1 cup of butter at room temperature (dairy free butter)
2 cups of granulated sugar
4 large eggs
3 1/2 cups of sifted all-purpose flour or gluten free flour
1/2 cup of NESTLÉ® COFFEE-MATE® Liquid Coffee Creamer Salted Caramel
Instructions
Preheat oven to 350 degrees.
In a mixer bowl add your butter and sugar until fluffy.
Add all eggs one at a time, until completely mixed in.
Slowly add your flour and Salted Caramel. Alternate between the both to make sure that flour mixes well into mixture.
Grease and flour your pan and pour your entire mixture into 2 pans until evenly spread.
Bake your pound cake mix for 1 hour and 45 minutes on 350 degrees.
Your pound cake is completely baked when your toothpick comes out clean from your cake.
Once ready allow to sit on counter to cool off for about 45 minutes. Once cooled flip over on a flat platter or cutting board. Tap a few times and pound cake will fall right out of the pan.
Slice pound cake and serve on a nice platter.
Simply Today Life https://simplytodaylife.com/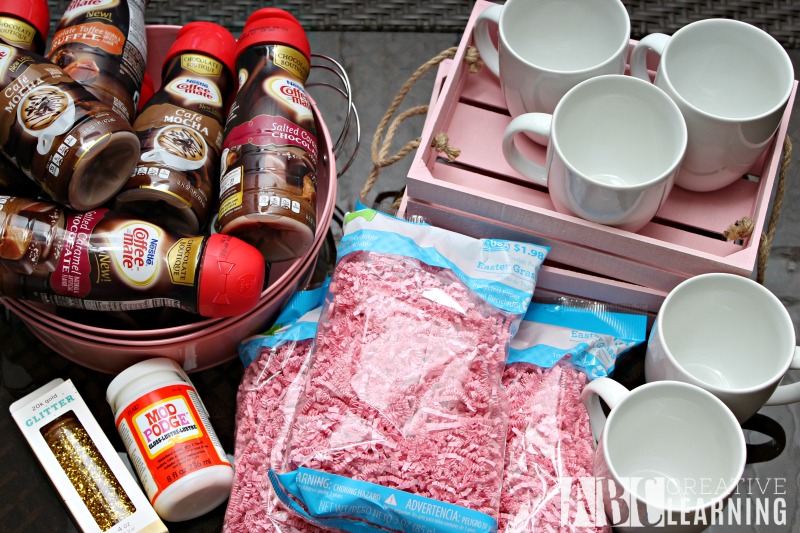 Items Needed to Create Mommy Baskets:
NESTLÉ® COFFEE-MATE® Liquid Coffee Creamer
Any type of basket, bin, or crate
Easter grass or filling for baskets
Mod Podge
Mod Podge Sealant spray
Glitter
Painting tape
Sponge brushes
Mugs
Waterproof Sharpie markers
Custom made initial monograms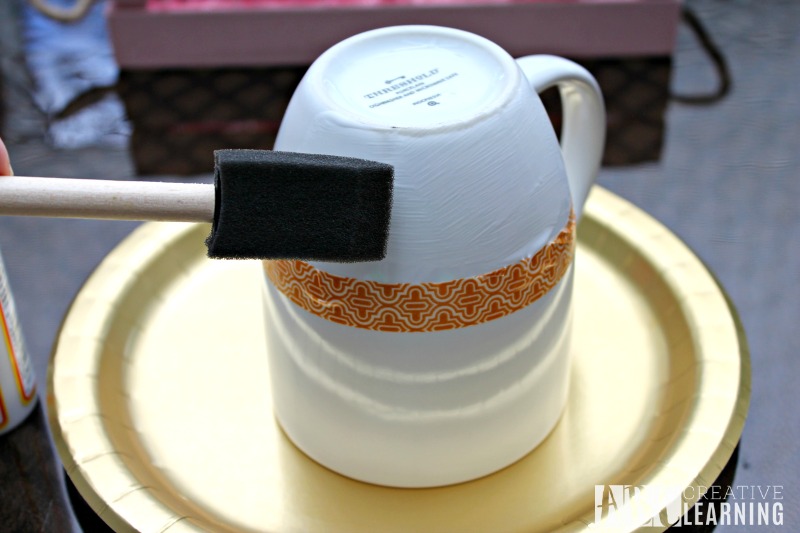 Start by making sure that all of your guests have a comfy place to sit, they have a plate (because this will become messy), their own mug, a flat or sponge brush, glitter, and some Mod Podge.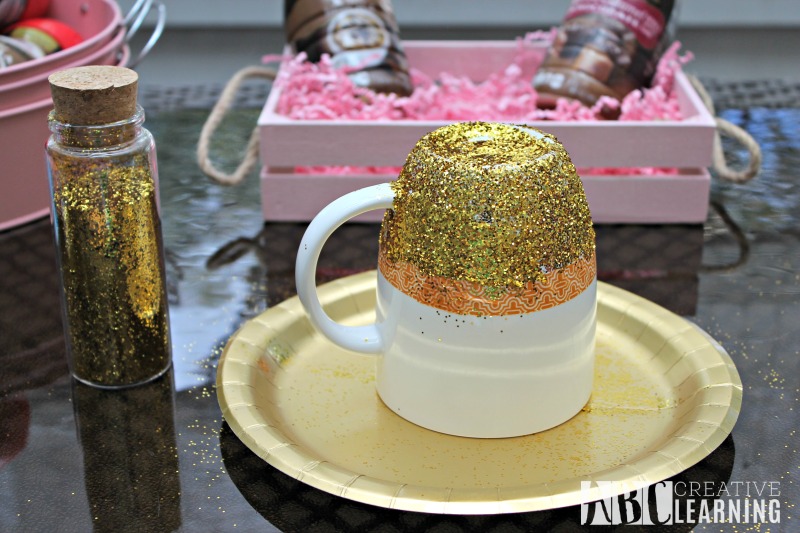 Have your guests decide what type of design they wanted to do. Some of my guests made initials with pre-made adhesive letters I orders online, some used the glitter, and one of my guests left hers white. She said her mom like plain white mugs. I loved this activity because it really had us all thinking exactly what our moms would like, not necessarily what we would have liked.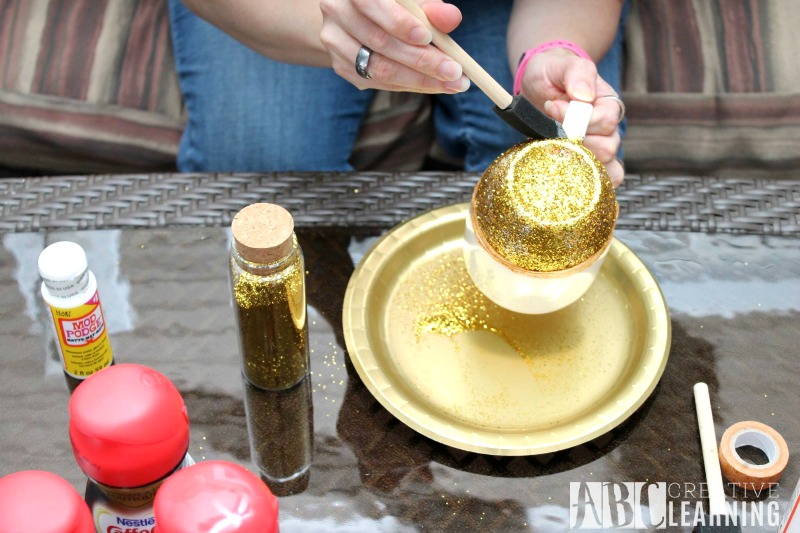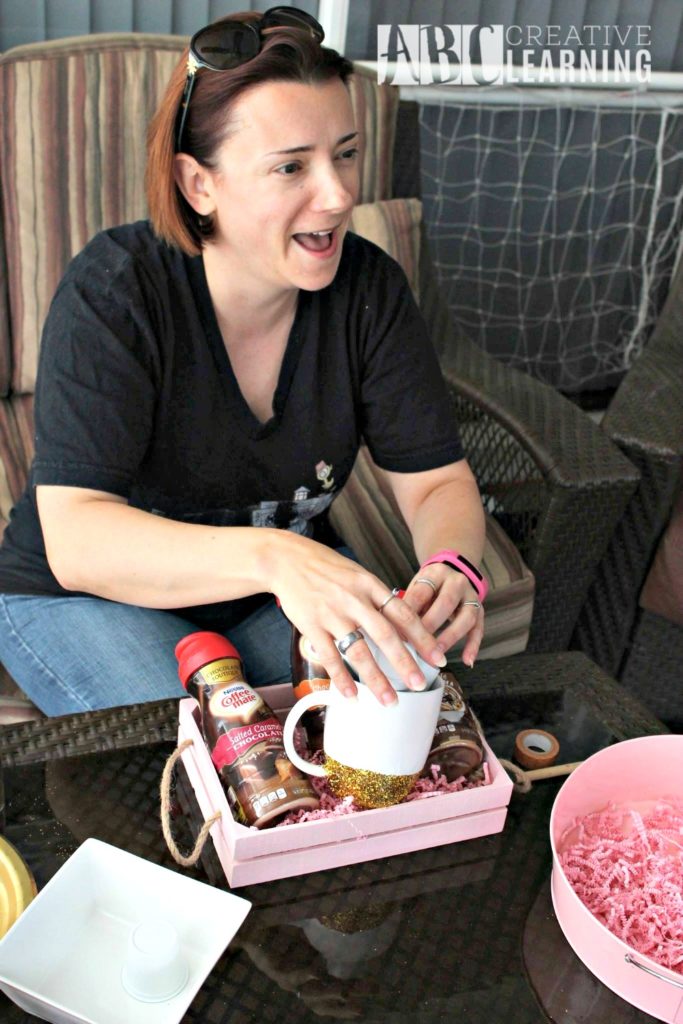 If your guests are using the glitter, have them tape off the area they don't want to get glitter on. Add the Mod Podge to the area they want the glitter to stay. Once they finished with the glitter have them go outside and seal the glitter with a Mod Podge sealant spray.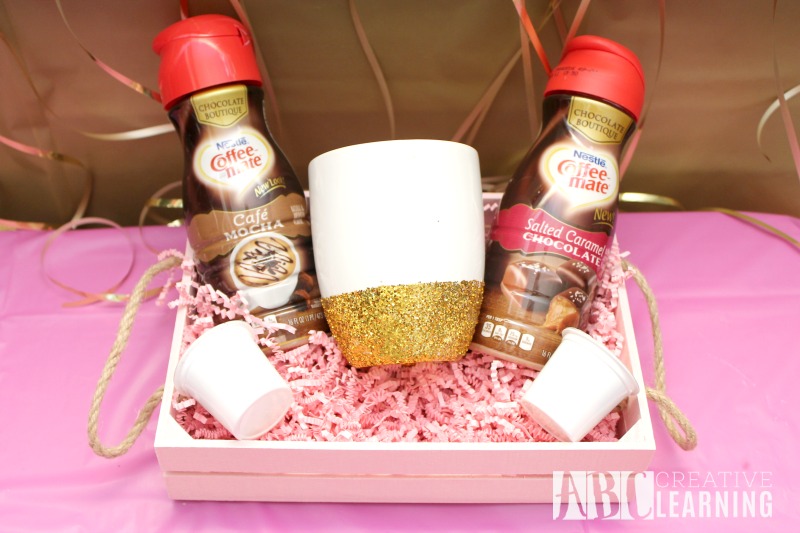 I created for my mom a V initial mug, which you can see below in the pictures. I loved that I ordered pre-made vinyl stickers for us, because I have to say those were my favorite!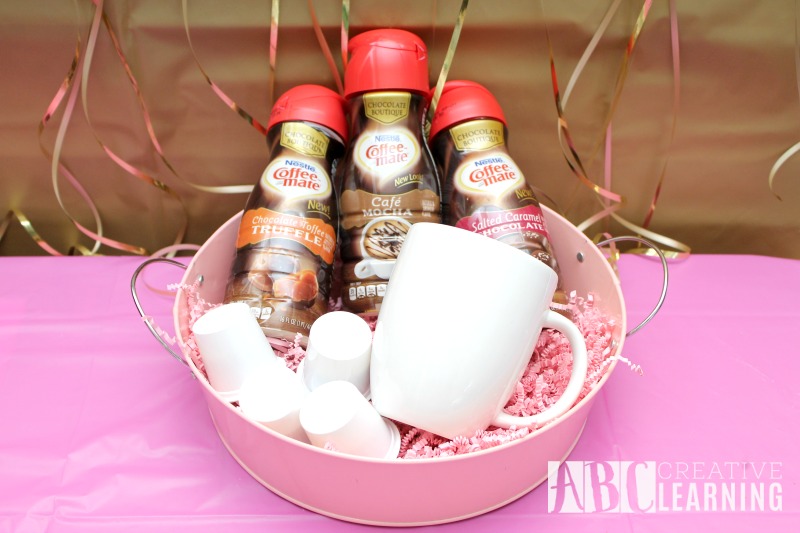 I had all of my guests east choose the type of basket they wanted, weather a tin or wooden box. Then they filled it up with the type of NESTLÉ® COFFEE-MATE® Liquid Coffee Creamer they believed their mom would like in their morning coffee. I had enough for each of my guests to add one of each flavor in their baskets, but some of my guests knew which flavors their mom would like and took the other home with them.
Hmmm… now that I'm thinking about it. I wonder if that was true and they wanted to keep the creamers for themselves because they were that good!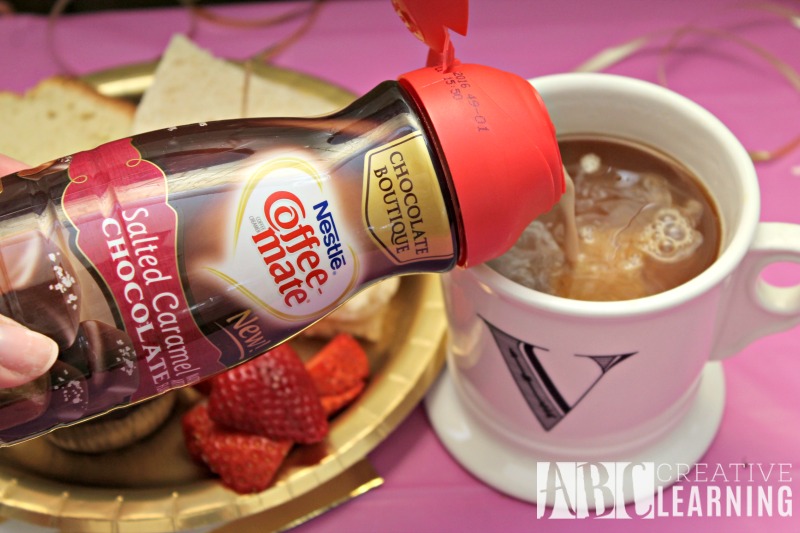 Gotta take a picture while we are all dressed up right?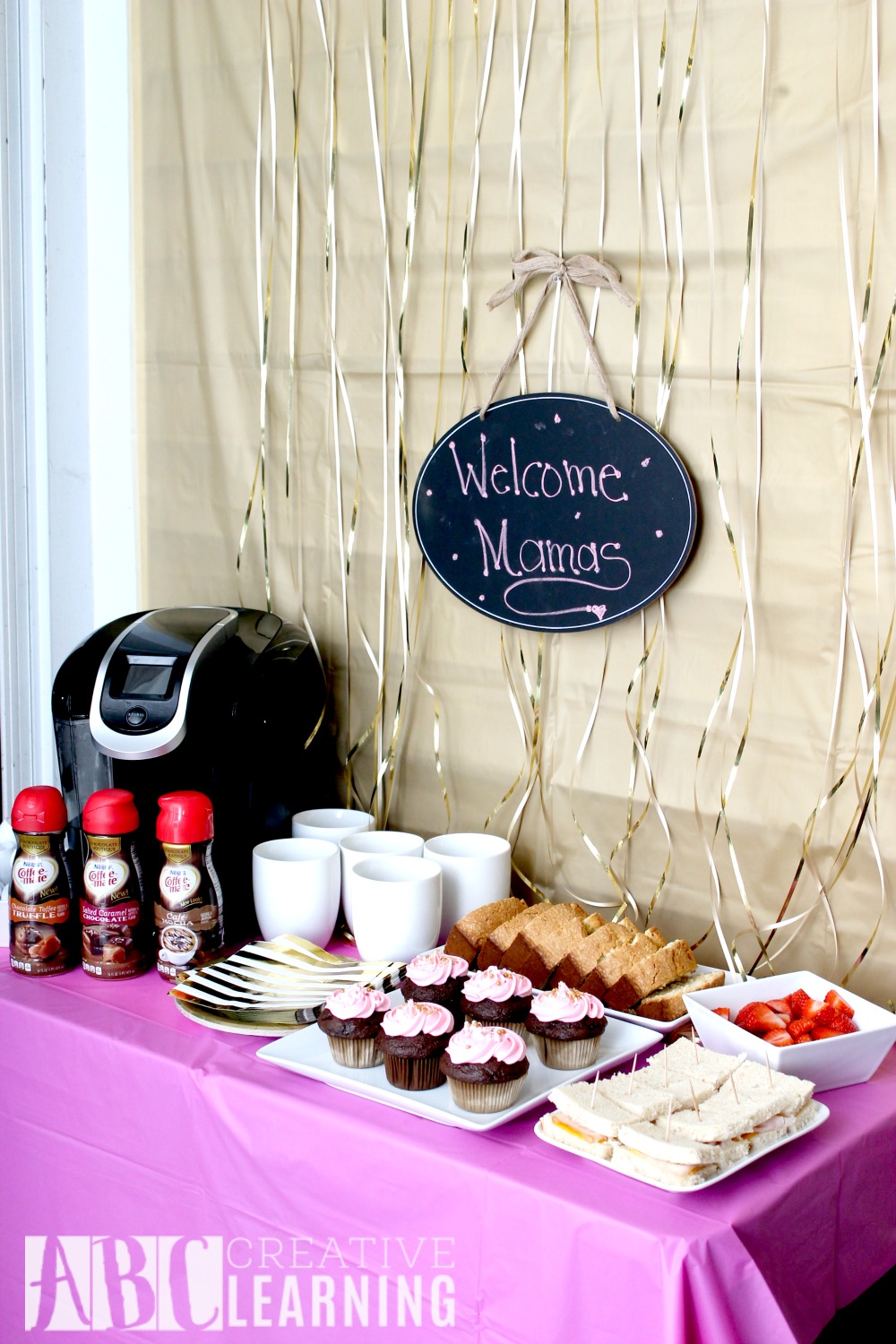 What would you add in your mamas basket?