This simple and delicious Keto Baked Avocado Eggs are perfect for anyone living a low carb or healthy lifestyle.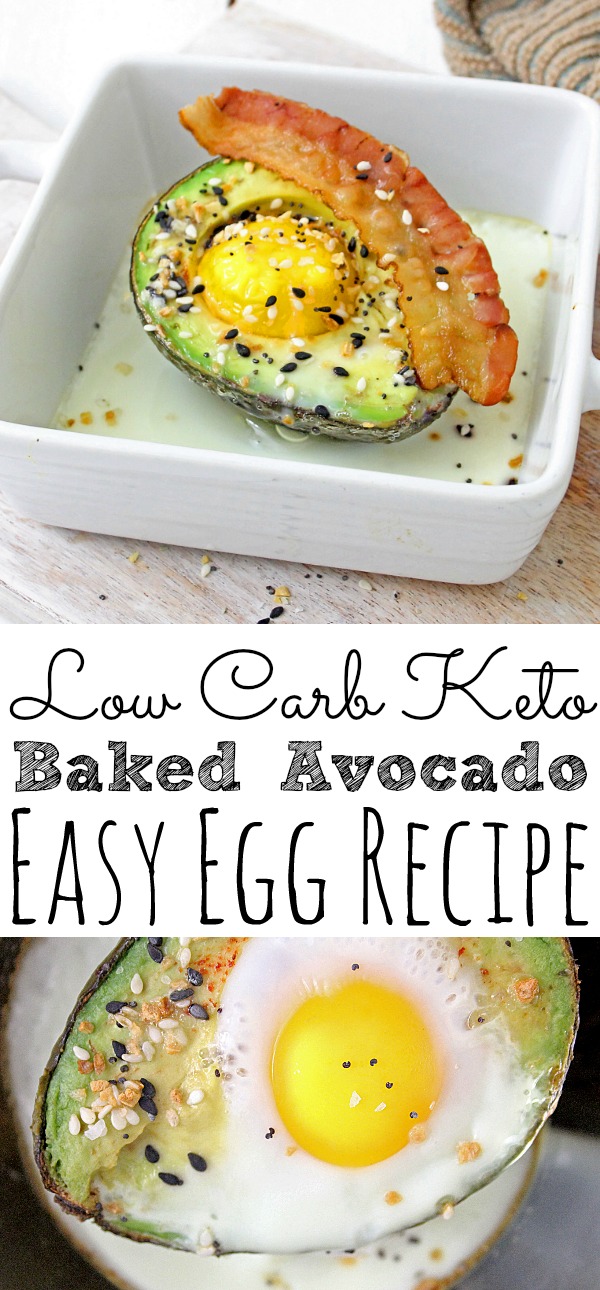 Keto Baked Avocado Eggs
This is the perfect quick keto recipe for breakfast, lunch, or even dinner! It's super easy to make, so it would be fantastic to get ready on busy weekdays or weekends. Plus, anything topped with bacon is perfect!
This post contains affiliate links.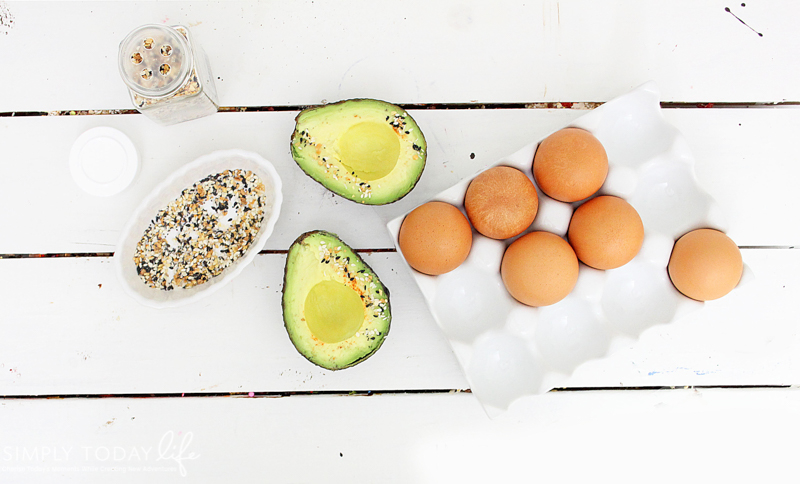 Ingredients Needed For Avocado Eggs
Avocado (allow one half per person)
Eggs (allow one per person)
Everything Seasoning
Garlic salt
Seasoned pepper
Butter
Parmesan Cheese
Bacon

Sour Cream
Lime juice
Bread for toast (if you're not doing low carb)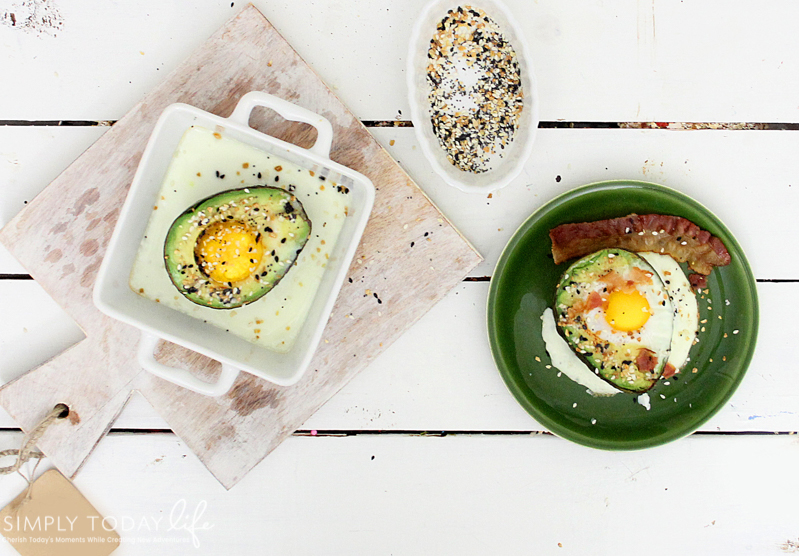 How To Make A Low Carb Avocado Breakfast Egg Recipe
Wash the avocado's, cut them in half, and remove the pit.
Scoop out the center and place the center in a bowl, and set aside.
Place the Avocado halves in oven safe single serving dishes.
Brush the inside of the Avocado with melted butter, and sprinkle with garlic salt and little Parmesan cheese.
Crack the eggs into the avocado and sprinkle with the Everything seasoning, garlic salt, and seasoned pepper.
Add the single serving dishes on a cookie sheet, and bake at 400 degrees for 20 – 25 minutes, or until egg centers are done.
Remove the eggs from the oven, and sprinkle with a little parmesan cheese before serving.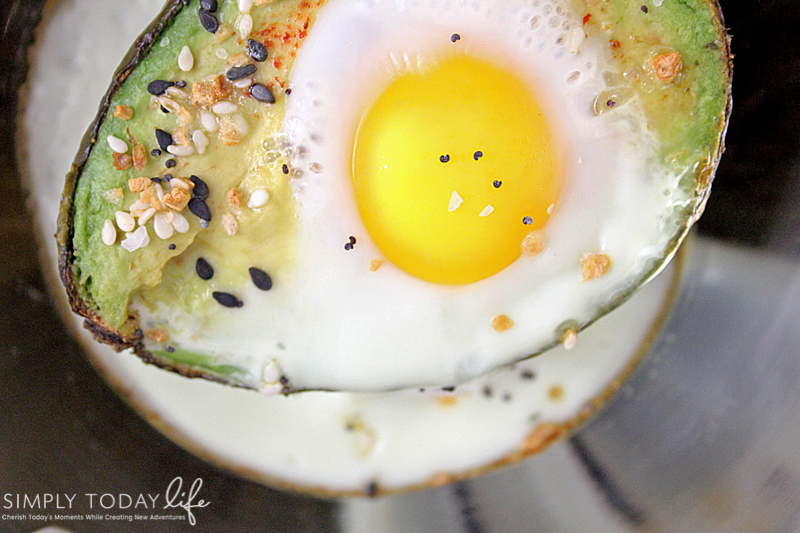 Making Avocado Sauce For Topping
While the eggs are baking, blend or mash the Avocado that you removed from the center.
Season with garlic salt, and pepper, and add minced onion, minced garlic, freshly squeezed lime juice, parmesan cheese, and a large dollop of sour cream.
Blend all together until creamy, and serve with Baked Avocado Eggs.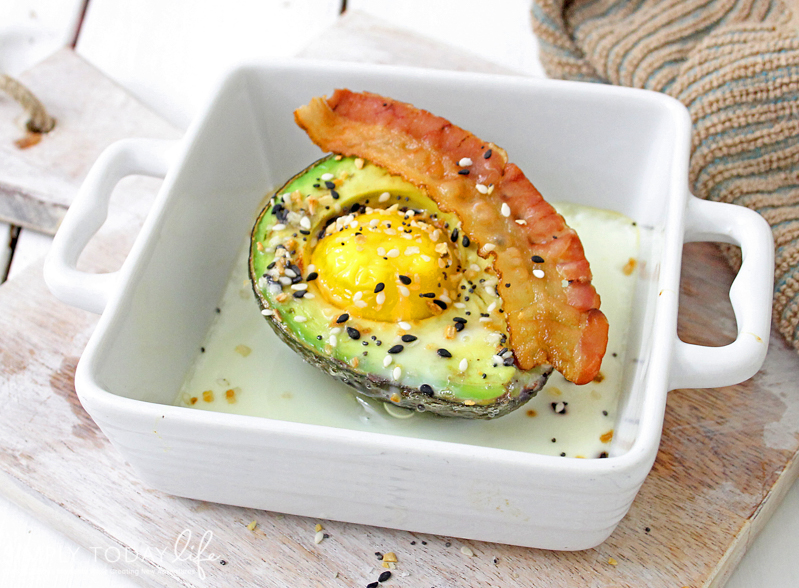 I hope you give this keto low carb breakfast avocado egg recipe a chance because it most likely will become your most favorite recipe by far. It's both delicious and healthy, making it the perfect pre and post workout breakfast.

You Are Also Going To Love:
If you loved this Keto Baked Avocado Eggs recipe, then you will also love the following breakfast recipes I have put together for you:
Do you love making easy low carb breakfast recipes?