Mamas, I have the perfect giveaway for all of you today! Could you use a nice relaxing evening in your bathtub with a nice glass of wine? Then you need to enter the Jewelry Candles and Bath Bombs Giveaway! It's the perfect gift for yourself or for another mama in need of a relaxing night! Plus, you might get lucky enough to win some awesome jewelry at the same time! Make sure to enter below and good luck!
This post is sponsored by TheHoppingBloggers.com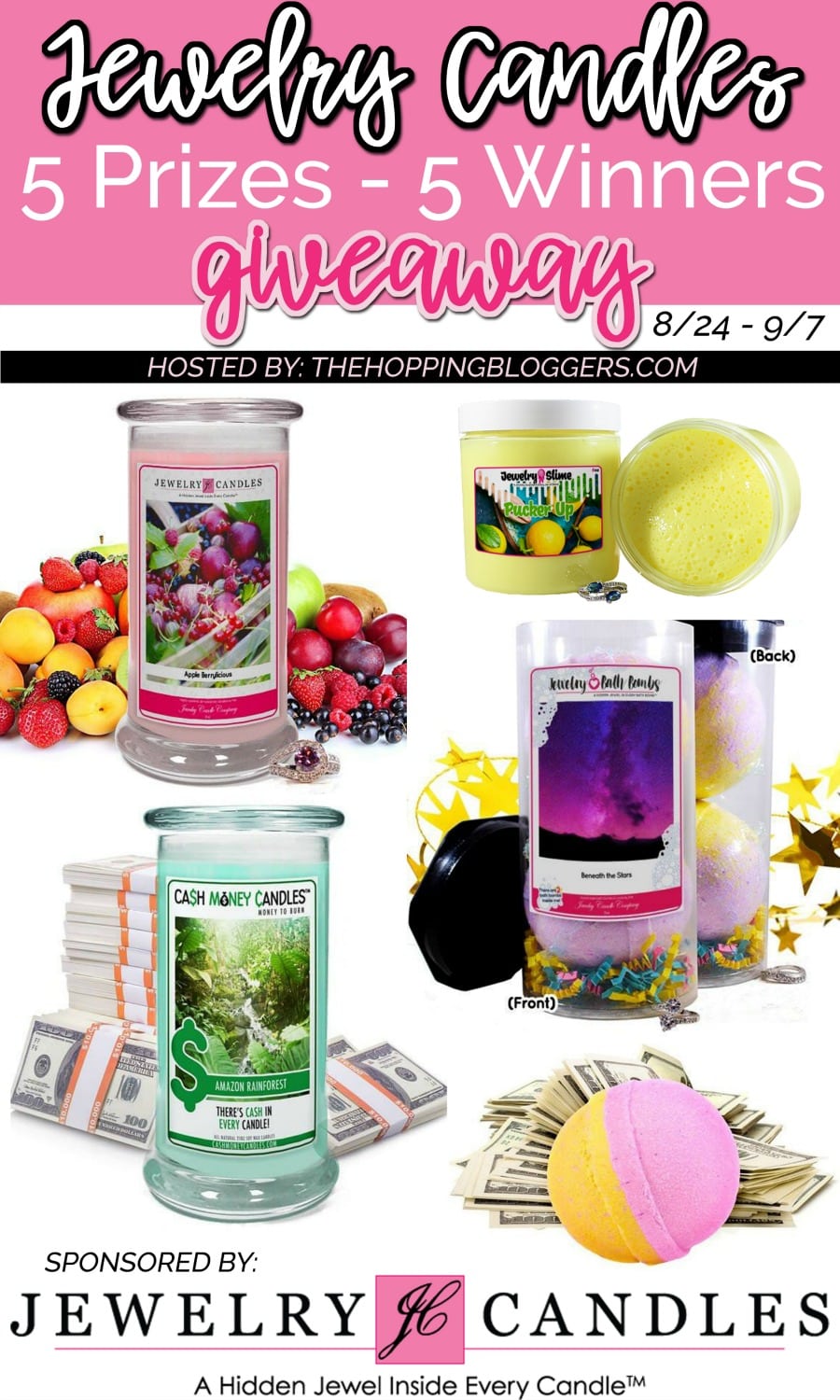 Jewelry Candles and Bath Bombs Giveaway
I've teamed up with The Hopping Bloggers to bring you a pretty amazing giveaway. You may have heard of Jewelry Candles and Bath Bombs already, but now is your chance to learn more and win something from them! When it comes to unique gifts, Jewelry Candles has the most extensive line of candles with jewelry inside, jewelry bath bombs, cash money candles, jewelry roses, jewelry sugar scrubs, and so much more!
Five lucky winners will each receive a prize thanks to these great sponsors. The five items up for grabs are: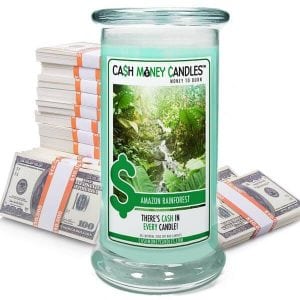 1. Cash Money Candle
Feelin' lucky? Try your luck with Cash Money Candles! Win a mystery cash prize in every candle, every single time. Every candle will receive a minimum of a genuine $2 bill INSIDE THE CANDLE; and how often do you see those around? Every Cash Money Candle has a cash prize ranging from the minimum of $2 to all the way to $2,500! The most amount of ACTUAL cash you can win in your candle is up to a $100 bill. If you win over $100 you get a $2 bill plus a code that you can redeem for GRAND prizes – which can be up to the $2500! Simply burn your candle down, and find your cash prize! Every candle is a winner because you are GUARANTEED to get at least a (1) $2 dollar bill in your Cash Money Candle!
2. Jewelry Candle
The Jewelry Candles all have amazing scents, and a beautiful piece of jewelry that will dazzle just like you, darlin'! Like buried treasure, burn the candle & find your surprise! A Necklace, a Pendant, Earrings, a Ring, or a Bracelet – it's a total surprise! Jewelry values from $10 to $7,500 – yes, $7,500! You may choose the "surprise me" option and your jewelry is a total surprise OR chooses the jewelry piece of your choice! Want to choose your ring size with these amazing scents? Check out the Ring Candles! Pick from the most popular scents like Birthday Cake, Baked Apple Pie, & Black Raspberry Vanilla!
3. Jewelry Bath Bomb
Inside every jar of Jewelry Bath Bombs, you will get 2 Jewelry Bath Bombs – EACH with a surprise jewelry piece inside! Long after the bath bombs are gone, the beautiful jar they come in will make a wonderful keepsake that you can reuse and or re-purpose! The jewelry retail value of the pieces you will get in your bath bombs will have a minimum retail value of $10 all the way up to $7500! You may pick a ring, a necklace, a pendant, a bracelet or a pair of earrings in your jar of Jewelry Bath Bombs. If you select a ring you may choose your ring size from size 5 through 11!
4. Cash Bath Bomb
The amazing Cash Bath Bombs are bath bombs with real cash inside! Each and every Cash Bomb will have a real $2 bill inside it! You also have the chance to get more than the $2 bill inside every Cash Bath Bomb! These Cash Bath Bombs are a fun, novelty item, not a lottery. While they do not give odds, they do guarantee that each one will have at least a real $2 bill in it. Cash Bath Bombs that have more than the $2 bill in it are chosen totally at random.
5. Jewelry Slime
Jewelry Slimes are the brand new way to relieve stress & look fabulous, with (of course) a piece of beautiful jewelry inside! Jewelry Candles chose their most popular Jewelry Bath Bomb scents & transformed them into something completely unique. You can sling, punch, stick, poke, smash, and squish your way into a fabulous, stress-free state of mind!
Shop for these items and more at JewelryCandles.com and BathBombs.com. Save 15% with the code HOPPING!
Which prize would you like to win most?
Enter to win one of these five prizes using the giveaway tool below – and GOOD LUCK!
If you're a blogger looking to connect with brands: Join The Hopping Bloggers database and get started today!
If you're a brand looking to work with a network of professional bloggers: Check out the creative campaigns The Hopping Bloggers has to offer!
SaveSave
SaveSave
SaveSave
SaveSave