This Cottage Family Vacation at Seaside, Florida, was what our family needed to reconnect and create new memories with our teenage daughters.
Thank you to Homeowner's Collection Vacation Rentals for hosting our family in October. All opinions are our own.
Cottage Family Vacation At Seaside, Florida
Being Florida residents, we have always wanted to explore and travel the state. Discovering new locations and family-friendly destinations and experiencing the beaches Florida has to offer firsthand.
So, we were excited when Homeowner's Collection Vacation Rentals reached out to host our family for a weekend in October. The timing couldn't have been more perfect as our girls are getting older, and time with them is becoming more and more precious to us.
The best part is that when you book directly, you can avoid up to an extra 12% in fees from VRBO, Airbnb, and HomeAway.
We never imagined our family vacation at Seaside, Florida, would make us fall in love with Florida all over again. Plus, it's so easy to book, making it a stress-free experience from start to finish for parents.
From the moment we drove into the little town of Seaside, located on the Florida Panhandle between Panama City Beach and Destin, we felt like we had entered a unique vacation bubble.
Luxury Cottages For The Family
As a mom of teen girls, my priority is to make sure that when on vacation, we all have our own space and are as comfortable as possible. Especially now that our girls are getting older.
Well, our two-story Secret Garden Cottage did not disappoint, with plenty of space for our family of four. The entryway gave the cottage a warm, inviting feel, making you feel at home. The keyless entry doorway was perfect for my teens to come and go without us worrying about them losing the key.
Our Secret Gaden cottage had a master bedroom with a king-size bed, bathroom, and closet. At the same time, our girls could share a bedroom with twin beds and their own bathroom, which made it perfect for my husband not to have to worry about them arguing about sharing a bed.
I also loved how toiletries were provided in each bathroom and were organic—especially since we were right at the beach; it created a special touch.
The second floor opened up to a dining room, living area, full kitchen, and an outdoor patio.
Although this mama wasn't planning on hitting the kitchen during this weekend getaway, it was nice to know that everything I needed to cook a meal was available.
We did spend a lot of time talking and reading books in the living room area. We even caught the Miami Dolphins game on Sunday night, which made my husband very happy.
Come watch the entire cottage tour on Instagram.
Family-Friendly Amenities
We all know that when we choose a destination to take our family to, it's not just about where we will be staying, but the family-friendly amenities provided are also important for keeping the family busy.
Our family vacation at Seaside, Florida Homeowner's Collection Vacation Rentals included everything a family could want on vacation.
Cottages are each owned by homeowners and are known for the upscale service it provides with luxury touches like Peacock Alley linens and an impressive welcome package.
Which was perfect for us to have a nice night in right before we headed home the next morning.
From a playground, family pool area, adult pool area, tennis, volleyball court, pickleball, yoga, spa, gym, beautiful hike trails, and more! In all honesty, you wouldn't have to leave Seaside to enjoy your vacation.
There was so much to do in Seaside that we only left once to drive down scenic highway 30A and headed back to our cottage to enjoy everything they had to offer.
With so many things to do and explore, it's the perfect family vacation for parents to relax and the kids to have fun!
With our cottage rental, we also got access to the beautiful Seaside beach, its white sand, turquoise blue waters, and the most amazing sunsets you will ever see! As a Florida resident for over 25 years, I've visited a lot of beaches, but Seaside is breathtaking.
We enjoyed the most fantastic dinner picnic on the beach one night during sunset. Even our girls were in awe of how pretty it was, especially since they could live on the beach if we let them.
We also received two complimentary bikes to enjoy around Seaside and the most exquisite basket filled with goodies from local shops and small businesses.
The Town Of Seaside, Florida
One of my favorite things about staying at Secret Garden was that everything we needed was within walking distance. Restaurants, shops, a theatre, ice cream shops, a post office, a music shop, food trucks, coffee shops, a bookstore, the beach, a grocery store, and even a weekend farmers market.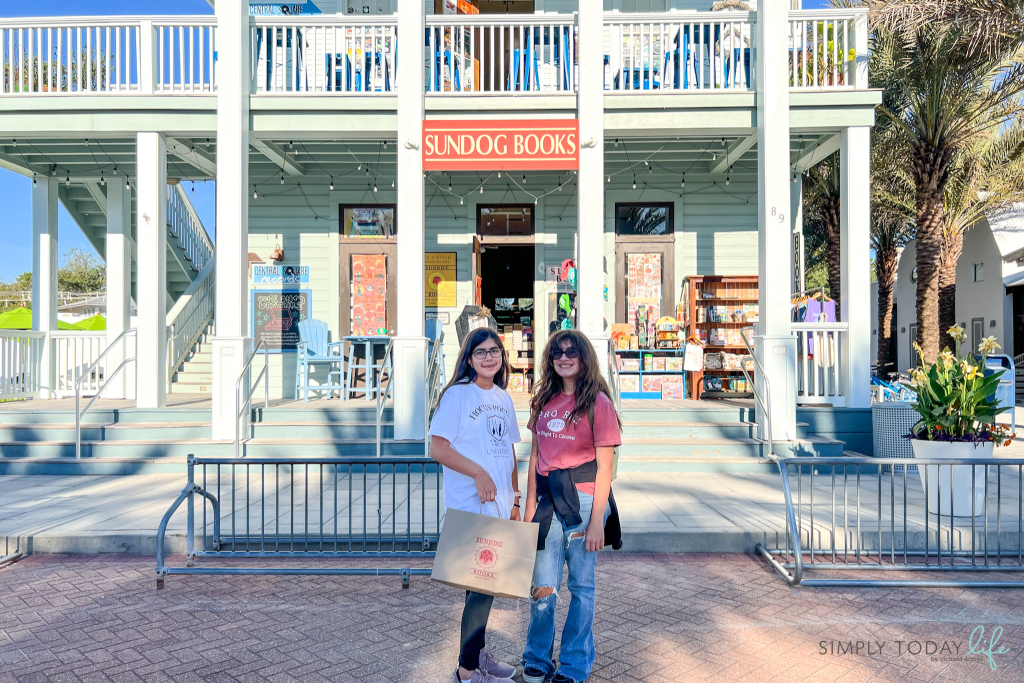 Whatever your desire or hobby, Seaside has it. The beautiful Seaside Amphitheater sits in the center of the town, steps away from our cottage. Giving us easy access to anything we needed.
Plus, chairs are provided throughout the area so that you can relax, enjoy a book, listen to the band playing, or enjoy people-watching.
Top 6 Things To Do While At Seaside, Florida
Here's our list of top things to do at Seaside, Florida, for families!
Seaside Farmers Market on Saturday mornings
Sunset dinner at Seaside Beach
Tasting all of the Food Trucks at Airstream Row
Walking and enjoying the shops
Enjoying a beach day
Reading a book with a cup of coffee in front of the Amphitheater
These are just our top 6, but there are many more things to enjoy while visiting Seaside, Florida, and staying at Homeowner's Collection Vacation Rentals.
But with so many choices, the entire family can find something they love to do together and on their own.
After our family vacation at Seaside, Florida, a week ago, we are already planning on visiting again very soon! We're even hoping to book a summer vacation with our family.
To book with Homeowner's Collection Vacation Rentals, visit their website.
Have you ever visited Seaside, Florida?