I was invited by Disney to attend the #ZootopiaEvent Press Junket at Walt Disney World in Orlando. Post sponsored by Disney, but all magical opinions are mine alone.
Last week during our #ZootopiaEvent at Walt Disney World Orlando Animal Kingdom Lodge, 24 other bloggers and myself had the pleasure of meeting and interviewing several of the Zootopia cast and directors. First up is an Exclusive Interview with Jason Bateman, the voice of Nick Wilde.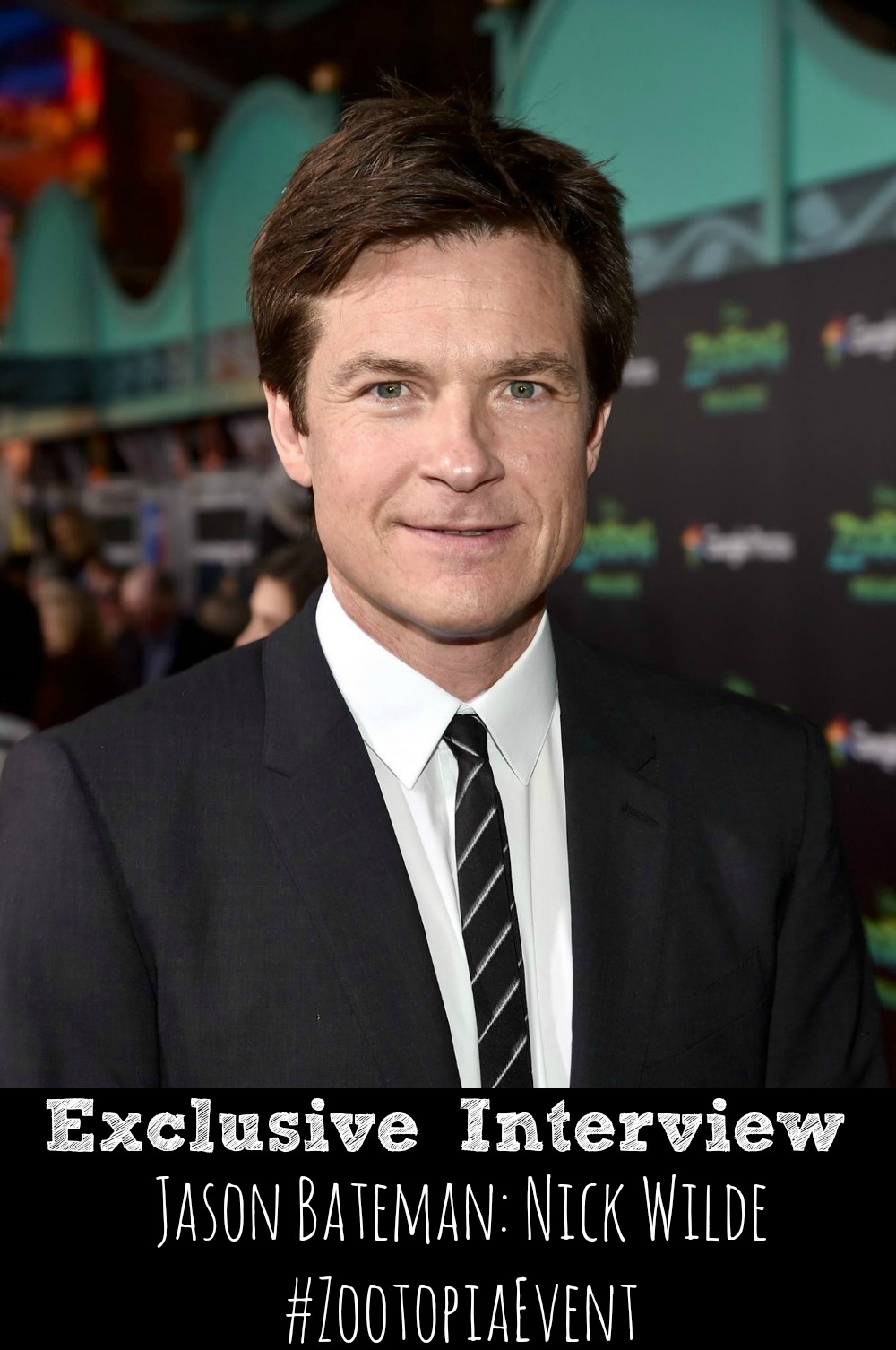 Exclusive Interview with Jason Bateman: Nick Wilde #ZootopiaEvent
It was definitely an amazing experience to be able to hear first hand how the movie came together, the inspirations behind the movie, and being able to learn how the actors really got into their roles. We asked them all sorts of questions, including some that our own kiddos wanted to know themselves.
From the moment Jason Bateman walked in we all knew we were in for a treat! When you think of the work he has done as an actor, you can't but remember laughing. He was very laid back, intrigued with our questions, and especially proud of the work he has done with Zootopia. Especially because it's something that he now can share with his two daughters, especially being his first full-length animated movie.
It's very, very cool to be leaving home to do a job that I can prove that I was actually doing. I have two little girls, nine and four and knowing that they are going to see it gives you pride.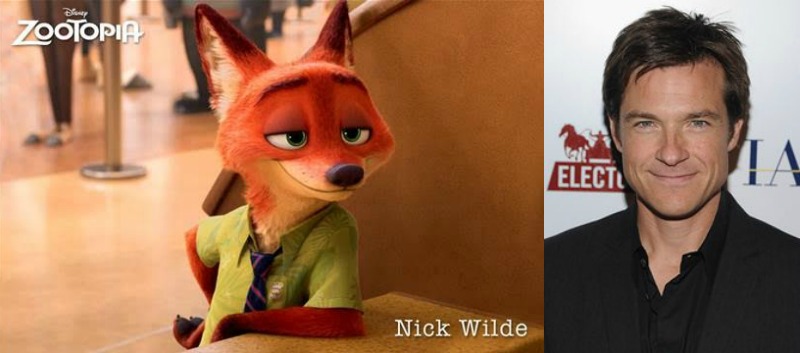 I don't know about you, but when I first saw Jason Bateman walk into the room my first thought was "Oh, my goodness Nick Wilde looks just like him" and so did a few other bloggers around me. It's like we all saw it at the same time! I think that really shows how much Disney takes the time to study the actors who are voicing the characters in their movies. They want to make sure that the actors really feel like they are the characters themselves.
They videotape you when you are recording your lines. I'm not doing anything to try to guide them, but you can't help but your face moves a little bit when you say "hey wait," you know, or "what are you talking about?" You know, there's a certain way my face folds or not, so they, they do use some of that and they are that good, you know, to really fine-tune it.
The movie touches on some amazing issues that really are happening now days, especially with kids, but also with adults. Nick Wilde, Jason Bateman's character really takes on this role. As a mom myself I really want my daughters to understand the issues that are at hand and although they are too young to understand them yet, I agree with Jason Bateman.
There's some really great issues and themes. It's a nice tool for me to talk about racism, or xenophobia or fear mongering or bullying. It's when I have a character that I can pause and I can say "okay, you see how that hippopotamus kind of like gave a look to the" – – -, then it kind of makes the medicine go down a little bit easier and it makes it a little less ominous for them to kind of broach these subjects. It's a nice tool for me as a parent.
It was refreshing hearing Jason Bateman be so honest with his skill set and what type of roles he really thinks he should or shouldn't' play. As audience members we want to be entertained and we want our children to love the movies we take them to, but if the acting or work being provided is not unique or even honest, then as the audience we would see right through that.
Yeah, I mean, I'm not a big fan of seeing a lot of acting, you know? Like I mean, I think that's the goal is to not act, right, to look natural so I try to use as much of me as possible in any part that I play. Plus, that I'm also pretty lazy so, any character I play is always inside my skillset, my sort of my goal post. If I read a script and there's a character that is so, so far from me that I would have to do a lot of acting to play that character, then just kind of by definition I probably shouldn't play that character because then you are going to see acting, you know? And, so yes, there is quite a conniving, sarcastic fatigued part of me.
We all know that creating a movie can take time, but how exactly how long does it take to record an animated movie? When asked how long from start to finish did it take to record Nick Wilde this is what Jason Bateman had to say.
The call first came in about a little over three years ago and we started sessions right around then, so about three years of recording sessions and those happened like once every couple of months and each one would take two hours. So, about 20, 25 sessions, two hours a piece, and with each session you do about two or three scenes, which are anywhere from three to five pages each. They record you reading through top to bottom and the director will kind of read the other part. You've got to make sure you don't overlap because his voice would be on my track then. They record that a couple of times and then you go in and you record each line individually about six to 10 times a bunch of different ways. You do one kind of fast, one kind of slow, one kind of angry, one kind of happy, and just give them a bunch of choices, because they don't know what the other actor is going to do that's actually reading the line that follows you, you know, in this kind of conversation. It's a neat process, it really is.
Oh, and by the way according to Jason Bateman, Nick Wilde's favorite color is green.
As you can see, we had a blast interviewing Jason Bateman about his new Disney movie Zootopia. He's just a regular dad who enjoys what he does and will sit or nap through a movie as long as his girls are enjoying themselves!
About Zootopia:
The modern mammal metropolis of Zootopia is a city like no other. Comprised of habitat neighborhoods like ritzy Sahara Square and frigid Tundratown, it's a melting pot where animals from every environment live together—a place where no matter what you are, from the biggest elephant to the smallest shrew, you can be anything. But when rookie Officer Judy Hopps (voice of Ginnifer Goodwin) arrives, she discovers that being the first bunny on a police force of big, tough animals isn't so easy. Determined to prove herself, she jumps at the opportunity to crack a case, even if it means partnering with a fast-talking, scam-artist fox, Nick Wilde (voice of Jason Bateman), to solve the mystery. Walt Disney Animation Studios' "Zootopia," a comedy-adventure directed by Byron Howard ("Tangled," "Bolt") and Rich Moore ("Wreck-It Ralph," "The Simpsons") and co-directed by Jared Bush ("Penn Zero: Part-Time Hero"), opens in theaters on March 4, 2016.
Like ZOOTOPIA on Facebook: https://www.facebook.com/DisneyZootopia

Follow ZOOTOPIA on Twitter: https://twitter.com/DisneyZootopia

Follow Disney Animation on Instagram: https://instagram.com/disneyanimation/

Visit Disney Animation on Tumblr: http://disneyanimation.tumblr.com/

Visit the official ZOOTOPIA website here: http://movies.disney.com/zootopia

ZOOTOPIA opens in theatres everywhere on March 4th!
Make sure to check out my stay at Walt Disney World Orlando Animal Kingdom Lodge!
What has been your favorite Jason Bateman movie?