Okay, I know that last week I told you I had checked off my bucket list meeting and interviewing Paul Rudd. This week it's all about my second bucket list check mark. So I'm sharing my Evangeline Lily Interview Ant-Man and the Wasp. Thank you, Disney and Marvel, for allowing me to attend the Ant-Man and the Wap movie press junket in LA. All Marvel fangirling and Evangeline Lilly obsession are my own!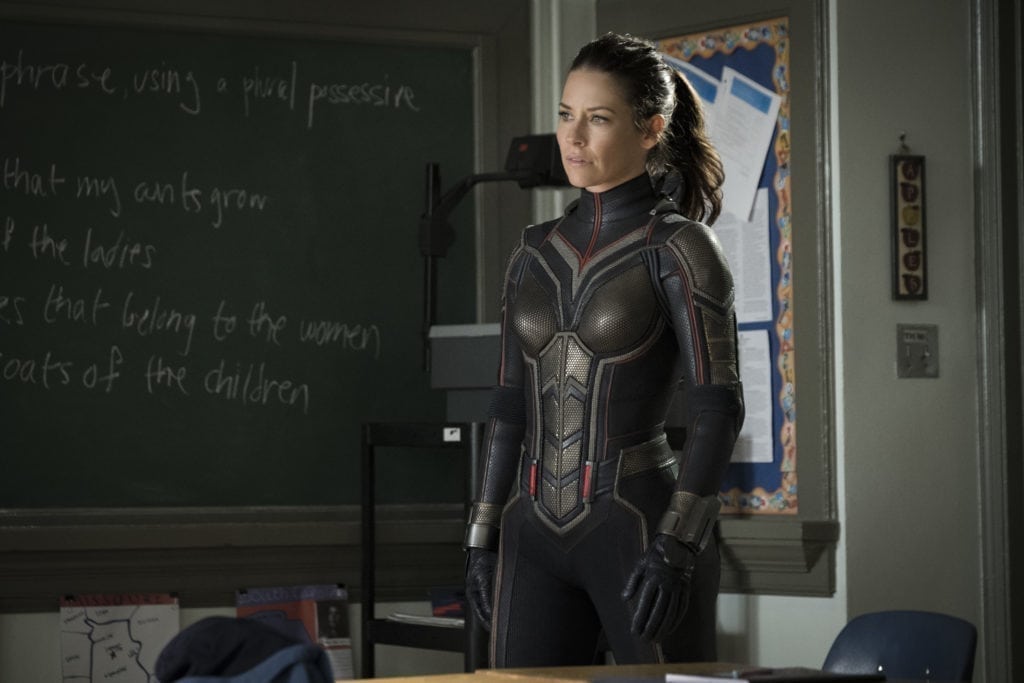 Evangeline Lilly Interview Ant-Man and the Wasp | A New Female Superhero
As much as I love our male superheroes, I'm definitely rooting for the female in any role, even if she is next to Paul Rudd! Being a mom of two girls just made this interview extra special for me and my daughters. These are the movies, role models, and heroes I want my daughters to see themselves in.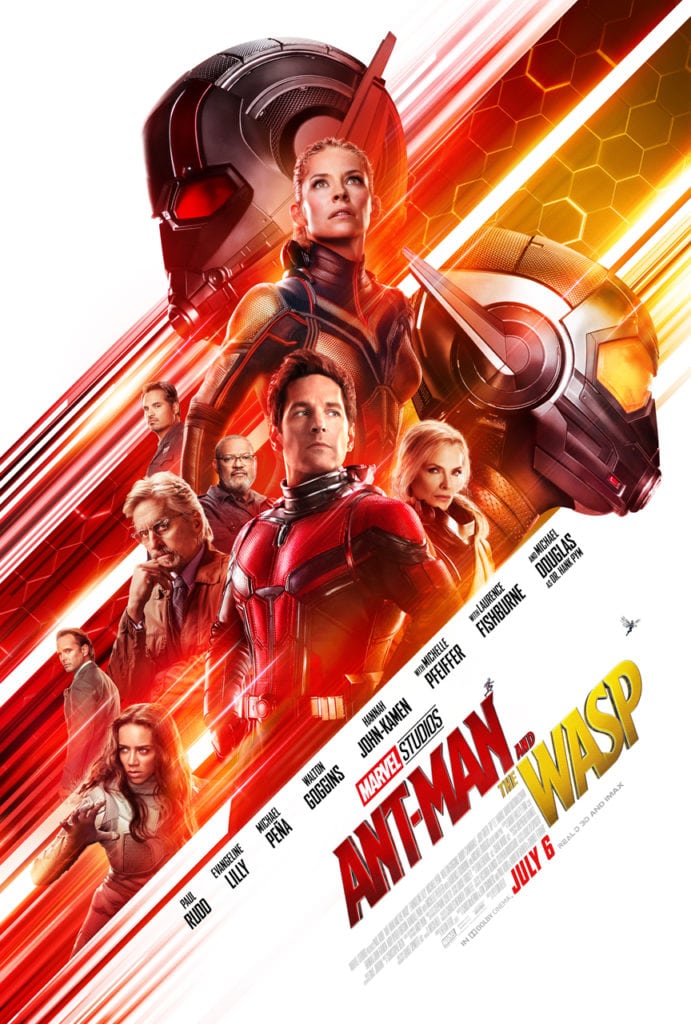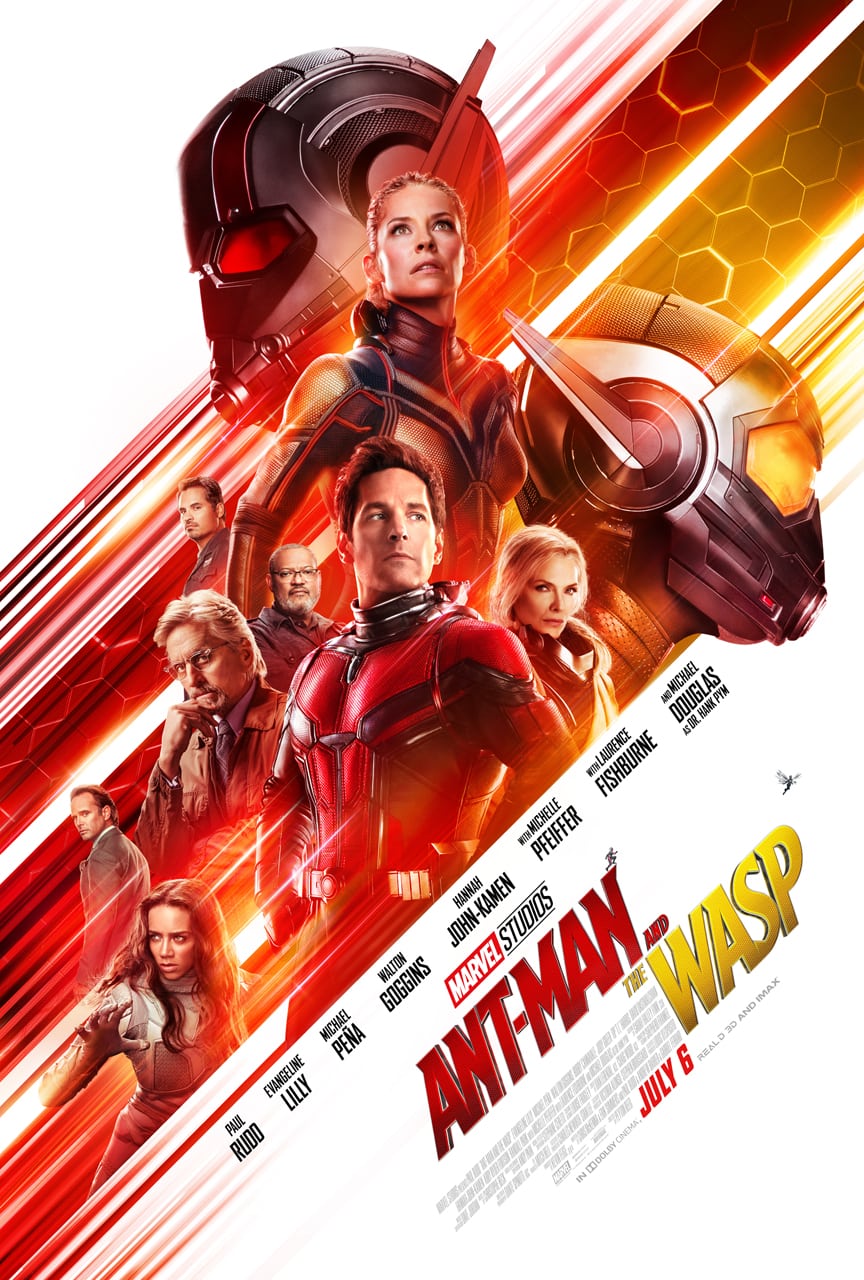 About Ant-Man and the Wasp
From the Marvel Cinematic Universe comes ANT-MAN AND THE WASP, a new chapter featuring heroes with the astonishing ability to shrink. In the aftermath of CAPTAIN AMERICA: CIVIL WAR, Scott Lang grapples with the consequences of his choices as both a Super Hero and a father. As he struggles to rebalance his home life with his responsibilities as Ant-Man, he's confronted by Hope van Dyne and Dr. Hank Pym with an urgent new mission. Scott must once again put on the suit and learn to fight alongside the Wasp as the team works together to uncover secrets from the past.
Not The First Female Superhero, But The First In MCU Movie Title
As Marvel fans, we can't disregard the amazing female superheroes that kick booty just as much as the male ones do. We can now see changes starting to happen in the cinematic world when it comes to movie titles and their female superheroes! The Wasp is the first to have her name in a movie title and next, we have Captain Marvel! As a mom of girls, not only does this make me proud, but it also gives me hope in the world. That characters like The Wasp, played by strong females like Evangeline Lilly could bring so much light, faith, and confidence in not just little girls, but little boys as well.
"Marvel really wanted to honor this moment where a female superhero is being titled and billed. I think Marvel is just absolutely hell-bent and passionate right now about representing women as fierce, capable, and as equals to men".
Perpetuating The Rumors Of An All MCU Female Film
As a Marvel fan and mom of daughters, there is nothing that would be more amazing than an all MCU female film ridding the world of evil! Seriously, how amazing would that be? I know for one my girls would be over the moon and more than ready to purchase their tickets. But is the world ready for this? Even more, will Marvel ever take on this challenge?
The truth is, many of us have heard of the rumors being spread of an all-female cast for a Marvel film, but will the rumors ever happen? According to Evangeline Lilly, they are just this, rumors, but she will help perpetuate these rumors and hopefully, it will happen.
"I have a girl crush on Acoya. I mean, come on. Okoye is so fierce, strong, present, convicted, and talented. She's my queen. I call her my queen. I would love to see the Wasp and Okoye kick some ass together".
Fantasizing About Being Michelle Pfeiffer As Catwoman
During our Evangeline Lilly interview, we learned that as a young girl she fantasized being Michelle Pfeiffer as Catwoman. Just like every little girl is going to dream about being Evangeline Lilly as The Wasp, in Ant-Man and the Wasp. I can see my girls wanting to dress up as her this Halloween. I've already caught them playing The Wasp together and they even haven't seen the movie yet. This is the kind of impact the character and Evangeline are already making with young kids.
"It's Michelle Pfeiffer in a skin-tight leather costume, owning it, and being fierce as shit. I think it was also because there wasn't a lot to choose from. There just weren't very many female superheroes. It was mostly male superheroes".
We Are Strong Because Of Our Femininity, Not In Spite Of It
As a mom of girls, I feel like I'm always walking a fine line on how much to encourage my daughters to be feminine or strong. Especially when it comes to my oldest daughter, who is such a Star Wars and Marvel fan. She most definitely has a stronger nature to her and I can see her having this battle in her head constantly. Especially when she is made fun of at school because she wants to carry a Star Wars backpack, rather than a pink and sparkly one. I admire Evangeline Lilly for this and I'm so grateful that I was in the room when she shared the quote below with all of us. It's something that I am printing out and giving to my daughter to hang in her room.
"I didn't want to send the message that in order to be powerful, strong, capable, and tough, you have to be masculine, macho, and a dude. I wanted to show that we are strong because of our femininity, not in spite of it".
Evangeline Lilly has been one of my favorite interviews of all time. Not only because my daughters look up to her character, but because they are able to look up to her as a person. As a woman. Not just as The Wasp.

Ant-Man and the Wasp in theaters July 6th!!
You Are Also Going To Love:
If you loved reading this Evangeline Lilly Interview Ant-Man and the Wasp, then you will also love the following Marvel articles I have put together for you:
Are your kids a fan of The Wasp?