Crock Pot Chicken Tacos recipe is perfect for busy nights. It will become one of your family's favorite meals!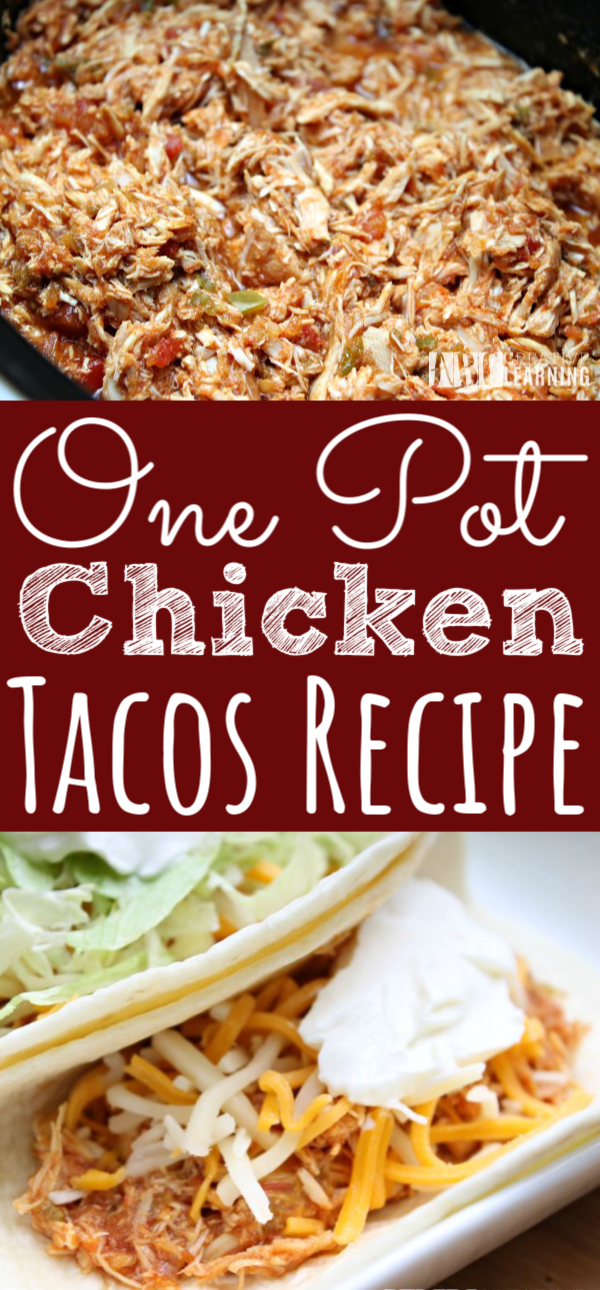 Easy Crock Pot Chicken Tacos
I don't know about you but I am a BIG fan of Mexican food and so is my family.
We pretty much can have tacos almost every single day of the week.
Especially since there are so many ways you can make tacos on a busy schedule!
This is one of my favorite taco recipes to make on busy nights at our home.
Not only does everyone love it, but all I have to do is add everything in the crockpot and it cooks all by itself.
Now, that's the kind of cooking I love to do!
*This post contains some affiliate links for your convenience (which means if you make a purchase after clicking a link I will earn a small commission. It will not cost you a penny more).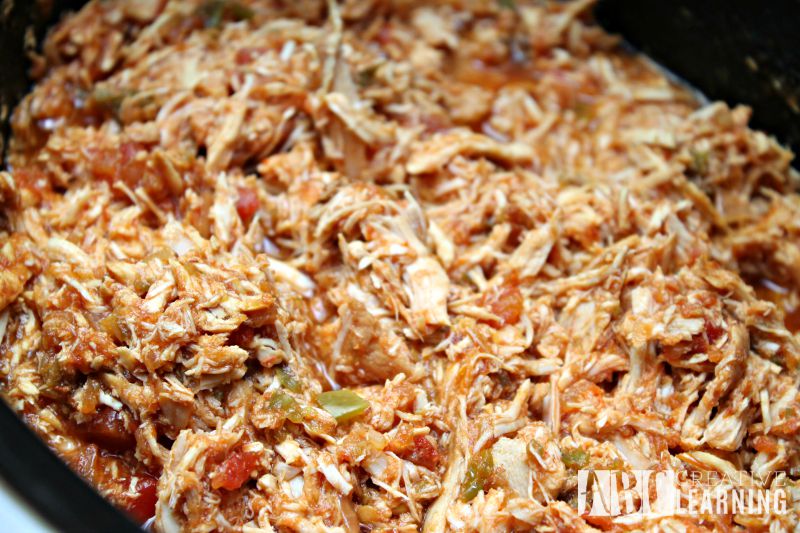 Ingredients Needed For Easy Chicken Tacos
3-4 Chicken breasts
An entire jar of your favorite Salsa
Tortillas or hard tacos
Shredded lettuce – optional
Pico de Gallo – optional
Sour Cream optional
Cheese – optional
Refried beans – optional
How To Cook Chicken Tacos In A Crock Pot
Not only is this chicken taco recipe easy to cook on busy nights, but it's perfect for staying on a budget with a large family.
I usually end up doubling the recipe just so that we all have extras throughout the week.
Both my girls and husband love taking it for lunch the next day.
Plus, the chicken gets a nice marinade taste while it sits in the refrigerator overnight.
Add your chicken breasts to the crockpot.
Pour the entire jar of salsa of your favorite salsa.
Cook on low for about 4-5 hours.
Once your chicken is thoroughly cooked shred the chicken using two forks.
Allow chicken to sit for another 10-15 minutes in the slow cooker.
Serve over hot tortillas, hard corn tacos, or salad and add your favorite toppings.
Chicken Tacos For Picky Eaters
I don't know about you, but when my girls were younger they were picker of what was in their food.
As soon as they saw something colorful in their food they wouldn't touch it.
Thank goodness those days are over! Well, sort of.
So, here's a trick I used to do when I made chicken tacos in my slow cooker to make sure that my girls would eat their dinner.
I would cook my chicken breasts in the slow cooker like if I were going to just make plain shredded chicken.
Once the chicken was completely cooked I would scoop out enough for both of my girls to eat.
Then I would add the jar of salsa to the remaining shredded chicken in the crockpot.
I would then allow it to cook until dinner time on low.
It's a great way not to stress about the kids eating something else, and it's still an easy dinner option for busy nights.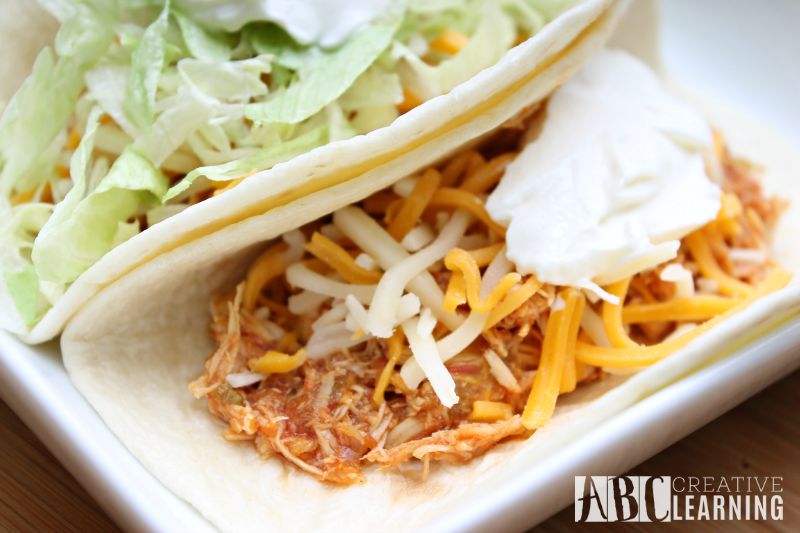 Keto Chicken Tacos
If you're on Keto or eating low carb like I am, one of the great things about this recipe that it's keto-friendly.
Just omit the tortillas and taco shells for a more keto-friendly base.
You can easily make cheddar cheese tacos or create a delicious taco salad with shredded chicken on top.
I love filling up a bowl with shredded lettuce, shredded chicken, and all the delicious toppings I can get my hands on.
Oh, and extra sour cream! Yes, it's keto and low carb!
Favorite Kitchen Items For Chicken Tacos
You all know that I'm about making dinner time as simple as possible.
This also means having the right tools and kitchen appliances to help me achieve this.
Here are some of my favorite must-have items to making easy chicken tacos weekly in your home.
How To Create A Taco Bar
This one-pot chicken tacos recipe is perfect for creating a taco bar for dinner time.
It's a great way to get the family together to enjoy dinner conversations with the kids.
Go crazy and make a homemade salsa too. Then add it to your chicken crockpot! I bet that tastes even better!
Here are some quick tips on how to create an easy taco bar for dinner once a week!
Make this easy slow cooker chicken tacos recipe
Add your toppings to bowls, plates, or cups with spoons.
Add your tortillas to a warmer on the table.
Bake corn hard tacos in the oven and then lay them on a plate once toasty.
Add everything to your dinner table so that everyone can create their own tacos!
I hope this easy chicken crockpot taco recipe helps you get dinner on the table quickly on those hectic nights!
Plus, nothing beats sitting down at the end of a busy day with the family.

You Are Also Going To Love:
If you loved this Crock Pot Chicken Taco recipe, then you will also love the following one-pot recipes I have put together for you:
What is your favorite slow cooker recipe for busy nights?