This shop has been compensated by Collective Bias, Inc. and its advertiser. All opinions are mine alone. #SweetenTheSpread #CollectiveBias
The Big Game is coming up, are you ready? NO? Well, good thing I am sharing a Family Friendly Themed Football Party idea today with you! Including an easy table decorating idea, game, recipes, yummy treats, and a free family friendly printable to use during your party!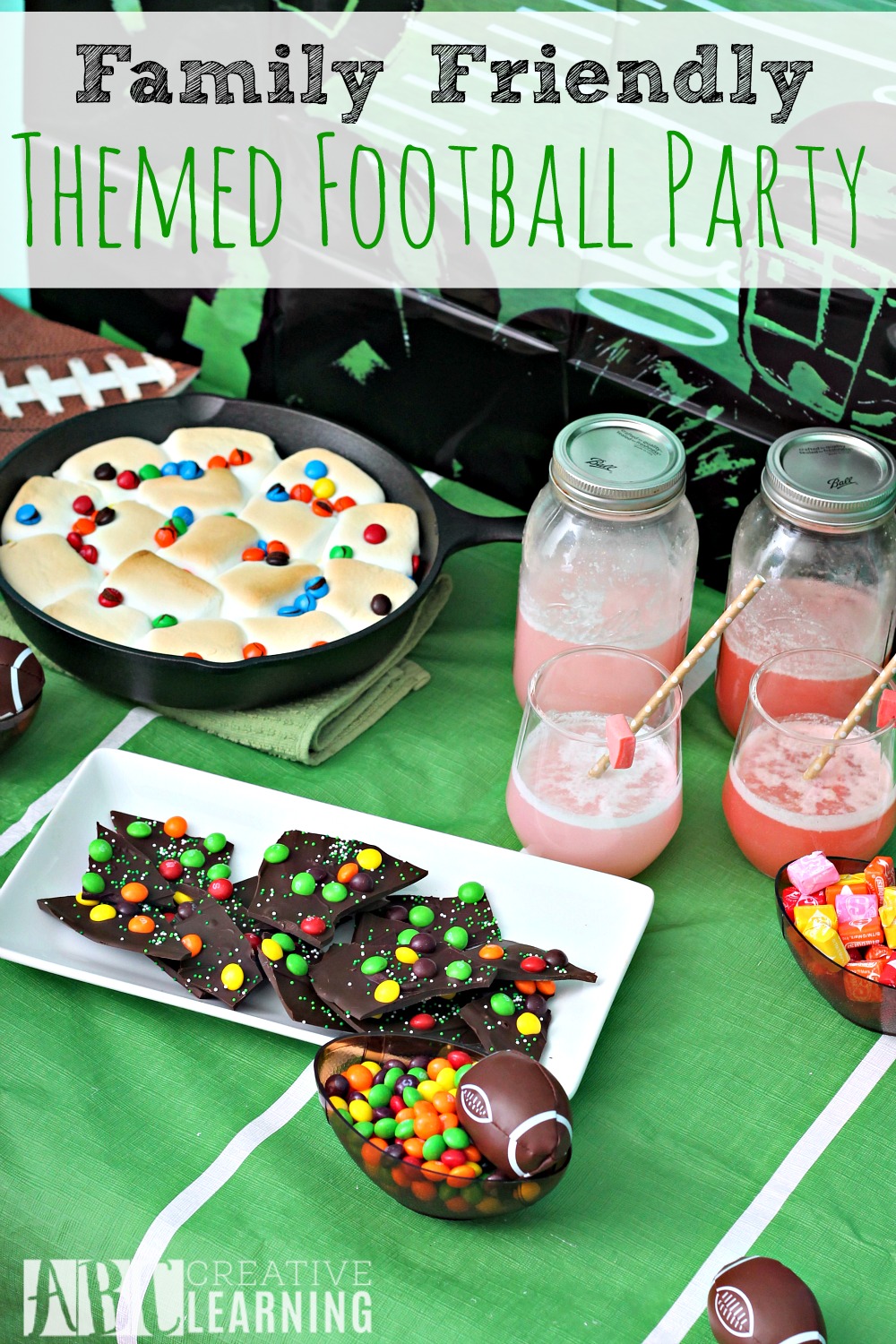 Family Friendly Themed Football Party
We love having our family and friends over for special events, but the most fun of them all at the beginning of the year is definitely the big football game! My husband is such a football fan and really doesn't get the time to enjoy watching them anymore, so I thought that having a family friendly themed football party would not only surprise him, but everyone would be able to bring the kiddos too!
You know as parents we want to include our kids in as many events as possible and I wanted to make sure that my girls had friends and cousins to play with while the parents got to watch the game. Or should I say while the dads watched the game and the moms got to catch up on everything going on in our lives!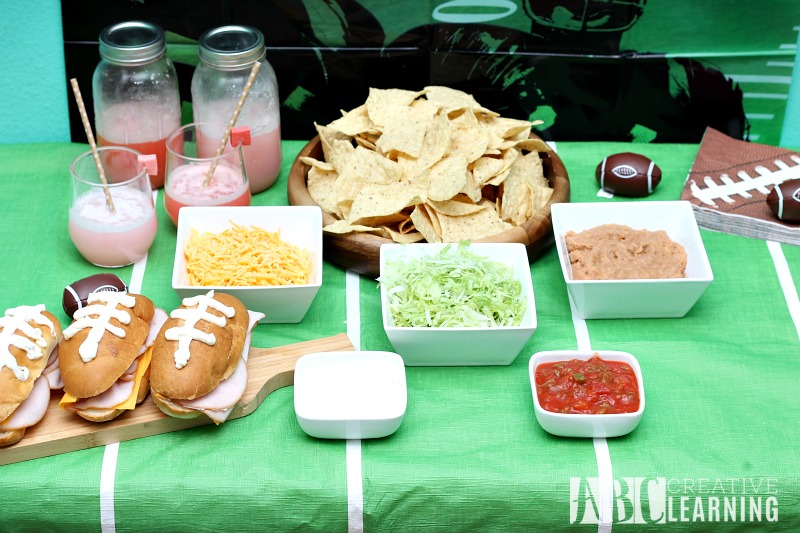 Good thing Target carried everything that I needed for my family friendly themed football party idea! Plus, I did have some other things that I had been saving or made myself! Remember, the idea of this is to have a family friendly party where parents and the kiddos could all enjoy a great time! So, I decided to create several different recipes that would be appealing to both parents and the kids.
I first started off with a yummy Nacho Bar with every topping that adults love! This allowed everyone to create their own Nacho snack with their favorite toppings like refried beans, sour cream, shredded cheddar cheese, shredded lettuce, and salsa.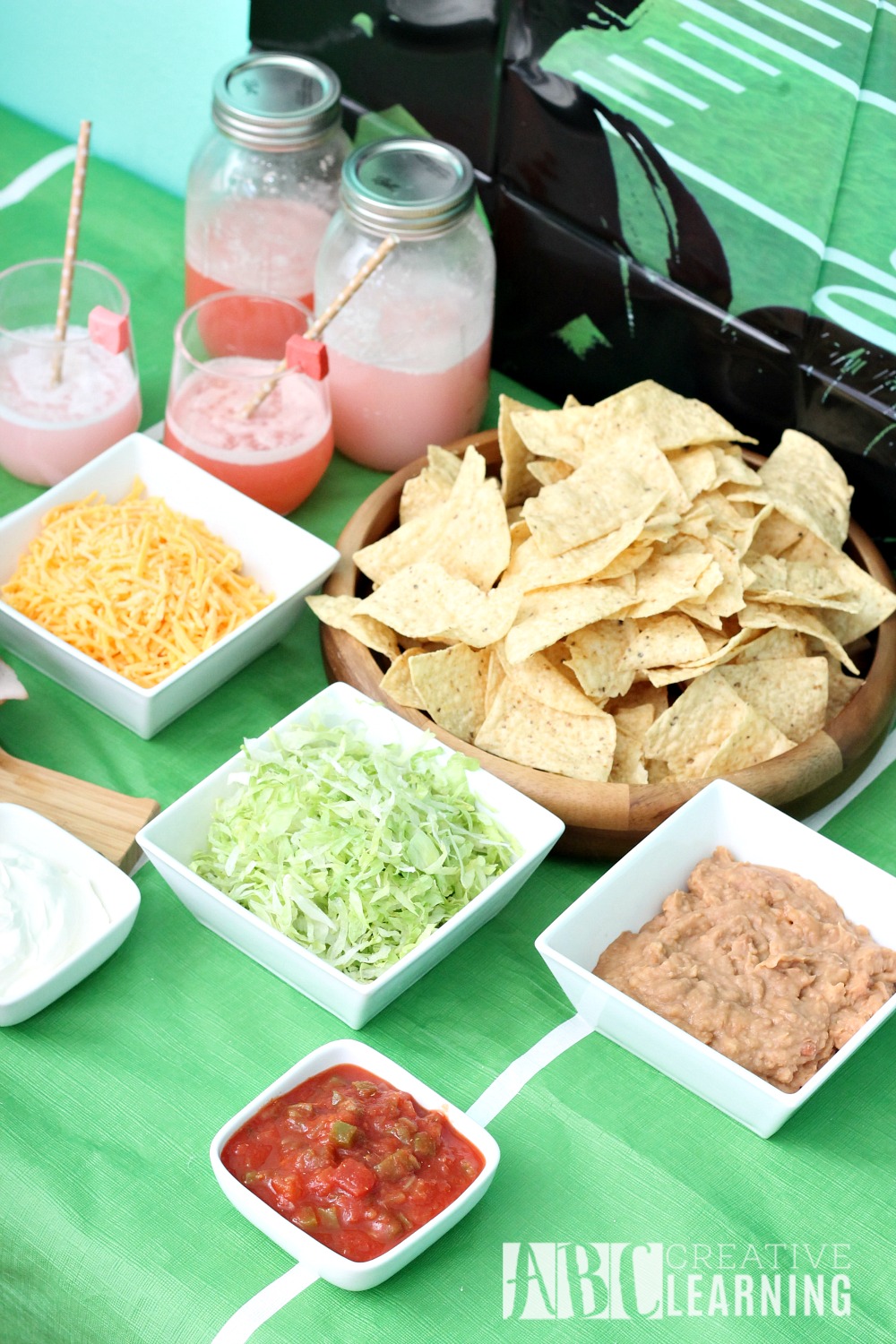 My girls love nachos, but not all kiddos do. So, I decided to create a simple cheese, turkey, and ham football subs for the big game. I just had to add a little bit of game day inspiration on each sandwich.
Target has a wonderful baking section with a large of assortment of breads, so I decided to look for bread rolls that looks like footballs. After I had added the cheese and meats to the bread I used a mayo bottle with a tip to create football laces on top. This was a huge hit not only with the kids, but even the parents! So much so that I had to create a few extra ones for the "big" kids!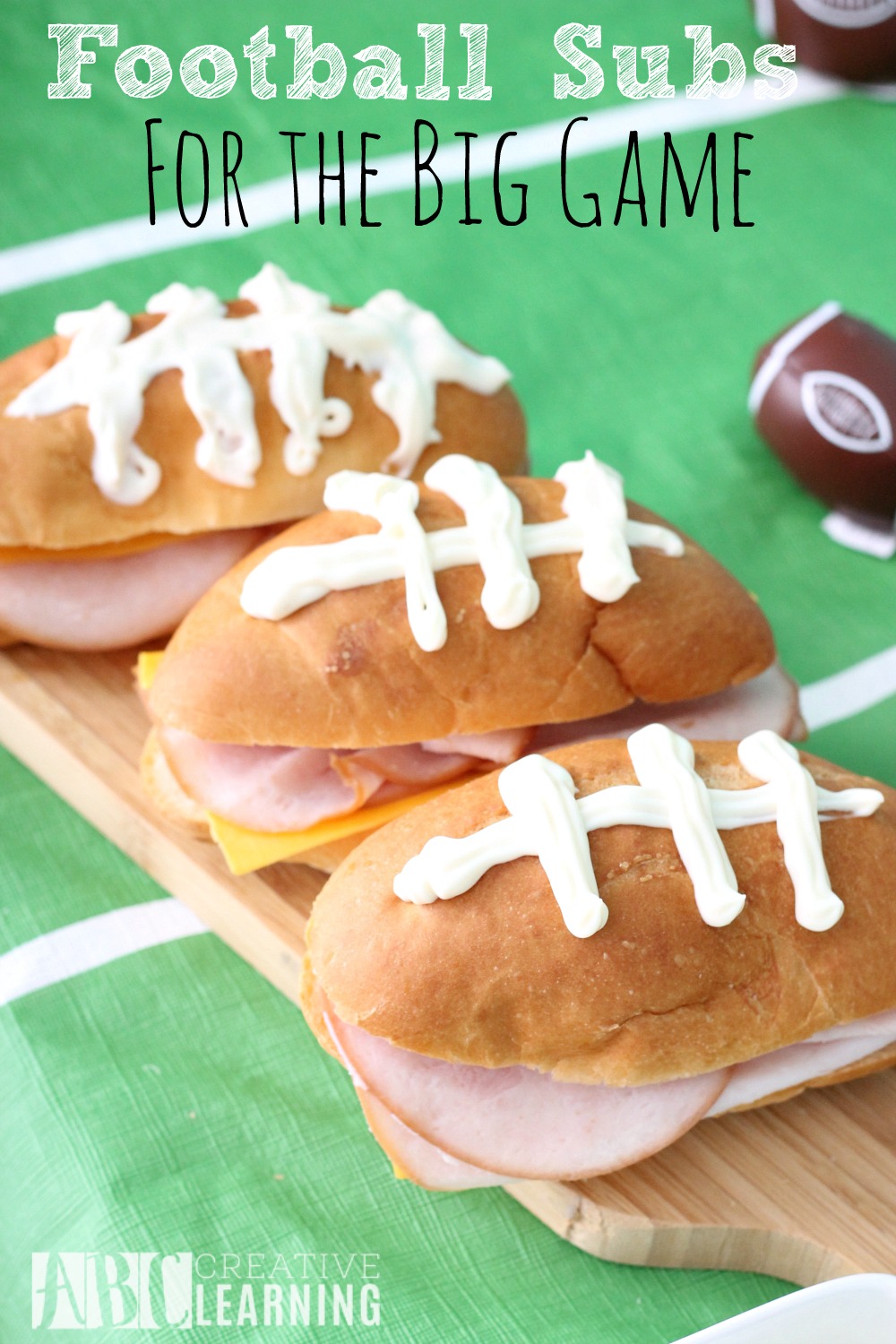 Of course course a party is better with sweet treats, especially from Mars and Wriggley candy! For the kiddos I wanted to create something fun for them! While at Target I picked up some Starbursts candy, which my girls absolutely love! I also picked up some lime soda to create this yummy Starbursts Kid Friendly Fizz Drink!
Ingredients Needed:
Bag of Starbursts
Lime Soda
Mason Jar or pitcher (6 unwrapped Starburst for mason jar and 15 for pitcher)
Cups
Fun straw
Fill a mason jar or pitcher with lime soda. Add your unwrapped Starburst candies in each mason jar and add to the refrigerator to chill. Have a mason jar or pitcher for each flavor.
Once all of the candy has dissolved your drink is all ready to be served. Pour into small kid friendly cups, with a fun straw, and add a Starburst on the side of the glass for extra sweetness!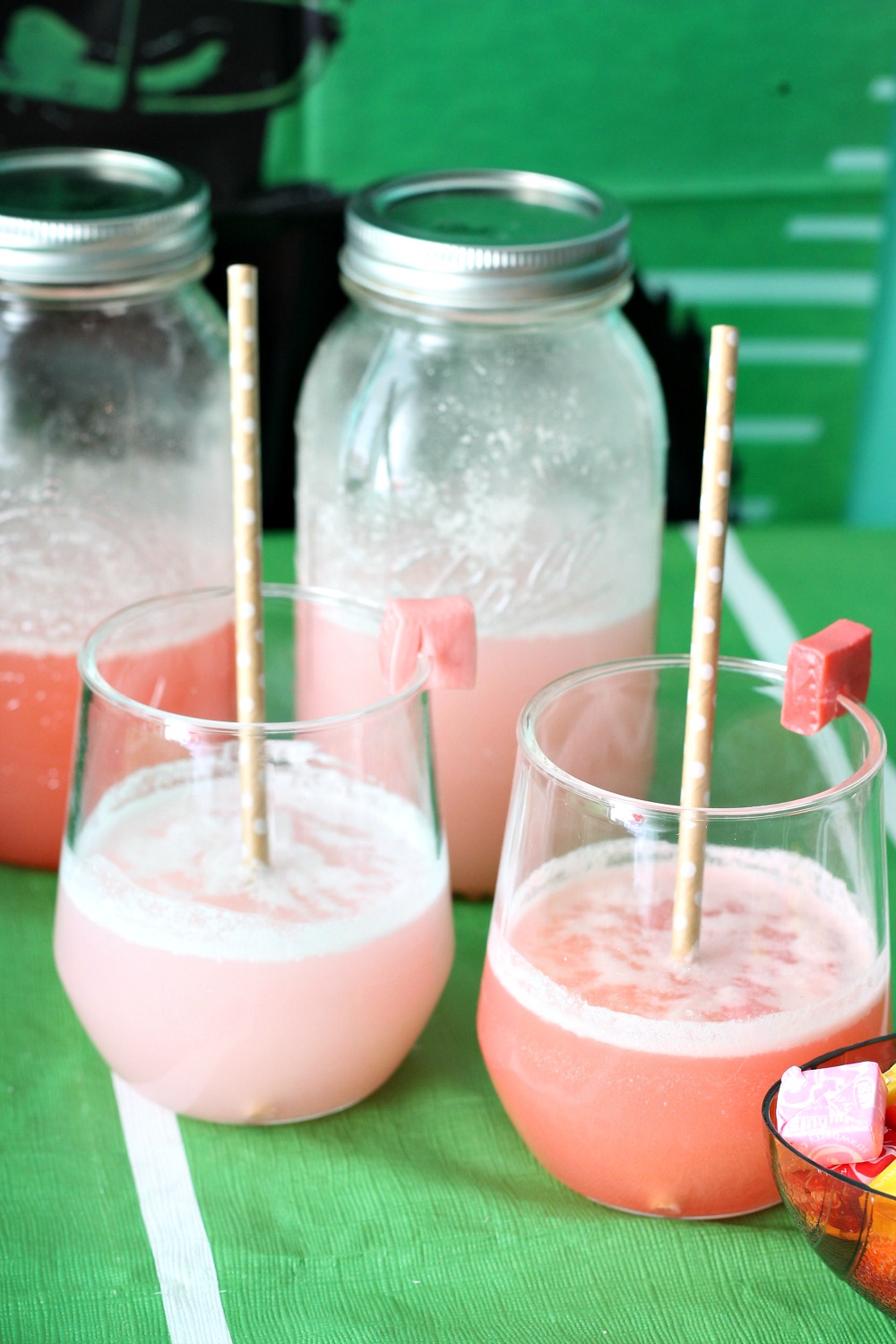 Another favorite sweet treat of ours are s'mores, but with the Florida weather being so unpredictable that past month I decided to create the recipe inside using a cast iron.
Ingredients:
Bag of chocolate chips
16-18 Large marshmallows
Bag of M&M's
Graham crackers (broken into sticks)
Using a cast iron skillet pour you bag of chocolate chips and spread evenly. Add your marshmallows on top of the chocolate and then pour M&M's over the marshmallows. Bake in the oven for about 450 degrees for about 10 minutes.
Lay your skillet on your decorated table with all the food towards the back on a folded kitchen towel or wooden board. Break your graham crackers into sticks so your guests are able to dip into this delicious M&M's S'mores!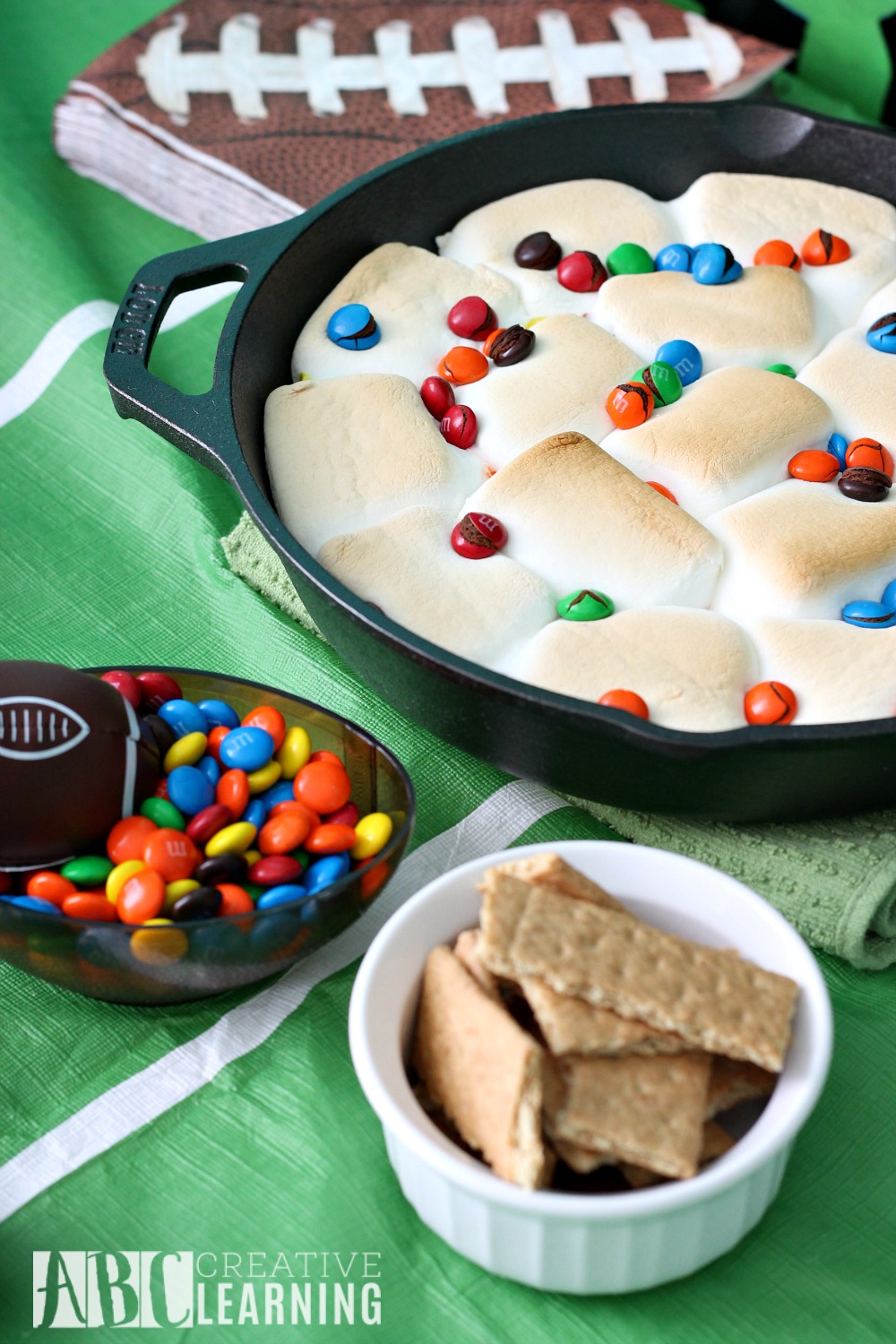 You can never have enough sweet treats at a football game right? Good, because I have one more yummy recipe to share with you all! Chocolate barks are one of the easiest desserts to make, especially when having lots of family and friends coming over for an event. To keep the colors bright and fun we made some easy Skittles Chocolate Bark!
Ingredients needed:
Bag of chocolate chips
Bag of Skittles
Team or football colored sprinkles
Wax paper
Baking pan
Melt your chocolate chips in a microwave safe bowl. Add a sheet of wax paper to your baking pan, then pour you melted chocolate and spread all on the pan. Sprinkle your Skittles and sprinkles on the melted chocolate. Let sit in the refrigerator for a few hours.
Once the chocolate has harden break your chocolate bark into pieces and serve on a platter with all of your other yummy treats!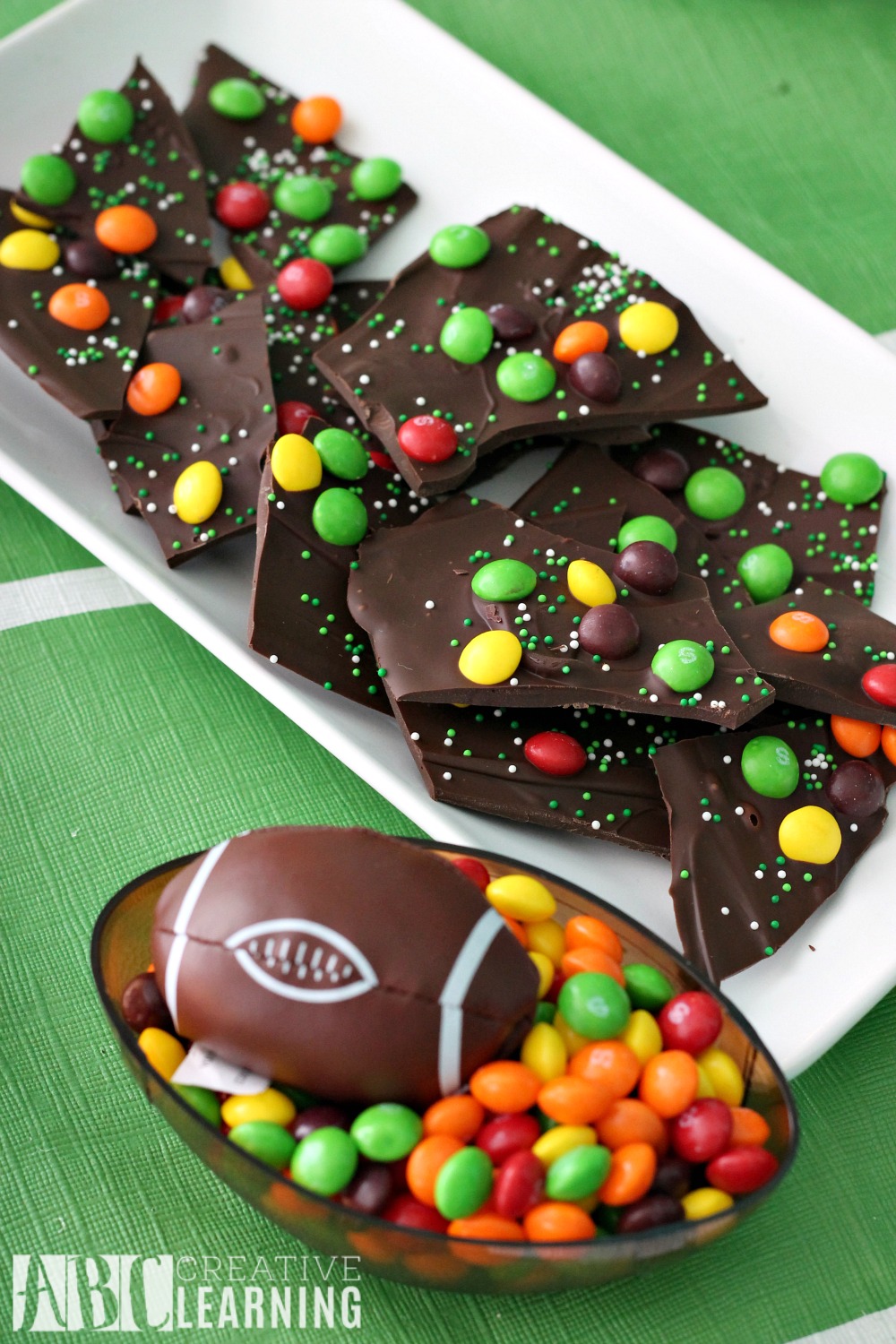 Of course no party is complete without a game, especially if you will have kids attending the party. This Pin the Football on the Goal is super easy to create and the kiddos along with the parents will love it!
Simple take paint tape and create a goal on a wall. Using football cut outs our decals for pinning on your goal!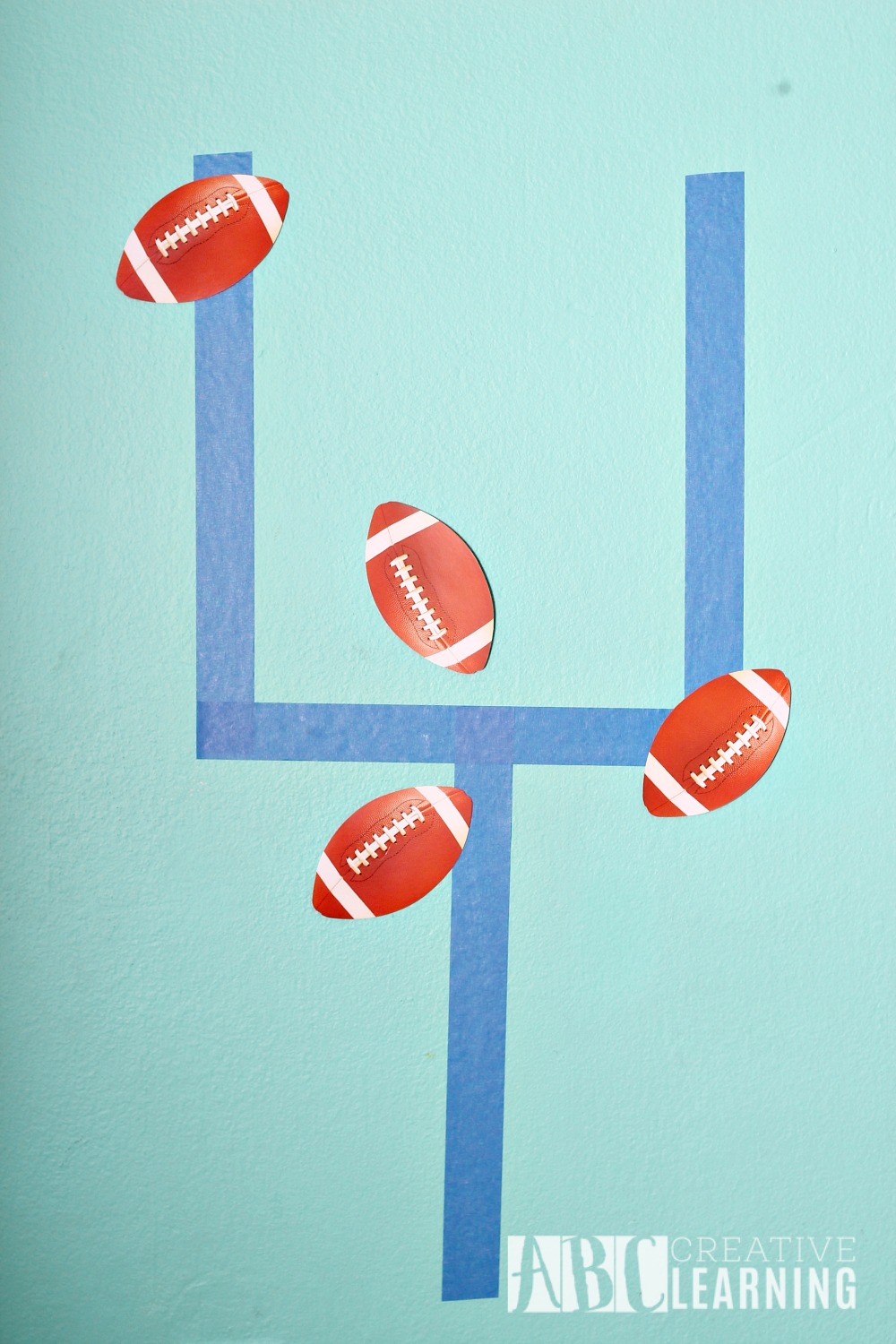 One of my favorite things to do at parties is take pictures! I love looking back at fun times when family and friends get together! These are the moments that we all like to cherish, especially the silly ones that photo booths create!
Simply purchase a football inspired background with some fun photo booth props! Have your guests where there favorite teams jersey or shirts and watch them get silly in front of the camera!

As you can see this is the perfect game day party for both adults and kiddos! Creating a fun and memorable time is what football is all about! Just for fun I also wanted to share with you all the fun family friendly football printables to be used for your next big game get together!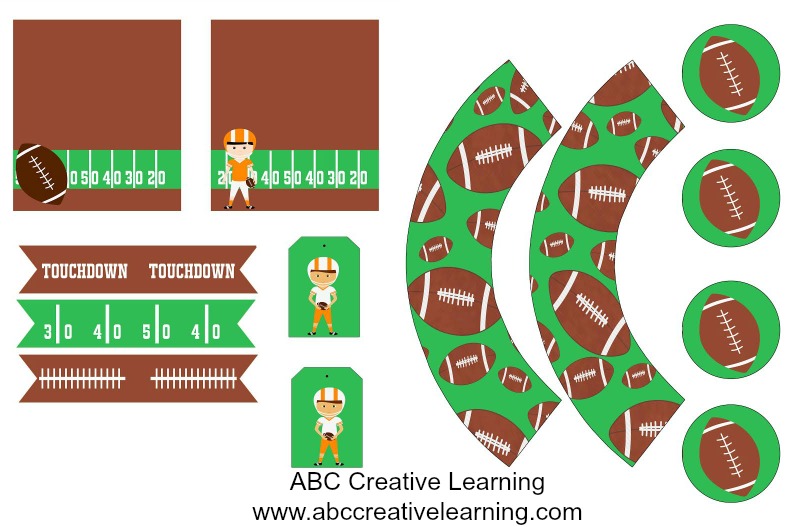 As you can see, you can easily make a fun family friendly football theme party with lots of yummy food and treats!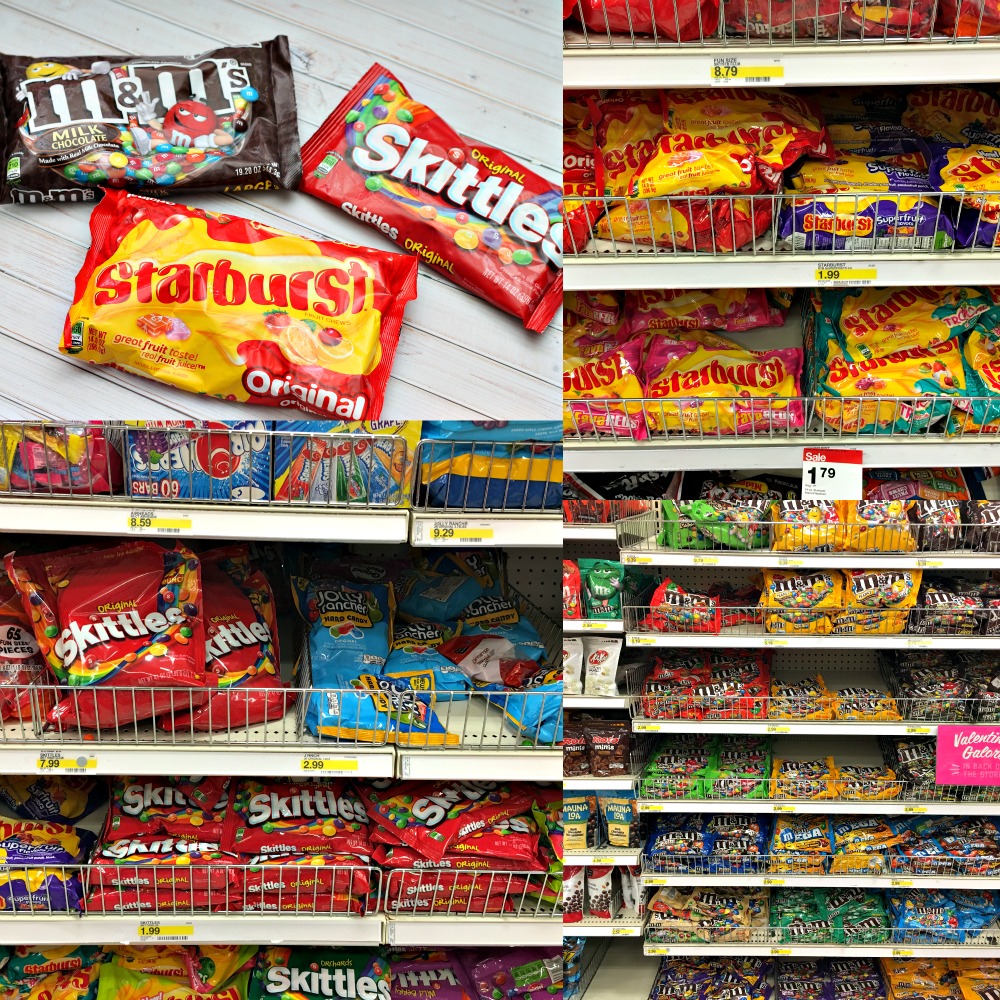 Make sure to head on over to Target to pick up all of your essential needs for you next big game party and visit Targetyoursweettooth.com for some more great ideas and recipes! Don't forget to also download the Target Cartwheel to save on super snack offers that will run from January 17th to February 6th 2016! I LOVE my cartwheel app and highly suggest it!
Will you be creating a family friendly themed football party this year for the big game?