This post may contain affiliate links.
One of the questions I get asked all the time by family and friends is "How do you do it all?". In all honestly I don't! There are a lot of sacrifices that I have to make daily in my life to achieve everything I get done in a day. Having an amazing supportive husband definitely helps in the process. But for the record, I do NOT do it all! But just in case you don't believe me, here are 5 Tips I Use To "Do It All".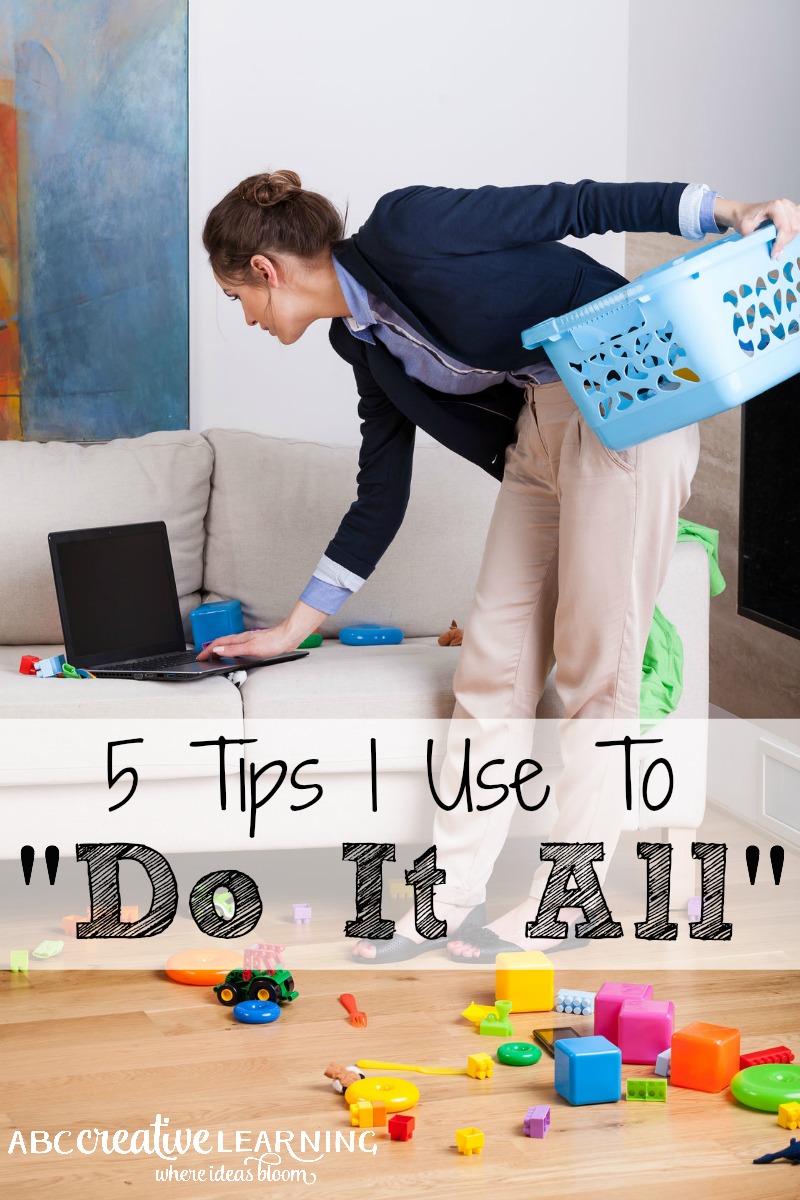 As a homeschooling and work at home mom I lead a very, very busy life. My husband also works from home and with two little girls, and two dogs it can get very chaotic in our 1500 square foot home at times. Yes, we need more room and yes I could use more time, but we make it work the best we know how.
Here are 5 Tips I Use To "Do It All"
Tip 1: Wake Up Early or Stay Up Late
I wake up at around 5:00 am every morning to make sure that I get work done and homeschooling materials ready before my girls and husband are up. Yes, it's a struggle but if I want to get a jump start to my day and not take away from my girls or family then it's a sacrifice I have to make.
This also makes homeschooling times run smoothly. When I have to stop lessons to find materials or a lesson page she loses concentration or gets distracted waiting for me. I prefer to have lessons planned for the day and all materials ready before she is even up.
Earliest time I usually go to bed is around 11:00 p.m.
Tip 2: Do Laundry Everyday
I do laundry every single day of the week except on Sundays. As soon as the laundry is dried I fold or hang. I also keep a schedule on what days of the week I wash what.
Monday: Girls clothes (divide everything by color)
Tuesday: Mommy & Daddy Clothes (divide everything by color)
Wednesday: Girls Socks and Towels
Thursday: Mommy & Daddy Socks and Towels
Friday: Whatever is left over
Saturday: Everyone bed linens
Sunday: No laundry
Tip 3: Keep a Visual Calendar and Schedule Everything
I keep several calendars to keep myself organized. I have an editorial calendar that I keep organized with all of my writing and events, but the most important calendar I have is the desk calendar I have hanging in our kitchen. This calendar holds everything everyone is doing everyday. Dance classes, soccer practice, soccer games, piano class, theater class, doctor appointments, events, family events, birthday parties, and special occasions all are written on this calendar.
Not only does it allow me to keep organized, but it also allows my husband to know what is going on. If his mom calls to make plans he can easily see which day of the week we are available or when he has a dentist appointment without me having to remind me all week long.
I used to keep the calendar color coded, but only I knew the code and it made it more confusing for my husband.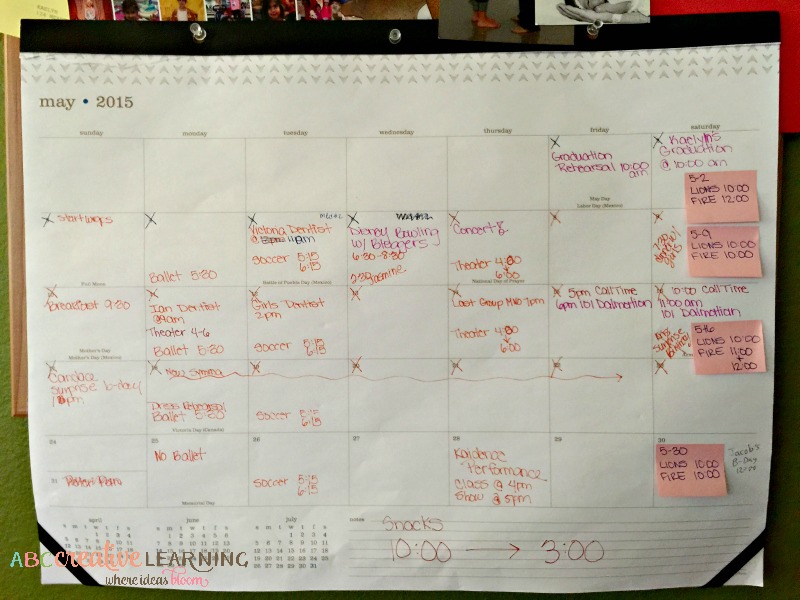 Tip 4. Share the Load
My husband also works from home and that can definitely be a benefit. We take turns running errands like grocery shopping or taking the girls to their activities. This gives one of us quiet time at home for some extra work time, which means that we might be able to watch a movie together at night.
We also have certain chores that we divide. I cook and he cleans. I do all the inside cleaning of the house and hubby does the bathrooms. Then we all share gardening duties, but he mows the grass. Makes life so much easier.
Homeschooling is all me. I plan, shop for materials, and teach lessons.
We also use my mother in law a lot to come over and help. Especially on days where we both have to work his mom will come over and play with the girls. This takes away from us feeling guilty for being in front of the computer all day and she gets to spend time with her granddaughters.
Oh, and get a iRobot Roomba Vacuum! Did you know those things clean your floor on their own? Best gift I've ever given myself!
Tip 5: Plan Fun Days
To me this is the most important one of all! Without these planned fun days to look forward to we all start feeling the stress and pressure of paying bills, running errands, homeschooling, and work. This is our time to spend together as a family without any worries or work. The days that we reserve for fun days are exactly that! FUN DAYS!
We also use fun days as homeschool field trips lessons a lot, which cuts down on my weekly "lesson". Instead the girls get a hands on approach and we all get to spend time together as a family.
As you can see I am one busy homeschooling work at home mom, but I certainly do not do it all! I have help from my husband and a lot of the days our floors are not clean, toys are spread all over the house, and the sink is filled with pots, but we do our best as parents and husband and wife.
I appreciate our friends and family thinking that I do it all, but that's just the view from the outside. I'm very motivated and a person who wants to accomplish more than she can handle, but we only live once and I want to make sure that I live it to the fullest!
What other tips do you have for "doing it all"?