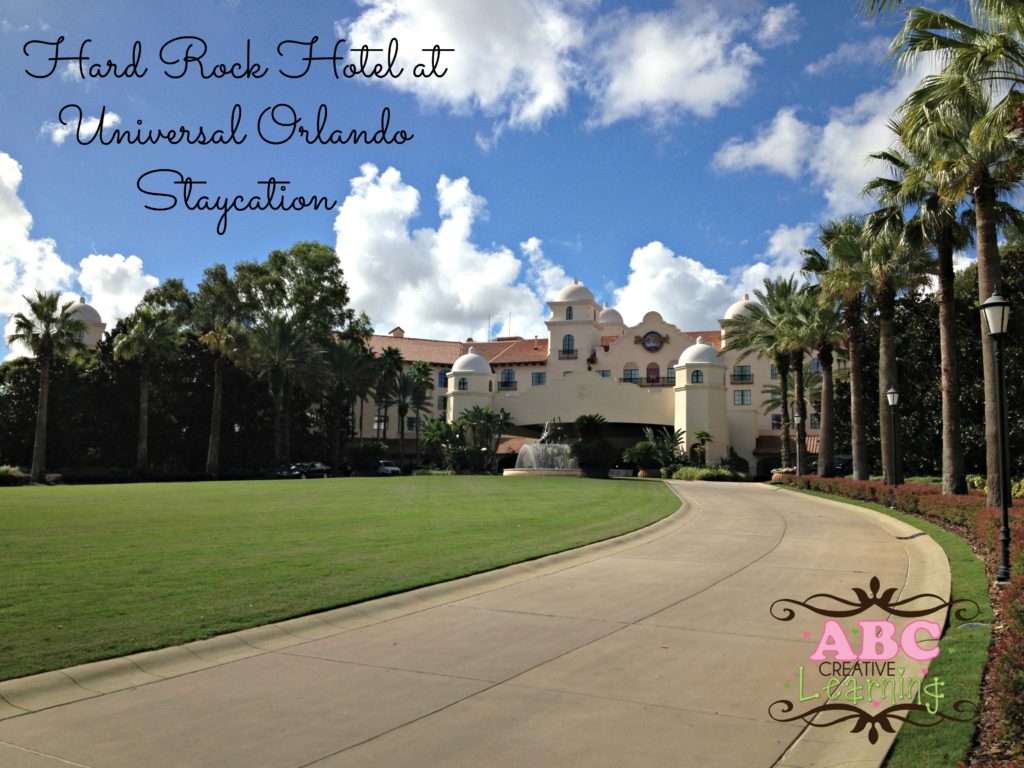 Last week my family and I needed a much needed vacation, unfortunately with my husbands busy schedule there is no way that we have the time right now, so I decided to book a last minute family Staycation.  Living in Florida does have its perks like awesome theme parks and hotels to visit at the drop of a hat!  We really wanted to check out the new Cabana Bay Beach Resort which just opened up on Universal property, but it was already booked!
I then decided to book the Hard Rock Hotel at Universal Orlando!  We have stayed at the Hard Rock before but we didn't get a chance to enjoy the pool area and because our entire plan was just to relax for at least 24 hours, it was the perfect choice for us!  I thought that I would share our experience with you all just in case you are looking for a Florida Staycation or visiting us this Summer!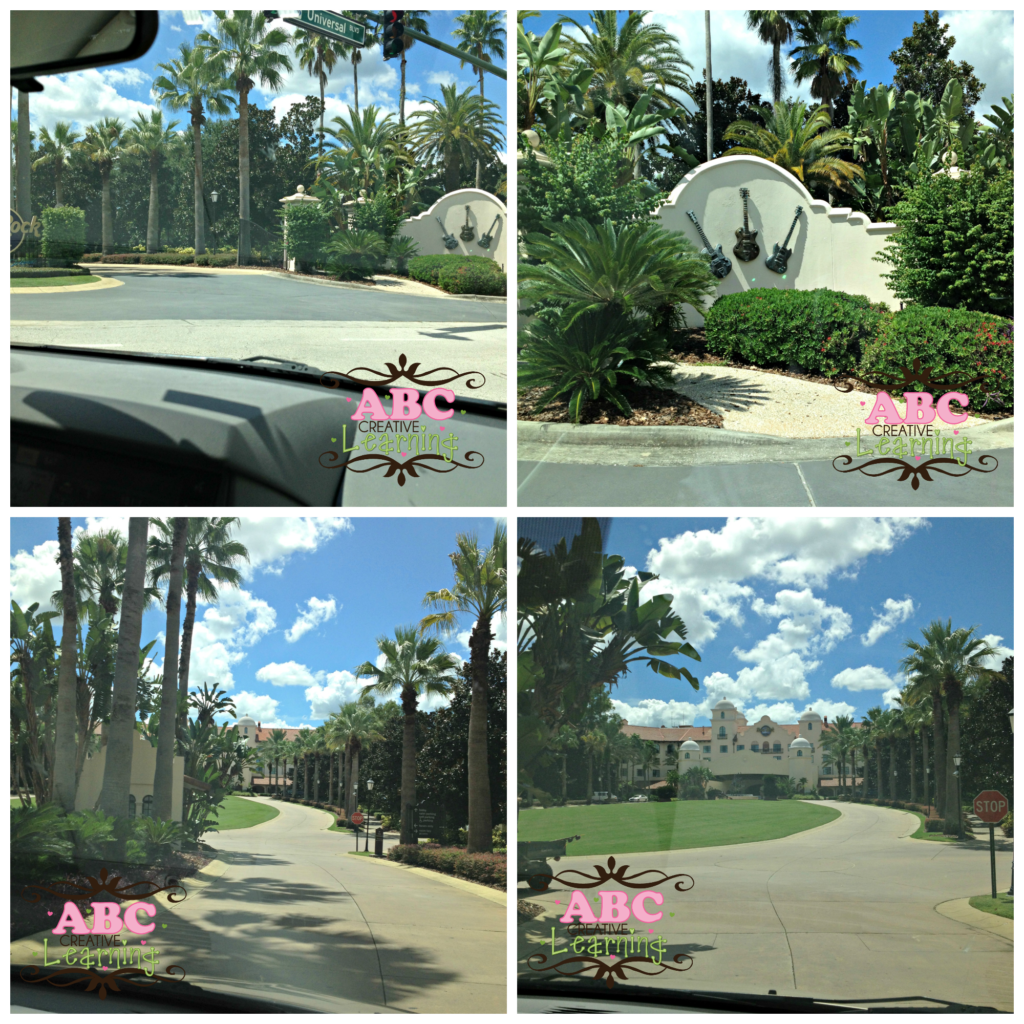 As soon as we pulled up to the Hard Rock Hotel it takes your breathe away and the girls began shouting guitar!  At check-in they offer the girls blow up guitars which they absolutely LOVE and for adults you are able to rent any of their special edition guitars and brought straight to your room for free.  I thought that was pretty cool and if I could play the guitar I would be all over that!
The best thing also about staying at the Hard Rock Hotel on the Universal Studios property is that you also get a Universal Express Pass, where you skip all the regular lines for free!  If you are planning on visiting Universal Studios or Islands of Adventure or have Annual Passes I HIGHLY recommend staying at one of their on site resorts for this awesome perk!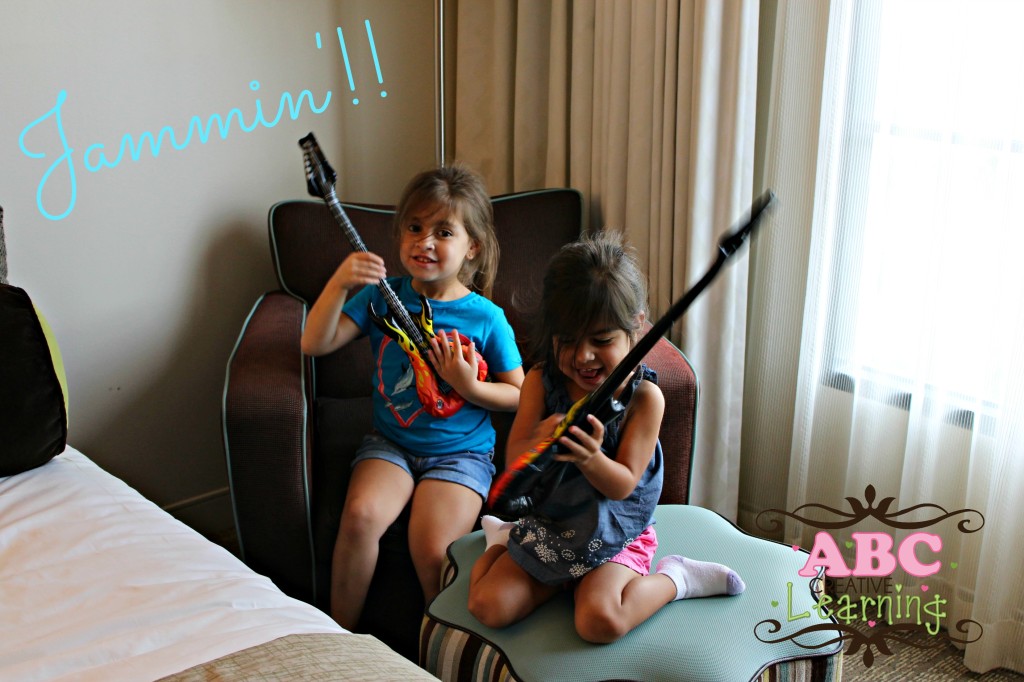 The rooms are a great size for a family of 4.  With two large beds, television, two sinks, private bathroom, coffee maker, and small refrigerator we were completely set!  Especially with Kaelyn's food allergies, it's great to know that we can always bring snacks like her yogurt, milk, and fruits to keep in the fridge.  The girls absolutely loved having a view of the front garden.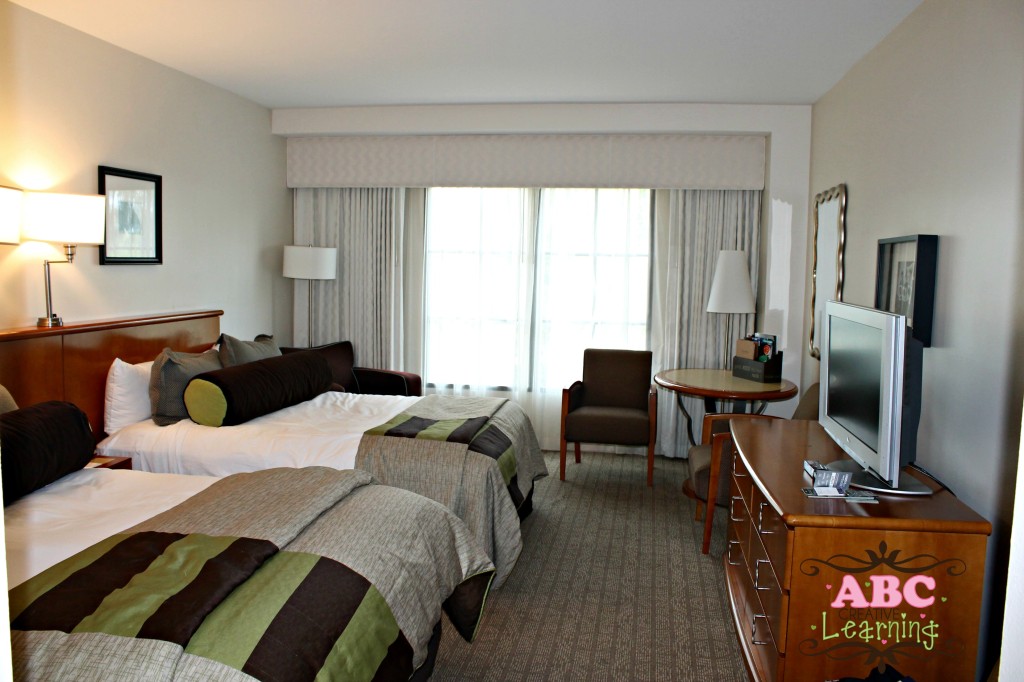 The last time we visited the Hard Rock Orlando was back in September and our plans were to visit the theme park and we didn't even get a chance to check out the pool, so that's exactly what we did!  We checked in and headed to the pool for an afternoon of relaxation… well as much as we could while running after an excited 2 and 4 year old!  Hey, it's better than cleaning the house, doing laundry, and running errands!
I loved that they had a zero entry pool and a kiddie pool where the girls were able to spend most of their time splashing.  Especially for Kaidence, she is scared of the water and to see her playing int he kiddie pool was awesome!  She was not a fan of the big pool, but Kaelyn was!  Her and daddy spend most of the time playing with beach balls, finding diving toys, and listening to the music under water!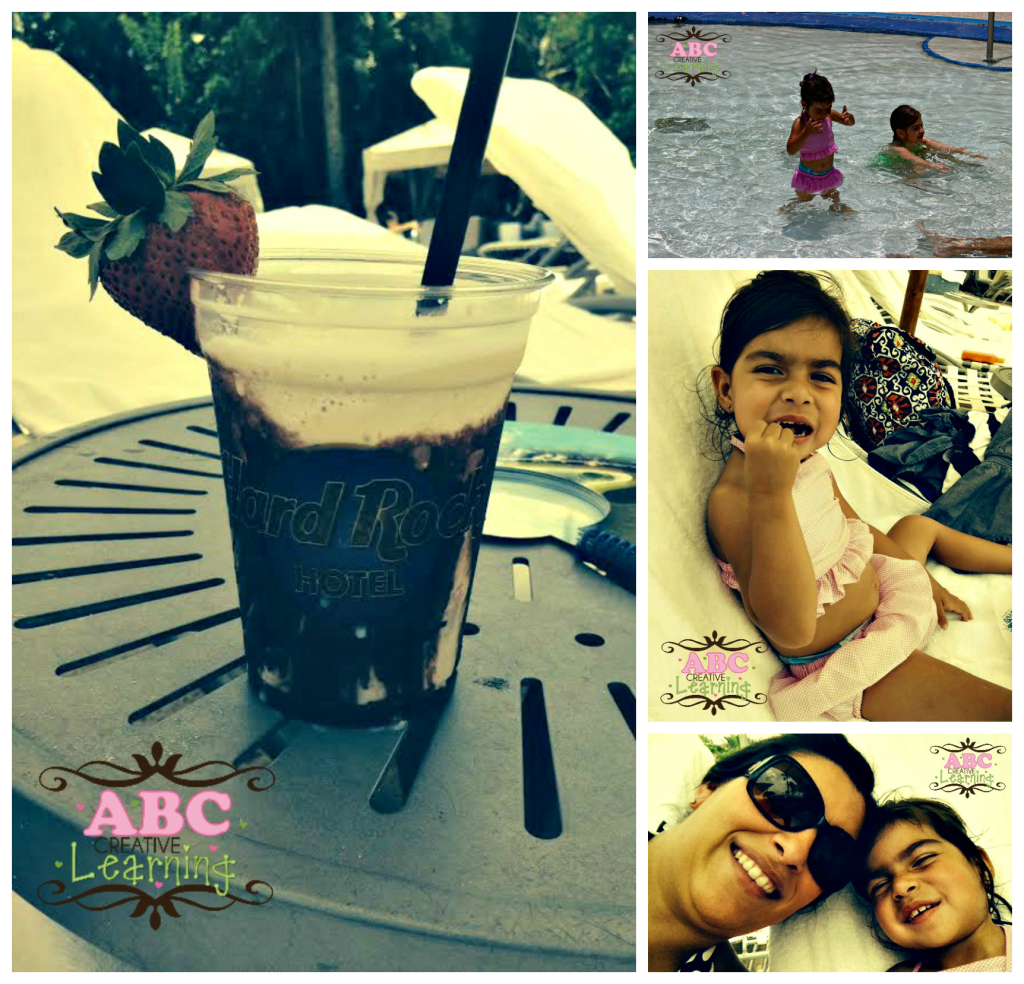 We really weren't planning on visiting the parks just because we wanted to lounge by the pool and enjoy the hotel, but with the awesome skip the lines perk we definitely had to at least use it a few times.  So we headed to Universal Studios and arrived at the perfect time for the afternoon parade!  We also made sure to use our skip the line passes on rides like the Minion, Transformers, and Shrek because these are the rides the the girls love and the wait is usually more than an hour long!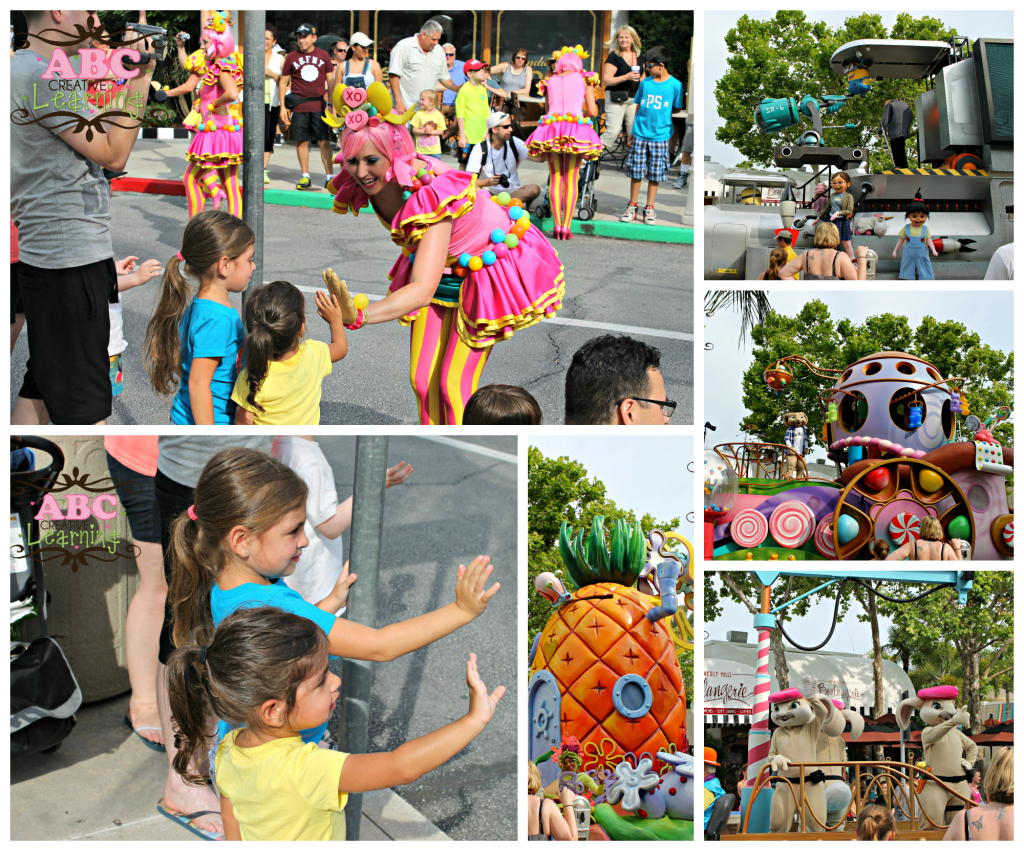 After watching the parade and enjoying some of the rides at Universal Studios we headed back to the hotel for some yummy dinner!  Like I said, we really wanted to relax so we definitely had planned on ordering room service to the room and let the girls eat on the bed while watching television, which is something they are NOT allowed to do at home, so you can imagine their excitement!
While staying on property you have two options to get to and from the parks. You can either take the boat ferry ride or you can walk along a beautiful pathway!  We decided to walk back to the hotel, because the ferry driver on the way to the parks highly recommended it. Sure enough, it was a wonderful walk and the weather was perfect!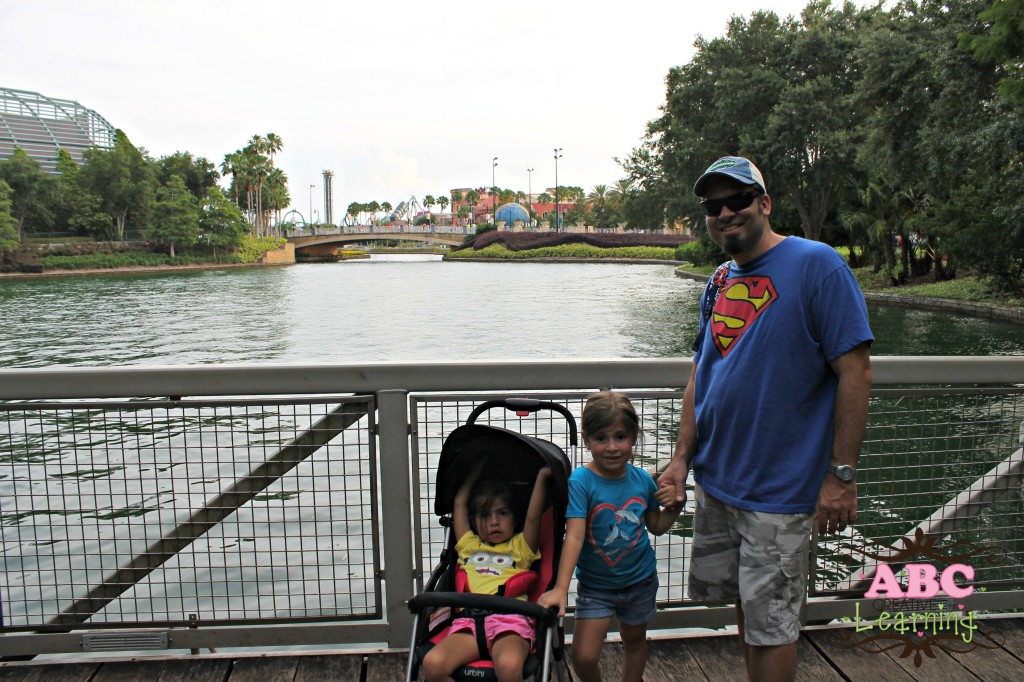 Back at the hotel room we ordered dinner, which took about 45 minutes to receive, but we expected that because it was dinner time and I'm really picky when ordering with Kaelyn's allergies.  The food was absolutely delicious!  Usually when you order room service you really don't expect to eat high quality restaurant food, but I have to say that it was so worth it ordering in the room!  We got to enjoy a delicious dinner while laying in bed and having to keep the girls from being too loud.  Definitely the perfect way to end a local Florida Staycation!
The staff was wonderful with Kaelyn's allergy request as well.  They told me that all peanut butter products were kept in a different part of the kitchen, especially from where they prepared allergy safe platters for guests.  All of Kaelyn's requests were made and everyone was happy.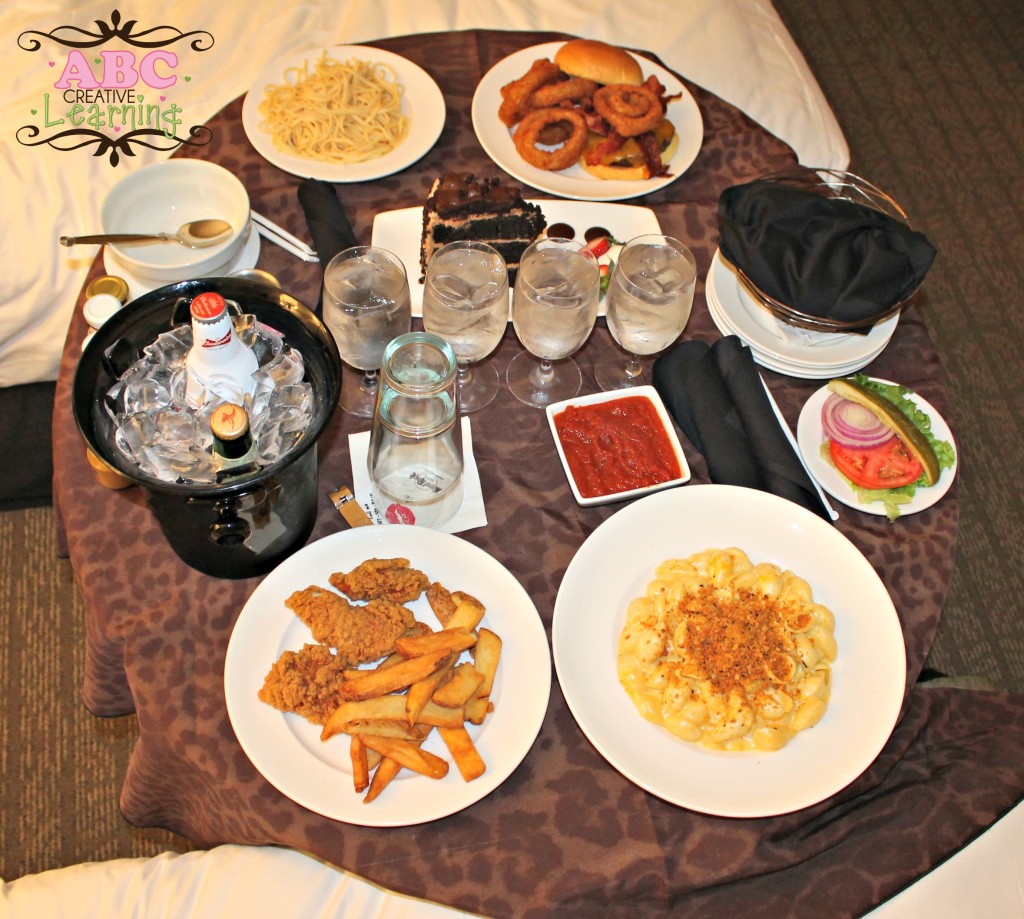 If you ever have the opportunity to visit Florida, we highly recommend the Hard Rock Hotel at Universal Studios!  We absolutely love the property, the staff, and all the amazing amenities at this beautiful resort!  They have some awesome memorabilia on property that you don't want to miss!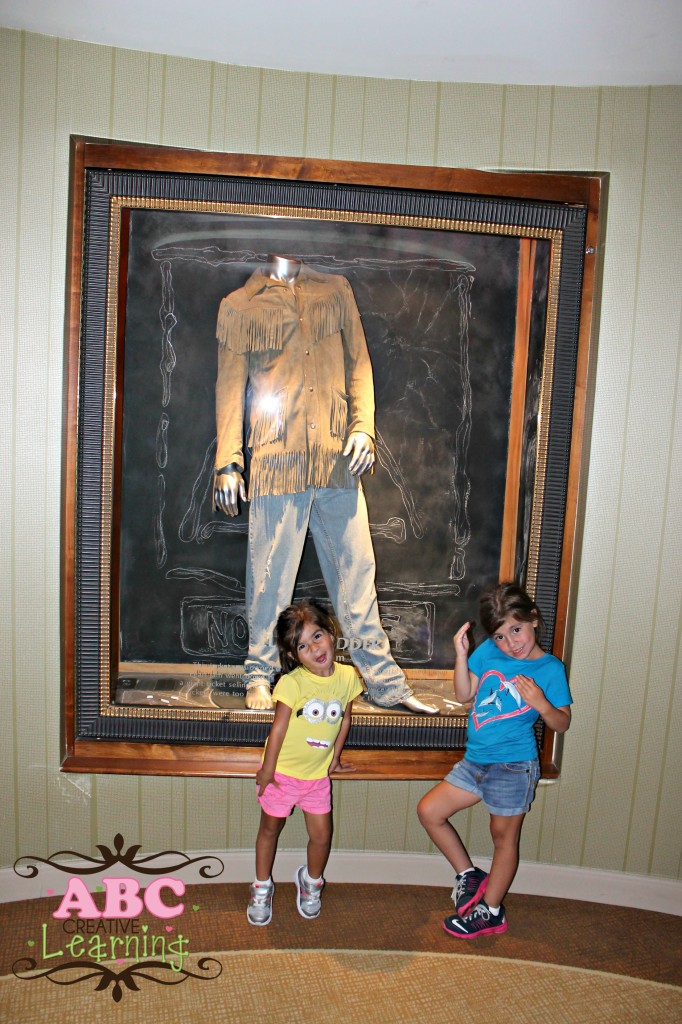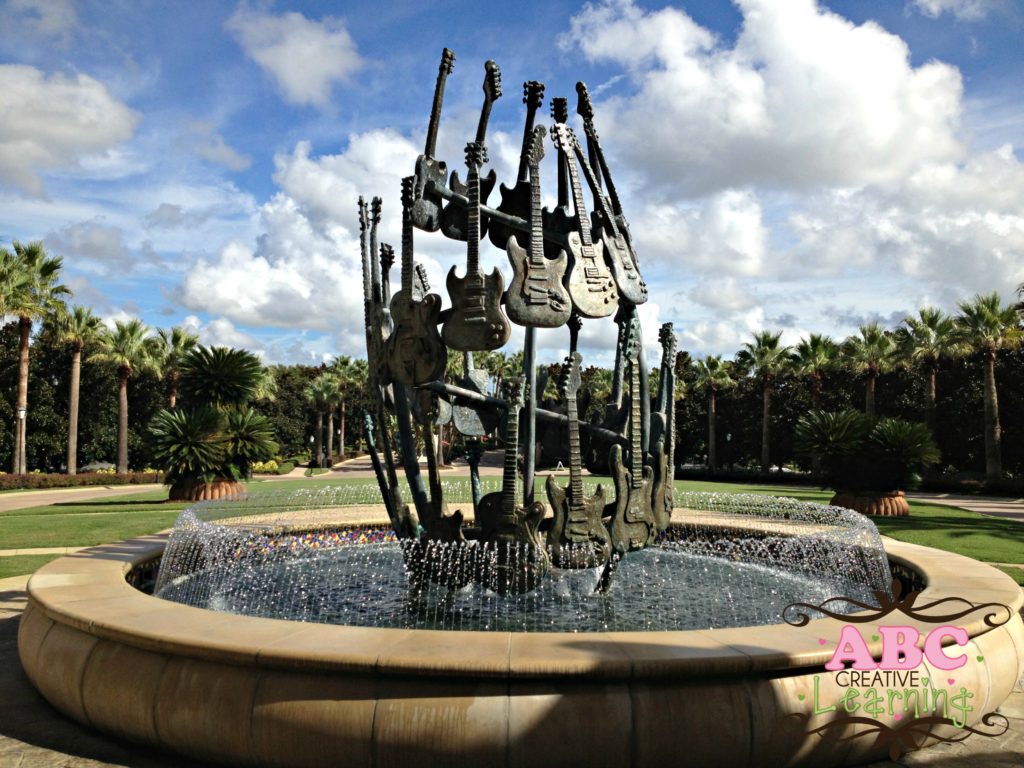 Have you ever visited the Hard Rock Hotel at Universal Studios?