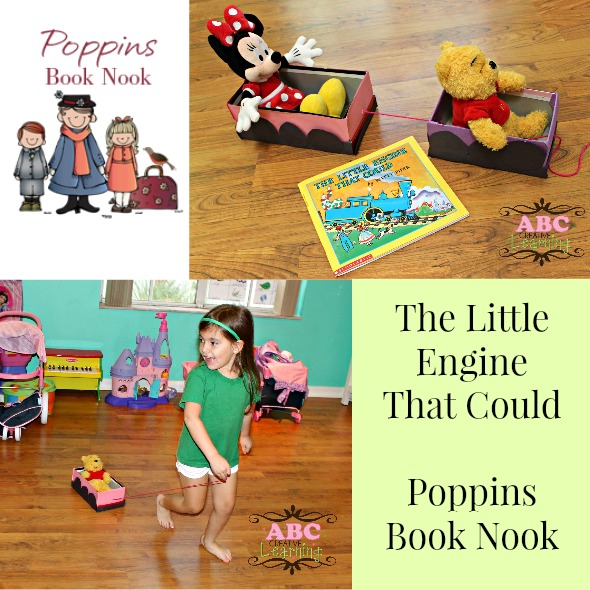 Welcome to April's Poppins Book Nook Children's Book Club!  I really hope you are joining us again this month and got a chance to check out all the amazing books, ideas, and crafts that were shared by my fellow Poppins Book Nook Co-Hosts!  There were so many different books and ideas shared with our Where in the World? theme that you definitely don't want to miss out on all the new great ideas being shared!
For the month of April our book was based on the theme of Planes, Trains, and Automobiles!  I was excited about the theme because it's not really something the girls are really into, so it would definitely change up our book reading a bit from princesses, castles, and fairies 🙂  Daddy of course was very excited about the theme and even helped us with our craft this month!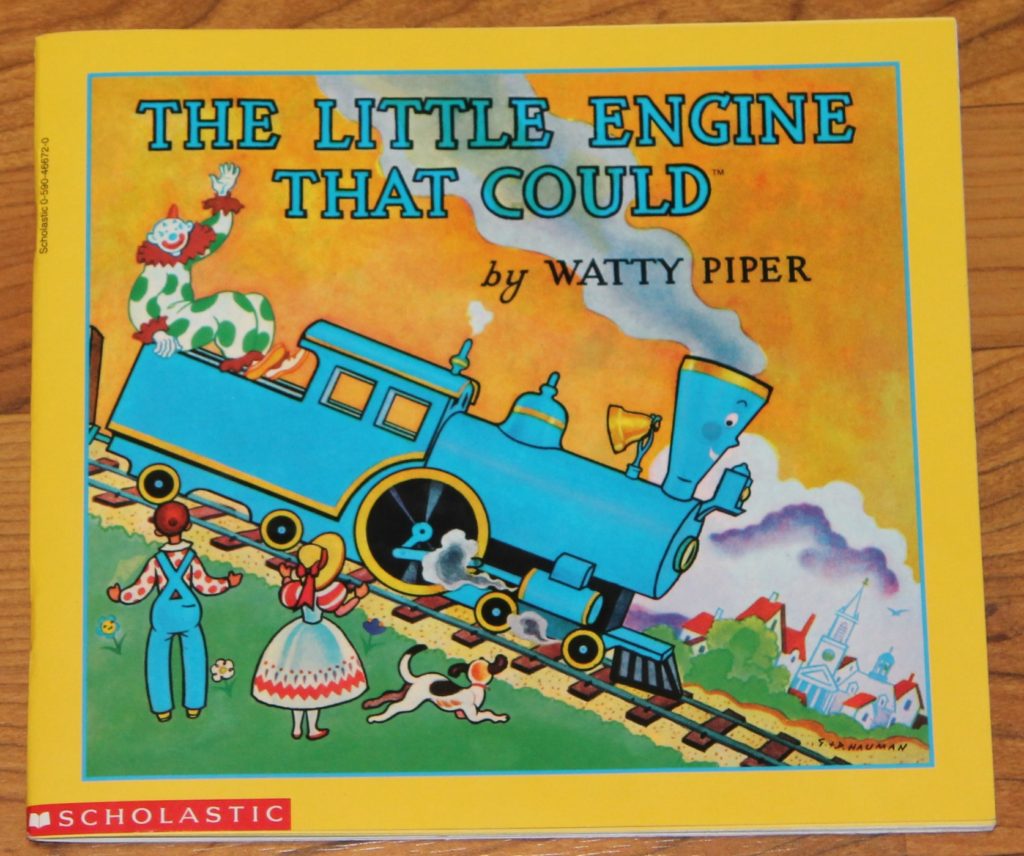 I laid out several books that would go with our Planes, Trains, and Automobiles theme this month.  It was between All Aboard the DinoTrain and The Little Engine That Could, but when I read both stories the girls absolutely fell in love with The Little Engine That Could!  They absolutely loved how the little engine is full of toys and I love that it has a wonderful message about kindness.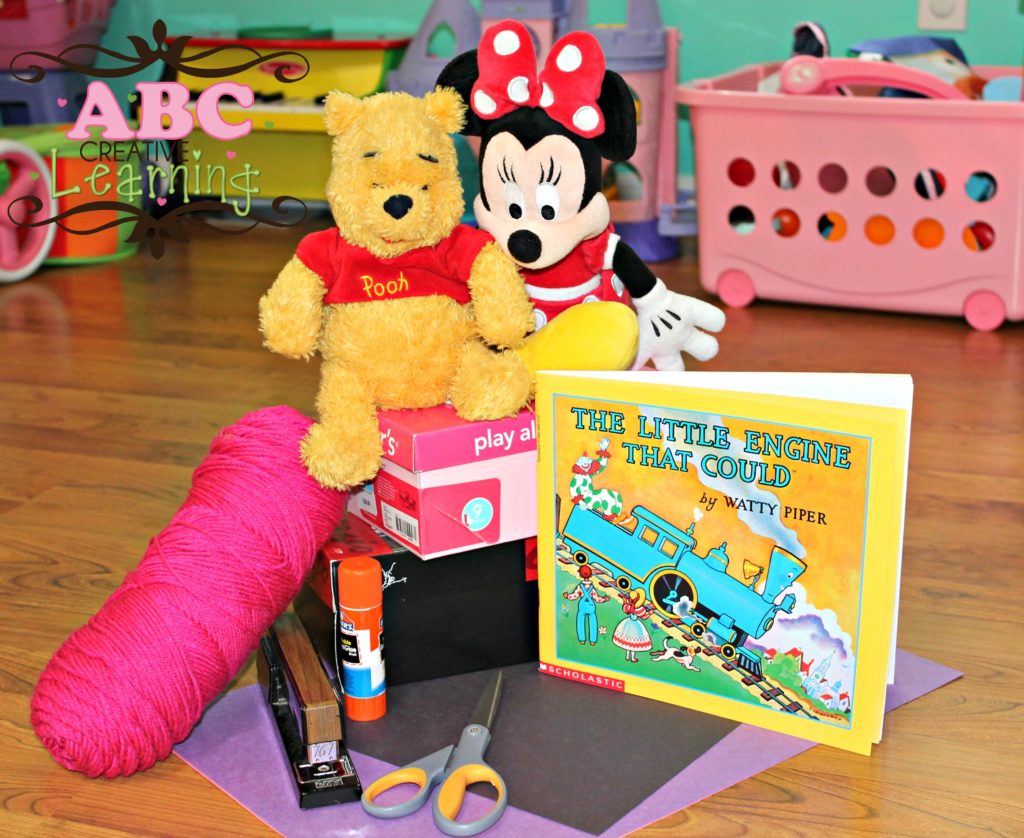 Materials Needed:
Shoe boxes
Construction paper to cover your shoe box and lid
Glue, scissors, and staples
Yarn or string
Toy friends to ride your train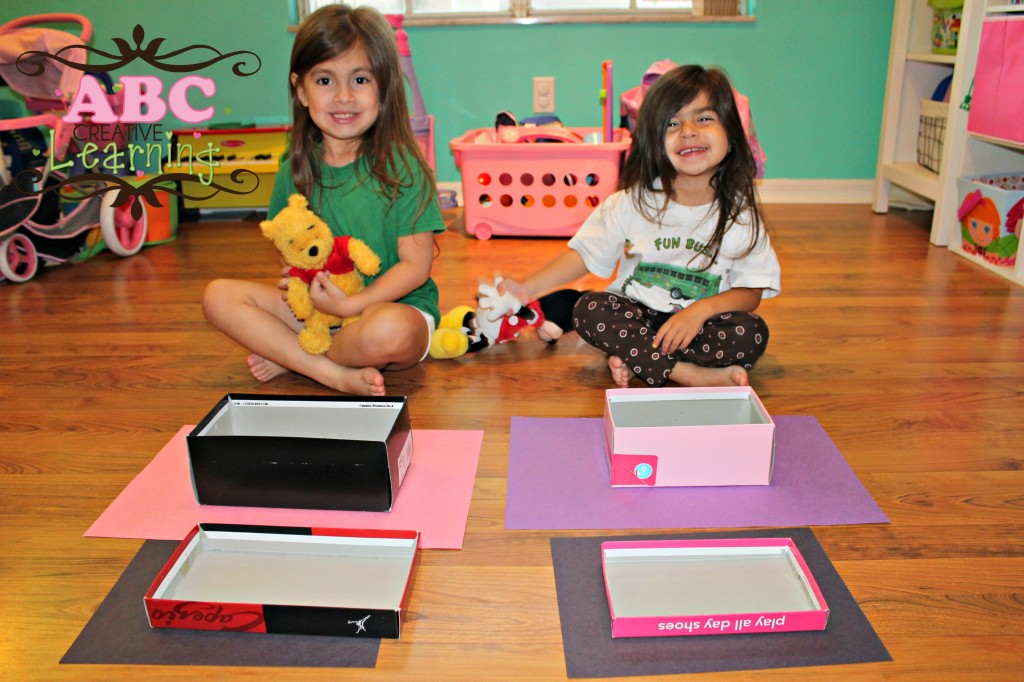 The girls were so excited to get started on their trains!
Step 1: Choose a color of construction paper for your train and black construction paper for the lid and train wheels.

Step 2:  Wrap your shoe box with your choice of construction paper.  You can either wrap your box all at once like the picture on the left and just cut out excess paper or you can measure each side of your shoe box and cut out the pieces individually.  Using either a staple or craft glue wrap your box completely in the paper.  I did both methods and I found that gluing it looked better 🙂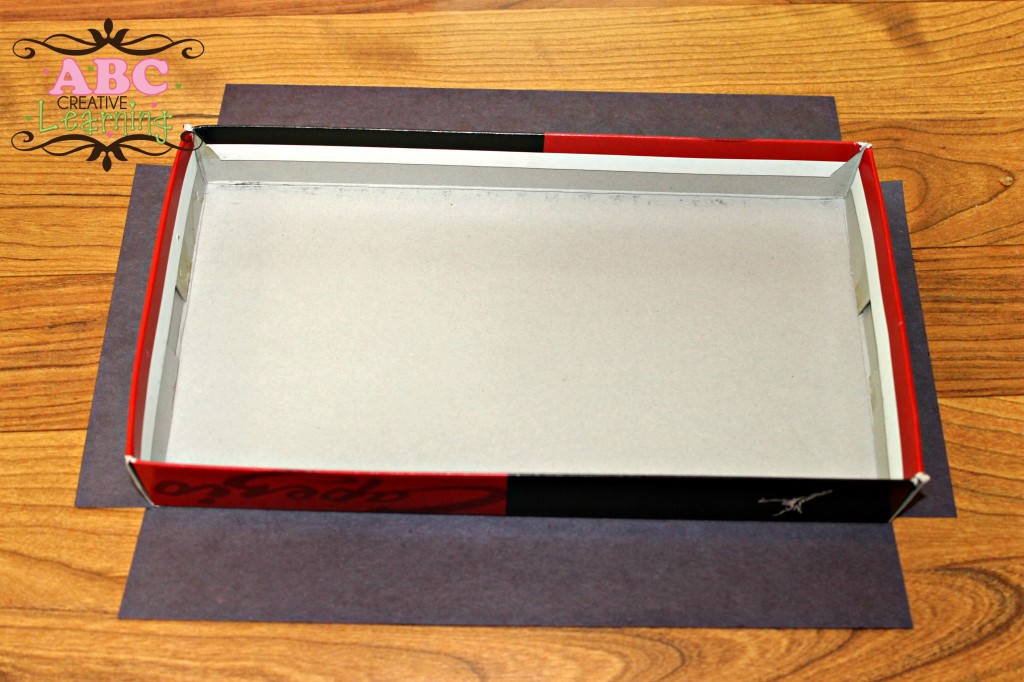 Step 3: Cover your lid with black construction paper using craft glue or a stapler.  Cut the edges so that you can easily fold the flaps inside the box.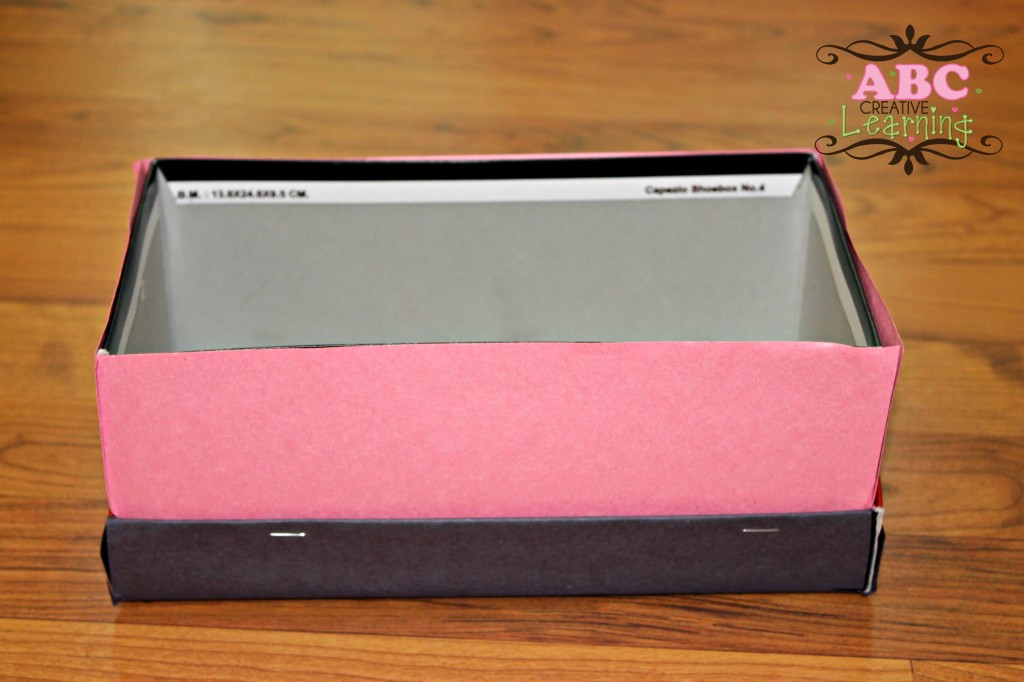 Step 4: Place your shoe box on the lid.  The lid will be your train base and where you will glue on your wheels.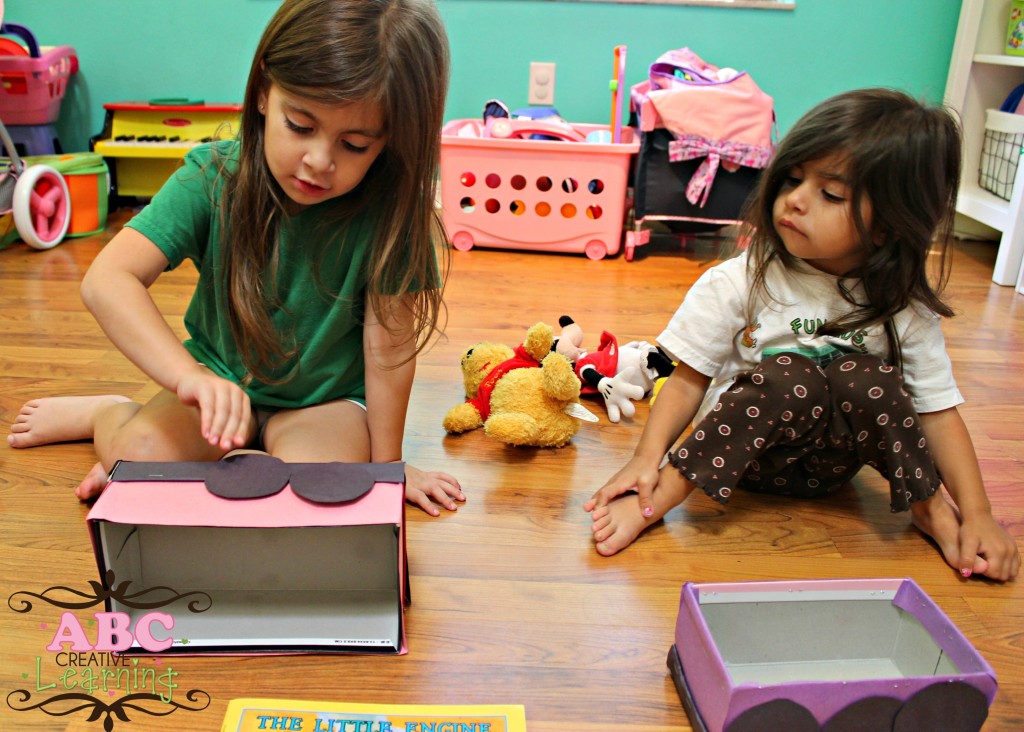 Step 5:  Simply cut out 6 circles and glue on the bottom of the train. There should be 2-3 wheels on each side depending on how big your shoe box is.  Kaelyn had a larger box with 3 wheels on each side and Kaidence ended up with 2 on each side because her box was a bit smaller.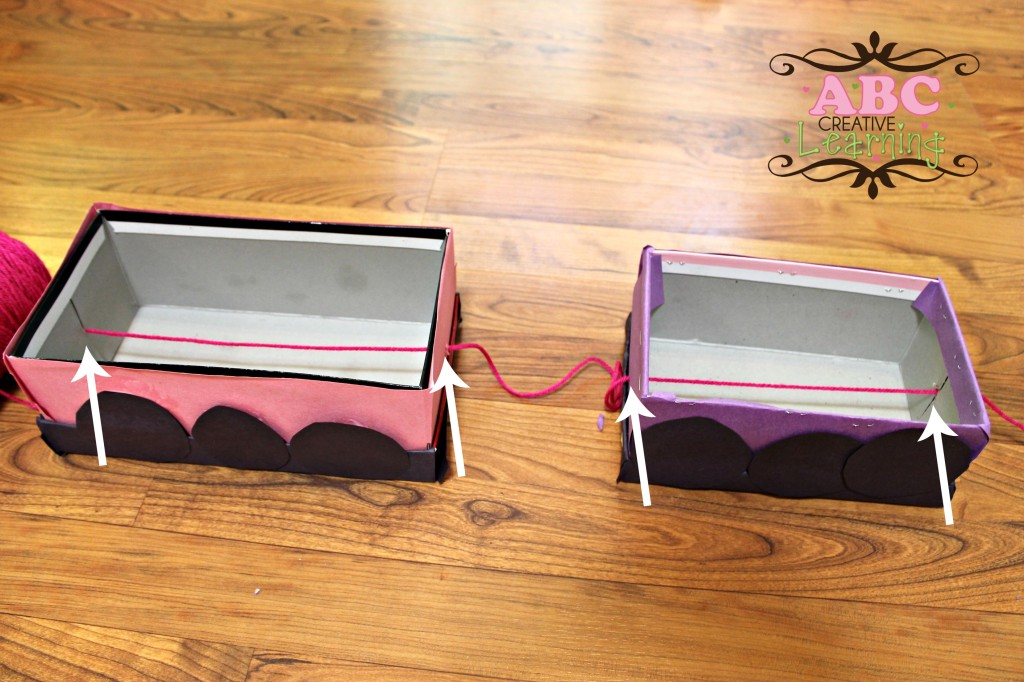 Step 6:  Using your scissors tips or a hole puncher, place a hole on the front and the back of your box.
Step 7:  Using yarn or string, pull through all of the holes until you have a piece of string hanging from the front and a piece from the back.  If you are making a train that does not need to be taken apart later on you will not need that extra piece in the back.  I left a piece of long string on the back so that when the girls wanted to play individually with their trains I could just cut them apart 🙂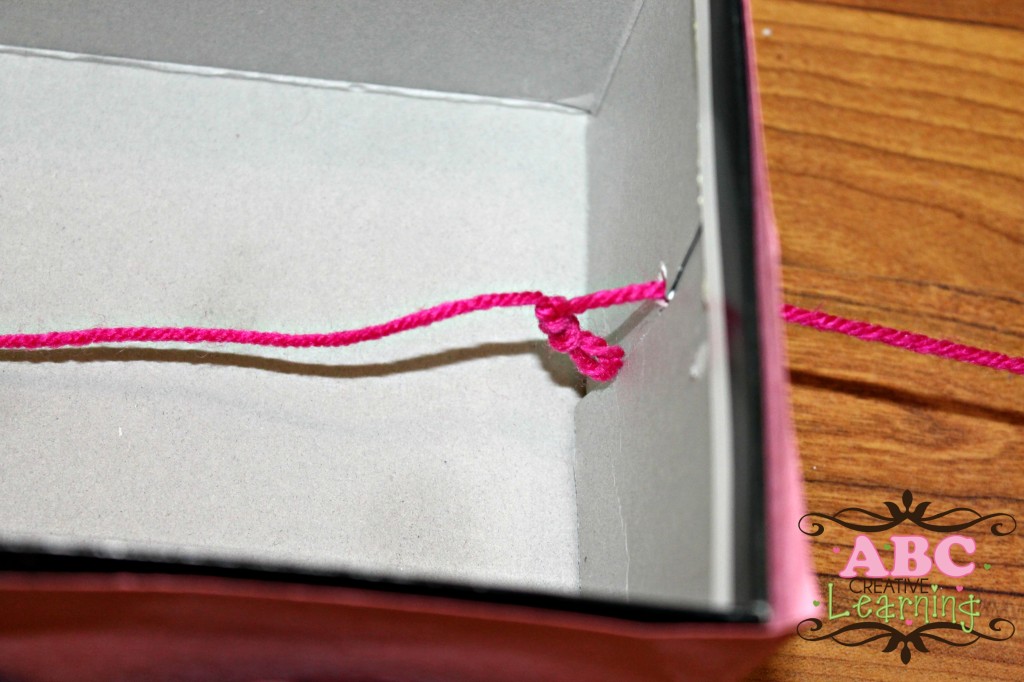 Step 8:  On the inside of your box tie a knot right in front of each hole.  This will keep the string from going through the holes.
Step 9:  Add some friends to your train and you are ready to go!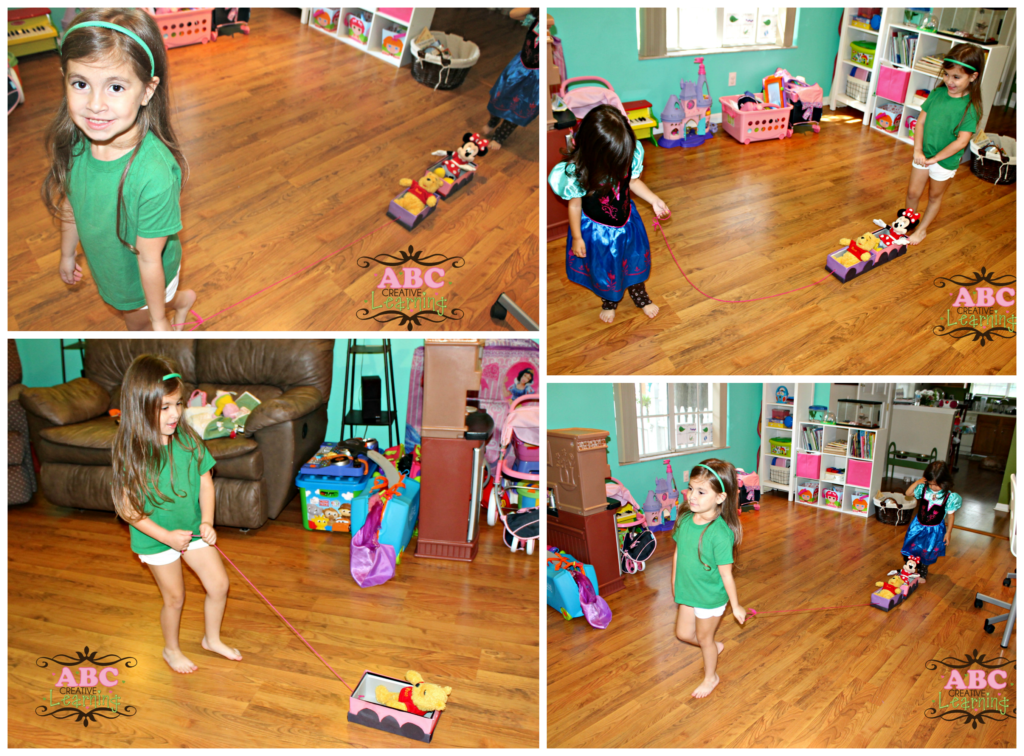 Step 10:  If you wish to detach the train, just cut the middle string and you are all set to go 🙂  The girls really enjoyed playing and pulling their friends on their train.
Don't forget to head on over to Enchanted Homeschooling Mom and download your FREE Poppins Book Nook bookmarks and monthly printables!
 GIVEAWAY Time!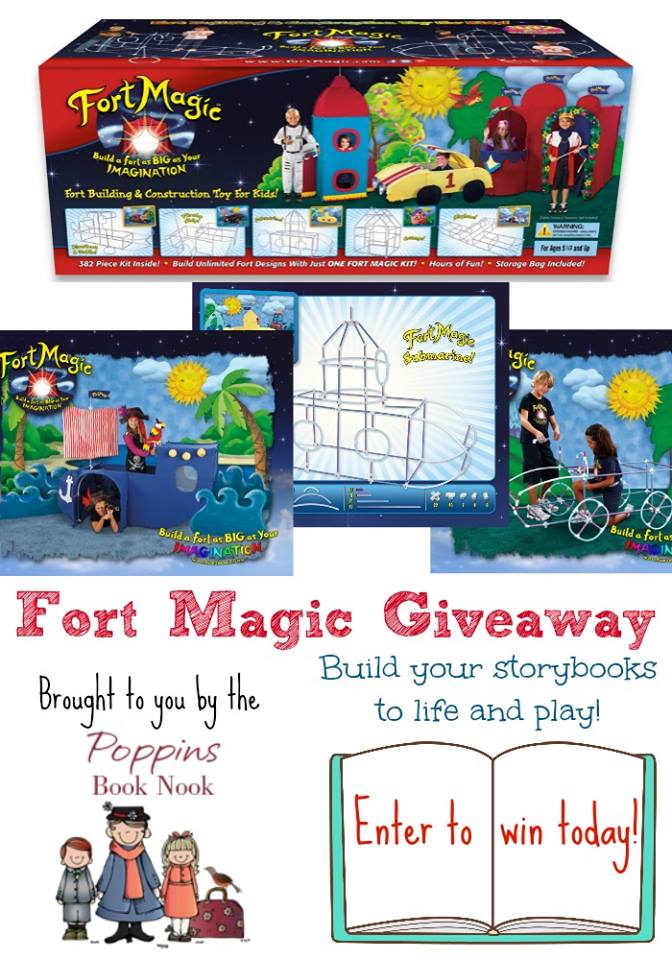 Poppins Book Nook Giveaway! Every month the Poppins Book Nook group will be offering readers a chance to win a brand new story book or product that ties in with our theme for the month. This month one lucky entrant will win a Fort Magic Kit!  With Fort Magic you can bring all of the planes, trains, automobiles, and anything else your child can think of from your storybooks to life to interact with, play with, and make reading fun. The possibilities are only limited by your child's imagination. Jump into a world of books today with Fort Magic! You can read a review of Fort Magic here.
Entrants must be 18 years or older and reside in a country that receives U.S. Postal mail. This giveawayis brought to you by the company Enchanted Homeschooling Mom who is owner andfounder of the Poppins Book Nook. By entering this giveaway you are also acknowledging that you have read and agree to all of the Rafflecopter terms & conditions as well as Enchanted Homeschooling Mom's disclosures found here. Just enter the Rafflecopter below for a chance to win: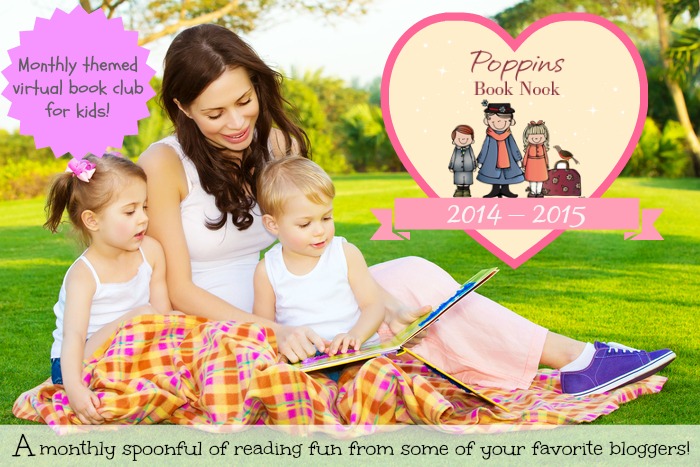 Enchanted Homeschooling Mom ~ 3 Dinosaurs ~ To the Moon and Back ~ Planet Smarty Pants ~ Farm Fresh Adventures ~ Growing in God's Grace ~ Chestnut Grove Academy ~ Learning and Growing the Piwi Way ~ The Usual Mayhem~ Preschool Powol Packets ~ Monsters Ed Homeschool Academy ~ Adventures in Mommydom ~ Teach Beside Me ~ Life with Moore Babies ~ Kathy's Cluttered Mind ~ Are We There Yet? ~ Our Crafts N Things ~ Hopkins Homeschool ~ ABC Creative Learning ~ Joy Focused Learning ~ P is for Preschooler ~ Laugh and Learn ~ A Mommy's Adventures ~ Inspiring 2 New Hampshire Children ~ World for Learning ~ The Kennedy Adventures ~ Ever After in the Woods ~ Golden Grasses ~ Our Simple Kinda Life ~ A glimpse of our life ~ Journey to Excellence ~ Happy Little Homemaker ~ Little Homeschool Blessings ~ Simplicity Breeds Happiness ~ Raventhreads ~ Water on the Floor ~ Learning Fundamentals ~ Tots and Me ~ As We Walk Along The Road ~ Stir the Wonder ~ For This Season ~ Where Imagination Grows ~ Lextin Academy ~ The Canadian Homeschooler ~ School Time Snippets ~ Peakle Pie ~ Mom's Heart ~ A Moment in our World ~ Every Bed of Roses ~ Finchnwren ~ At Home Where Life Happens ~ Suncoast Momma ~ The Library Adventure ~ Embracing Destiny ~ Day by Day in our World ~ Our Homeschool Studio ~ A "Peace" of Mind ~ Thou Shall Not Whine ~ SAHM I am ~ eLeMeNo-P Kids ~ Simple Living Mama
Did you join us this month? What book did you choose?