Thank you American Tourister for sponsoring todays post! #PackMoreFun
When you hit the road this year with your family on vacation, this list of 10 must have Superhero Packing List When Traveling With The Family will be valuable. Never leave home without these things in hand, just like Captain America would never leave home without his shield or Iron Man in his suit! Not only will they keep you and your family safe and happy, they will make your vacation much easier to manage. Enjoy a great superhero family vacation this year with these things on hand!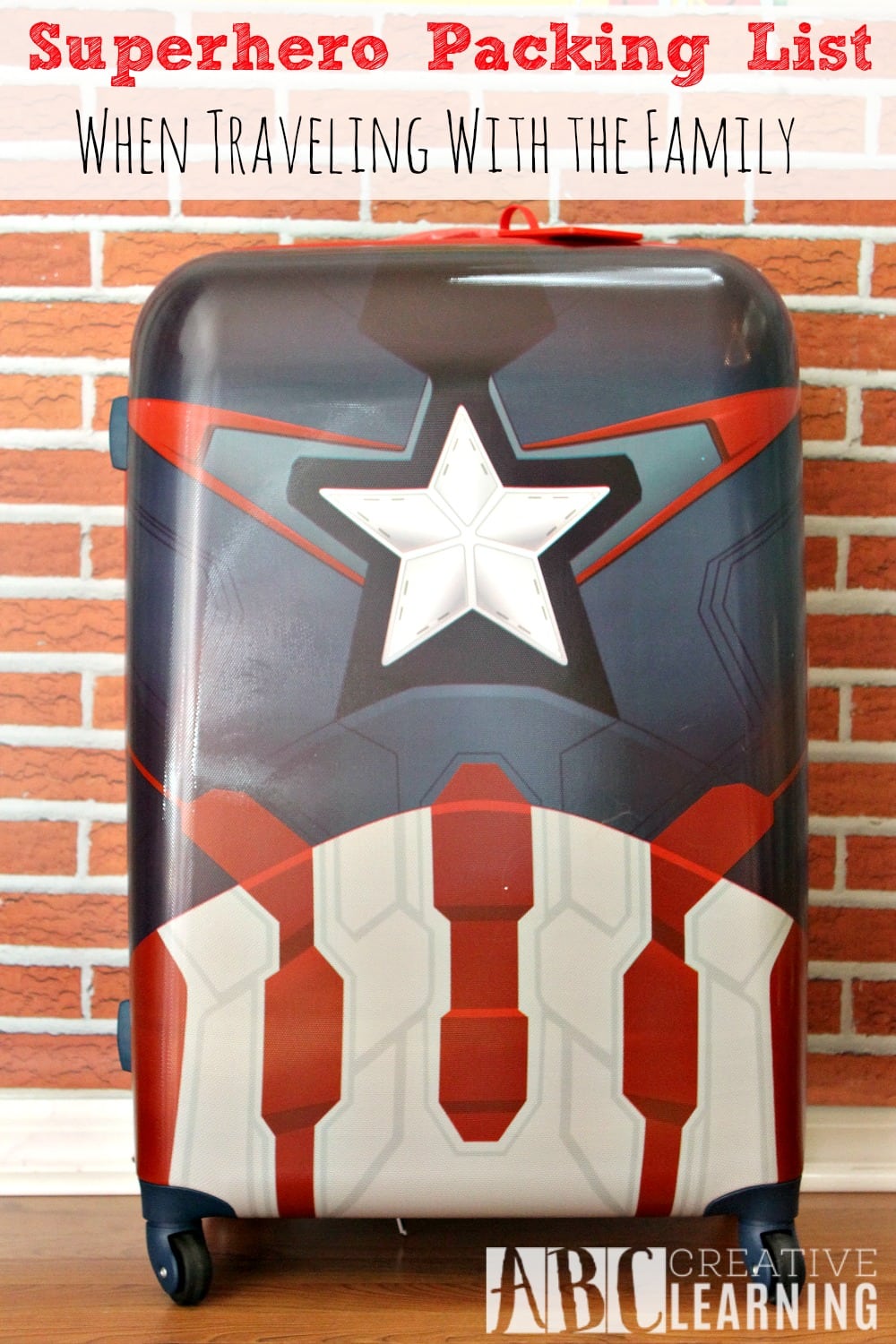 Superhero Packing List When Traveling With The Family
I don't know about you, but when I go away with my family I want to be able to have the best time possible. Being prepared and making sure you have everything you need will make it the most memorable time ever!
The Perfect Luggage
One of the best part of traveling is that you get to take out your awesome luggage! For me it's anything American Tourister, but right now we are loving our new Marvel Captain America 28″ Spinner! It holds everything that we need and neatly organizes it so when I arrive at our destination everything is exactly where I left it.
It includes a large mesh pocket inside and cross straps to keep everything in place. Plus, one of our favorite things is that it has the Marvel brand printed all inside the hard case. Oh, and did I mention how easy it is to push around the airport and to spot among hundreds of other luggages?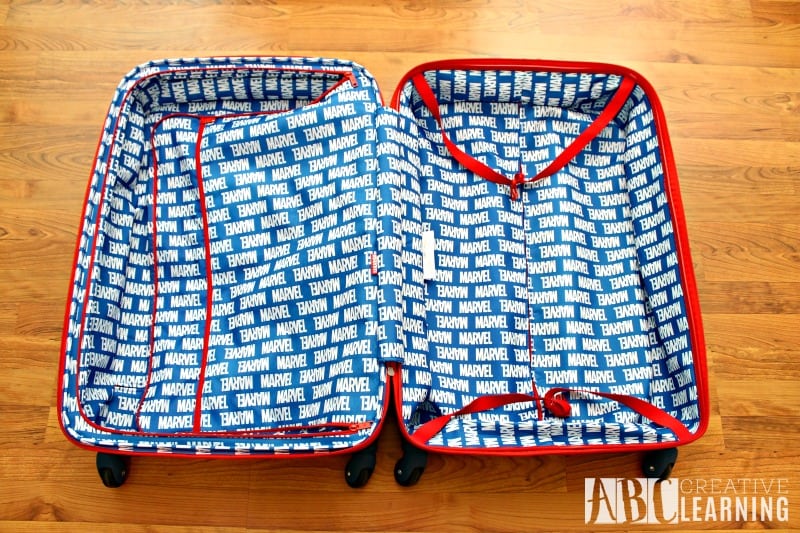 Extra Chargers for electronics
An extra set of chargers for phones, tablets, laptops, and even cameras is always a great idea. You never see Iron Man run out of power do you? That's why you need portable chargers that work on batteries to have on hand when traveling and just in case you are unable to plug into an outlet easily. Extra batteries may be needed for some electronics like gaming systems.
Entertainment for travel delays
Books, magazines, gaming systems, phones, tablets, and even card games or board games are all good for packing to use in the car, on the plane, or even in your room at your destination. Believe me when I say that you do not want to get stuck in an airport and your kids having nothing to do. By the time you board your flight, you might be wishing that Ultron (they are the bad guys) shows the airport because that might be a little more tolerable.
Plus, lets face it, if that were to happen I wouldn't mind getting a glimpse of Captain America or Iron Man one bit.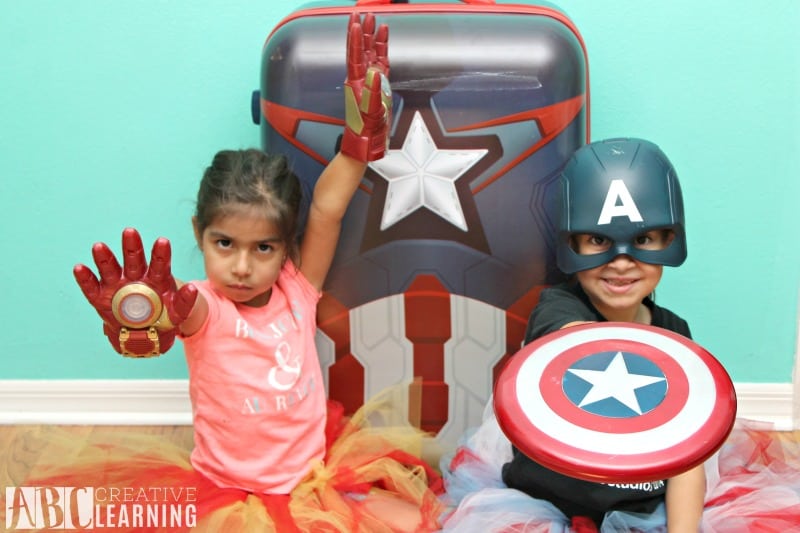 Camera or cell phone to capture memories
Most of us have a cell phone with a great camera, but for some a separate camera is a must for family travel. Whatever you choose, make sure to pack all of the extra batteries, lenses, and equipment for easy use while on the road.
Plus, you don't want to be unprepared. You just never know when any of the Marvel Superheroes might show up. Right?
Snacks for travel time
Avoid having your children or yourself turn into the Hulk while heading out for vacation by packing your own granola bars, snack mix, bottled water, and more. If traveling by car, you can easily add a cooler for things like yogurt, juice, fresh fruit, or string cheese.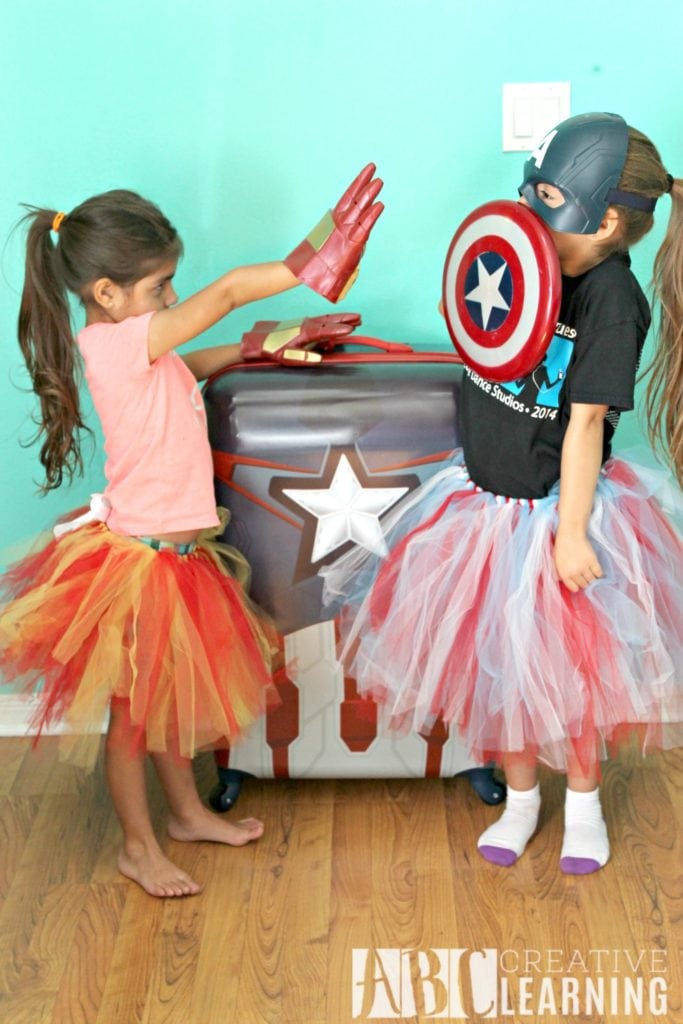 Extra superhero costume, I mean clothing for alternate weather conditions
Even if you are headed to the beach in the middle of the summer, you should pack at least one set of clothing that can be layered to keep you warm. A lightweight jacket, lightweight pant, or long sleeve shirt for each person in your family is a must. Mother nature is unpredictable and you never know when the weather might change or when you need to change into your superhero costume.
Basic First Aid kit
This one kinda goes back with the previous tip, if you are changing into your superhero costume then most likely you will need a first aid kit. You can purchase a kit already assembled, or create your own. Make sure it has basic bandages, antibiotic ointment, alcohol swabs, cotton swabs, and of course things like pain reliever, anti-inflammatory, and anti-histamines. I also add in liquid options for kids since it is tough to get them to take a tablet. Antacid tablets, and anti-nausea medications or Seabands are great for those who get motion sick while traveling.
If your child carries an Epi-Pen make sure to keep everything in the box it came in along with your prescription. Especially when flying on a plane and going through security.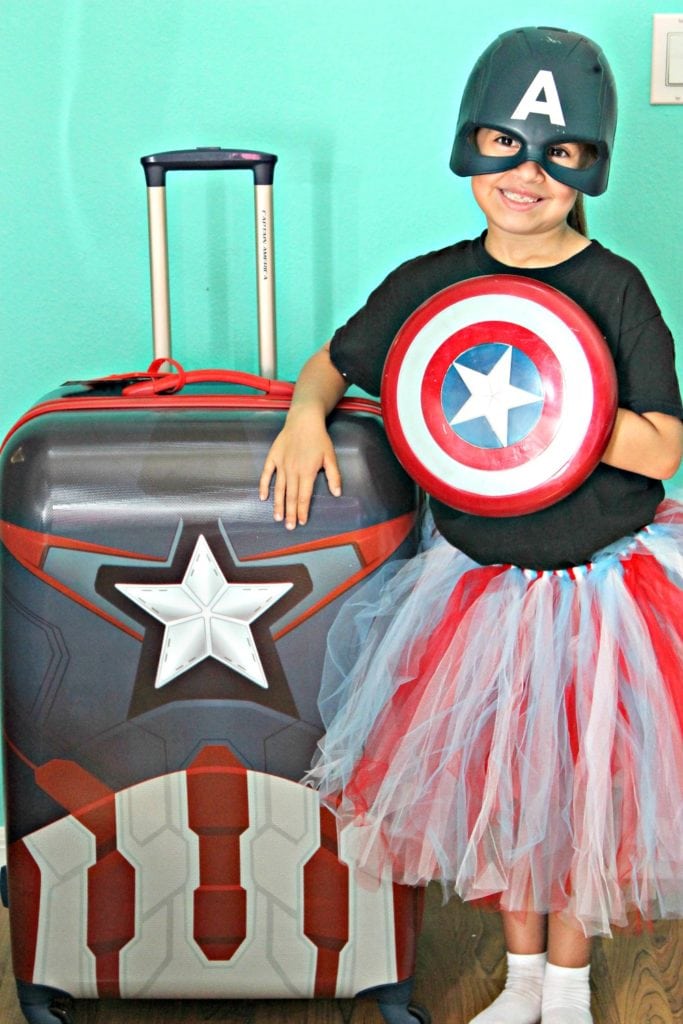 Multiple copies of your itinerary
When traveling with kids, there is always the fear that they could get separated from you. Keep a copy of your itinerary on each person during your travels. In your wallet, purse, backpack, or shield pack place this information in a baggie to keep it secure and waterproof. This way, your kids have it on hand should they get separated from you.
Emergency contact information
This should include your information, as well as the contact information for Marvel headquarters, close family, friends, or neighbors who would need to be contacted should something happen to you. I would definitely add Tony Stark to this list.
You may also want to include things like the name and number of your house sitter, pet sitter, pediatrician, or even your home alarm system company to check in on your home if needed.
Copies of important papers
When traveling with family, keep a copy of your vehicle insurance, travelers insurance, prescription and medical insurances on hand. You may also want to keep a photograph of your family and a copy of identification for easy use should you get separated from each other.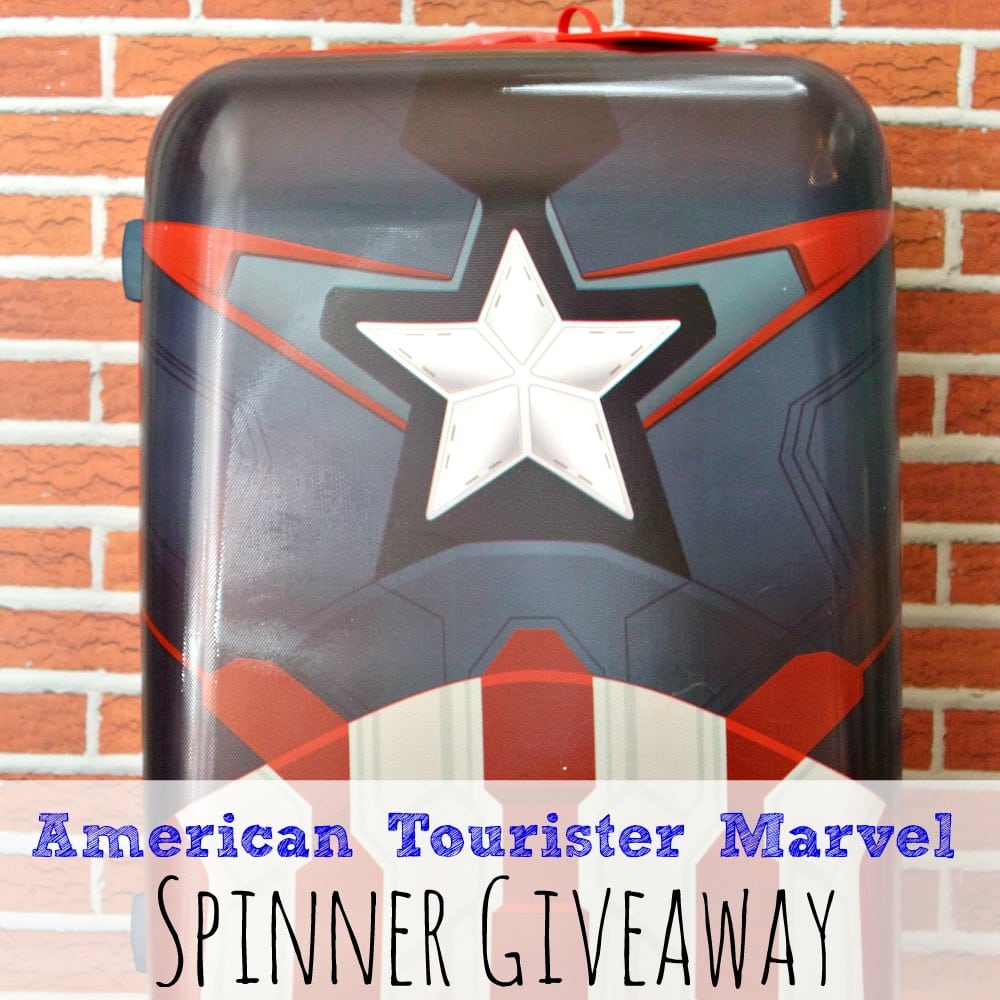 Although, you must be in charge of making sure that everything I shared with you is taken care of during a trip, American Tourister and I want to help a bit. I'm so excited to partner with them and allow one of my amazing readers to win a Marvel American Tourister Spinner! Make sure to read all the details below and enter the Rafflecopter! Good Luck!
*Winner will have to choose a side! Are you Team Captain America or Team Iron Man? I know it's tough, but you must choose a side and a size*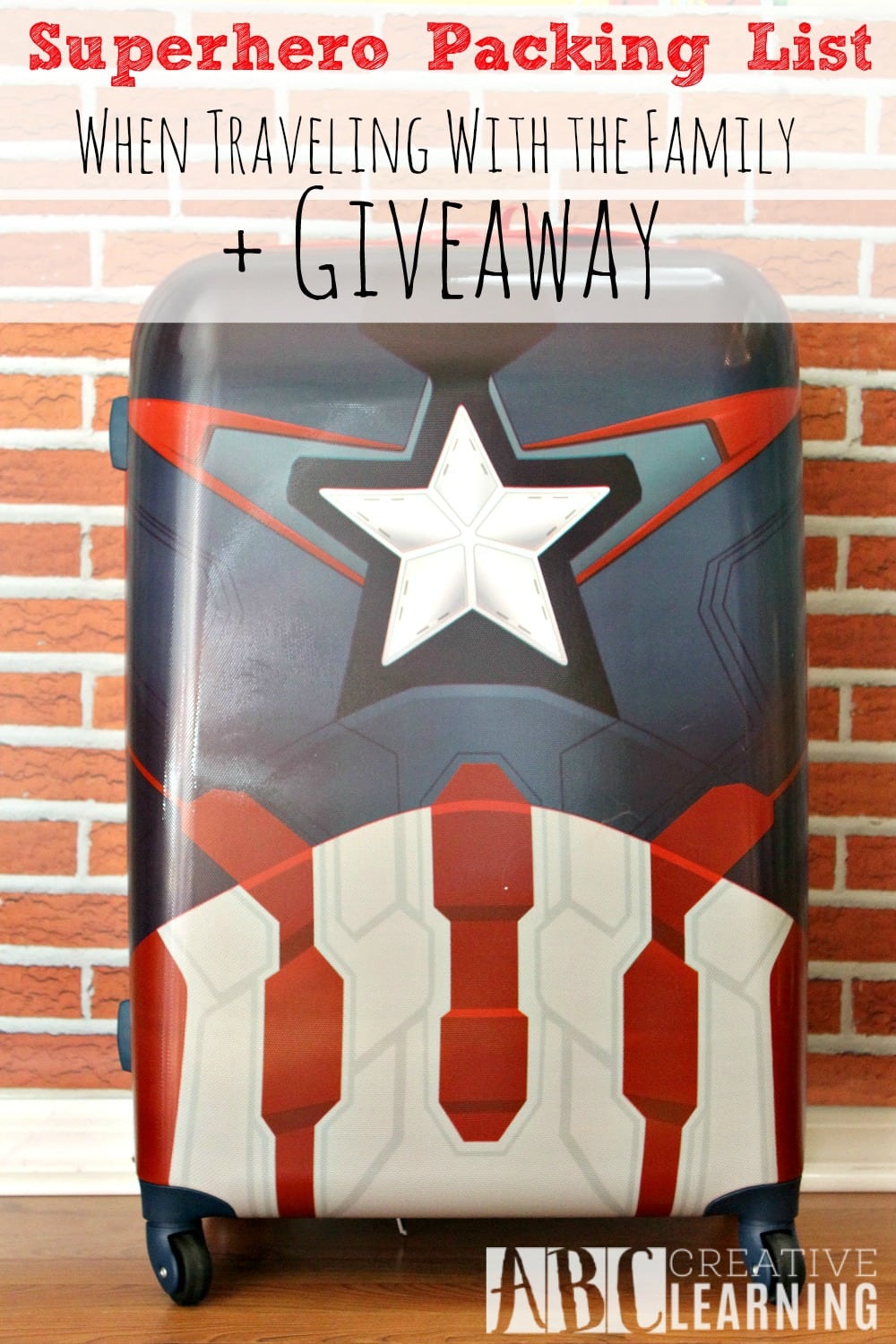 Don't face problems on the road. Make sure you have these must pack superhero items when traveling with the family this summer.
What else would you add to your superhero list?