We can't wait to visit this year's SeaWorld's Spooktacular event! We had a chance to attend several years back and we all had such a great time! Lots of candy, characters in costumes, and lots of dancing! One of the great things is that the event is during the day while visiting the theme park and it's included with your admission, so that's always great as annual pass holders!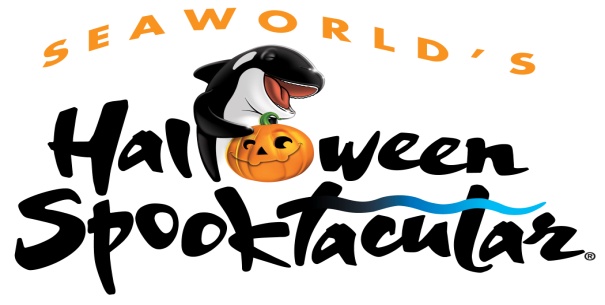 Seaworld's Orlando's Halloween Spooktacular Features An Ocean Of Halloween Fun!
Sea World's Halloween Spooktacular is an underwater "fantasea" filled with trick-or-treating, dancing with sea fairies and pumpkin fish, sea-themed arts and crafts and up-close, amazing animal encounters included with SeaWorld admission.
Join SeaWorld Orlando weekends in October for silly and spooky fun at Halloween Spooktacular. During this daytime event, families will be immersed in an underwater "fantasea" filled with trick-or-treating, whimsical pumpkin fish, sea-themed arts and crafts and up-close, amazing animal encounters SeaWorld is known for.
SeaWorld's Halloween Spooktacular takes place from 12 to 8 p.m. October: 4-5, 11-12, 18-19 and 25-26, leaving the littlest of trick-or-treaters wide-eyed for all of the fun-filled activities. Like all special events at SeaWorld, Halloween Spooktacular is included with park admission or any Pass product.
Spooktacular Highlights Include:
Waves of Trick-or-Treat Fun
Offering many kinds of sweet treats, costumed youngsters can trick-or-treat "under the sea." Each sea-themed trick-or-treat station features an assortment of ghoulish goodies, including Tootsie Roll, jelly beans, Airheads and other candy favorites.
Penelope's Party Zone
Located at SeaWorld's Bayside area, this dynamic "underwater" environment comes to life each weekend with a live DJ encouraging kids to dance and sing along, a variety of interactive crafts for the kids to choose from, countless bubbles floating overhead and colorful pumpkin fish and other sea-themed characters gliding around for great photo opportunities!
Spooktacular Dance Party
End each weekend with Princess Penelope, and her undersea friends, as they invite guests to join the Spooktacular Dance Party, where children (and adults, too) can dance along to a Spooktacular mix of line-dancing favorites as clouds of bubbles fill the evening air. The party will kick off at the Village Square in the front of the park every event night an hour before park closing.
Plus, there are some fun extra activities that can be added to your Spooktacular trip to Seaworld!
Sweet Treat Decorating
Kids and parents alike can have a "splash" creating their own sweet treats at the cookie decorating station. Kids will be able to decorate and devour their spooky cookie when they purchase a kit that comes equipped with a cookie, frosting and toppings. Nominal fee.
NEW!! Dine With Shamu Halloween Spooktacular Brunch
Celebrate SeaWorld's Halloween Spooktacular with an immersive and memorable brunch experience – Dine With Shamu®. Enjoy a delicious menu of seasonal items while sitting at a reserved table that brings you up close to majestic killer whales and Halloween surprises — a family photo with a Halloween Spooktacular frame, a free cookie decorating kit and a trick-or-treat bag with goodies.
Also, make sure to take advantage to this Special Offer Starting September 15:
The best way to experience SeaWorld's Halloween Spooktacular and all of SeaWorld's year-round events, as well as exclusive savings and perks, is with an Annual Pass. Starting September 15 and for a limited time, when parents purchase a full-priced annual pass, they will receive 50 percent off an annual pass for their child. For more details and to purchase, visit SeaWorldOrlando.com.
As Annual Passholders we will definitely be visiting Sea World this Fall!! Will you?