This post is sponsored by bubly™ sparkling water. The opinions and text are all mine.
I am obsessing over my Roasted Garlic Beetroot Hummus recipe! It's not only delicious, but the perfect appetizer to go with a refreshing grapefruitbubly™!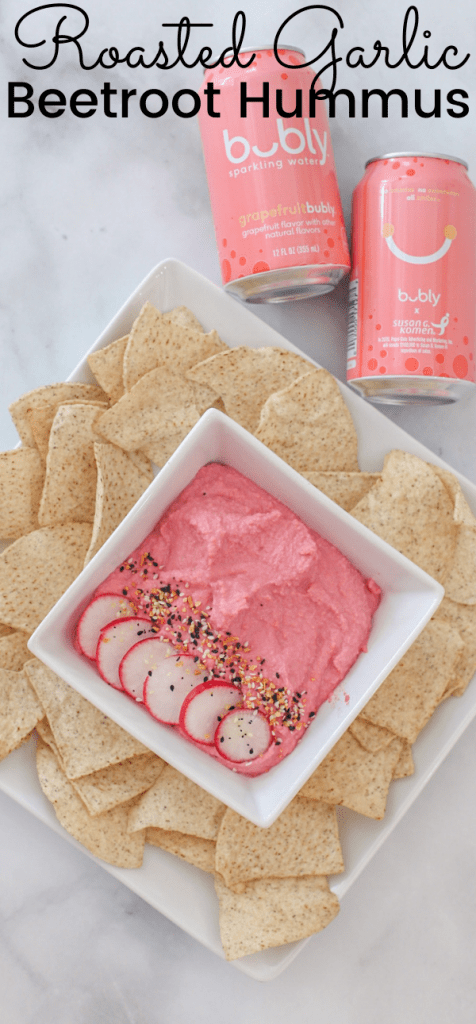 Roasted Garlic Beetroot Hummus
Not only do they go together perfectly, but you have to admit that it's the must-have combo at any Breast Cancer Awareness get together during October!
bubly™ is crisp, sparkling water with natural fruit flavors for a delicious taste that instigates fun in everyday life. Perfect for the entire family.
Making it the perfect drink for a simple homemade hummus recipe, filled with such an aromatic garlic flavor that your guests will be begging for more to eat and drink!
Plus, it doesn't hurt that the beautiful pink color goes perfectly to drive awareness to Susan G. Komen during Breast Cancer Awareness Month. Susan G. Komen has partnered with grapefruitbubly™ to raise awareness during Breast Cancer Awareness Month and there are so many ways to support! Create a fundraiser for Komen, donate to Komen directly, become a breast ancer advocate, sign up for a virtual race or walk, and buy grapefruitbubly™ from Publix!
As a breast cancer survivor myself, this month is so important for me. It's a time for me to bring awareness to this disease that takes the life of so many each day, but it's also a time for celebration.
It's a time for us survivors to be grateful for how lucky we are to have beaten breast cancer and to celebrate life to the fullest.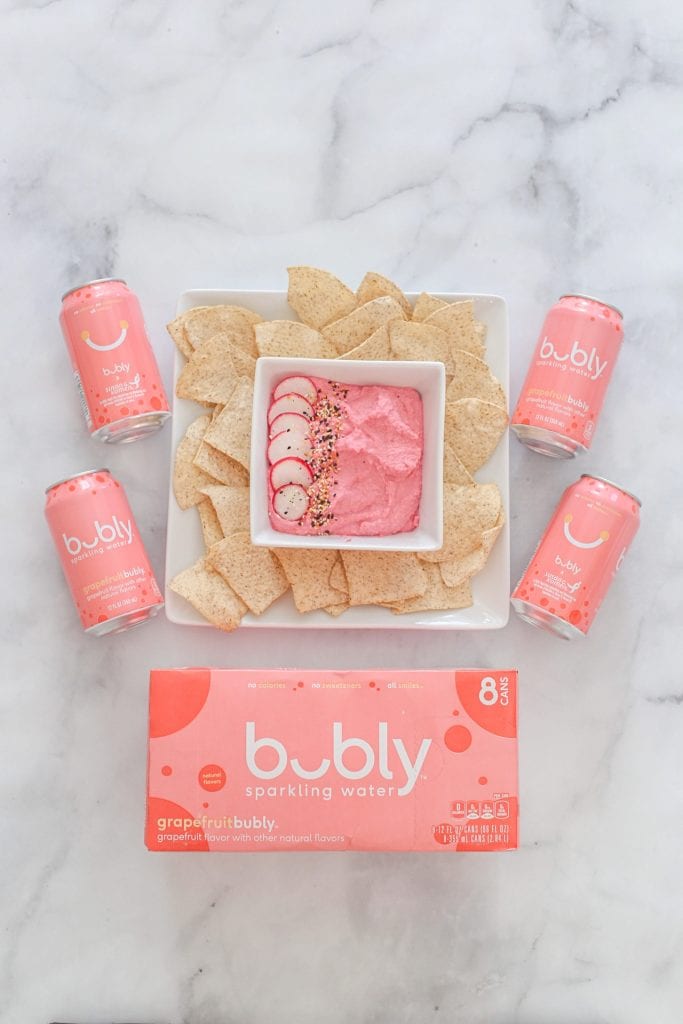 Why Beetroot?
Many of you might be asking, what's so special about beetroot?
You see, one of the things that I have been working on is my health. I want to make sure that I am giving my body all of the natural vitamins and minerals it needs to live a fully abundant life.
For me, this means home cooking and creating recipes like this hummus dip with roasted beetroot, which is rich in folate, manganese, fiber, and healthy nitrates.
Plus, it gives the hummus the perfect pinkish color that encourages my girls to dig right in too!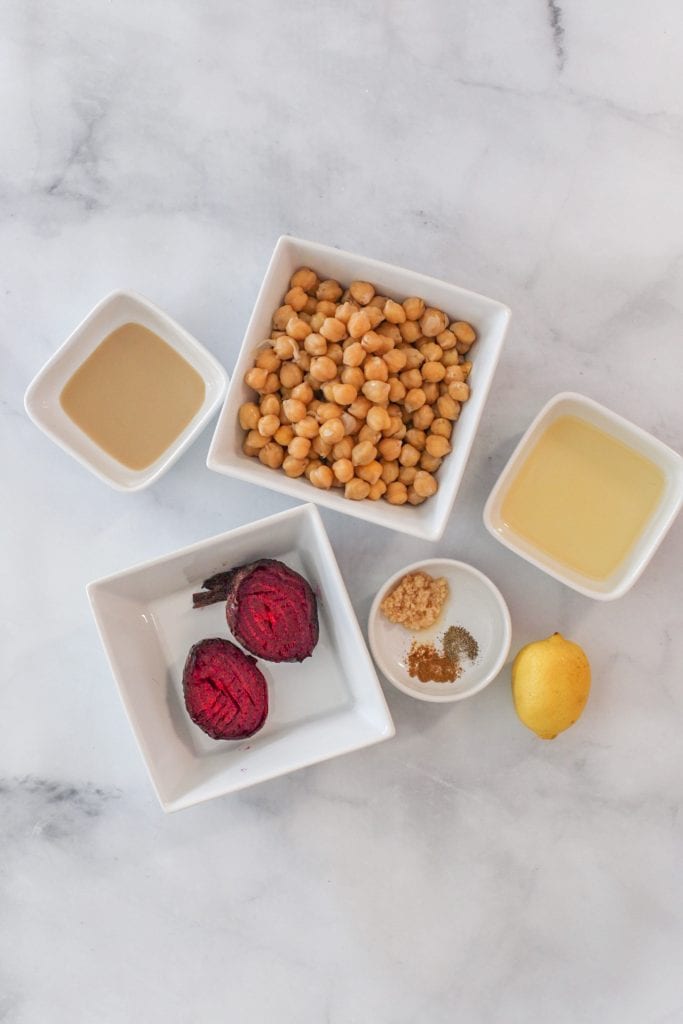 Ingredients Needed For Homemade Beetroot Hummus
You won't believe how easy this homemade hummus recipe is. In fact, you don't need much for ingredients and it's made in just a few minutes.
Tip: Make sure to decide if you are using canned or fresh chickpeas for your recipe. Canned chickpeas you can use right away, while fresh chickpeas you have to soak over night. I always suggest fresh chickpeas if you are not in a hurry.
2 cups of cooked chickpeas
1/2 lemon squeezed
2 cloves of garlic
1 small beetroot baked in the oven for about 45 minutes at 400 degrees
2 tablespoons of Tahini
1/2 teaspoon of salt
pepper to taste
1/2 teaspoon of cumin
1/3 cup of olive oil or avocado oil
Make sure to also pick up your bubly™ at Publix in the water aisle or Sign in to your Instacart account to order bubly™ from Publix!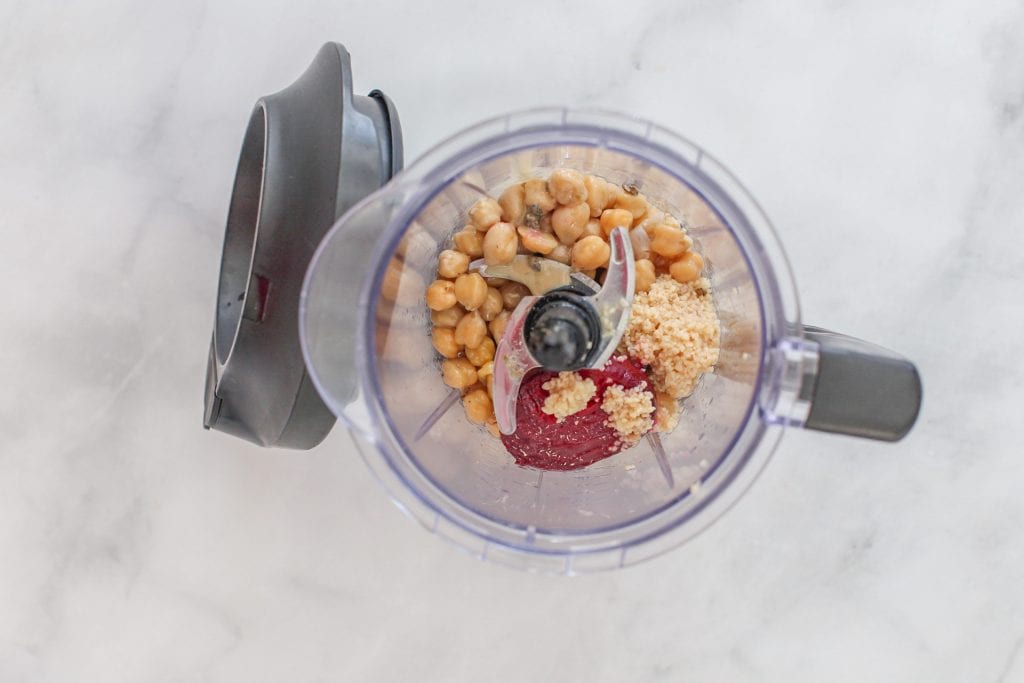 How To Make Roasted Garlic Beetroot Hummus
To create this simple, yet delicious hummus beetroot recipe, first decide if you want to use canned or fresh chickpeas.
Then you want to bake your beetroot in the oven. Simple cut off your beetroot but leave about half an inch of the stem on. Cover in tin foil and bake for about 45 minutes to an hour on 400 degrees Fahrenheit.
You want to allow the beetroot to soften up. It's very similar to baking a baked potato in the oven. You will know it's cooked when you feel that your beetroot is soft by inserting a fork.
Allow your beetroot to cool off while you begin mixing everything together!
In a blender or food mixer add your chickpeas, lemon, garlic, pepper, tahini, salt, and cumin.
Blend all ingredients together.
Next, add your olive oil to create a smooth consistency.
Last, you will add your roasted beetroot.
Smooth all of the ingredients together.
You can add more olive oil if you wish for a more soften consistency.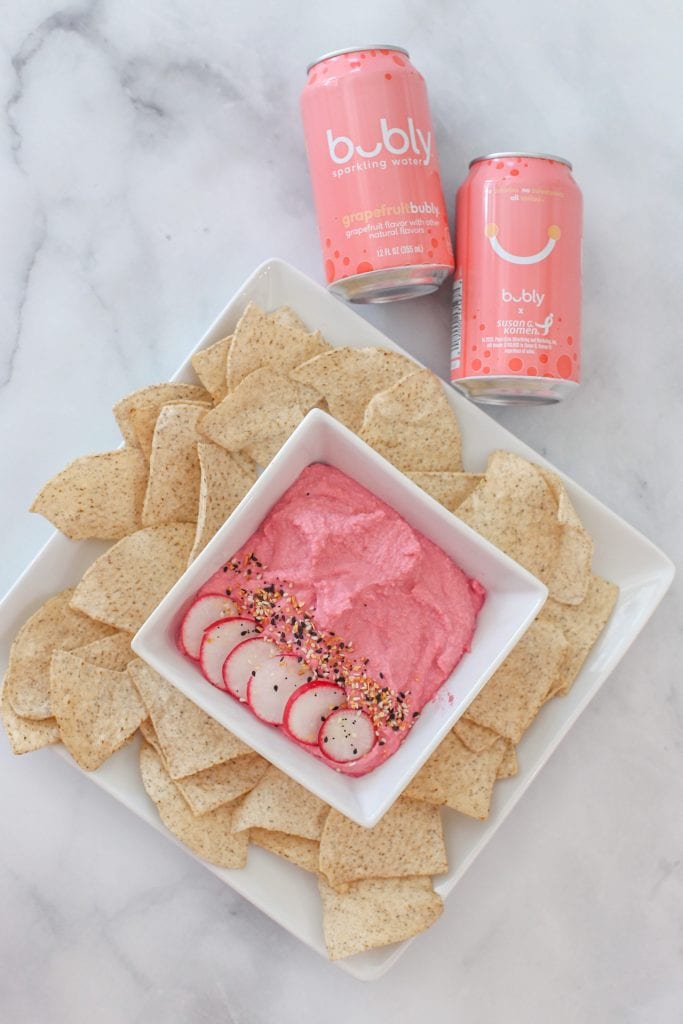 My favorite way to plate this hummus recipe is to spread it in a bowl, topped with radishes, sprinkled with a little bit of everything bagel seasoning, and a side of gluten-free tortillas chips.
The pretty Pink Roasted Garlic Beetroot Hummus made from scratch is delicious and perfectly paired with a refreshing grapefruitbubly™ with no calories, no sweeteners, and all smiles.
I'm obsessed with this combination and have been my go-to snack during the day, especially with all of the changes that I have made in my diet.
Food was one of the most important aspects of my life to make sure that I was giving my body all of the nutrients needed to stay strong.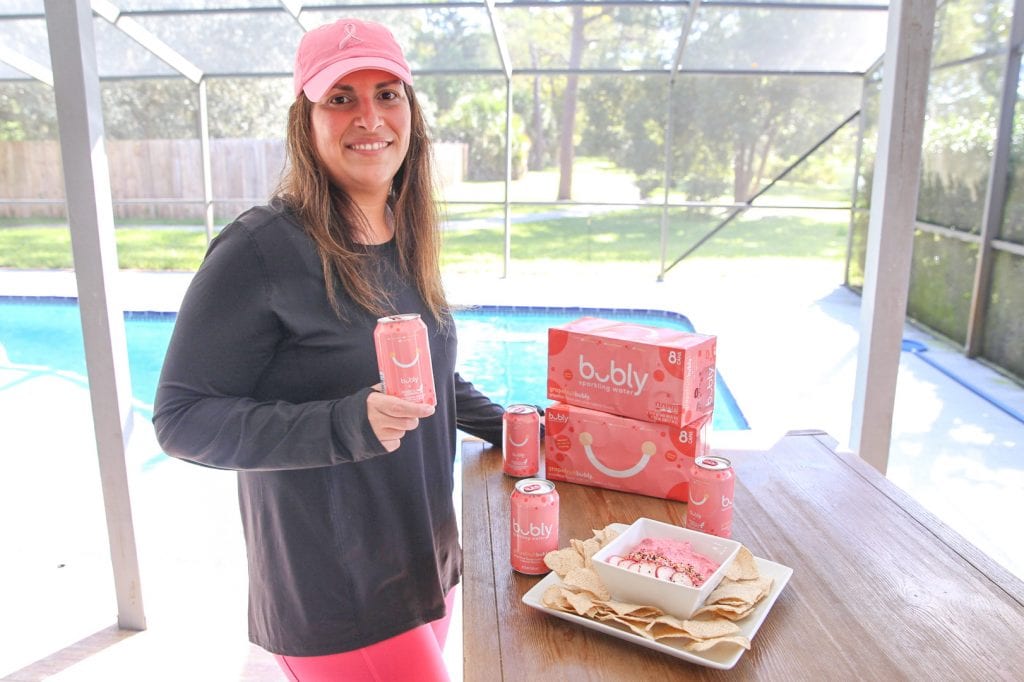 October is Breast Cancer Awareness Month
October is Breast Cancer Awareness Month, which is why I'm proud to partner with grapefruitbubly™!
Four years ago, I was diagnosed with Triple Negative Breast Cancer. My life, the life of my two little girls, and the life of my husband were forever changed.
After undergoing chemotherapy, a double mastectomy, several surgeries, and radiation I am a proud survivor!
I want to make sure that those breast cancer patients know that we are supporting them in any way we can. Even if they don't know it.
I want them to know that they are not alone in this fight and we are here doing our part.
As individuals, we might not be as strong, but together we can make a difference!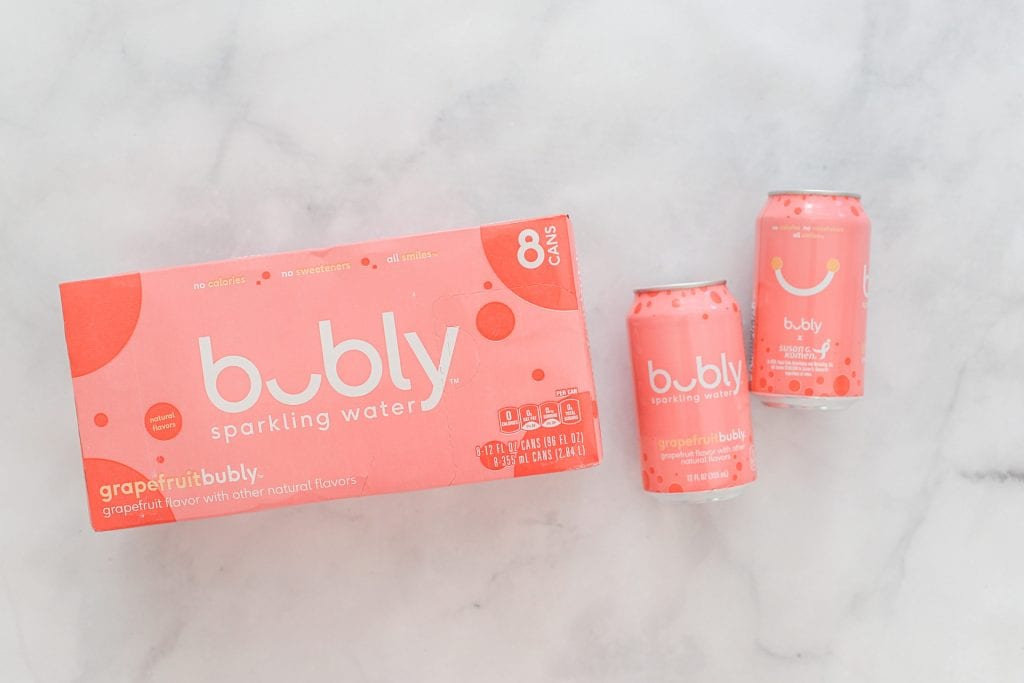 Join me in the fight against breast cancer this month. Here are a few different ways that you can support.
Buy grapefruitbubly™
Create a fundraiser for Komen/ donate to Komen directly
Become a breast cancer advocate
Sign up for a virtual Race or Walk
Will you be joining me this month in raising awareness with grapefruitbubly™?