This is a sponsored conversation written by me on behalf of Seattle's Best Coffee. The opinions and text are all mine.
Back to school season can be stressful and overwhelming for parents. This year let's create more purposeful back-to-school Morning Routines for Moms.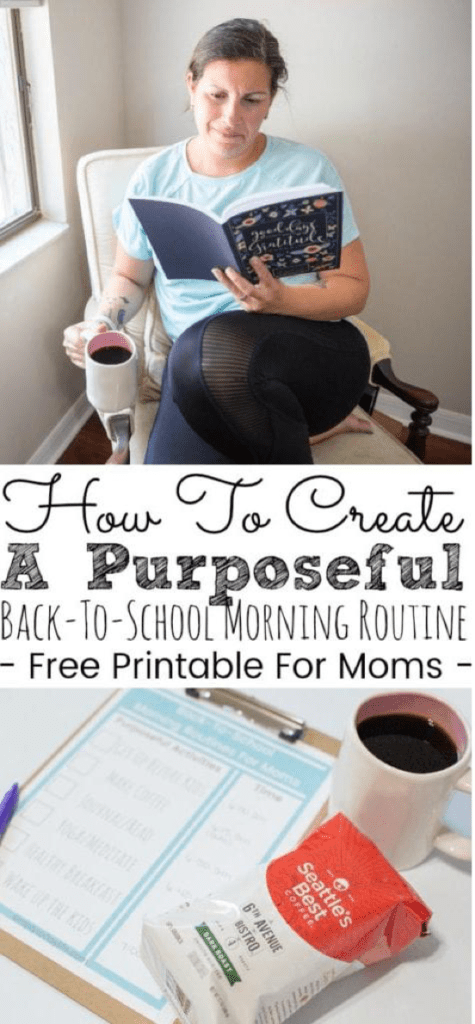 Back To School Morning Routines For Moms + Free Printable
The best part about back-to-school is getting back into my regular morning routine! I thrive on knowing what to expect and checking things off my daily schedule. But it hasn't always been like this. It's something I've worked on for the past year, knowing that taking care of myself is just as important as taking care of my family.
I'm not saying that it's been easy. It's been difficult putting myself first and reminding myself that my health is important too. Creating a purposeful morning routine has helped me get more organized, diminish stress, and honestly be a better mom and wife.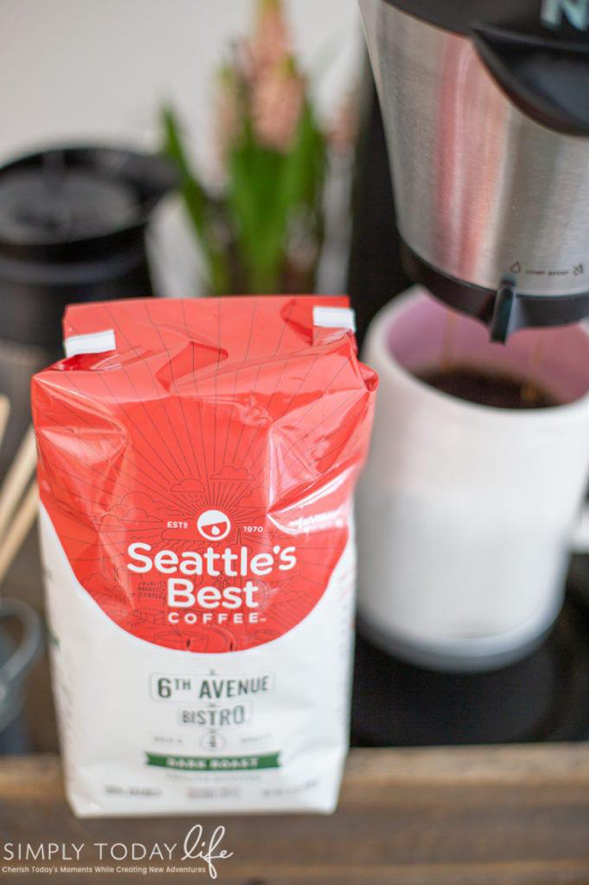 Creating A Purposeful Back-To-School Morning Routine
Last year, I briefly shared on Instagram some of the routines that I began adopting into my mornings. I always go back to this morning routine as soon as I start feeling overwhelmed and stressed.
Plus knowing that I'll have a cup of Seattle's Best Coffee® 6th Avenue Bistro waiting for me is all it takes to get me motivated for my day!
What do purposeful mornings mean?
For me creating a purposeful morning routine as a mom means starting my day off thinking about my mental, physical, and emotional health before anything else. It's creating a list of things I would like to accomplish each morning that will help with these 3 important factors in my life.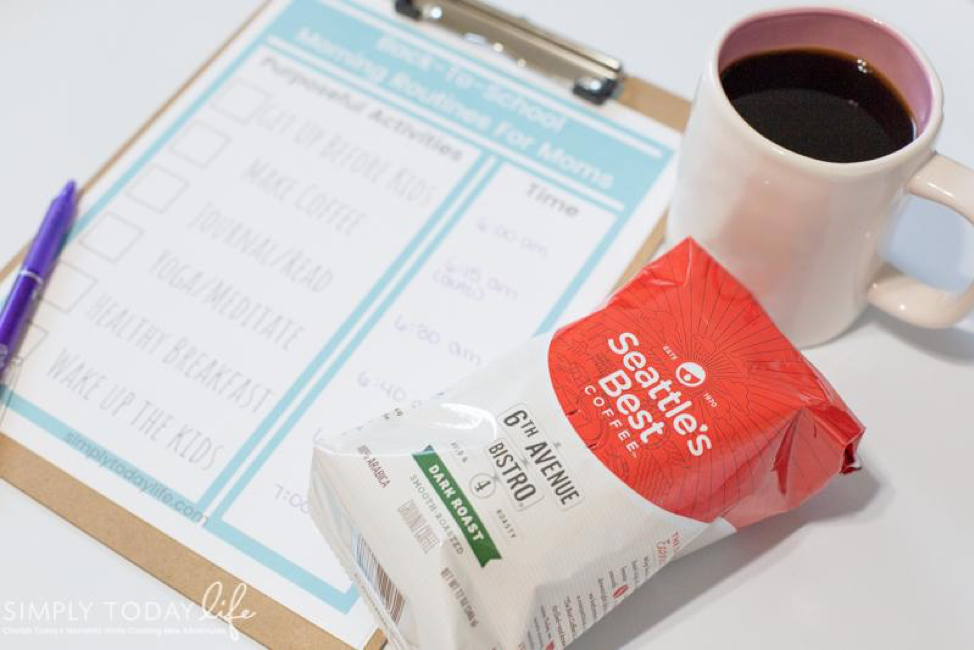 Back-To-School Morning Routine
Creating a morning routine for moms doesn't have to be hard. The simpler your morning routine, the more likely you will follow the method in the long run.
Wake Up Before The Kids
I know what you're going to say, "but it's too hard". It's only hard if you don't commit to it and don't stay consistent. Waking up before my daughters has made all the difference. Waking up before everyone allows me to take time for myself without the guilt of taking time away from my home, daughters, and husband. Plus, a chance to sit down with my thoughts and a cup of Seattle's Best Coffee 6th Avenue Bistro.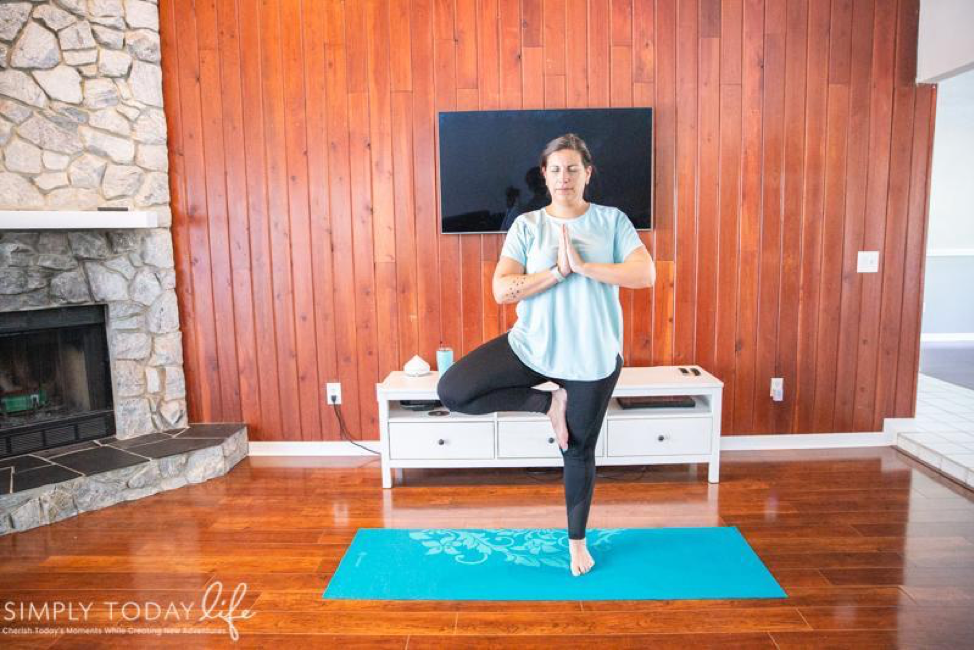 Yoga | Stretching | Meditation
One of the best ways to get your morning started is by either doing yoga, stretching, or meditation. There are many apps and podcasts now available for free that will guide you in all of these steps.
Choose the one that calls to you the most that morning. Sometimes I'm a bit tired from the day before, so this is when my meditation comes into play. Search for podcasts that have several minute meditations that guide you and get your morning started on a more purposeful note. Meditation is about clearing the mind and thoughts to create a more positive way of thinking.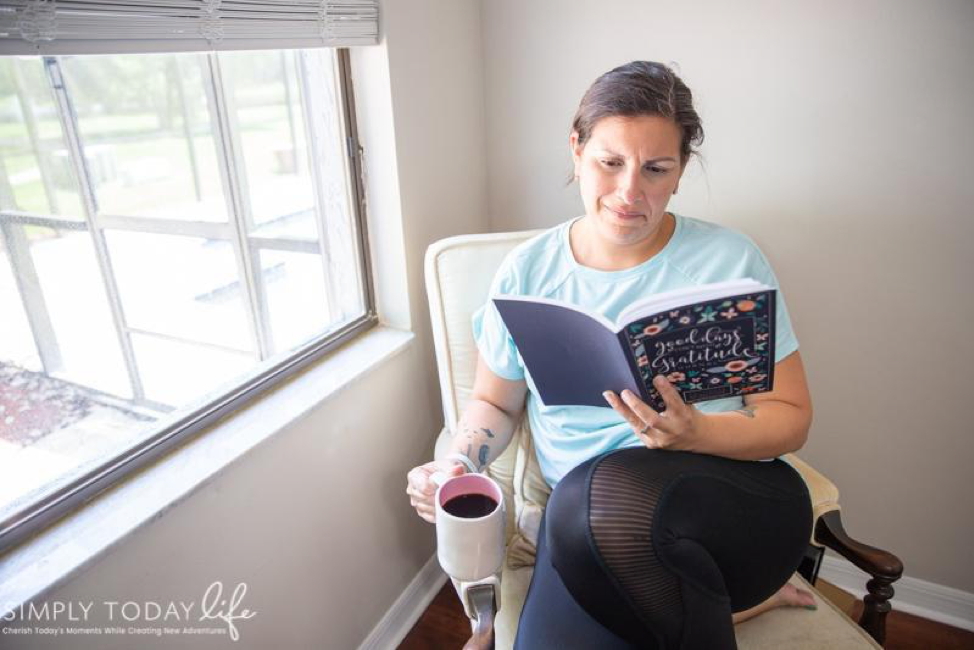 Journaling | Reading Inspirational Quotes
Writing down your thoughts, schedule, or even things you want to accomplish during the day will set a positive back to school routine. Especially when you know that mornings can become a tad bit chaotic with getting the kids ready for school.
One of the things I look forward to every morning during my back-to-school routine is reading my inspirational quotes book. I love how my mind shifts from having a yucky morning to "I can accomplish anything", including when my daughter throws a fit because she doesn't want eggs for breakfast!
Reading my favorite book with my Seattle's Best Coffee in my favorite flavor, 6th Avenue Bistro outdoors while the sun rises makes me believe I can conquer the day.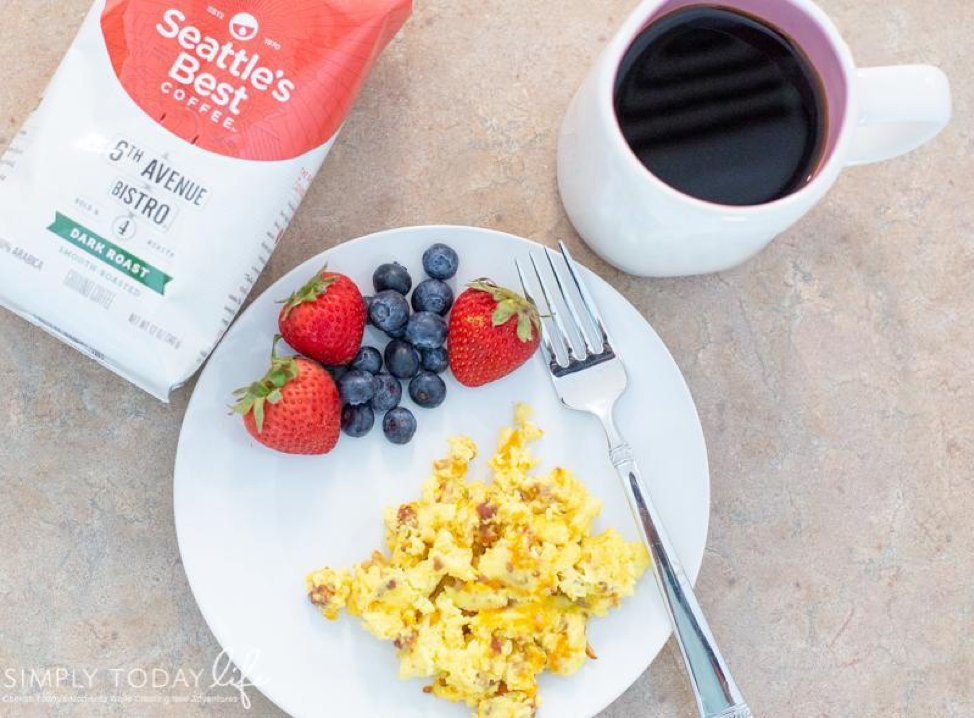 Healthy Breakfast | Coffee
They say breakfast is the most important meal of the day and whoever said this is so right! Our bodies need a healthy diet and breakfast to fuel us for the day to come. I don't know about you, but this mama gets hangry when she doesn't have breakfast and her morning coffee. Yoga or no yoga!
Breakfast doesn't have to be hard to make. Just something healthy and easy to prepare right before the kids gets up. Plus, if you're like me, then you can't live without your morning coffee! I love the flavor of Seattle's Best Coffee 6th Avenue Bistro in Dark Roast that I picked up at my local Publix store in the coffee aisle this summer.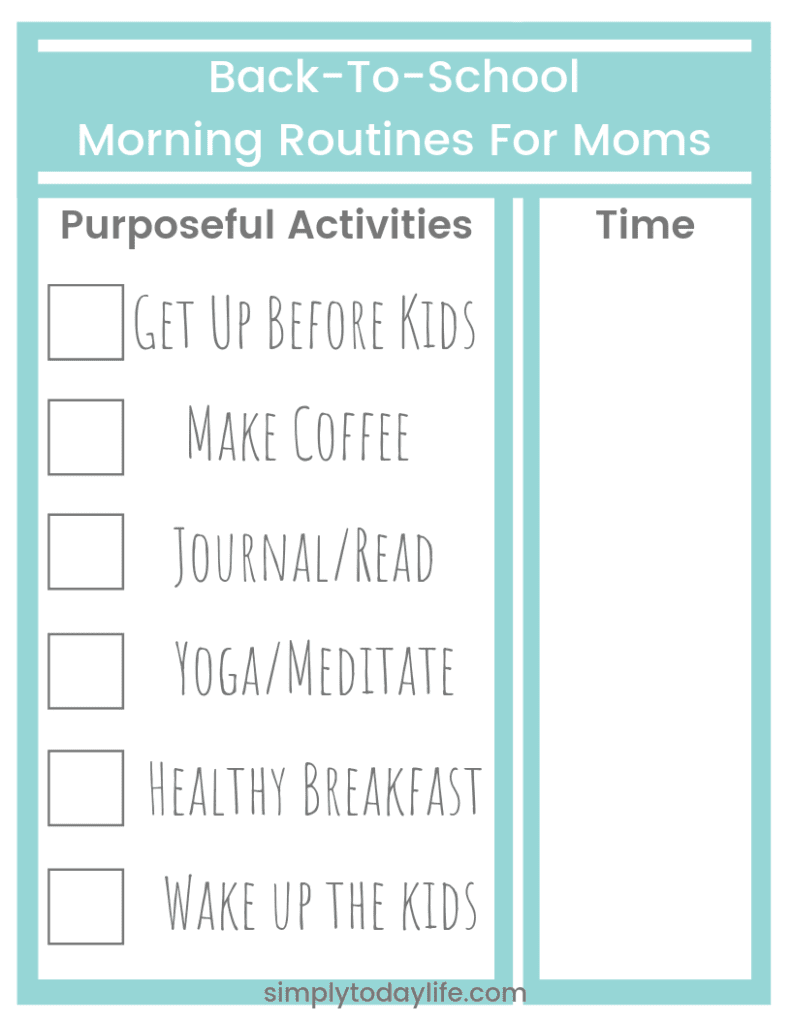 Seattle's Best Coffee makes you feel differently about coffee during the back-to-school season! It's what every mom needs in their back-to-school morning routines!

Make sure to stop on by your local Publix and visit their website to get $1.50 off any two (2) Seattle's Best Coffee® coffee 12 oz. or K-Cup® 10 ct.
Morning Routines For Moms Printable
I've created this back-to-school morning routine printable for moms for keeping us accountable. I love how I can print this out, laminate it, and can re-use every week. Plus, it allows me to see how committed I was the previous week, before beginning a new week.
It's a great way to see if I need to change anything in my routine. Because my routine is not the same as yours, I've also created a blank copy of this printable so that you can fill it in according to your own back to school routine.

How will you be making your back-to-school routines more purposeful?
Seattle's Best Coffee and the Seattle's Best Coffee logo are registered trademarks of Seattle's Best Coffee LLC used under license by Nestle.