Wear your favorite costume and get ready to trick-or-treat at this years Mickey's Not-So-Scary Halloween 2014 at Magic Kingdom! Select nights from 7:00 PM to midnight, the party starts tomorrow September 1st and ends on October 31st, 2014!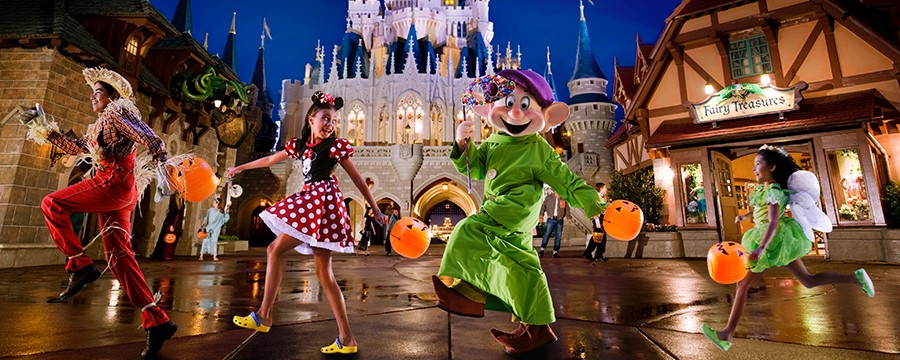 On 26 select nights from Sept. 1 through Halloween night Oct. 31, 2014, the Magic Kingdom will host this spooktacular after-hours party from 7 p.m. to midnight.
Disney villains take center stage in 2014 with the "Villains Mix & Mingle – Live on Stage" castle show and Club Villain, an all-new nightly character dance party experience takes over the Diamond Horseshoe Saloon in Frontierland. Mischievous villains will be available for guests to meet all night long in locations throughout the park.
Mickey's Not So Scary Halloween party features Disney characters donning their favorite Halloween costumes, while partygoers navigate treat trails and candy galore throughout the Magic Kingdom themed out for happy haunts. Partygoers can also show their Disney Side and dress up in their favorite costumes.
Eerie entertainment features the twice-nightly "Mickey's Boo-To-You Halloween Parade" led by the Headless Horseman at 8:15 p.m. and 10:30 p.m. and "HalloWishes," a green and orange fireworks spectacle complete with Disney villains, caps the evening festivities at 9:30 p.m.
Party dates for 2014 are: Sept. 1, 9, 12, 14, 16, 19, 21, 23, 26 & 28 and Oct. 2, 3, 5, 9, 10, 13, 16, 17, 19, 21, 23, 24, 26, 27, 30 & 31. Advance purchase (prior to event day) savings are available for select dates. Guests may visit Disneyworld.com/Halloween for party dates and prices, or call 407-W-DISNEY.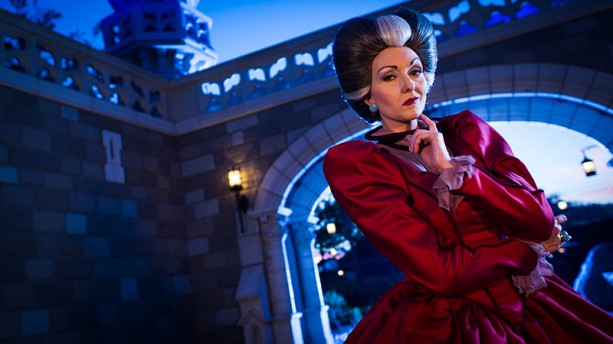 Guests also can purchase tickets to a new dessert party taking place during Mickey's Not So Scary Halloween Party, the Villains' Sinister Soiree: A Wicked Takeover of Cinderella Castle. Set within the majestic halls of Cinderella's Royal Table, guests can meet a menagerie of malevolent special guests while they indulge in decadent desserts and specialty non-alcoholic beverages and listen to live music.
By purchasing a ticket to both Mickey's Not So Scary Halloween Party and the Villains' Sinister Soiree: A Wicked Takeover of Cinderella Castle, guests will receive preferred viewing for the 8:15 p.m. performance of Mickey's "Boo-too-You" Halloween Parade, as well as preferred viewing for the Happy HalloWishes Fireworks Spectacular. For dates, prices and to make reservations for the dessert party, guests may call 407-939-5262.
My girls are super excited about the Mickey's So Scary Halloween Party this year! We have never attended and are really thinking of attending this year while I'm at the NICHE Blogging Conference!
Will you and your family be attending?