I was invited by Disney to attend the LA Red Carpet Premier and Press Junket for the #JungleBookEvent. Post sponsored by Disney, but all magical opinions are mine alone.
Well, I'm Headed To The LA Red Carpet Premier Of Disney's The Jungle Book #JungleBookEvent!!!! See, I'm trying to stay very calm as I type this for all of you, but how do you even start this kind of conversation? Not only is this the kind of Pixie Dust I have been dreaming about for a few years now, but to be heading to LA for the movie premier is absolutely mind boggling!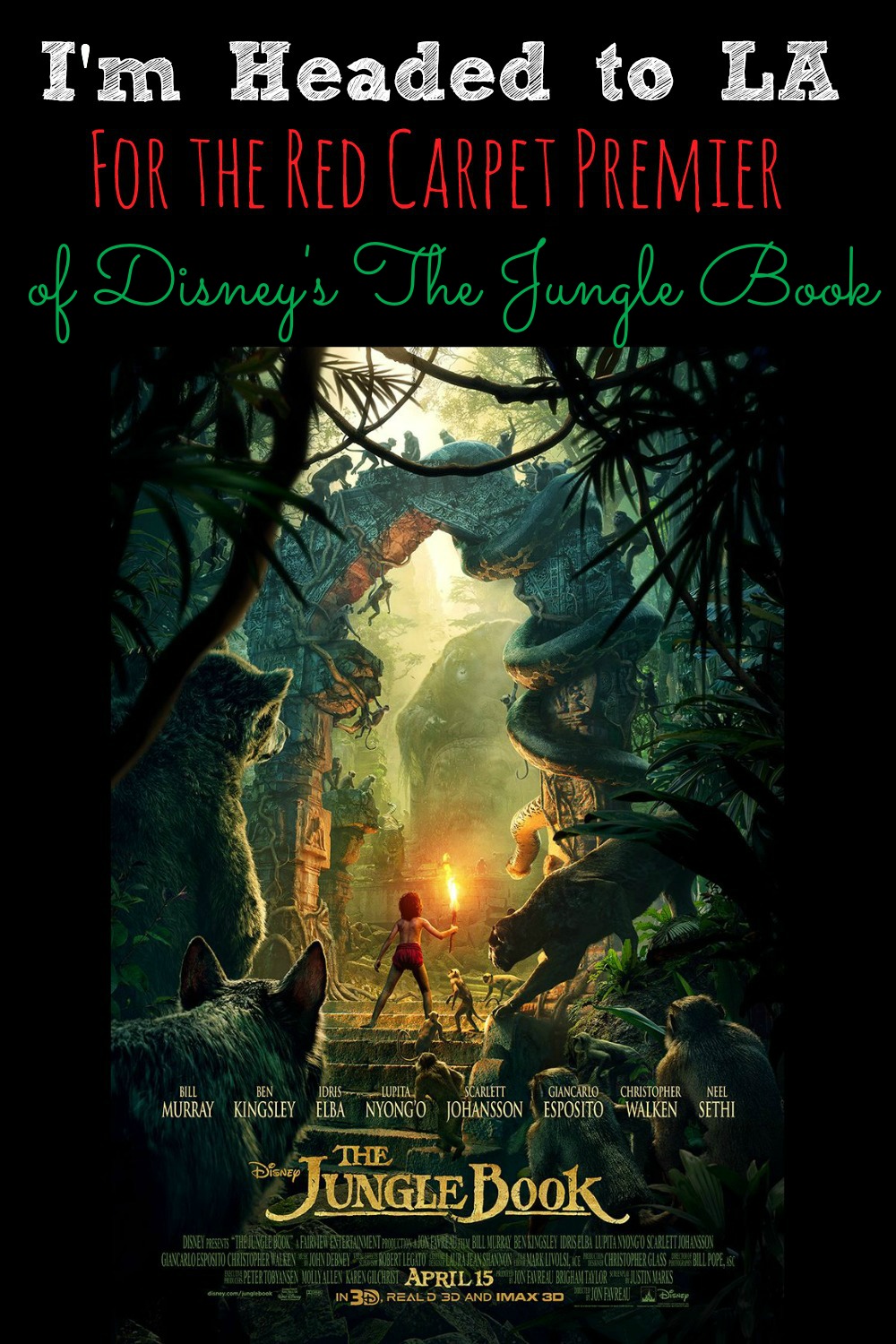 I'm Headed To The LA Red Carpet Premier Of Disney's The Jungle Book #JungleBookEvent
So lets try this again….. HOLY SMOKES I'M HEADED TO THE LA RED CARPET PREMIER OF DISNEY'S THE JUNGLE BOOK!!!!!!! There! Phew!! Boy do I feel much better!
If you know me then you know how much these events mean to me and how hard I have been working to be apart of them. Mostly because I am a Disney fanatic and because I just love movies! So lets get on with sharing what I will be doing while in LA in exactly 10 days! So make sure to follow along using #JungleBookEvent April 3rd-April 5th!!

So, you already know that myself and 24 of my blogging friends will be walking the red carpet for the movie premier, but we are also having the honors to be interviewing some of the cast and director.
I'm so excited and my hubby is excited for me, that we will be interviewing director Jon Favreau. We are a huge fan of his work both as director and as an actor!
Next up is the man cub himself, Neel Sethi who plays Mowgli. I know that The Jungle Book was his first audition ever, so I can definitely see this young man going places in the acting career! I can't wait to meet him and ask him the questions my two girls have written down for me.
The rest of the cast we will be interviewing where just given to us while I was actually typing this up to share with all of you and I couldn't be more excited!!! Like walking the red carpet and interviewing both Jon Favreau and Neel Sethi wasn't enough!!!!
We will also be interviewing, Sir Ben Kingsley (voice of "Bagheera"). My mom is going to have a fit when she finds out!!
Bagheera is a sleek panther who feels it's his duty to help the man-cub depart with dignity when it's time for him to leave his jungle home. "Bagheera is Mowgli's adoptive parent," says Ben Kingsley, who lends his voice to Bagheera. "His role in Mowgli's life is to educate, to protect and to guide. My Bagheera was military–he's probably a colonel. He is instantly recognizable by the way he talks, how he acts and what his ethical code is."

Sir Ben Kingsley is an Academy Award winning actor and has starred in such classic films like GANDHI, BUGSY, SCHINDLER'S LIST, HUGO, IRON MAN 3 and HOUSE OF SAND AND FOG.
Also, added to our press junket interviews is the lovely and stunning Lupita Nyong'o (voice of "Raksha")!
Lupita Nyong'o voices Raksha, a mother wolf who cares deeply for all of her pups–including man-cub Mowgli, whom she adopts as one of her own when he's abandoned in the jungle as an infant. "She is the protector, the eternal mother," says Nyong'o. "The word Raksha actually means protection in Hindi. I felt really connected to that, wanting to protect a son that isn't originally hers but one she's taken for her own."

Lupita won the Academy Award for Best Supporting Actress for playing "Patsey" in 12 YEARS A SLAVE and played "Maz Kanata" in STAR WARS: THE FORCE AWAKENS. Next up she stars in the Walt Disney Studios film QUEEN OF KATWE.
Also, Giancarlo Esposito (voice of "Akela"), who I love on Once Upton A Time series!! My girls are seriously in shock that I got to interview Snow White (Ginnifer Goodwin) and now the Magic Mirror.
Akela is the strong and hardened alpha-male wolf who shoulders the responsibility of his pack. He welcomes Mowgli to the family, but worries he may one day compromise their safety. "Akela is a fierce patriarch of the wolf pack," says Giancarlo Esposito, who voices the character. "He believes the strength of the pack lies in what each and every wolf offers. He's a great leader, a wise teacher."

Giancarlo stars at the "Magic Mirror" on ABC's ONCE UPON A TIME and was nominated for an Emmy for his role on BREAKING BAD.
Check out the official trailer for Disney's The Jungle Book!
To say that's the end of our adventures is not even close!! We are also getting the privilege to check out a Disney XD special screening of the hilarious new hidden camera-practical joke series Walk the Prank.
Featuring live-action scripted comedy interspersed with fully produced unscripted pranks, the show follows an ensemble cast as they plan and execute hilarious over-the-top pranks for an online hidden camera show.
We will also be visiting the Paramount Studios where we will be viewing the production for an upcoming episode and interviewing members of the Walk the Prank cast.
Walk the Prank premieres on April 6th at 8:30 pm on Disney XD!
Disney's Newest Clip for The Jungle Book!
As you can see it's going to be an excited event! So make sure to follow along our adventures on Twitter and Instagram as we share our daily events with all of you! Who knows, you might see a start or two!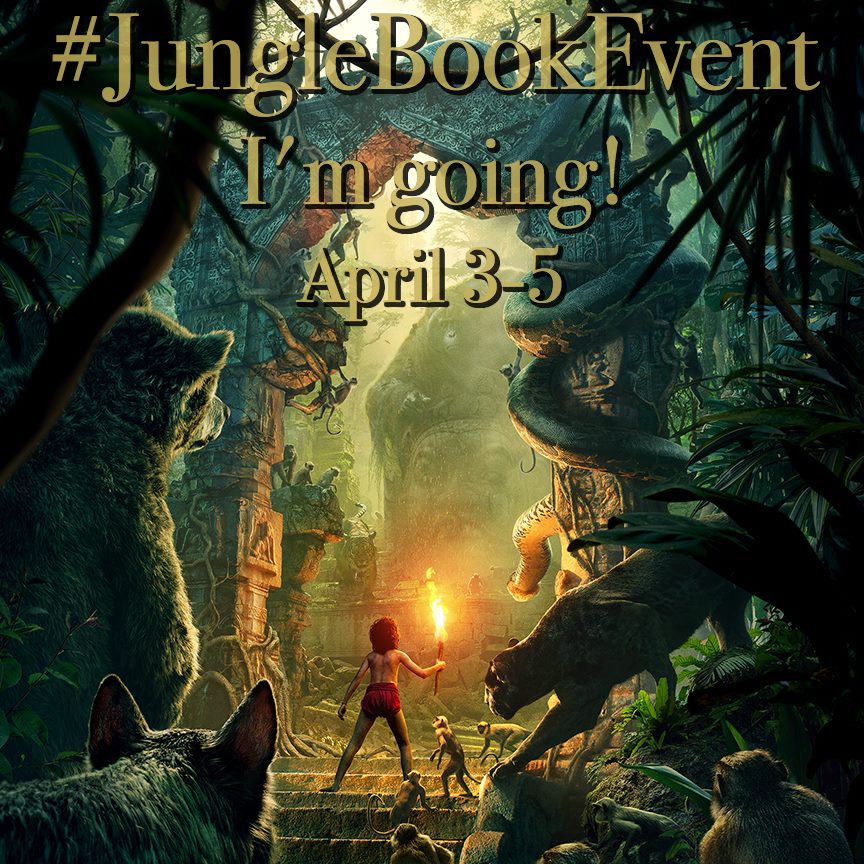 About the movie:
Directed by Jon Favreau ("Iron Man"), based on Rudyard Kipling's timeless stories and inspired by Disney's classic animated film, "The Jungle Book" is an all-new live-action epic adventure about Mowgli (newcomer Neel Sethi), a man-cub who's been raised by a family of wolves. But Mowgli finds he is no longer welcome in the jungle when fearsome tiger Shere Khan (voice of Idris Elba), who bears the scars of Man, promises to eliminate what he sees as a threat. Urged to abandon the only home he's ever known, Mowgli embarks on a captivating journey of self-discovery, guided by panther-turned-stern mentor Bagheera (voice of Ben Kingsley), and the free-spirited bear Baloo (voice of Bill Murray). Along the way, Mowgli encounters jungle creatures who don't exactly have his best interests at heart, including Kaa (voice of Scarlett Johansson), a python whose seductive voice and gaze hypnotizes the man-cub, and the smooth-talking King Louie (voice of Christopher Walken), who tries to coerce Mowgli into giving up the secret to the elusive and deadly red flower: fire. The all-star cast also includes Lupita Nyong'o as the voice of the fiercely protective mother wolf Raksha, and Giancarlo Esposito as the voice of wolf pack's alpha male Akela. "The Jungle Book" seamlessly blends live-action with photorealistic CGI animals and environments, using up-to-the-minute technology and storytelling techniques to immerse audiences in an enchanting and lush world.
Like THE JUNGLE BOOK on Facebook: https://www.facebook.com/DisneyJungleBook

Follow THE JUNGLE BOOK on Twitter: https://twitter.com/TheJungleBook

Follow THE JUNGLE BOOK on Instagram: https://instagram.com/disneythejunglebook

Follow THE JUNGLE BOOK on Pinterest: https://www.pinterest.com/disneystudios/the-jungle-book/

Follow THE JUNGLE BOOK on Google+: https://plus.google.com/112416455929607370682/posts

Visit Walt Disney Pictures on Tumblr: http://disneystudios.tumblr.com/

Follow Walt Disney Pictures on YouTube: https://www.youtube.com/user/DisneyMovieTrailers
New Jungle Book Website: http://thelawofthejungle.com

Visit the official THE JUNGLE BOOK website here: http://movies.disney.com/the-jungle-book-2016

THE JUNGLE BOOK opens in theatres everywhere in 3D, RealD 3D, and IMAX 3D on April 15th!
Will you be following along our #JungleBookEvent?