My girls love Tinker Bell so much and they have been reading Tinker Bell and the Lost Treasure every night. That's why we decided to create this Tinker Bell Inspired Homemade Sparkly Playdough inspired by our Pixie Hollow fairy friends.

Tinker Bell Inspired Homemade Sparkly Playdough For Kids
The girls have been wanting to make their own playdough for the longest time. Especially because they go through it so much and they have specific colors they like playing with more than others. This was our first time making our own playdough and I can guarantee that it will not be the last.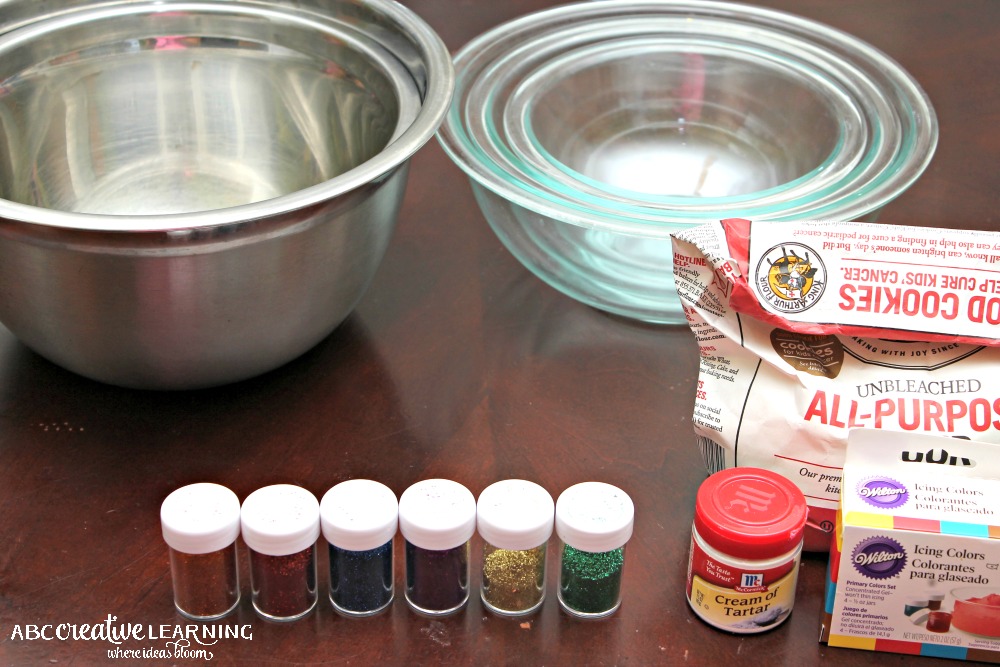 Ingredients needed to make your own sparkly playdough: The ingredients below will make about the same amount shown in the pictures. The amount of each item below will make a small amount of dough for each color.
Ingredients
1/2 a cup of flour
1/3 cup of salt
1 tablespoon of cream of tartar
1/2 tablespoon of vegetable oil
Food coloring to represent each fairy
Pot of boiling water
Glitter to match each dough color
Bowls
Wooden spoon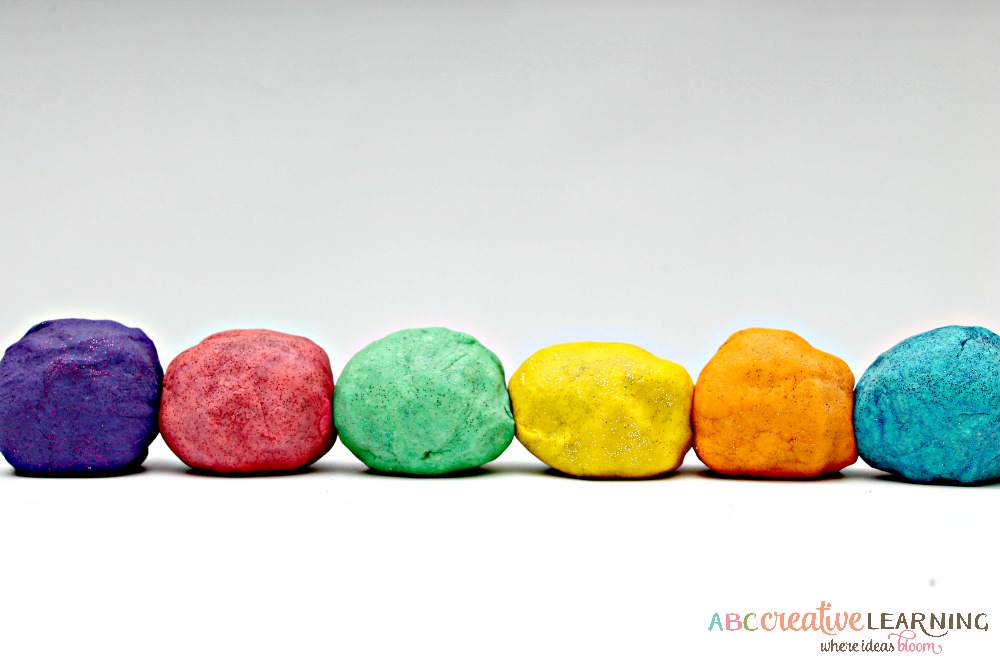 Instructions
Step One: Take the ingredients below and pour the exact amount mentioned above in each bowl. I went ahead and just broke everything down per color so that you didn't have to divide the full portion per color.
Step Two: Mix flour, salt, cream of tartar, and oil in each bowl. Mix together well.
Step Three: Boil a pot of water. Please, be very careful with this and for safety reasons, I would have the kiddos stay out of the kitchen while this part of the process is complete.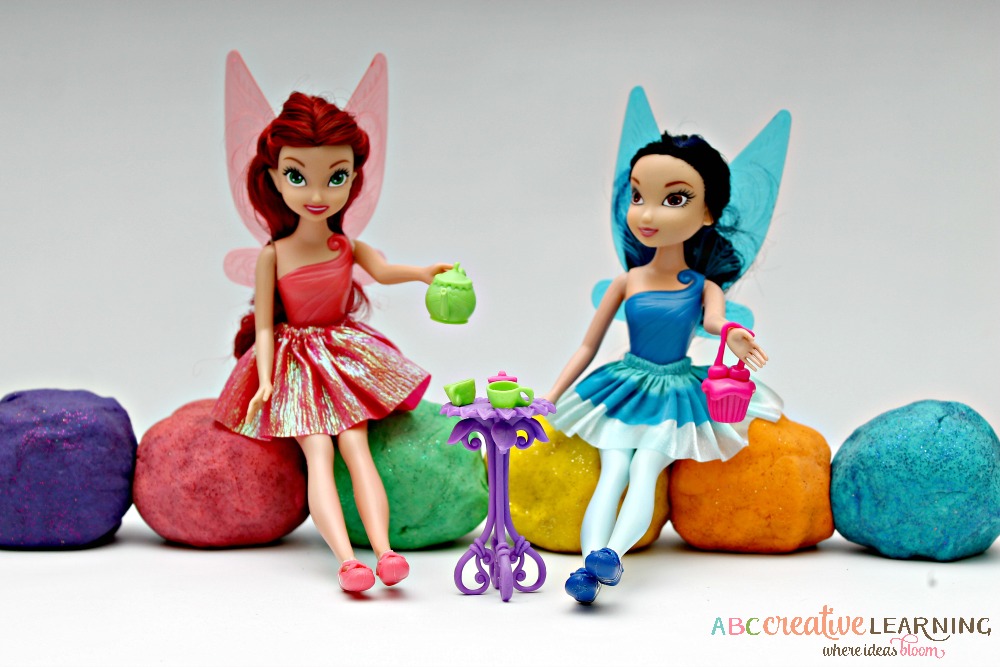 Step Four: Do this following step one bowl at a time, very carefully. Scoop out a cup of boiling water (I used a metal measuring cup) and add your drop of food coloring. Pour into your first bowl. Using your wooden spoon mix everything well together.
Pour a fair amount of glitter in your bowl and finish mixing. Don't worry if everything is combined all the way.
Repeat for all the other bowls.
Step Five: Now is the time to bring in some help into the kitchen. Small little hands are perfect for this.
Making sure that the dough is cooled off give your finished dough to your helpers and allow them to kneed the dough until everything is completely mixed together.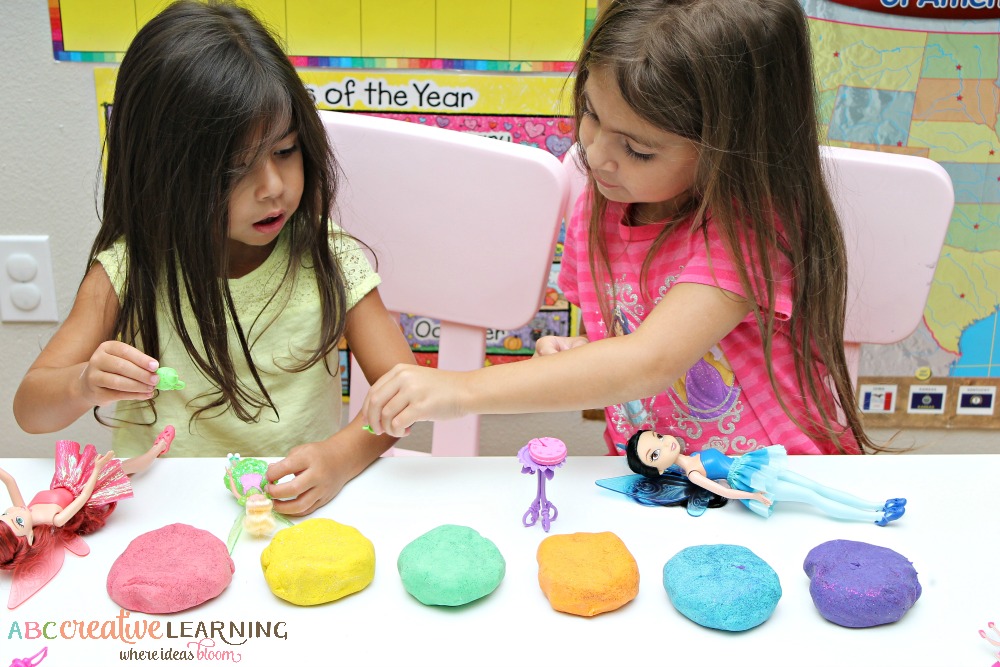 Hope you get a chance to try our fun homemade playdough! Perfect for fine motor skills and pretend play.
Do your kids love Tinker Bell and the Pixie Hollow fairies?