This is part of a sponsored collaboration with the PreK12 Plaza. However, all opinions expressed are my own. #SafeSummer
Summer is here and kids are heading outside for a little bit of bike riding fun! Unfortunately, that also means that we as parents need to be more cautious when sending our children to go outside and play. Kids can have fun outside, while still being safe. Make sure you are aware of these Bike Safety Tips for Young Kids, before heading out for some fun!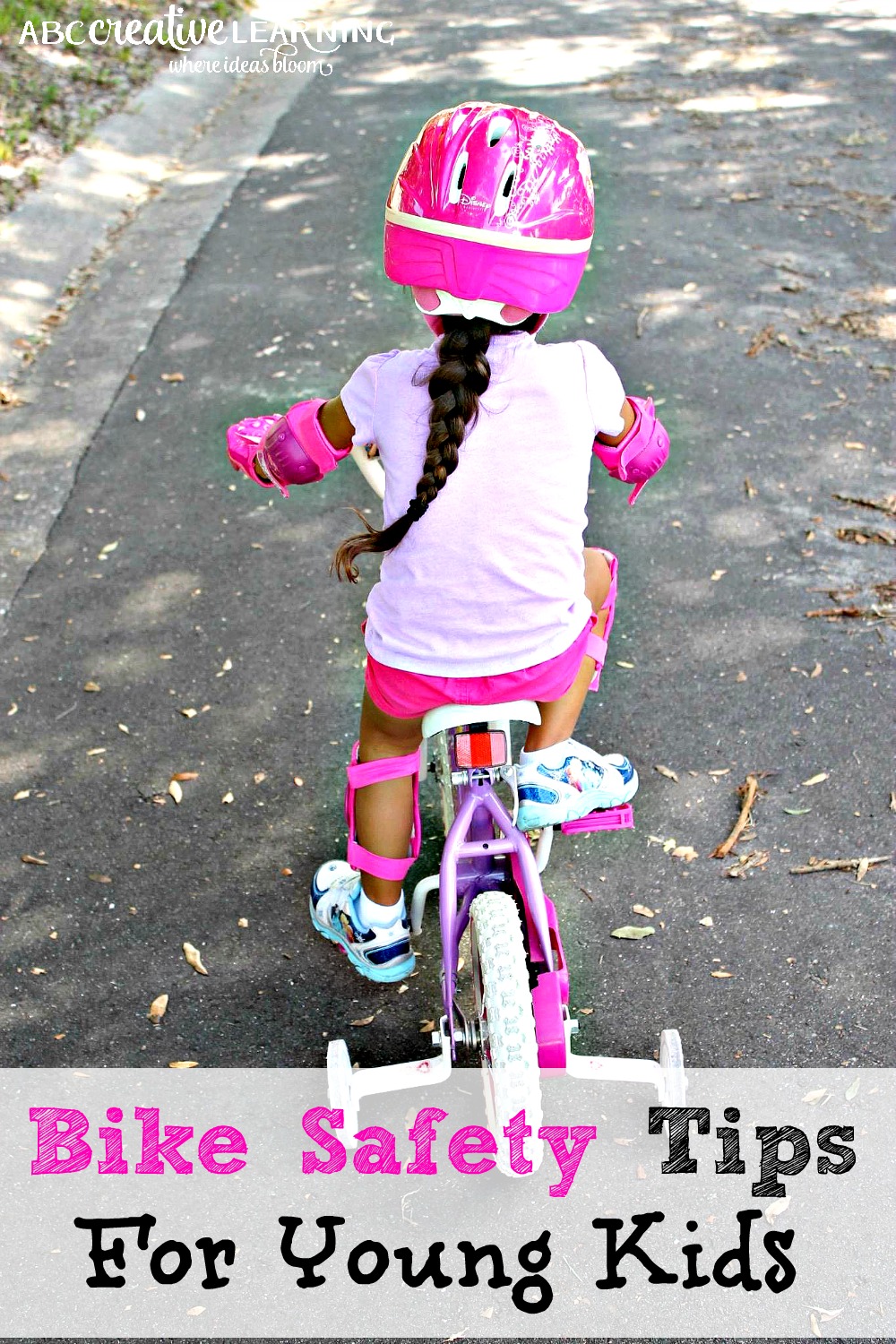 Both of my girls are just learning on how to ride their bikes and the first thing we did is make sure that they had the proper attire when riding. As you can see my youngest is wearing bright pink and purple colors. Not only does she wear bright clothing, but I also made sure that they ride a white bright bike.
Just as we were riding our bikes on this specific day a car drove by us over the speed limit. Unfortunately, this happens a lot in our neighborhood and we have tried very hard working with our community to put signs up, but nothing has been done. We have even gone to the extreme to ask that police officers sit in their cars and watch for these non safe drivers that actually l I've in our neighborhood.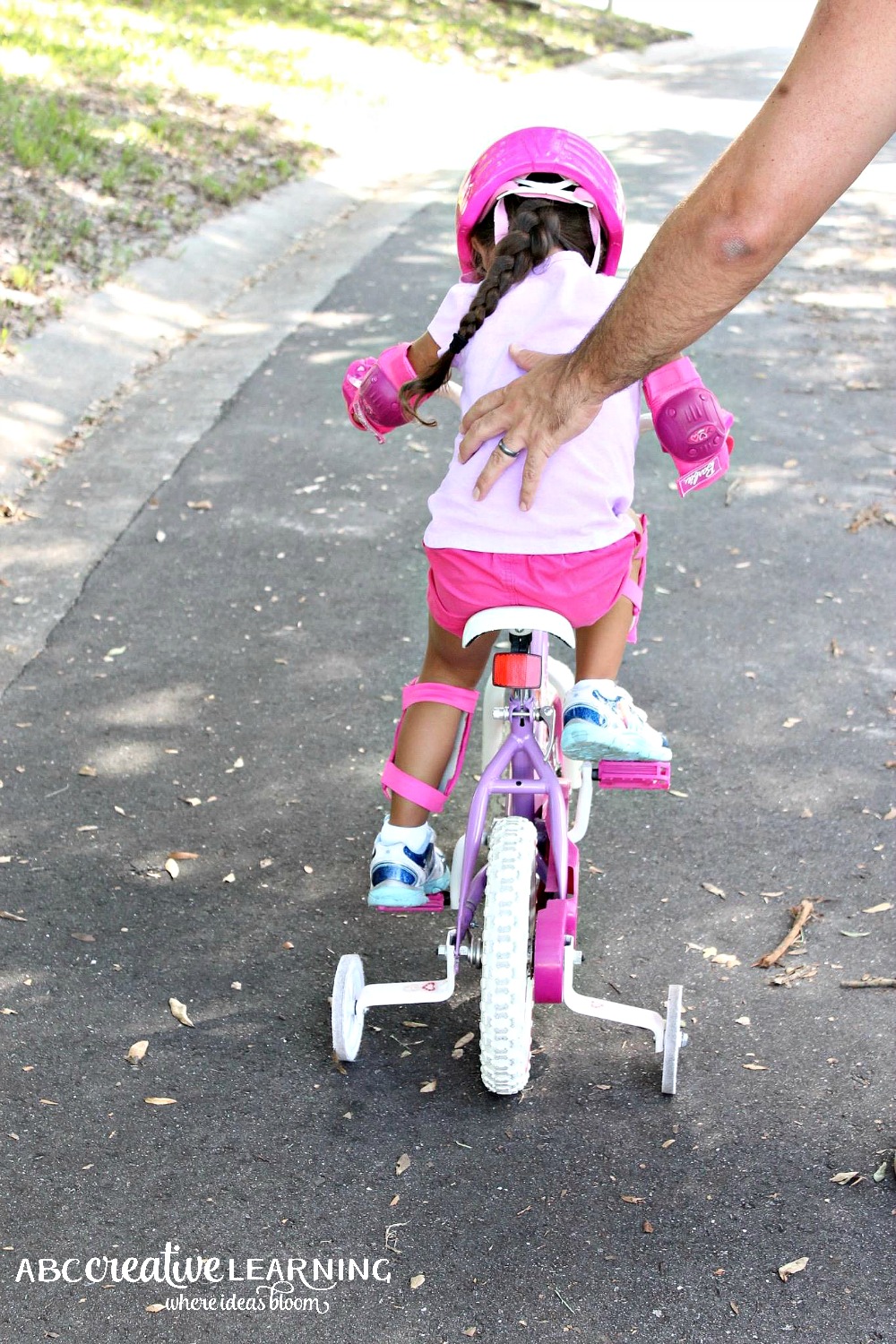 They love spending time outside, especially now during the summer times. Not only do they get to spend time in the nice warm weather, but they also get some great exercise. Which I call burning out energy so that mommy gets a nice easy bedtime.
As we all know, playing outside wether riding our bikes or going for a walk we need to teach our children to be cautious and mindful of safety at all times.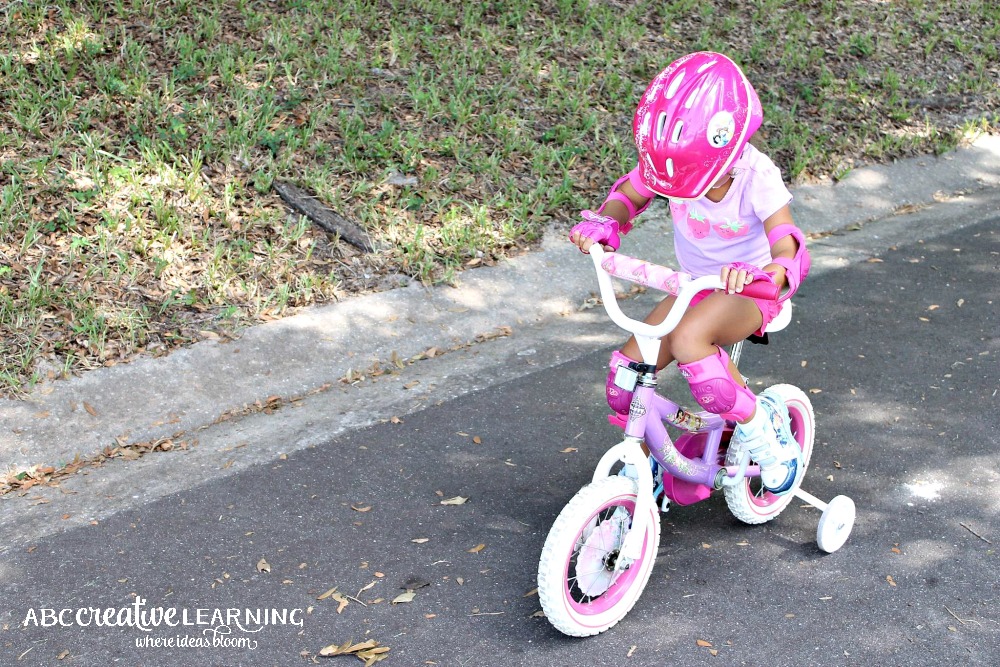 Did you know that kids ages 5 to 14 are seen at an emergency room by injuries caused by bike riding and not having safety measurements? As stated by Safe Kids Worldwide. Make sure that your children and family members are always safe when riding their bikes outside. A fun pleasurable day outside could easily turn into a dangerous experience.
Check out these 5 Bike Safety Tips that we use for our kids below.
Always wear a helmet. Not just any cool helmet either. Please, make sure that your kids take the Helmet Fit Test to make sure that their helmet is being warn properly. Here's a print out of the Helmet Fit Test to help you and your family. Did you know that helmets can reduce injuries by 88%! That can mean your child's life being saved, just because they were wearing their helmet properly.
Wear bright and not hanging lose clothing. When drivers can see you and your children riding, things become much more safe. Wear clothes that reflect back in light if riding later in the evenings.
Adult supervision is a must when younger children are involved in riding bikes. Please, make sure that you either ride with your child or walk next to them when riding in the street. Smaller children are sometimes not seen by drivers, but an adult can.
Put up safety signs "Children At Play", so notify drivers that children are riding their bikes on the street. Sometimes drivers can't see around the corner, but placing a sign at the entrance of a neighborhood will protect your children from unsafe drivers.
Hydration is also important when riding bikes outside in the summer months. The heat can become overwhelming for children and adults alike. Here in Florida we have had weather in the 100 degrees already and we haven't even reached peak season yet.
For more bike safety tips please make sure to watch that video below with your family and children.
Make sure to visit PreK12 Plaza for more tips, print outs, and videos on how to keep your family safe this summer. Lots of great information in both English and Spanish. I do hope you take the time to check them out and teach your children the importance of safety when riding their bikes. You will also find information on Fire Safety and Water Safety!
What other safety tips do you and your family follow?