This post is sponsored by Real California Milk. I received compensation, but all opinions are my own.
Tostones! Oh, how I love my tostones with beans and rice. This month for Hispanic Heritage Month, I'm sharing my favorite twice fried Grilled Cheese Tostones recipe that I've been asked to share for some time now by friends.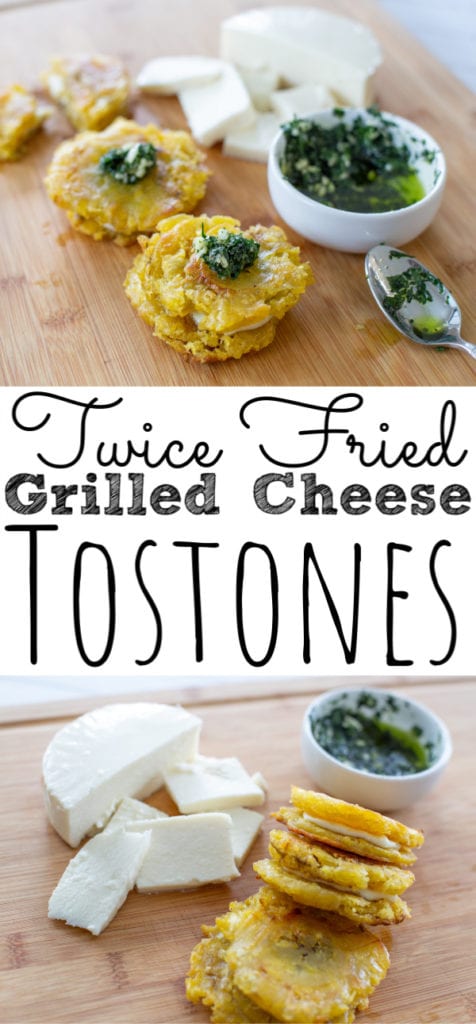 Twice Fried Grilled Cheese Tostones
Whenever I get a chance to make tostones for dinner or as an appetizer, my family gets excited. If friends are over our home for an event, I always get a million questions on how to make them. The good news? They are so simple that you will be making them weekly!
I love making this recipe when I'm in need of comfort food; I combined two of my favorite things, tostones and cheese! It's like making a delicious grilled cheese sandwich, but instead of using bread, you are using your twice fried tostones as your base. Perfect for appetizers or a side item for dinner.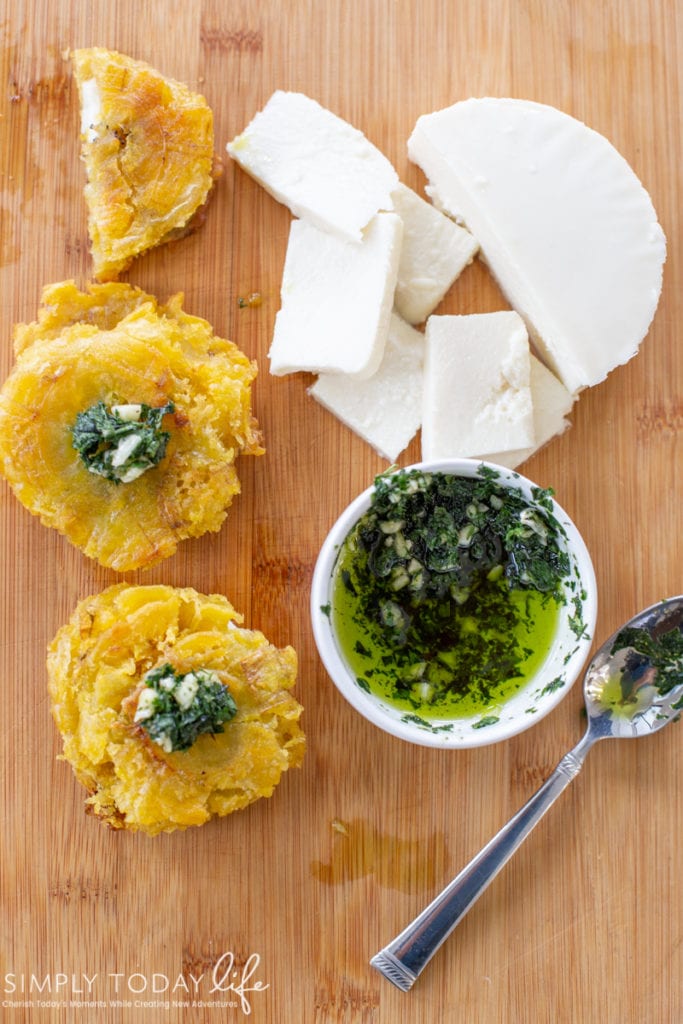 How To Make Tostones
Making tostones is one of the easiest Hispanic recipes you can make. The process is easy and effortless. Plus, I'm also sharing my Garlic Mojo dipping sauce recipe I use when I make my grilled cheese tostones.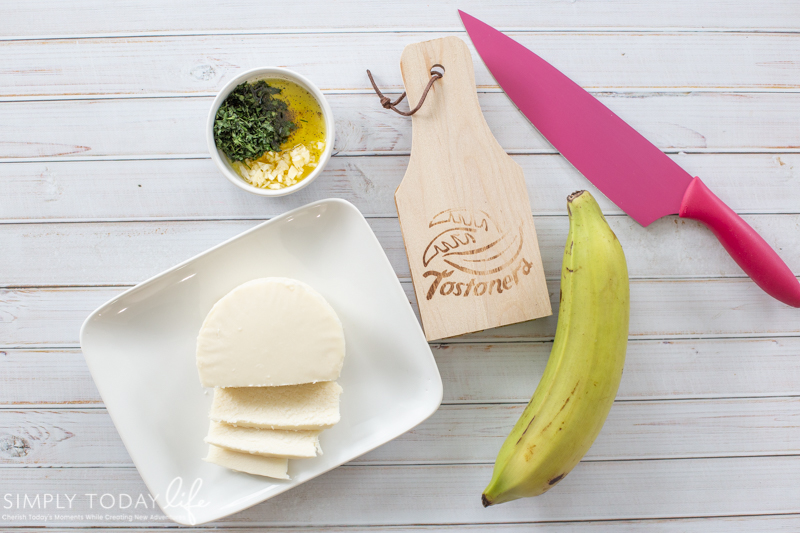 Ingredient Needed For Grilled Cheese Tostones
Green plantains (not yellow, make sure they are entirely green)
Real California Milk Queso Fresco
Vegetable Oil
Tostonera, plate, or glass cup
I love using Real California Milk Queso Fresco because it has a fresh, mild flavor, and softens when heated. I also like using Oaxaca cheese. Just like Queso Fresco, it has a fresh mild flavor, is very creamy and melts like mozzarella.
If you are curious and want to learn more about Hispanic-style dairy, check out the Real California Milk website. To make sure you're getting quality ingredients, look for the Real California Milk seal on dairy products at your local grocer! Check out the store locator here to find a grocer near you!
Ingredients Needed For Garlic Mojo Dipping or Topping Sauce
2 tablespoons of parsley finely chopped
2 crushed garlic cloves
3 tablespoons of olive Oil
Salt and Pepper to taste
The garlic mojo dipping sauce is not necessary, but it gives the tostones a nice flavor. I personally love dipping sauces and like to change it around from the traditional mayo-ketchup sauce.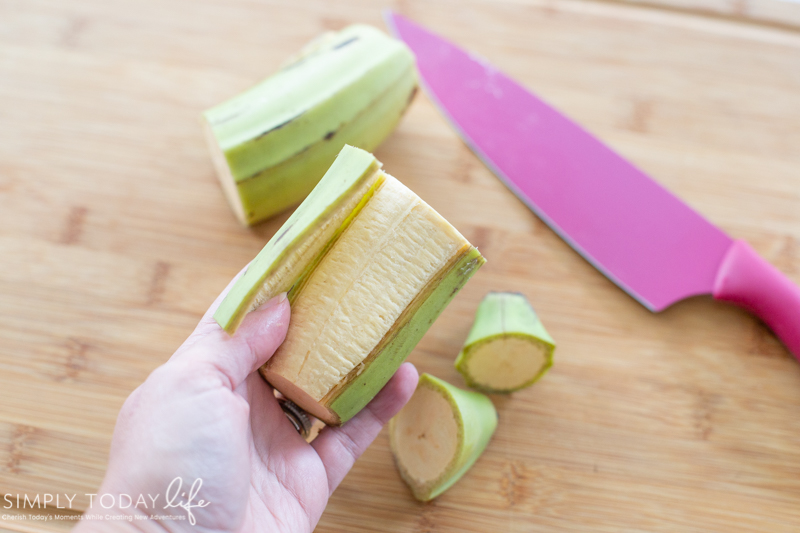 Cooking Instructions
Heat a pan with vegetable oil on medium heat. You need enough oil like if you were frying French fries. You want the plantains submerged in the oil.
Cut the ends off your plantains, and peel the skin off by making a slice across with a knife.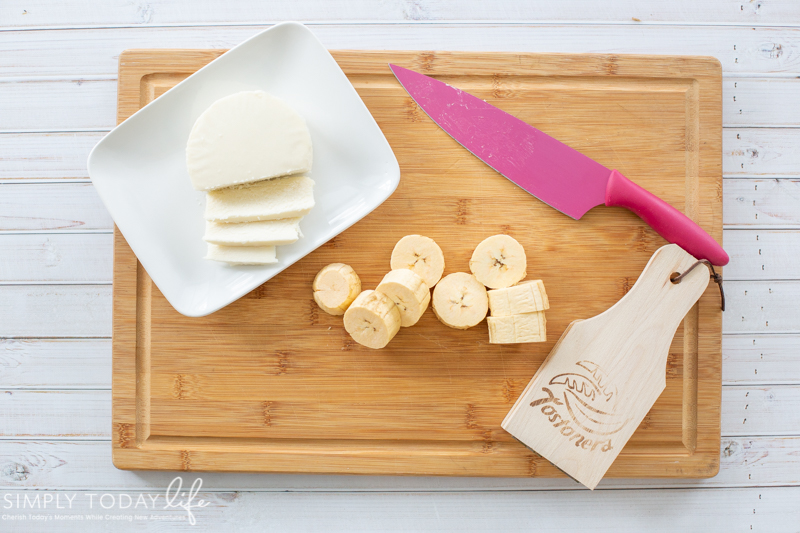 Slice into thick pieces.
Carefully add your sliced plantains to your hot oil.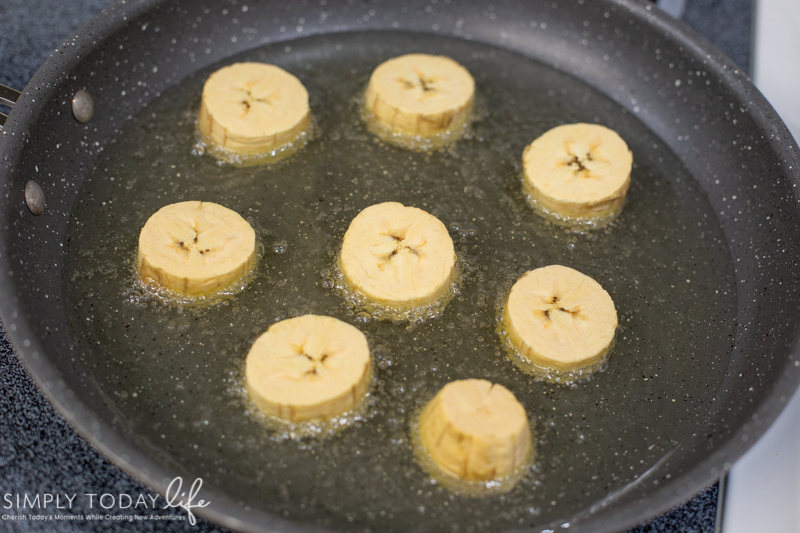 Cook each side for a minute.
Once both sides have been fried, remove your plantains on to a plate with a paper towel on it.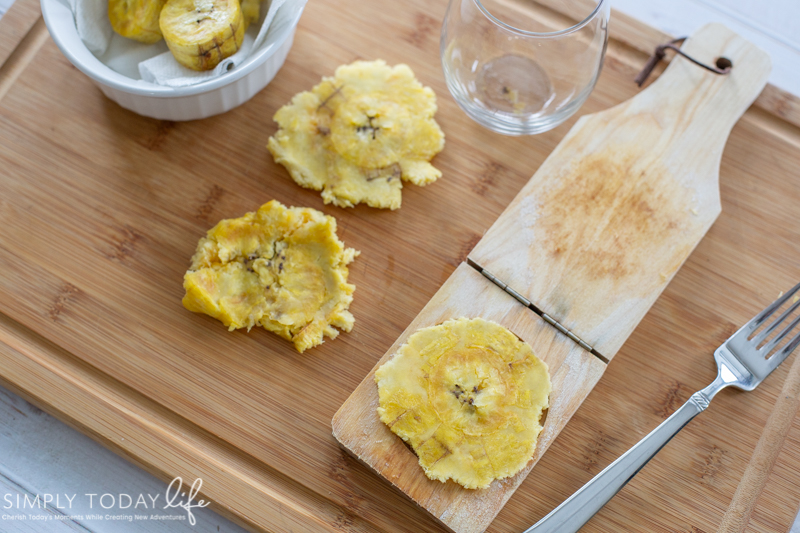 Flatten your tostones using a tostonera or a cup.
Add your now tostón back into the hot oil one at a time.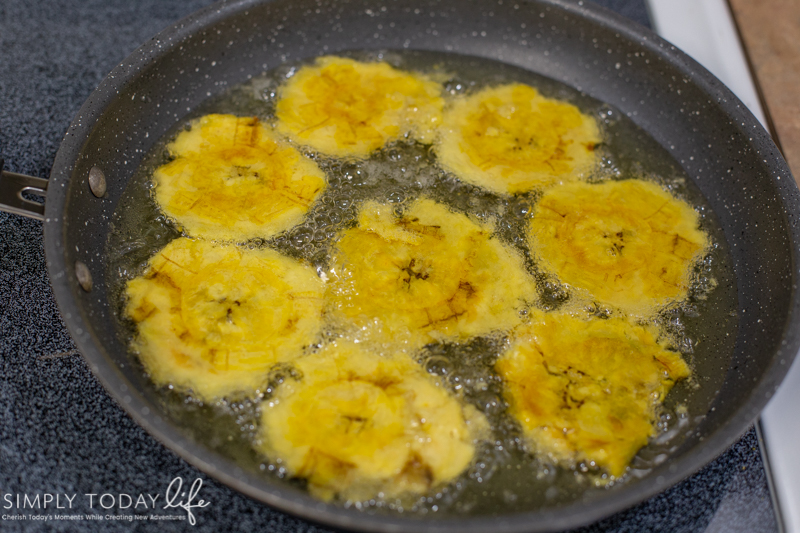 Fry for about 30 seconds on each side to seal in the crispiness.
Remove your tostones from the oil once again on to a plate with a paper towel, so that it absorbs the oil.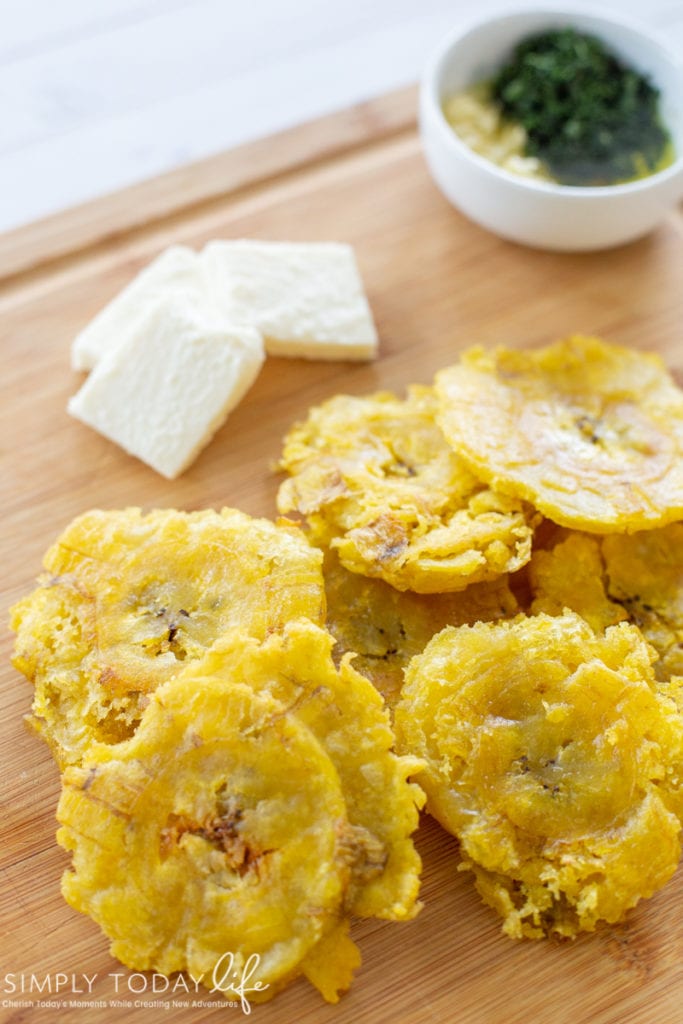 How To Make Cheesy Tostones
You could stop with the steps above, and you would now have delicious tostones to enjoy. Just top with some salt and you're all done, but why stop when you can make it even more delicious by adding Real California Milk Queso Fresco!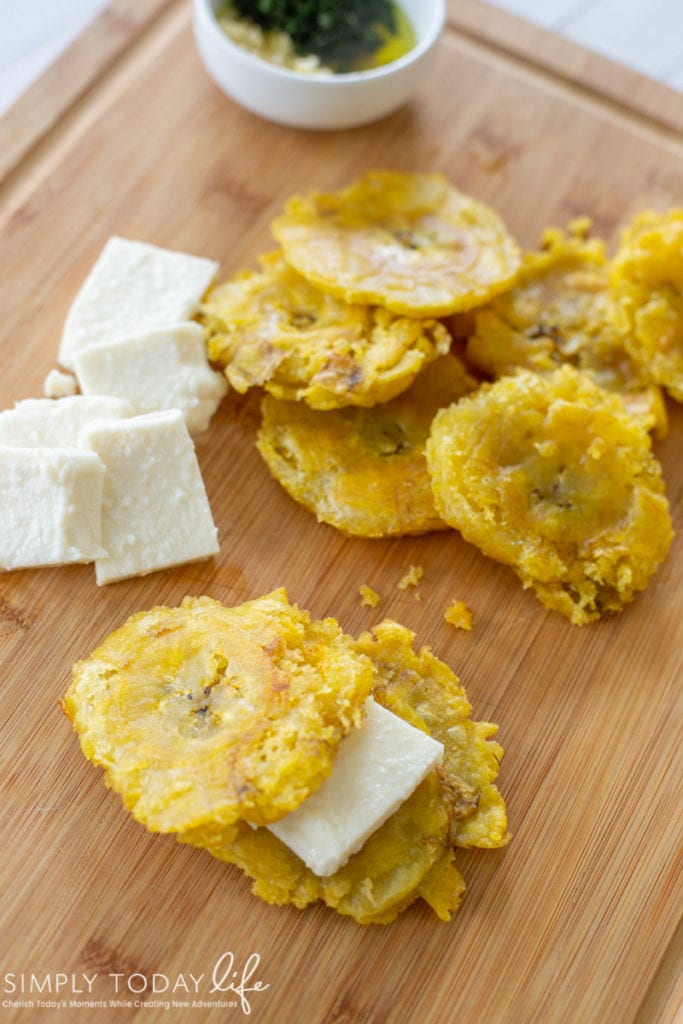 Heat a pan on the stove to medium heat.
Add a slice of Real California Milk Queso Fresco on one tostón and add a second tostón on the cheese. Like you're making a sandwich.
Cook on one side and then flip over, until cheese melts and is soft.
Serve with a side of the garlic mojo.
Combine all the ingredients for your Garlic Mojo sauce together in a small dish and serve on the side. Perfect for dipping or to add a bit right on top.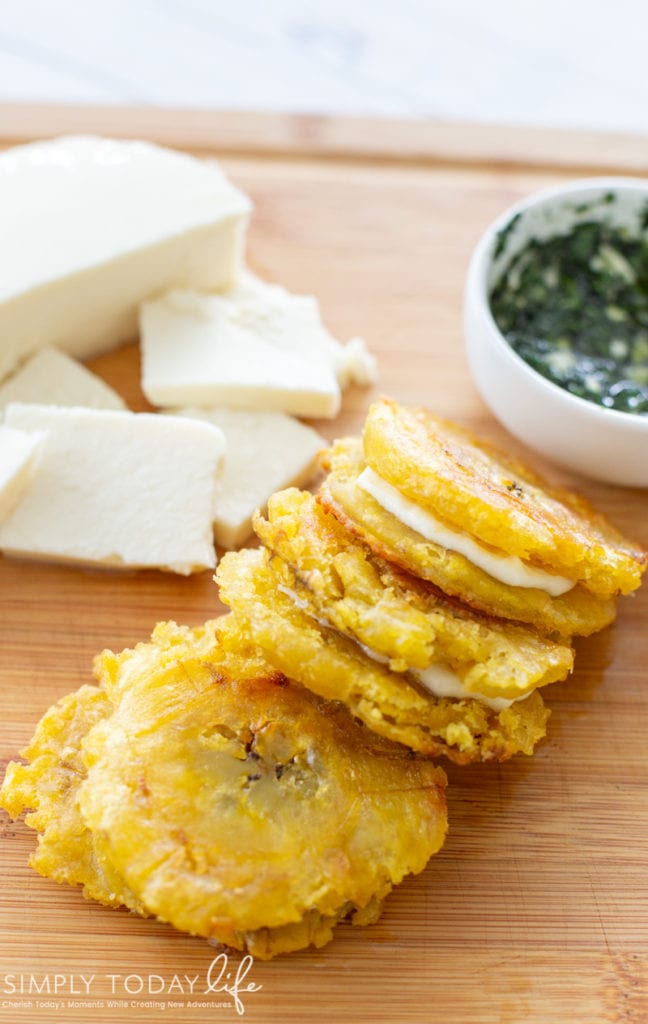 There you go! One of my favorite Hispanic side dishes and appetizer some of you have been waiting for me to share! Be creative and have fun with the recipe. That's what our foods are all about!
Create this delicious Grilled Cheese Tostones on your next gathering and watch your friends be impressed with your knowledge of Hispanic foods.
To find Hispanic-style dairy products with the Real California Milk Seal at your local supermarket, visit Real California Milk product locator.
Do you have a favorite Hispanic recipe?