Many are looking forward to May because it's the end of the school year, but May should be a month to celebrate that special mother in your life. This year I decided to team up with The Hopping Bloggers to bring you all some of my favorite Gift Ideas For The Busy Mom: 2017 Mother's Day Gift Guide.
I teamed up with The Hopping Bloggers for this sponsored Mother's Day Gift Guide! All opinions are my own. This post may also contain affiliate links.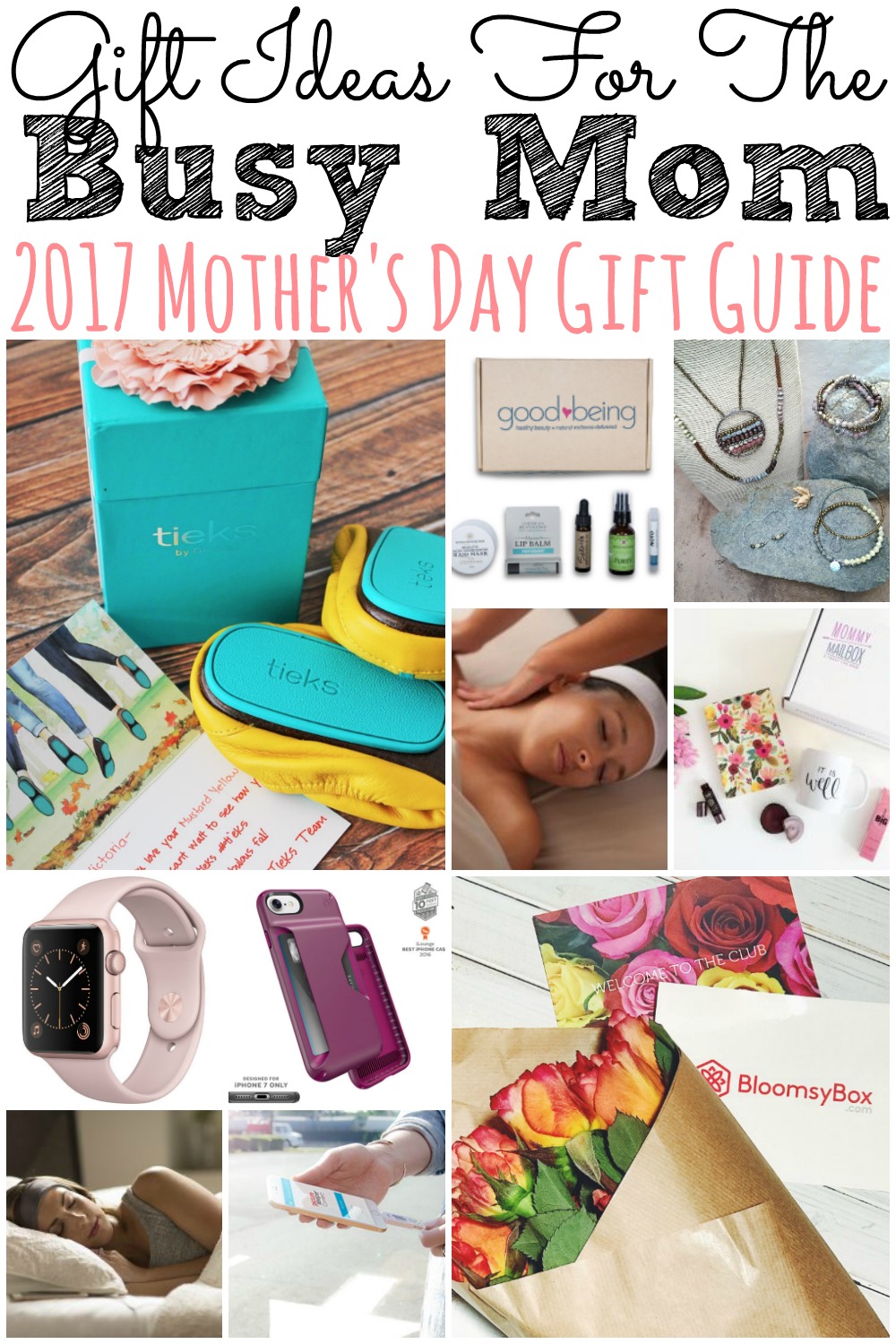 Gift Ideas For The Busy Mom: 2017 Mother's Day Gift Guide
Now it's time to show mom how much you love her on Mother's Day. Make sure to check out all of my suggestions below because some of them have some amazing discount codes specially created for my readers.
SleepPhones
Every mother deserves to rest, relaxation, and "me time." You'd be surprised at what a little rest can do for a woman. You can give Mom exactly what she needs this Mothers Day with SleepPhones. Not only does this headband have built-in speakers, but it's also cute and comfortable. Mom can listen to her favorite music or even an audio book by simply connecting her SleepPhones headband to her favorite device with Bluetooth. Whether you're shopping for yourself, your wife, your mother, or your best friend, she'll love her SleepPhones – especially when paired with a good book, a nice candle, and soft robe.
Goodbeing Beauty Subscription Box
Goodbeing (formerly goodebox) is a premium discovery & trial service providing expertly curated, healthy beauty products, non-toxic cosmetics, natural wellness & sustainable, toxin-free living goods. Each box is customized for each customer! Just fill out the profile to tailor towards the mother you are gifting this too, and they will receive a box filled with 4-5 products to try out! Any mother will love this box because they will be able to pamper themselves (which we all know is a must for moms!) with the items included.
Bead For Life
This Mother's Day gives back while giving the gift of beautiful jewelry to the mom in your life. Bead for Life helps women find their spark. They provide business training and support so that women in Uganda who live in poverty can rise and become entrepreneurs. Your purchase helps ignite potential. When you wear BeadforLife paper bead jewelry, you'll feel good knowing that you're doing good! This affordable beaded jewelry is handcrafted by Ugandan women working to lift their families out of poverty. When you buy from BeadforLife, women are empowered to change their lives! Choose from a colorful selection of beaded necklaces, bracelets, and earrings – all fair trade products that are handmade in Uganda.
Mommy Mailbox Subscription Box
Each month Mommy Mailbox sends out a box full of stylish gifts meant to pamper women of all ages. Moms deserve a reward for all they do, and Mommy Mailbox is the perfect gift to remind her how much you care. Boxes include beauty products, gourmet treats, stylish jewelry and accessories, home decor, fitness, stationery and more. A gift for mom that she will look forward to every month.
Subscribe or order a gift at MommyMailbox.com
COUPON: Use the code GIFT10 for 10% off any subscription for life or LC15 for 15% off any Limited Collection box!
Wellness Tribe
Every mother needs to take care of herself sometimes, which can sometimes be difficult. With Wellness Tribe, you can provide the mom in your life with everything she needs to do it. Wellness Tribe is the one subscription box for everything wellness. Each month receive 5-8 hand-picked products from the best natural, non-GMO, organic, eco-friendly brands. Every box is designed to promote vitality and is your friendly reminder to make time for self-care. You can expect everything from green beauty essentials, to superfoods, and healthy lifestyle. No B.S. just the goodness from Mother Earth!
Purchase at WellnessTribe.com
/
COUPON: MOTHERSDAY7
for a
bonus gift
with your purchase!
Garcinia Cambogia
Every mom wants to get her old figure back. Maybe she wants that 20-year-old body back or maybe she just wants to lose a few pounds to enhance those mommy curves. We all know it isn't easy! Give Mom a little push this year with Garcinia Cambogia, a clinically tested, 100% pure and natural weight loss supplement. Help Mom curb that appetite and reduce hunger this Mothers Day. She'll thank you later. Combine this with a few healthy snacks, her favorite magazine subscription, and some fitness gear to get Mom back to the body she's confident in!
Purchase at GarciniaLab.com / Coupon Code: MothersDay for 12% off your order (valid through May 20)
BloomsyBox
Who doesn't love to brighten their home with fresh flowers? With Bloomsy Box, mom will get fresh flowers delivered right to her door every month. With BloomsyBox you get no mixed bouquets with unnecessary extras – they only deal in "single-variety"- hand-tied bunches. The flowers are sourced directly from suppliers in South America, Holland, Thailand and California meaning no middle-man markup to increase the price. Skip a month or cancel at any time – with no hassle! Mom will feel special each time a new bouquet arrives!
Purchase at BloomsyBox.com
Massage Heights
What is Mother's day all about? It's about celebrating the moms that have made our lives easier to live. They have cooked, cleaned, and supported us in ways that have made life a lot more relaxing. It's time to get that gift back to mom by giving her a day that she will remember forever – a day at the spa! At Massage Heights, moms can enjoy different types of massages and facials to suit all of her comfort needs. Give mom a day to herself or a mommy/daughter day. Maybe you're shopping for your BFF? A girl's day out is exactly what she needs!
Make mom an appointment at a Massage Heights in her area or even better, pick up a gift card online!
Visit MassageHeights.com to give mom the perfect Mother's Day!

If you're like me and love taking pictures then Picture Keeper is the perfect Mother's Day Gift for you! Being able to take tons of photos of my girls on the go is a must, especially when they are growing up so fast. I love that the Picture Keeper really gives me the freedom to take tons of photos without worrying that I'm going to run out of phone memory. Picture Keeper Connect is a memory device that allows users to backup files from mobile phones, tablets, and computers. Also, you don't need to worry about WiFi or phone service to use the Picture Keeper Connect! Simply insert into your phone and save the photos. Later on, use the Picture Keeper Connect to upload your photos to your computer and print! Super easy and no more stressing about your photo space!
Luster Pro Light Dental Whitening System
As a busy mom, I will admit that I wish as moms we had more time to get my teeth whitening, but the truth is I just don't. I love the Luster Pro Light Dental Whitening System that I can use at home. It only takes me about 6 minutes throughout the day to whiten my teeth. This is going to be perfect for when my family takes me out for
Mother's Day next week. I'm going to feel more confident when taking all those family pictures.
Presidio Wallet by Speck
I'm picky when it comes to phone cases. Speck is one of those brands that not only are chic for mom's but now they have created the new Presidio Wallet phone case. Perfect for moms on the go! Not only is the Presidio Wallet designed for impact, but it's a wallet case with a convenient slot that securely holds up to 3 cards or cash. No more lugging around a huge wallet when picking up with the kids from school or just hanging out with the girls. I absolutely love my Speck Presidio Wallet and they are my trusted brand for keeping my iPhone 7 Plus safe from drops!
I'm so excited to team up with Speck and offer one of my readers the chance to win their own Speck Presidio Wallet phone case. Just enter the Rafflecopter below!
Stitch Fix Subscription Box
As a busy mom of two girls, running my own business and battling cancer, it can get pretty tiring. When it comes to purchasing new clothes for special occasions or even Mother's Day, I just don't have the energy. Thank goodness for my Stitch Fix monthly subscription box. I love the fact that I can get a personal stylist who gets to know my style and sends me a box filled with the hottest trends! I love that they are now carrying plus sizes and maternity clothes. Have a special occasion or event? Simply let your stylist know and she will fill your box with items for your event. They really do cater to all moms! It's super easy too, just simply fill out your personal information with style preferences, sizes, and watch your doorstep for some fantastic new wardrobe! Don't like it, send it back! You only pay for what you purchase!
Get mom a StitchFix.com subscription or Gift Card
7th Heaven Masques
I enjoy visiting the spa to make my skin look radiant and younger, but it's not something I get to do very often. Not only can spas cost a lot of money, but there's simply no time. I love these 7th Heaven masques because I get to do them at night while my girls are asleep. My favorite one is the Soften Sock Masques because they make my feet feel smoothly soft. This is a must if you want to get mom something that will pamper her! Their unique glove and sock format help efficiently deliver moisture and beneficial nutrients to the skin.
Rose Gold Apple Watch
If you're a fan of Apple products and own an iPhone, then as a busy mom I highly suggest an Apple Watch! My favorite is the Rose Gold color. Not only does my Apple Watch syncs directly to my iPhone, but it allows me to answer phone calls and texts hands-free. Plus, it keeps up with your iCalendar making it easy to see your daily appointments or events right on your Apple Watch. Customize your Apple Watch face to your busy lifestyle and no more worrying about missing appointments.
Tieks Ballet Flats
Every mother needs to own a pair of Tieks! These little ballet flats are the best thing invented for moms on the go. Personally, I've used my Tieks for running errands, playing with my girls, and even on the red carpet! Twice! They are classy, and with tons of colors and styles to choose from, there is something for every mom. Not only do they go with everything in your closet, but they are the most comfortable shoes you will own. These would not only make the perfect gift for moms but every woman in your life!
Check out all the styles and colors at Tieks.com
Front Slit Floral Maxi Skirt (Zaful)
Nothing screams warm weather than a bright, floral maxi skirt. Give mom something as bright and beautiful as she is for Mother's Day this year. Pair this with a layered necklace, tote bag, and maybe a cute denim vest! She'll be stylish and comfortable this Mother's Day. You can get free shipping on all orders over $30, but if you order from 5/12 – 5/14 all shipping is free! Be sure to pick up a few more stylish accessories/fashion for mom while you're shopping! Purchase Maxi Skirt Here
Promo Code: Momsales for: $3 off over $30, $5 off over $50, $7 off over $70
Visit Zaful.com to get mom a stylish gift for her special day! Be sure to shop the Mother's Day sales rack!
Now that you have some ideas of what mom would love to receive this year for Mother's Day make sure to go shopping before some of these discount codes expire at the end of the month! Happy Shopping and Happy Mother's Day to the fantastic moms out there!
Which Mother's Day Guide item would you like a gift for yourself?

SaveSave
SaveSave