Universal's Endless Summer Resort – Surfside Inn & Suites opened up the summer of 2019. My family was so excited to check it out and share all of our favorite parts with you!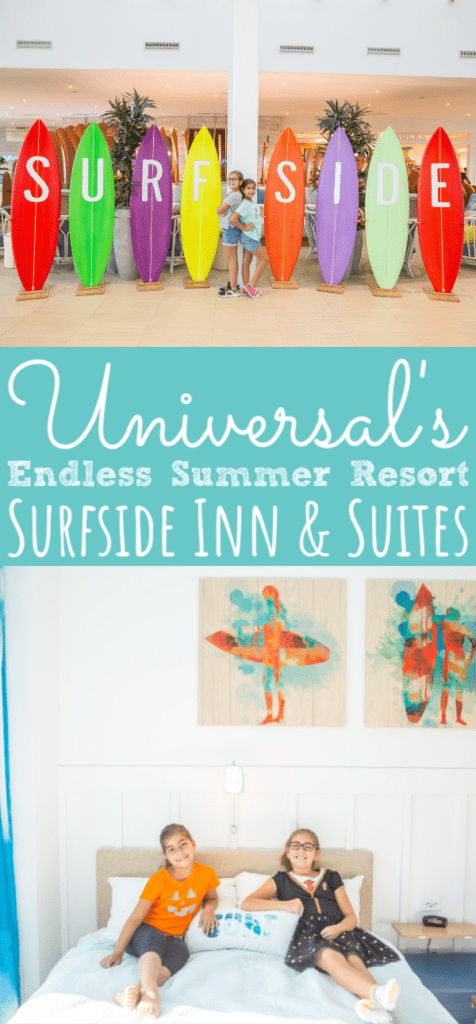 Universal's Endless Summer Resort – Surfside Inn & Suites
If your family is a fan of Universal Orlando Resorts then you need to make sure to check out the newest resort addition.
Not only is this resort just as spectacular as the other Universal Orlando Resort on the property, but it's the first value property that introduces
extra affordability to your family vacation.
Thank you, Universal's Endless Summer Resort – Surfside Inn & Suites for inviting me and my family to come and play! All opinions are my own! Post contains affiliate links.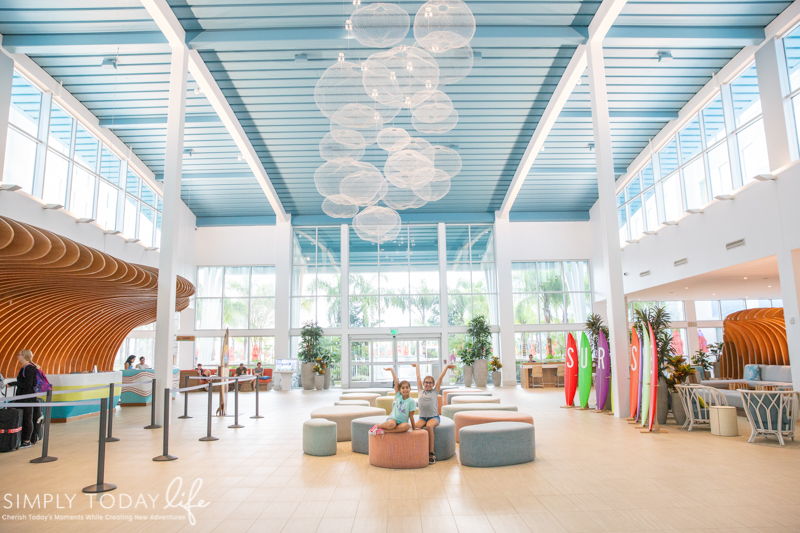 Why Stay At The Surfside Inn and Suites
When it comes to family resorts, I say that Universal has it down! Especially when it comes to the family's being able to not only enjoy the theme park perks but to be able to relax without having to leave the resort.
The Surfside Inn and Suites is the first of the Endless Summer Value Resorts
You will be able to choose from two value resorts starting next year. The second resort, the Endless Summer Resort – Dockside Inn & Suites, opens on March 17, 2020, and will be next door.
A cool surf vibe decor
Affordable and spacious, 2-bedroom suites that sleep up to six
Mom and dad have their bedroom for privacy in a 2-bedroom suite
Early Park Admission to The Wizarding World of Harry Potter and one hour before the theme park opens at Volcano Bay
Free Bus Transportation to Islands of Adventure, Universal Studios, City Walk, and Volcano Bay
Surf Board shaped pool
Poolside activities like ping-pong and connect four
Arcade
Large state-of-the-art fitness center
Dining, Shopping, and Starbucks on the property
Resort-wide charging privileges with your room key
Complimentary merchandise delivery to your hotel from Universal shops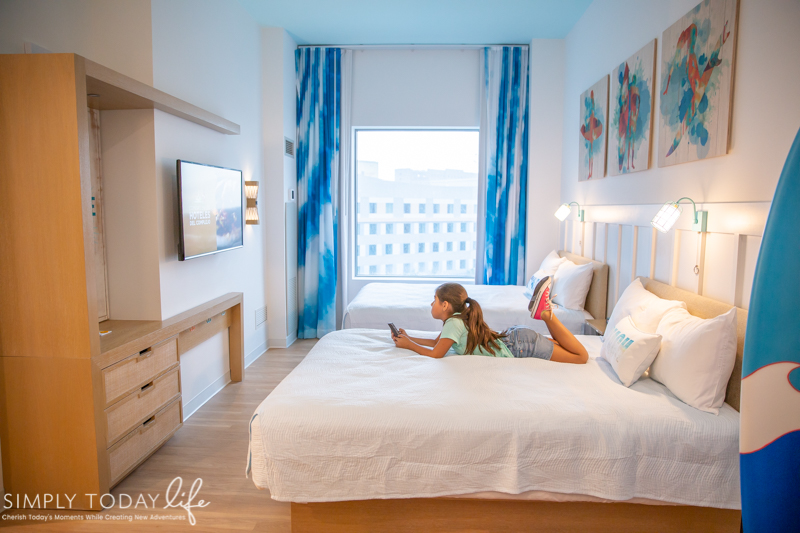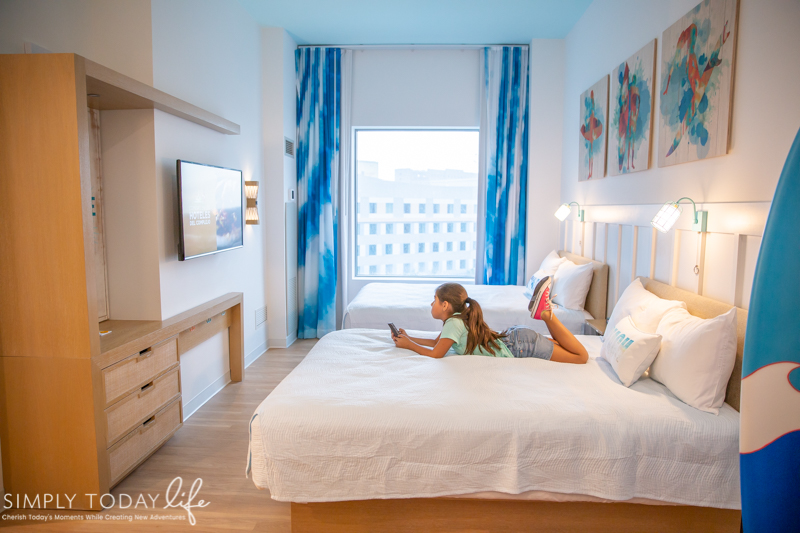 Affordable 2-Bedroom Suites
Like any family we are looking to be comfortable during our vacation. Especially when we are visiting the theme parks.
You know what I mean right parents? You're exhausted and all you want to do is lay on your bed without anyone kicking you at night!
That's why this is one of my favorite things about Surfside Inn and Suites. It's able to have 2-bedrooms and space to spread out. Without feeling like you are spending a fortune on a vacation.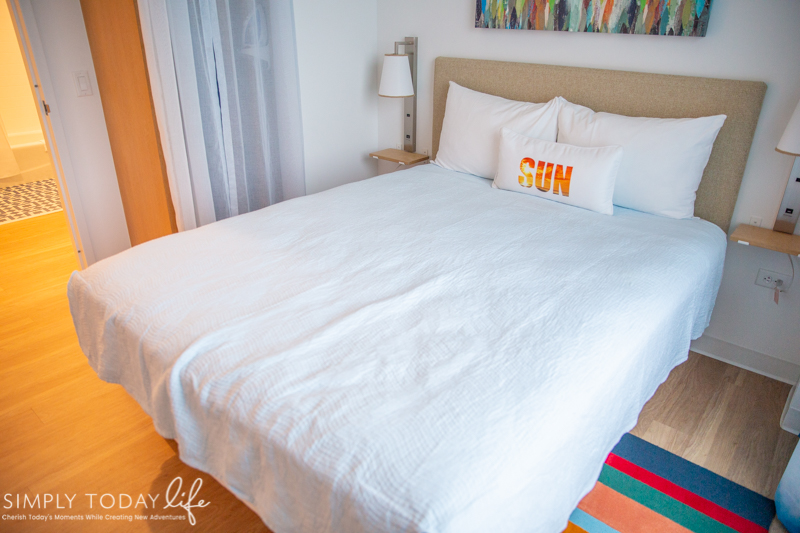 The 2-bedroom suites include two queen beds when you walk in, along with a kitchenette and picnic table.
The shower and toilet are separated from the double sink area. This way you can have multiple people getting ready at the same time.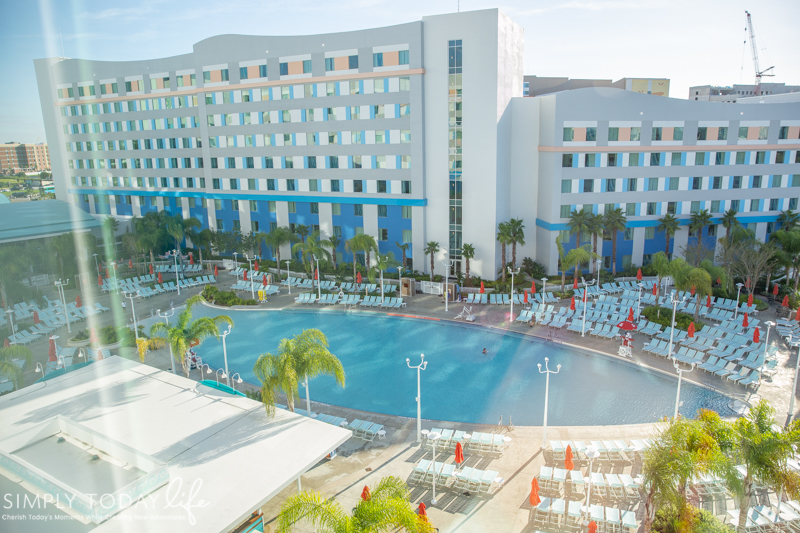 And if you are one of the lucky ones to get a pool view, then you will have a phenomenal view of the large surf-board shaped pool that awaits you downstairs.
You can also choose a standard room if you don't need a 2-bedroom suites. Guess what? These only start at $85 a night! That's perfect for a weekend date night getaway if you ask me!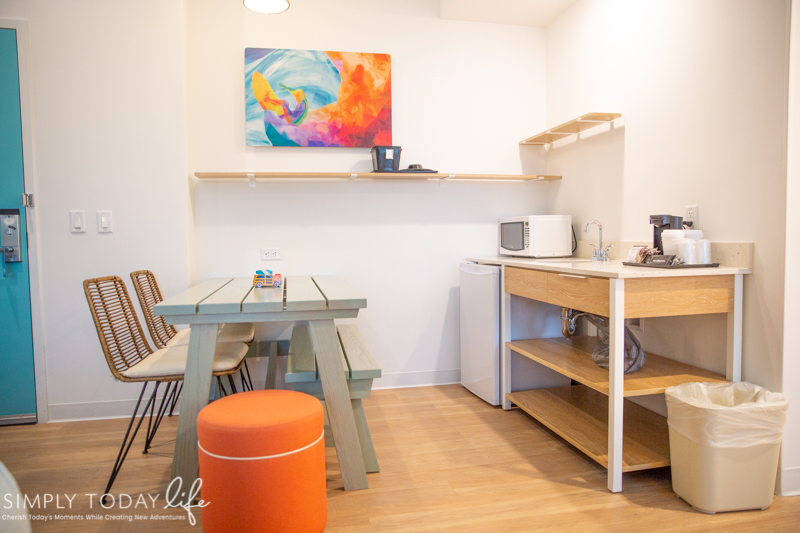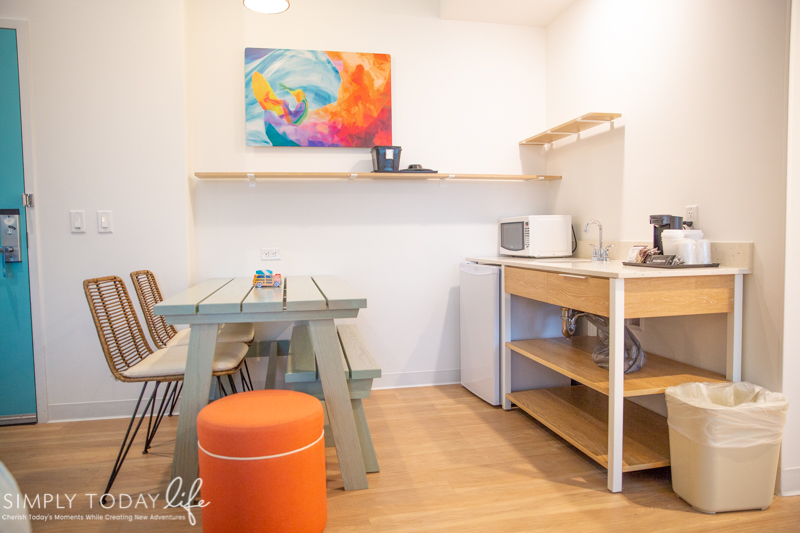 In–Room Kitchenette
When going away on vacation having a kitchenette in our suite is important. Especially with two little girls who just love to eat!
Plus, we are able to bring back snacks, treats, and other goodies from the theme parks to enjoy later on in the day.
Oh, and there's a coffee machine to keep you sustained until you are able to sneak downstairs to the Starbucks which is in the lobby area. So no need to leave the property to enjoy a yummy latte.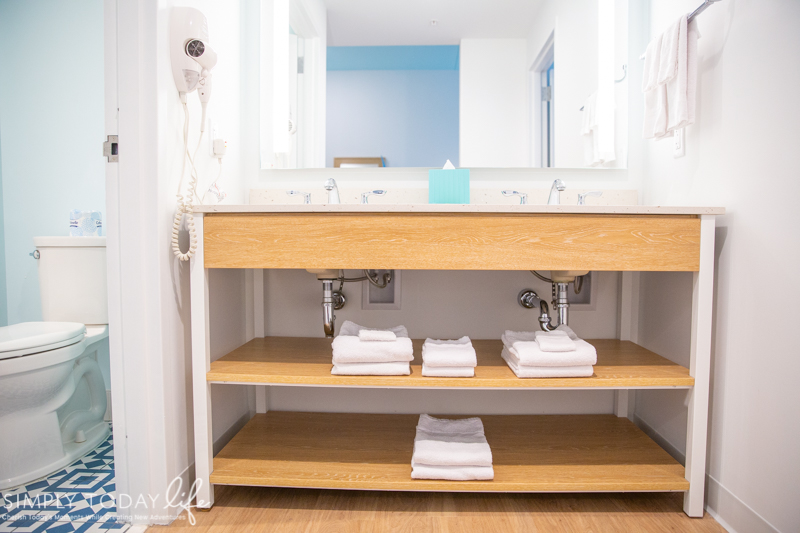 Separate Shower and Sinks
I wasn't sure how the bathrooms were going to be especially since this is one of their new value resorts on Universal property. I honestly expected something a lot smaller, but to my surprise it was perfect!
The shower and toilet were in a separate area with a door. Then the double sink was in between the kitchenette and second bedroom. It's makes it perfect for the entire family to be able to get ready at the same time.
This way you don't miss early admission to The Wizarding World of Harry Potter while you are staying at the Universal's Endless Summer Resort – Surfside Inn and Suites.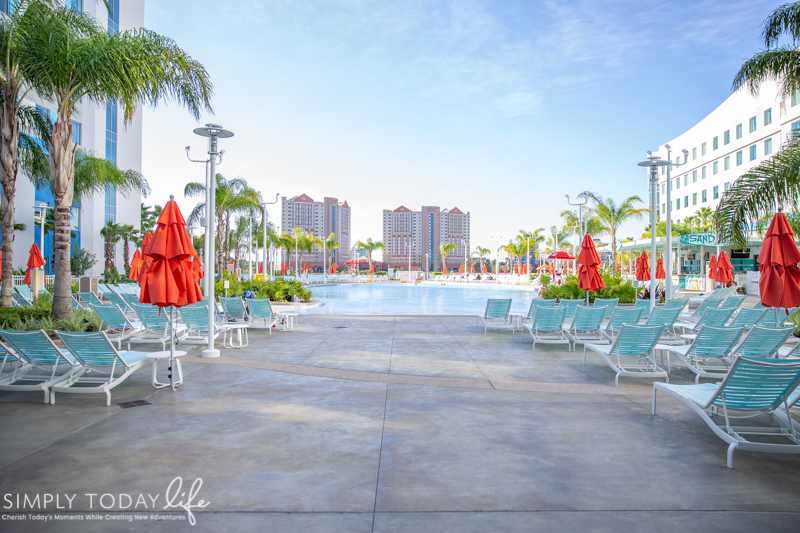 Arcade, State of the Art Fitness Center, and Outdoor Fun
When it's time to leave the room but you want to enjoy the resort amenities you can choose from the fun arcade area, the state of the art fitness center, and family outdoor fun activities.
I don't know about you, but my family is all about full size game boards like ping-pong and connect four. And you get to do all of this all while enjoying the Florida sunshine and resort style pool at the resort.
Universal's Endless Summer Resort – Surfside Inn and Suites seriously has thought about everything small detail when it comes to entertaining the family while relaxing at the hotel.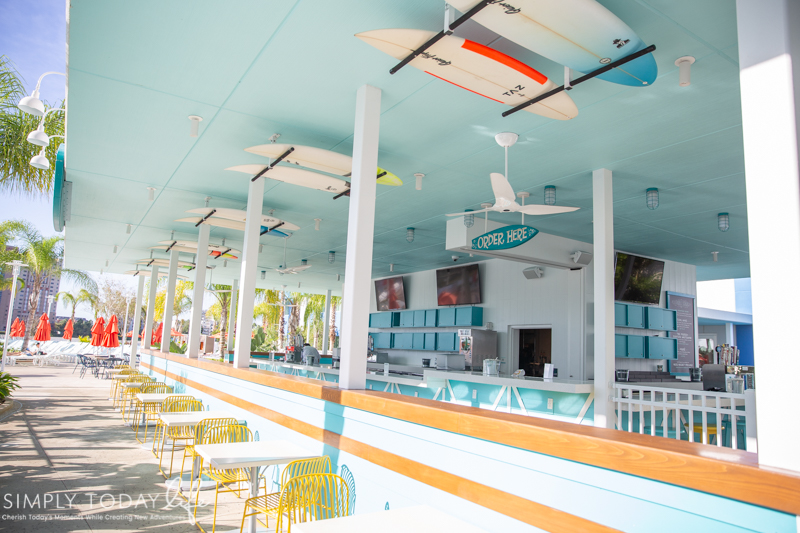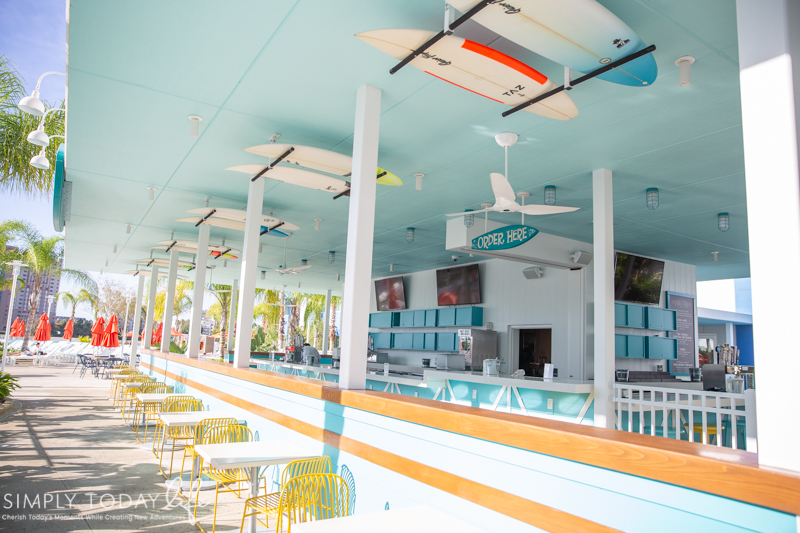 Dining Food Court, Pool Side, or Pizza Delivered
Once you've tired of exploring the theme parks or the resort, it's time for some yummy grub!
You have the choice of heading to the Beach Break Cafe where you can pick up SoCal inspired food court items at affordable prices. Plus, if you have a family member with a food allergy just mention it to one of the employees and they will be happy to assist you.
Feel like laying poolside instead? Then head outdoors to the Sand Bar and order yourself a specialty drink! I recommend one of the frozen ones! YUM!
Or if you're like us who spend the entire day at Universal Studios and Islands of Adventure, then you are ready to kick back in your 2-bedroom suite with an order of freshly made pizza delivered straight to your room!
Whichever choice you make, just make sure to enjoy every second of it!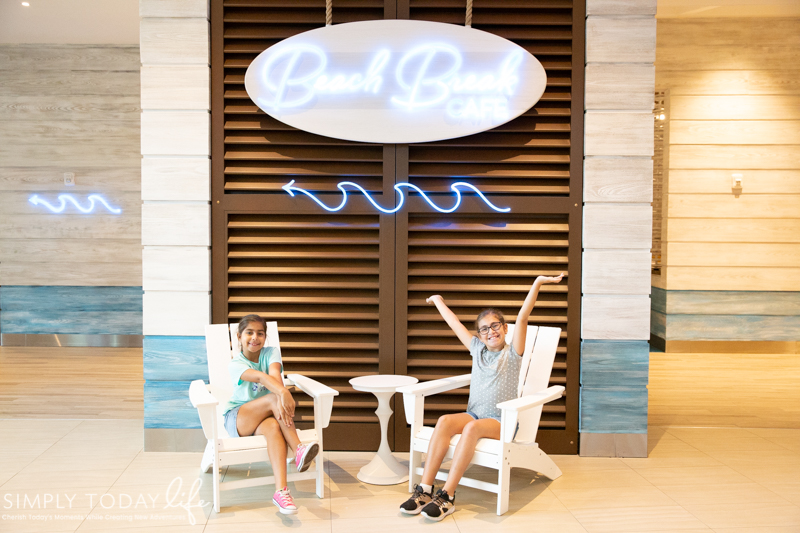 Fun Surf And Beach Theme
As Floridians we love the beach and anything that has to do with surfing. Especially my husband and oldest daughter who are true surfers!
So, when we walked into the Universal's Endless Summer Resort – Surfside Inn and Suites we felt right at home. It doesn't get any better than laying by the sun on summer days.
The decor included real surfboards throughout the property, including a surf-board shaped pool. Plus, fantastic artwork with bright colored surfers, beachgoers, shells, and beach chairs.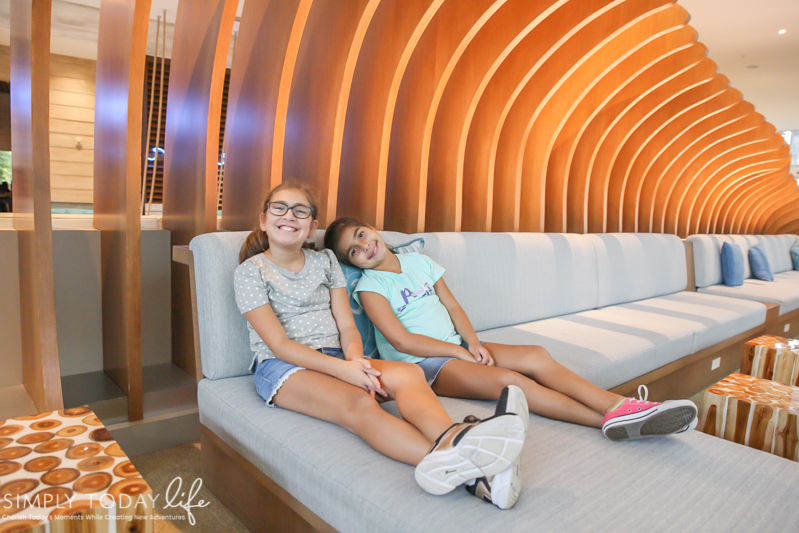 Free Bus Transportation and Early Park Admission is to The Wizarding World of Harry Potter and Universal's Volcano Bay
One of the best perks of staying at the Surfside Inn and Suites is being able to leave your car at the hotel or not have to rent a vehicle at all.
The resort provides free bus transportation to all of the Universal Orlando Resort properties.
Including Universal Studios, Islands of Adventure, Volcano Bay, and City Walk.
Imagine being able to just hop on one of the buses while you relax on the ride to your next destination. That's exactly what my daughters did every morning we headed to the theme parks. They would pick up breakfast at the Beach Break Cafe and enjoy the ride.
Plus, your room key gives you early access to The Wizarding World of Harry Potter and one hour to Volcano Bay before the park opens. Which is nice to get on the most popular rides without a line in sight!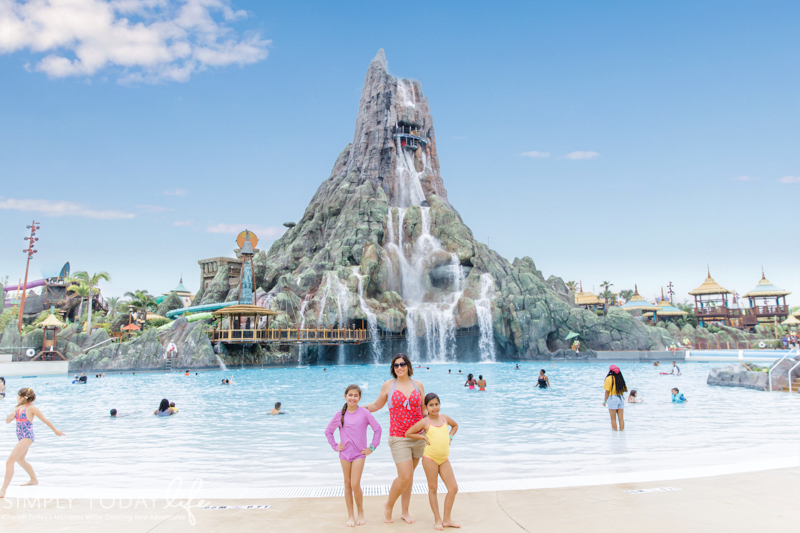 One Hour Early Access To Volcano Bay Before Park Opens
My family and I had the best time visiting Universal Studios and Island of Adventures, but the last time we visited Volcano Bay we couldn't do much because of the cooler weather.
This time we took advantage of the early access to Volcano Bay and we seriously had the most epic time as a family!
We stored our backpack, towels, and cameras in the lockers before heading out. Then my hubby and I ran around with our girls like little kids!
Everyone got on all the family slides. Even our youngest who is usually afraid to do so, but because mommy and daddy were able to get on with her she was brave to try. I think she had the best time of all of us too!
Because we had the early access to the water park, we only used our Tapu Tapu watches one time! How amazing is that? The longest line we waited to get on was for 20 minutes. Which is amazing if you ask me.
Keep an eye out for a video and a separate post with more details about our visit to Volcano Bay!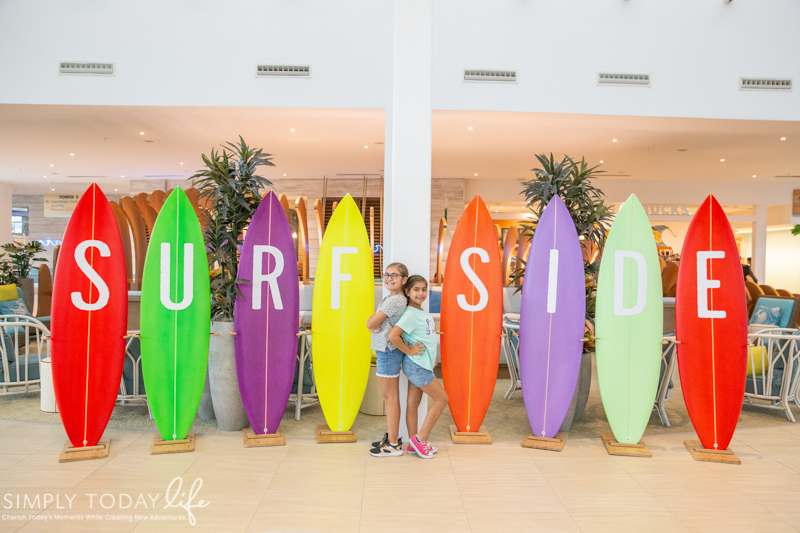 Surfside Inn & Suites Video Tour
For us, the Surfside Inn & Suites at Universal Orlando gave us the best of both worlds! A spacious room if we wanted to hang out at the resort and all the amenities that Universal Orlando gives you when you stay on property.
You Are Also Going To Love:
Will you be visiting Universal's Endless Summer Resort – Surfside Inn & Suites soon?