The Keto way of eating is low carb and high-fat diet. It's been the only diet that has worked the best for me. That's why I wanted to share 15 Easy Low Carb Keto Recipes that I love to make on busy nights.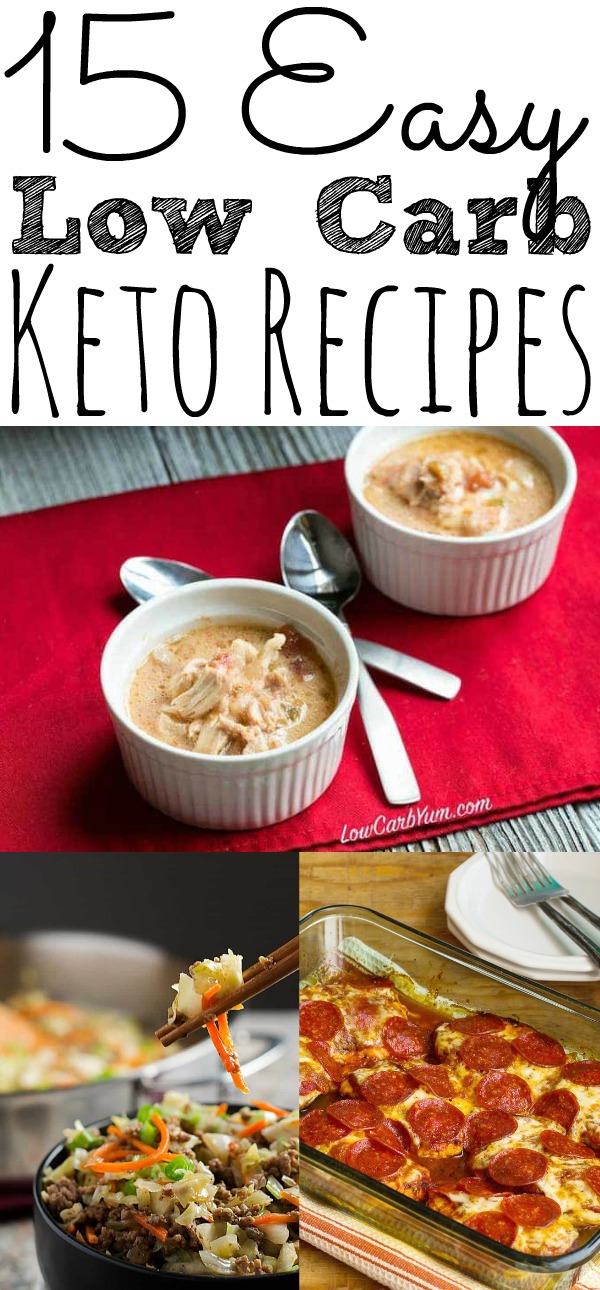 15 Easy Low Carb Keto Recipes
Keto will work for some people for diet loss and as always you need to find a balanced way to eat for your body chemistry and type. If you choose to eat this according to keto guidelines the follow 15 meals are full of flavor and worth preparing. Especially on busy nights, these recipes are easy to make. Taste them all or pick a few of your favorites. Either way, I can guarantee that you will be hooked!
Cheesy Ranch Chicken and Broccoli
This is a great chicken dish with some of my favorite flavors. The Cheesy Ranch Chicken and Broccoli dish from Kasey Trenum has ranch seasoning, bacon, and cheese with my favorite veggie, broccoli. This is one of my hubby's and I favorite dinner dish!
Pepperoni Chicken Pizza Bake
Are you craving pizza but need the low carb version? This Pepperoni Chicken Pizza Bake recipe from Kalyn's Kitchen uses chicken base instead of a crust. It's quite amazing and easy to prepare. Plus, my girls absolutely love it!
Keto Chili
Thank goodness for a great tasting Keto Chilli recipe from Keto Karma. The sausage, hamburger, and spices make this a great quick dish to warm me up. Perfect for anytime you are craving some comfort food without any of the carbs!
Easy Low Carb Cheeseburger Salad
If you love that great cheeseburger taste this salad should be on the top of your list. This Easy Low Carb Cheeseburger Salad from My Montana Kitchen is fun to build on your plate with your favorite toppings. You can easily create this when family or friends come over as a bar and watch them devour it all without even thinking twice that it's all low carb.
Mexican Low Carb Crock Pot Chicken Soup
Low Carb Yum has created a great dump and go recipe to come home to at the end of a busy day. The salsa gives this Mexican low Carb Crock Pot Chicken Soup the kick that you want and the pepper jack cheese seals the deal. Making enough for the entire family? If your kids don't like pepper jack cheese, switch it over for some cheddar cheese. They will love it!
Keto Breakfast Pepper Rings
So brown the sausage the night before and the Keto Breakfast Pepper Rings will be a snap to prepare in the morning. Low Carb Yum created this recipe which my girls love and ask for as something different for weekend mornings.
Egg Roll In a Bowl
All the great ingredients and spices from inside an egg roll minus the wrapper. The Egg Roll in A Bowl recipe from Whole New Mom has the fresh ginger flavor and soy sauce to give you a delicious taste bud. I try to add this recipe at least twice a month! It's one of my favorite recipes to make extra for lunch the next day.
Smokey Pickle Tuna Boats
These are great as a snack to have on hand or to take for lunch. The Smokey Pickle Tuna Boats from I Breathe I'm Hungry has a wonderful blend of regular tuna with smoked tuna. It's like they know my husbands and my favorite ingredients then combined them to make a delicious snack or lunch.
Easy Pulled Pork
It is easy to brine the pork overnight and then do the dry rub when ready to cook. The Easy Pulled Pork recipe from Keto Connect is great baked in the oven. I like using it for on top of salads or homemade low carb pizzas.
Keto Salisbury Steak with Mushroom Gravy
I haven't tried this recipe from I Breathe I'm Hungry yet, but it's on my meal plan for this week! This recipe seems like a good throwback Thursday recipe if you ask me. The Keto Salisbury Steak with Mushroom Gravy, onion and Worcestershire sauce sounds like it would have the perfect mix of flavors. Top it all with the mushroom gravy and add a healthy vegetable for a delicious healthy dinner. Oh, I can't wait to try it out!
Quick Steak Dinner with Cheesy Cauliflower
Easy seasoned steaks served with melted butter over top is mouthwateringly delicious. The steamed cheesy cauliflower makes this Quick Steak Dinner with Cheesy Cauliflower from I Breathe I'm Hungry a short prep time in the kitchen but a satisfying meal.
Cheesy Chicken Stuffed Poblanos
Poblano peppers have such a great flavor and stuffing them with a chicken cheesy mixture creates a magical meal. This Cheesy Chicken Stuffed Poblanos recipe from I Breathe I'm Hungry is one of my hubby's favorite meals. On busy nights I use a store-bought rotisserie chicken to stuff the poblanos.
Easy Keto Lasagna
An easy lasagna that utilizes crusted cauliflower for the noodles is actually quite amazing. I've tried several different keto lasagna recipes, but this one from The Iron You is so yummy! Don't let the cauliflower noodles scare you off they are pretty easy to make. For this Easy Keto Lasagna, you can add your favorite low carb pasta sauce like cauliflower sauce, alfredo sauce or marinara.
Crustless Taco Pie
Perfect for Taco Tuesdays! Our love for tacos and fast food is reflective in this recipe from Simply So Healthy. However, this Crustless Taco Pie is keto friendly, has a good flavor and can be different each serving depending on how you top it. Even perfect for breakfast if you asked my husband!
One Pan Healthy Italian Sausage and Veggies
I like the Italian chicken sausage if you can find it in your store. The One Pan Healthy italian Sausage and Veggies meal from Chelsea's Messey Apron has lots of great spices and really whatever veggies you choose to roast creates one pan wonderful meal. This is a recipe I used to create even before we started a Keto lifestyle without even realizing how low carb it was.

While you're over there checking out some of these low carb Keto recipes make sure to take a look around these bloggers site. I'm only sharing 15 of my favorite easy low carb recipes but they all have tons of other recipes that you will love to keep you sticking with Keto.
Have you tried eating Keto?