Now that Kaelyn is older and officially in Kindergarten we are doing a little bit more school work, but with a 2 year old running around and wanting to do everything her big sister does can make it a bit difficult. The best part is that Kaidence does want to learn and do school like her big sister, so I try to make it as fun as possible for her by creating a Chicka Chicka 123 Counting, Color Sorting, and Fine Motor Skills Activities, while still making her feel like she is apart of school time.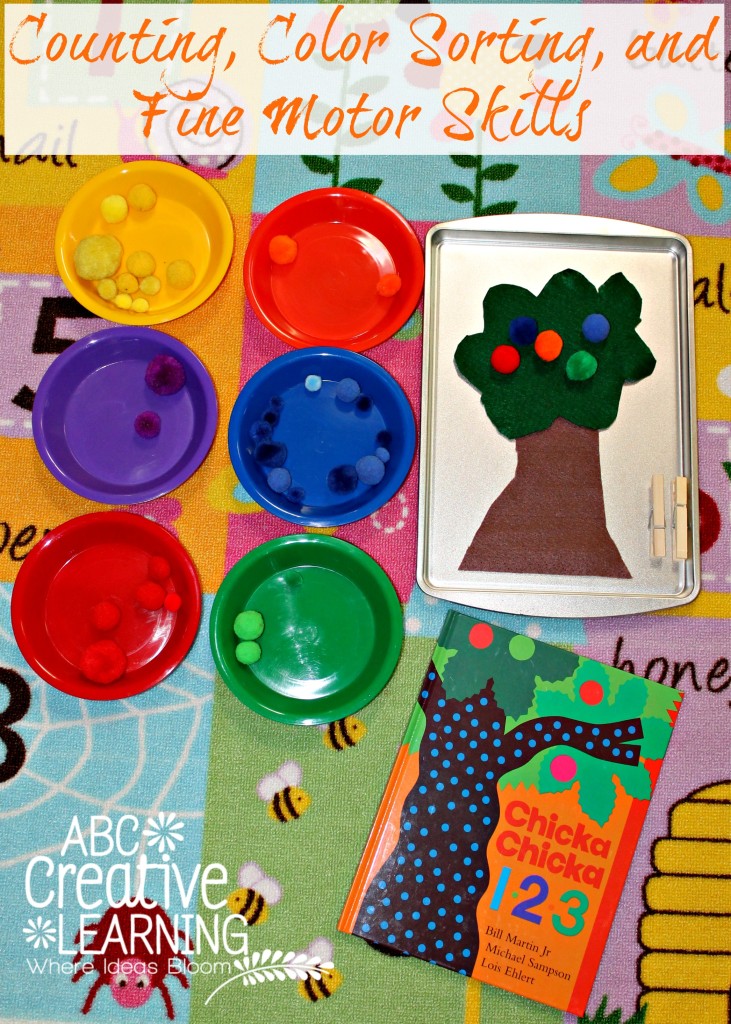 Oh, how I remember those days when my little one would just sleep and my oldest and I could sit down to finish lessons with no distractions at all. Now one year later we have a little tornado running around the house begging to do school work like her sissy. So, I've come up with different ideas for her to do that still ties in with what my oldest is doing in school.
This week Kaelyn my oldest is learning about bonds, part, and whole. So, for my toddler I tried to tie in some math at the same time my oldest does math.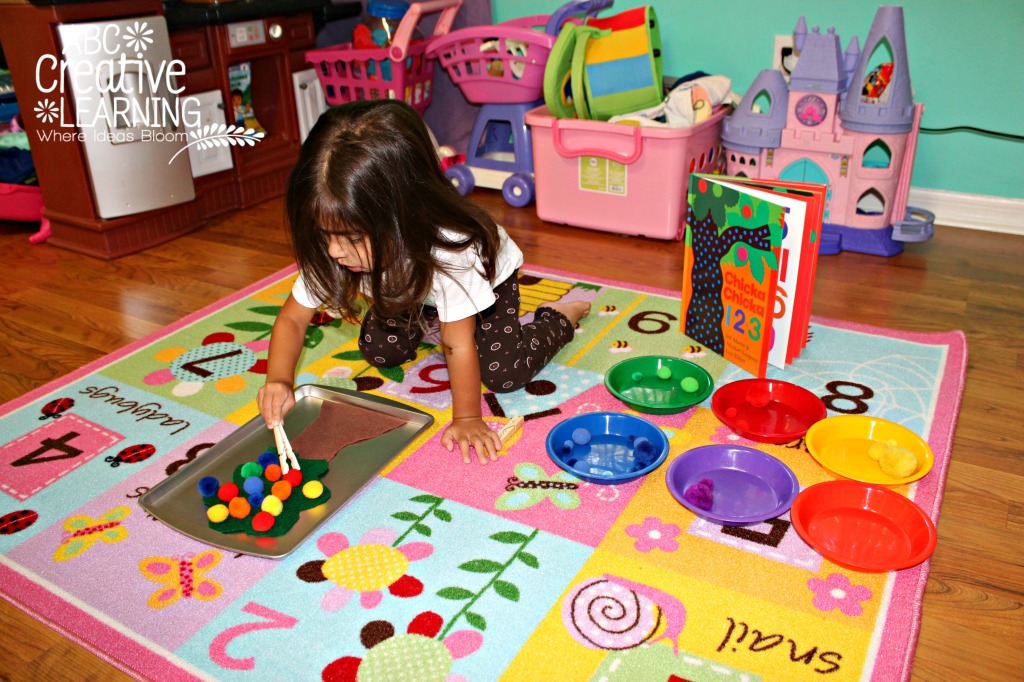 Last week I went to Jo-Ann Fabric and Craft Store and purchased tons of felt in many different colors (so get ready for some seasonal felt fun). For this activity we first read Chicka, Chicka 123 to tie in our activity with the book.
Materials Needed for this Activity:
Green and Brown felt to cut into a tree and trunk (easiest way to cut felt is to use fabric/craft scissors)
Tray
Colored plates (or you can use paper plates and use sticker dots to label each color on a plate)
Colored pom poms
Cloth pins or small tongs
Counting or Color book to read before and after
To start the activity I first read the book Chicka Chicka 123 to both of my girls together before beginning math lessons. One I had my oldest Kaelyn all set up with instructions I moved over to Kaidence to instruct her for several minutes on her activity. I usually try to do something that's simple enough for her to understand, but that will challenge her to keep her busy throughout our math lesson.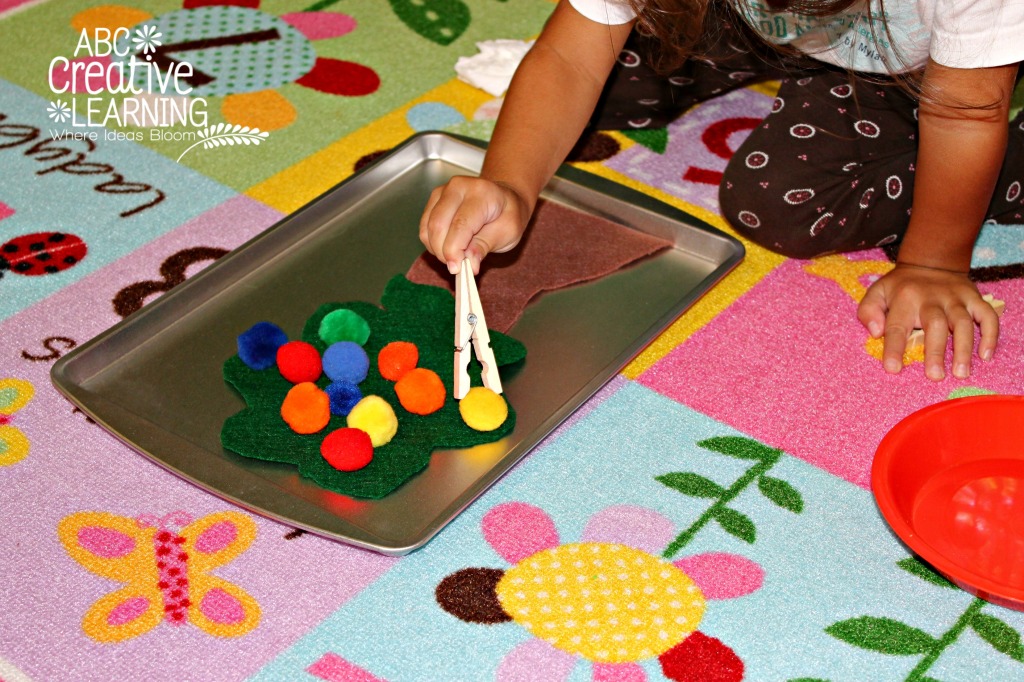 I set up the tree on a metal tray to keep everything organized and easy access for Kaidence. Because we have been talking about Fall and Apple trees I used pom poms to pretend they were apples on a tree that she needed to pick and sort on her color plates.
Using a cloth pin she would pick an apple off the tree and sort it on the proper colored plate. I think this was great practice for her. At first she struggled to get the proper hold on the cloth pin, but with practice she eventually figured it out.
As the apple tree became empty I would add a few more apples to her tree to give me enough time to finish the lesson with my oldest.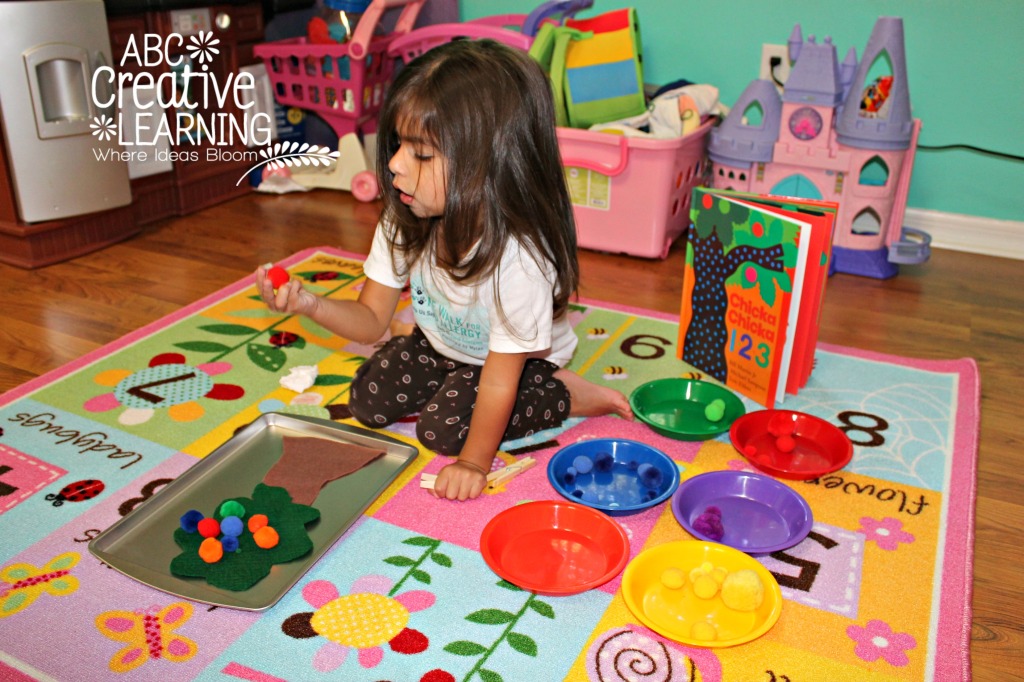 Once in a while I would catch her using her fingers to sort her pom poms. So I would just remind her to make sure to use her cloth pins for extra fun 🙂
My goal for this activity was to help her review her colors, practice sorting, and for her to use her fine motor skills. But I do think that the one thing I didn't realize before was that she truly loves learning just like her big sister and it's up to me to fuel that desire and love she has… with LOTS of games and activities!
What activities does your toddler or preschooler like to do while you homeschool?