If you were to take a look around your home right now, you'll likely find leftover school supplies, outdoor toys, and an endless array of summer projects all throughout the house. It won't take long for all this "stuff" to become overwhelming. Here are 7 Questions to Ask Yourself Before Getting Rid of Clutter in your home.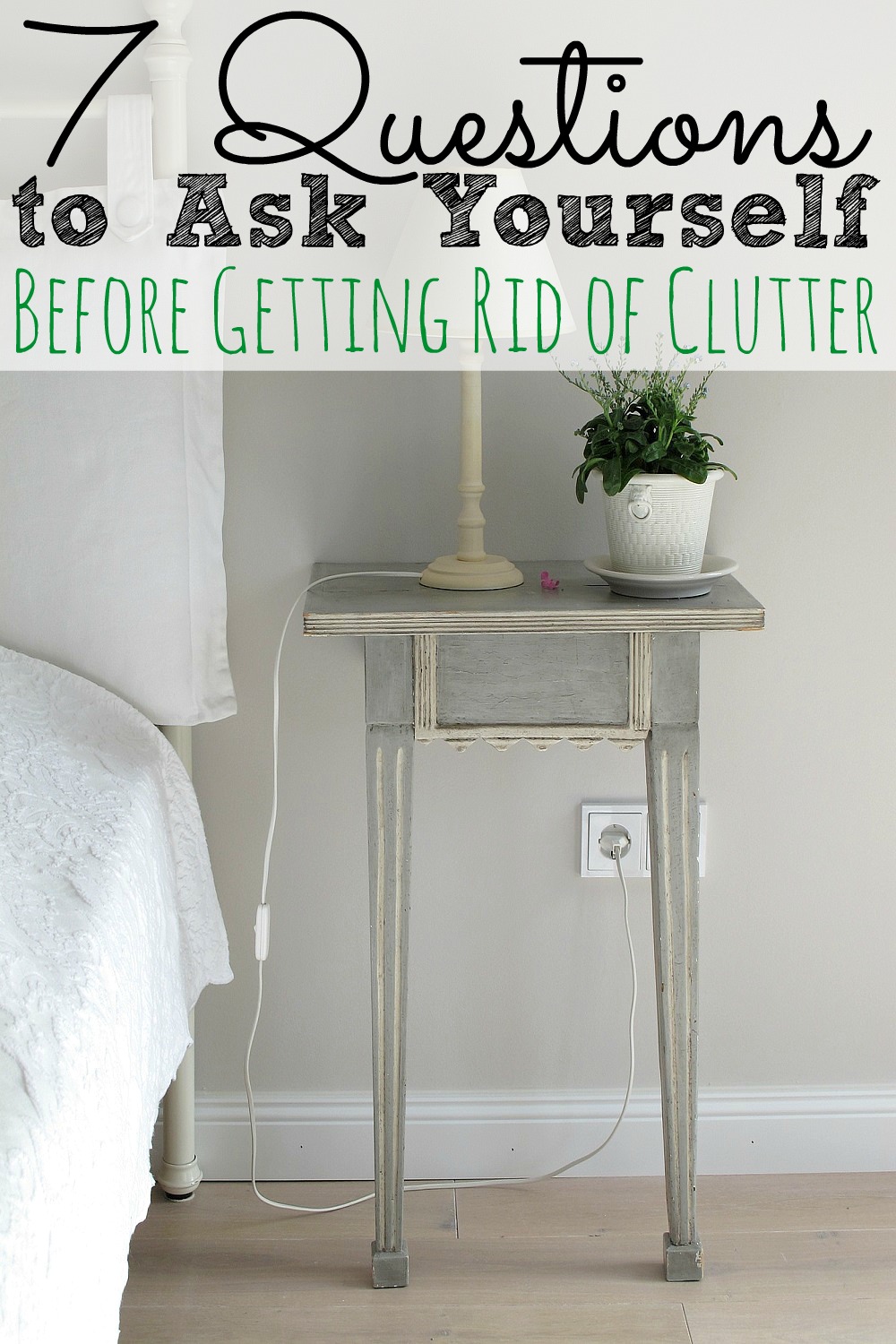 7 Questions to Ask Yourself Before Getting Rid of Clutter
The best way to keep your home clean and organized is by getting rid of things you no longer need and giving every object a home. Summer is the perfect time to establish new habits and get organized. Here are some questions to ask yourself while clearing out your clutter.
Does this item enhance or better my life?
Does this item make your life easier? Don't ask yourself if you "love" this item. Instead, ask if this item is important or useful to you right now. Your unread copies of HGTV magazine are probably not enhancing your life. If the answer is no, it's time to get rid of it.
Is this item something I'll want my children to see in the future?
When I was in 5th grade, we got the unique opportunity to publish a book. I wrote a book of poems with hand-drawn pictures on every page, and I'm so glad my parents saved it. When evaluating items, especially ones that are memorable, ask yourself if this is something your children might want when they're older.
Do I have too many of this item?
Every year for Christmas, my mother used to put a bottle of teal nail polish in my stocking. During our most recent move, you know how many bottles of teal nail polish I found? 10! You can probably find many items throughout your home that have at least one or more duplicates. Only keep the ones you are actually using, and get rid of the rest.
Is this item expensive to replace?
Most of the items you'll get rid probably wouldn't cost you much to replace if down the road you realized you need it. If you're on the fence about getting rid of an expensive item, try putting it in a closet or box out of sight and come back to it in 6 months. If you could make it 6 months without it, it's probably safe to assume you don't need it.
Does this make me feel good when I wear or use this?
I have a confession to make. I bought a pair of really expensive flip flops that I wore a grand total of twice. They hurt my feet and were extremely uncomfortable to wear. After trying to break them in for almost two years, I could not get these shoes to work for me. Finally, I let them go. If you feel uncomfortable in a certain blouse, or you want to throw your blender across the room almost every day, it's time to get rid of it.
Would I take this with me if I moved?
You never realize how many things you don't want or need until you are about to move. When evaluating items ask yourself if you'd take it with you if you had to move. I came to realize a vast majority of the things I owned were taking residence in my home simply because they were already there. If you wouldn't pack it in a moving box to take with you, get rid of it.
Can I make money selling this or donate it?
One man's clutter is another's treasure. Perhaps you don't need this item, and maybe you never will again. If it's in good condition and you think it might be worth something, sell it! You can sell used DVDs and games on Declutter, and items such as textbooks, electronics, and more on Amazon Trade In. I was able to sell my clutter for $125 and it took me less than 15 minutes! If you don't think you'd be able to sell it, but the item is still in good condition, donate it.
Clearing clutter is no easy task and it's easy to get emotionally attached to your things. By answering these seven questions for every item you have, you'll be able to quickly eliminate clutter in your home.
How do you eliminate your clutter?