Post may include affiliate links.
These 7 Preschool Homeschooling Tips For Busy Moms are perfect for making your life easier this year. As soon as your children show an interest in learning, you can easily create methods of engaging them in classroom activities. Even if your child is only 3 or 4 years old, like my daughter they can begin learning and getting into a homeschooling routine.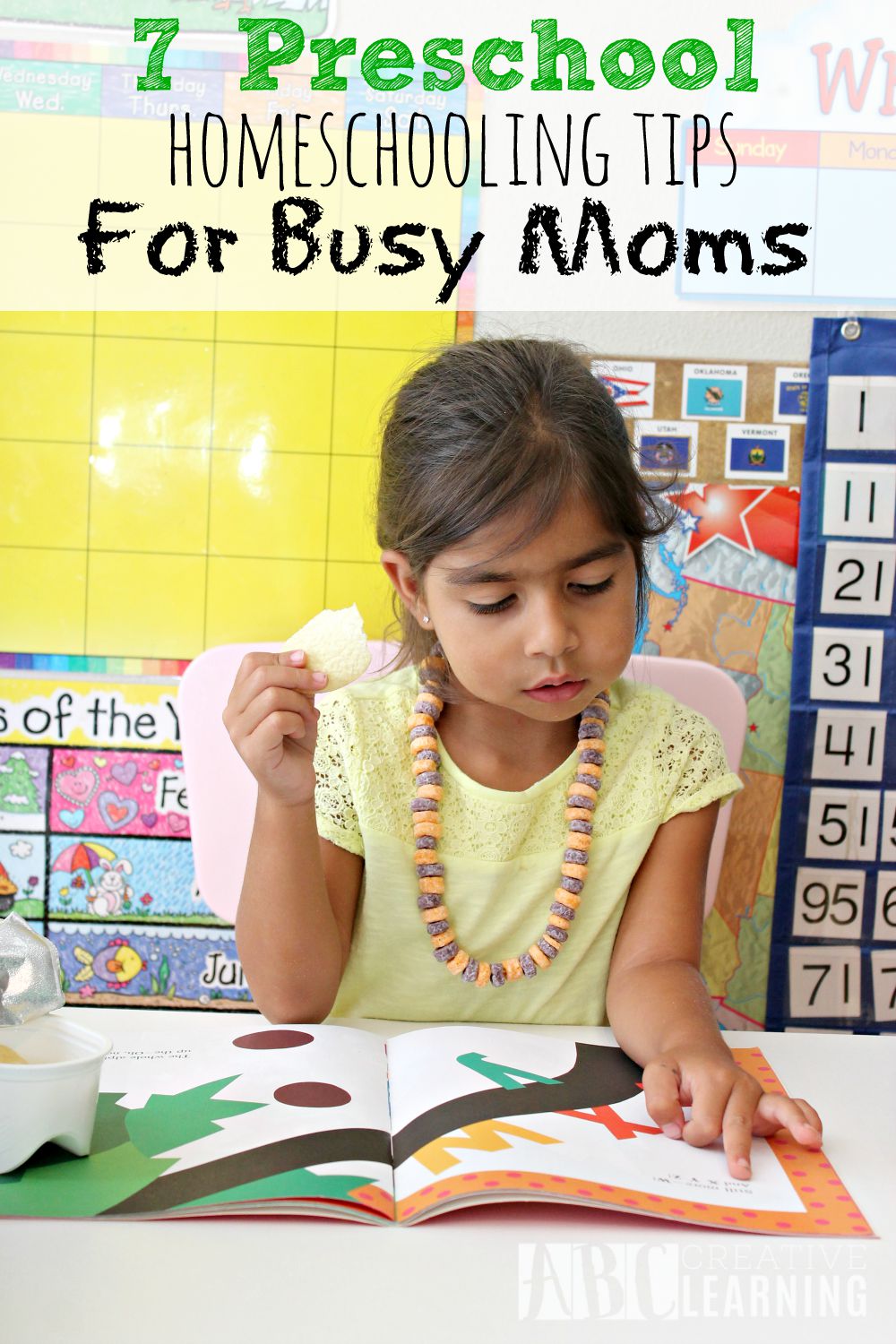 7 Preschool Homeschooling Tips For Busy Moms
Set up easy to use school stations for younger kids. Set up an area of your classroom or living room dedicated to educational toys and products your preschooler can play with and learn at the same time. This is perfect for magnetic alphabet pieces, puzzles and simple sensory boxes with different textured and sized items for them to sort and have fun with on their own. You can even switch these around according to seasons and holidays! My girls love when I do that!
Create a regular school schedule. Get them used to doing school work by keeping your schedule the same. Create a functional schedule that works for your lifestyle, but keeps them knowing the basic routine so they expect to do those things daily. You can also keep a schedule up for them to easily view daily, like this pocket chart which I personally use.
Give them their own school supplies. Go shopping for their own school supplies. Crayons, construction paper, notebooks, backpack, lunch box and pencils can all be a great way to get your preschool involved and excited about school.
Don't skip naptime. There is truly nothing more important to a mother than their child taking a nap. Not only does this give you the break you need to mange other household or work duties, but it helps your preschooler behave better and be more willing to work on school projects. Now, if you're child is like mine and no longer takes naps make sure that they get quiet time. They can either read a book or play a puzzle in their room.
Use chores to learn colors and numbers. This is one of my favorite preschool homeschooling tips for busy moms. Use chores like laundry sorting and folding, or even putting away dishes to learn colors and numbers. Count out each piece as you fold it. Announce what color the towel, sock or wash cloth is. Have your kids count the forks and spoons with you as they put them away.
Use puzzles for multiple subjects. Puzzles are an amazing addition to any classroom, but especially for preschool homeschool classrooms. You can use them as busy work to keep kids occupied, but in the process they can learn colors, hand and eye coordination and to recognize animals, shapes and numbers. Melissa & Doug puzzles are excellent choices with quality pieces and tons of options to suit your homeschool desires. Our home is filled with them!
Invest in quality educational DVD's. While you don't want the television to be a babysitter, it is very simple to invest in great DVD's like the LeapFrog Letter Factory, Sesame Street, or even Sid The Science Kid. All of these are bright, fun and colorful to attract your kids, but also educational. I personally love Amazon Prime and Netflix for homeschooling! Tons of educational videos that can be used with daily lessons.
These are our favorite preschool homeschooling tips for busy moms. Not only will they help you keep your kids occupied as you do your own work at home job, or homeschool older kids, but they will give you a great educational foundation to build upon in their future school years.
Looking for some more ideas? Check out my Toddler Busy Bag Pinterest Board for some fun games!
Follow ABC Creative Learning's board Toddler Busy Bags on Pinterest.


What other homeschooling tips would you share?