This month for our Wild West Book Activity, we decided to read a few Western Educational books about the Gold Rush. Unfortunately, the girls weren't really into any of the educational information I was providing, so I decided to read a fun book called Every Cowgirl Needs a Horse, which was more up their alley, but the one thing my girls really wanted to read was anything that had their favorite Western Cat, Sheriff Callie! So we had to be creative about our Wild West Book Activity!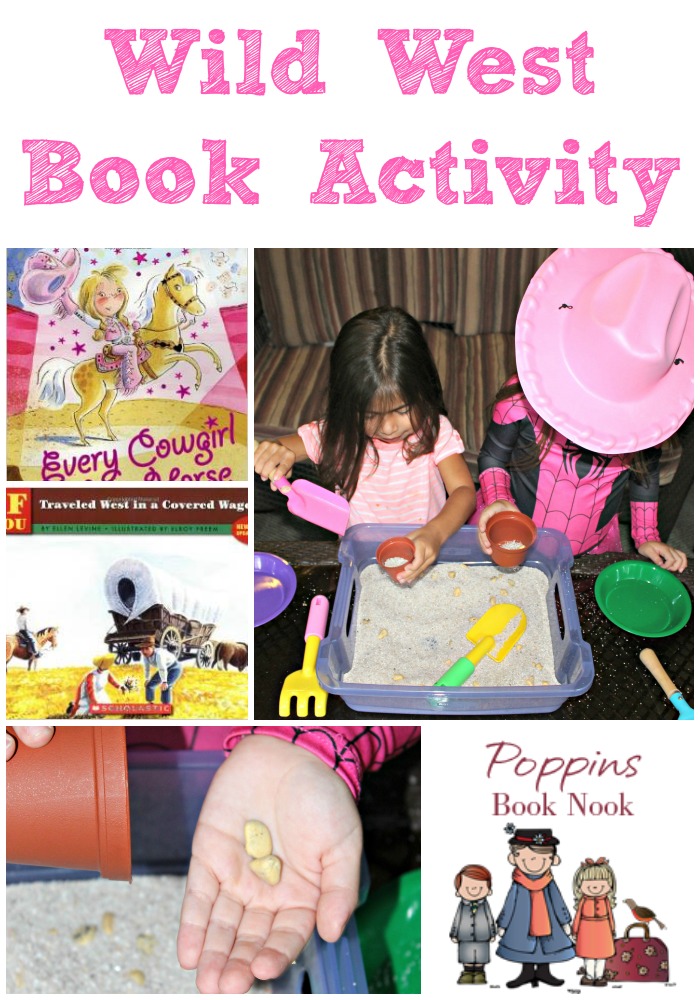 For some reason Sheriff Callie books are not released until 2015, so the girls were super disappointed when I told them that I couldn't find any, so I promised that we would definitely do an activity with Sheriff Callie soon, but I also wanted them to learn a bit about the Wild West. We read a book called Traveled West in a Covered Wagon by Ellen Levin, which I thought was very interesting and had some wonderful pictures on how pioneers traveled to Oregon back in the Wild West. It was very detailed on what people wore, met, ate, and how they slept while traveling. Oregon also had fantastic opportunities for gold prospecting for travelers. Which gave us our Wild West idea!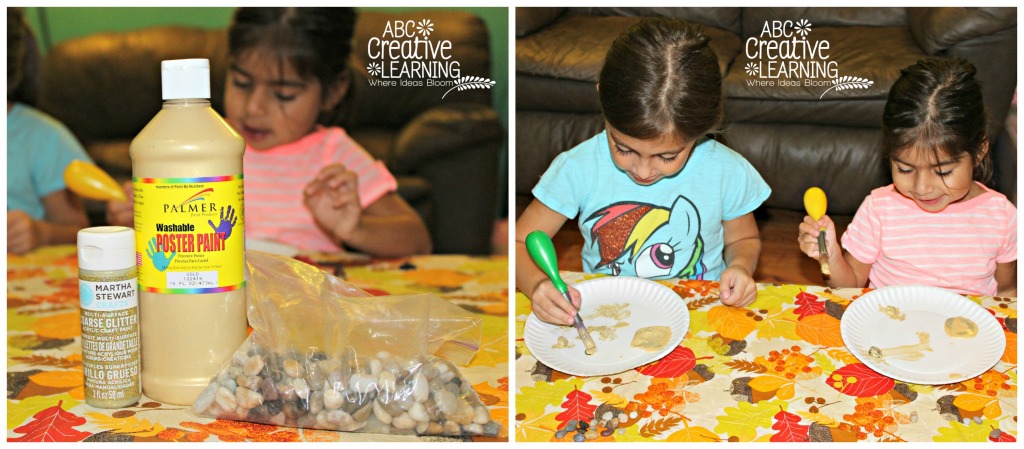 DIY Gold Nuggets Materials Needed:
Gold Paint
Gold Glitter for some sparkle
Rocks or Small pebbles
Paint brush
Paper plates
This was an easy activity, but the girls had so much fun painting their nuggets gold! Once they learned how much value each little nugget could be worth they couldn't wait for them to dry so that they could play with them! Lets just say that toys all of sudden were being bought with gold 🙂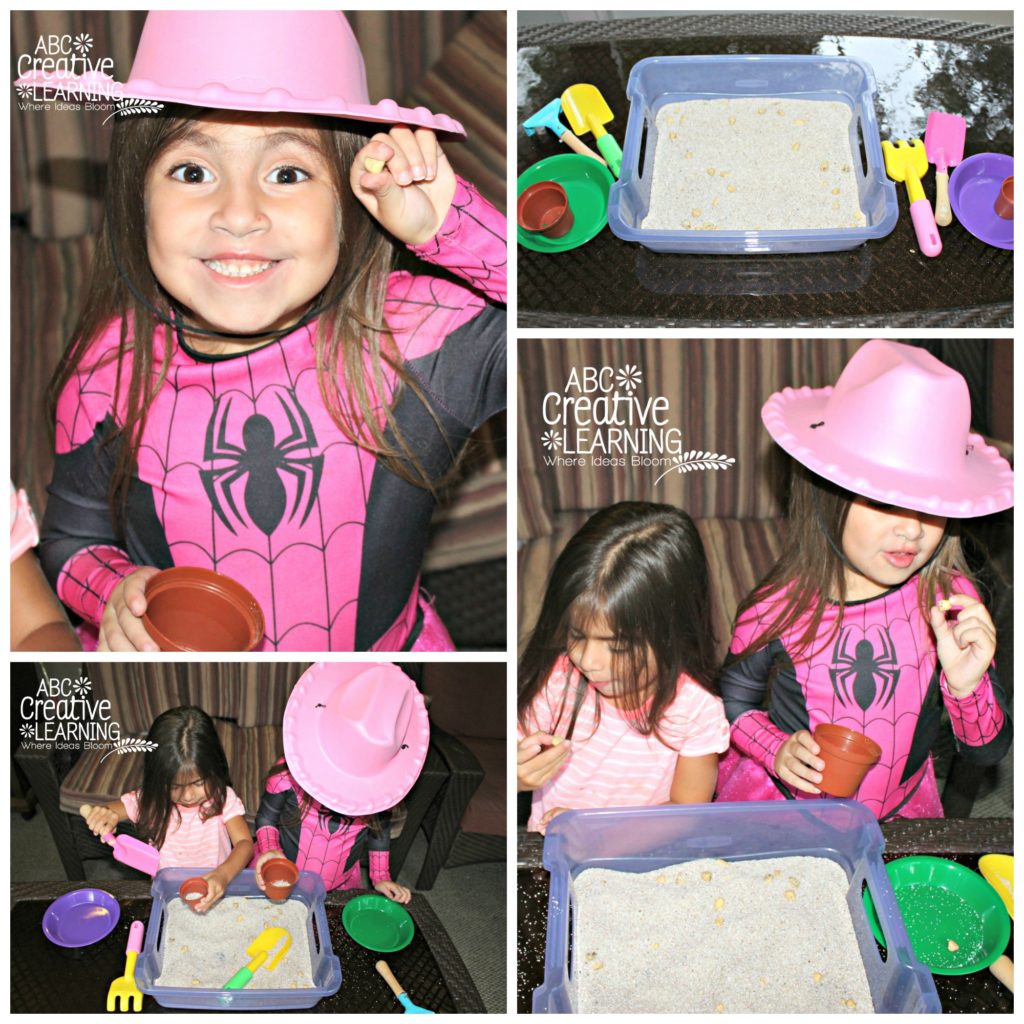 The girls used different tools like shovels, rakes, and plates to dig their gold right out of the sand. They scooped some sand and shook the sand to come out of the holes underneath their cups and then once they found a golden nugget they would keep it on their pan for safe keeping.
I think the girls really liked learning about the gold rush and how gold was used as money a long time of ago. I hope that they don't sneak one of these nuggets out of the house and try to purchase a toy at Target 😉 Now I just need to figure out a Sheriff Callie activity just like I promised!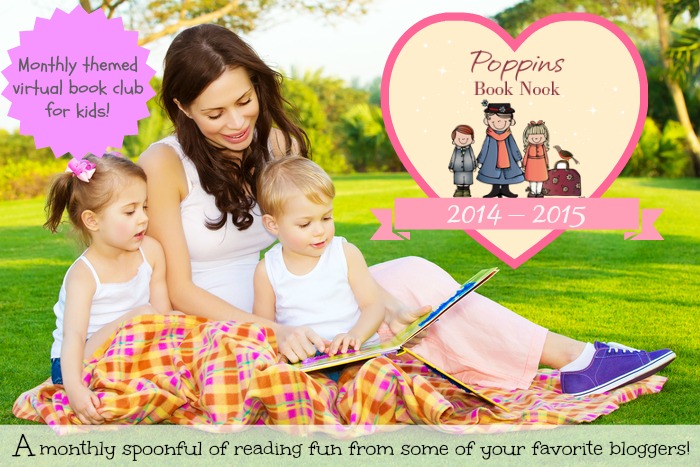 Please, make sure to check out what the other Poppins Book Nook Co-Hosts are doing this month with our Wild West Book theme!
Enchanted Homeschooling Mom ~ 3 Dinosaurs ~ To the Moon and Back ~ Planet Smarty Pants ~ Farm Fresh Adventures ~ Growing in God's Grace ~ Chestnut Grove Academy ~ Learning and Growing the Piwi Way ~ The Usual Mayhem~ Preschool Powol Packets ~ Monsters Ed Homeschool Academy ~ Adventures in Mommydom ~ Teach Beside Me ~ Life with Moore Babies ~ Kathy's Cluttered Mind ~ Are We There Yet? ~ Our Crafts N Things ~ Hopkins Homeschool ~ ABC Creative Learning ~ Joy Focused Learning ~ P is for Preschooler ~ Laugh and Learn ~ A Mommy's Adventures ~ Inspiring 2 New Hampshire Children ~ World for Learning ~ Ever After in the Woods ~ Golden Grasses ~ A glimpse of our life ~ Journey to Excellence ~ Happy Little Homemaker ~ Little Homeschool Blessings ~ Raventhreads ~ Tots and Me ~ As We Walk Along The Road ~ Stir the Wonder ~ For This Season ~ Where Imagination Grows ~ Lextin Academy ~ The Canadian Homeschooler ~ School Time Snippets ~ Peakle Pie ~ A Moment in our World ~ Every Bed of Roses ~ Finchnwren ~ At Home Where Life Happens ~ The Library Adventure ~ Embracing Destiny ~ Day by Day in our World ~ Our Homeschool Studio ~ A "Peace" of Mind ~ Thou Shall Not Whine ~ SAHM I am ~ eLeMeNo-P Kids ~ Simple Living Mama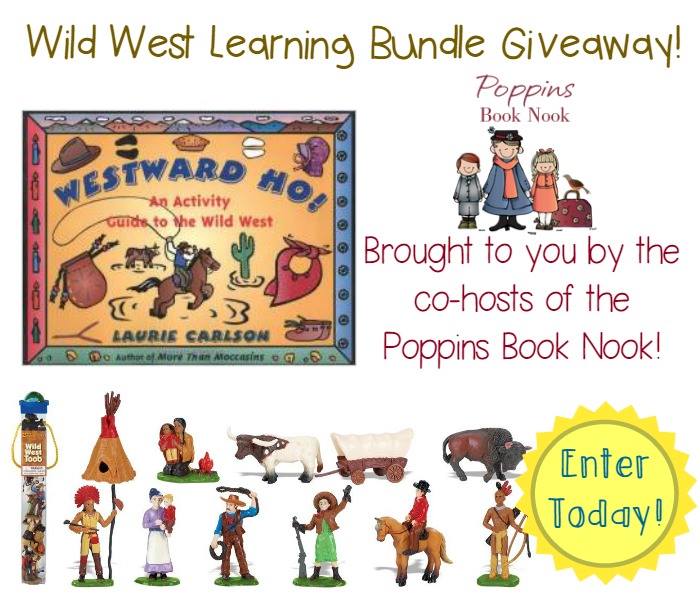 Wild West Learning Bundle Giveaway!
Every month the Poppins Book Nook group will be offering readers a chance to win a brand new storybook or product that ties in with our theme for the month. This month one lucky cowpoke will strike gold and win a bundle of fun for the theme of the Wild West. This bundle will include a copy of the storybook Westward Ho!: An Activity Guide to the Wild West (Hands-On History) and one Wild West Toob. So mozzy down to the corral for your chance to win today!
Entrants must be 18 years or older and reside in a country that receives U.S. Postal mail. This giveaway is brought to you by the company Enchanted Homeschooling Mom who is owner and founder of the Poppins Book Nook. By entering this giveaway you are also acknowledging that you have read and agree to all of the Rafflecopter terms & conditions as well as Enchanted Homeschooling Mom's disclosures found here {http://enchantedhomeschoolingmom.org/disclosures/}. Just enter the Rafflecopter below to win:
a Rafflecopter giveaway