A Vegan Beans from Around the World Cookbook was provided for my review.  No other compensation was given to me.  All opinions are mine and mine alone.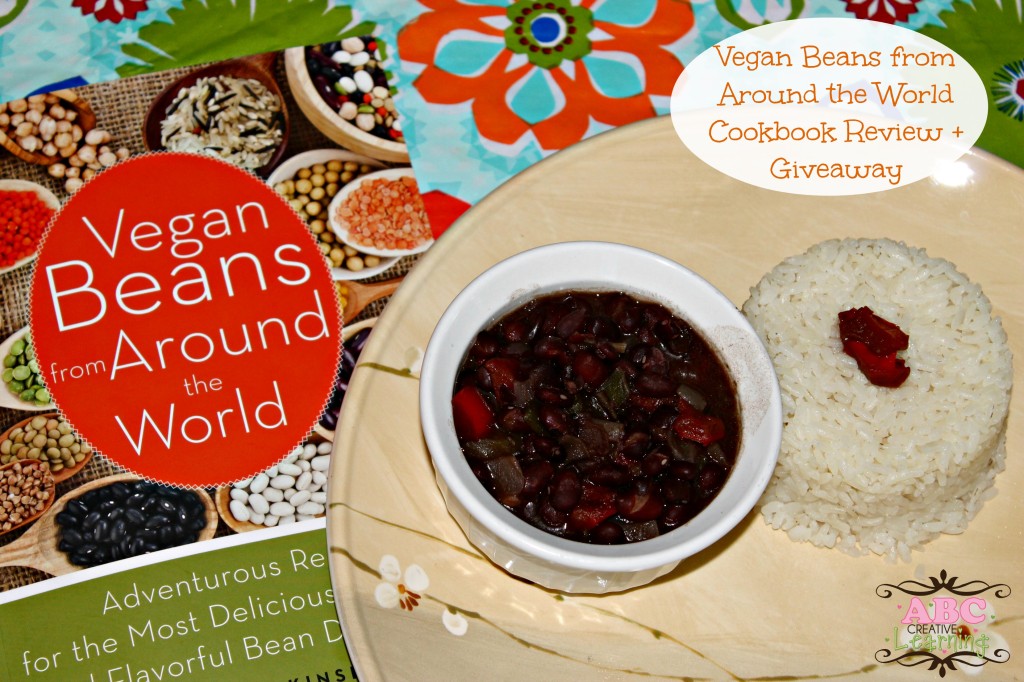 I personally love to cook and bake, so I was very excited to check out the new Vegan Beans from Around the World Cookbook by author Kelsey Kinser.  My girls are such picky eaters that I usually like to have a protein packed dinner for them to make sure that they are full and gotten all the necessary minerals and vitamins.  I use many of these ingredients in my daily cooking, but the Vegan Beans from Around the World definitely gives you a variety of flavors and great combinations!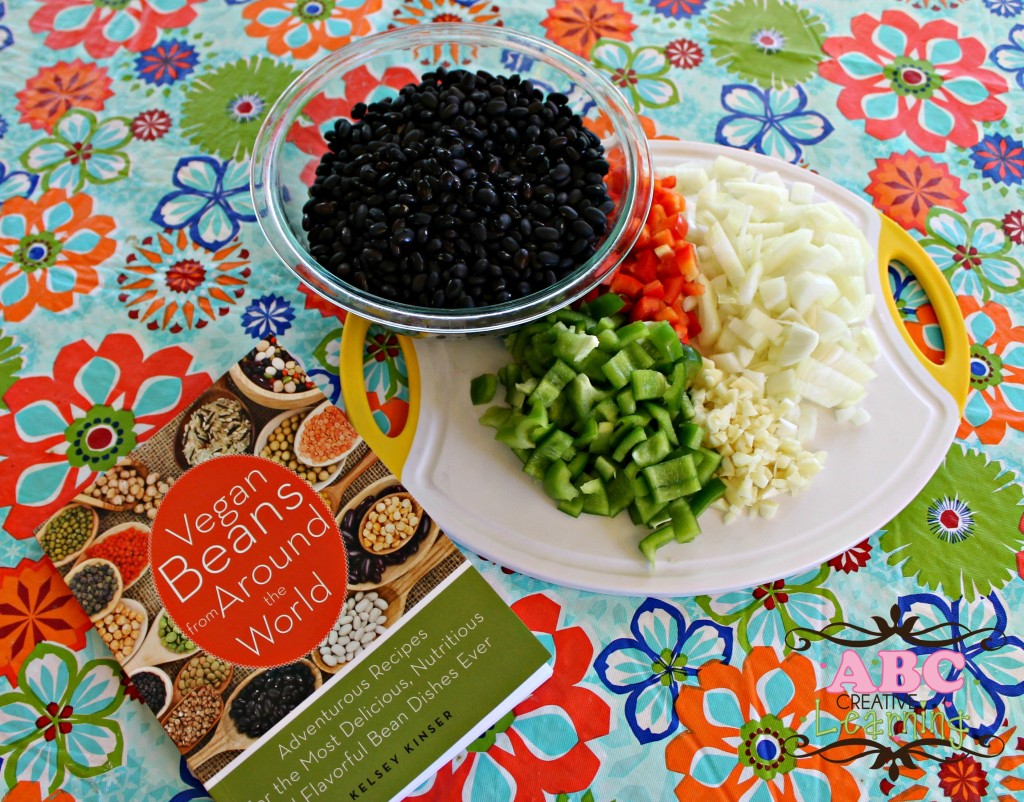 When looking through the cookbook I really couldn't decide which recipe I wanted to try out first and share with all of you.  When my husband and I first met I used to cook him Black Beans and Rice all the time!  It's actually one of his favorites, but with our busy schedule I rarely have time to cook it anymore!  Well… you can imagine his excitement when I decided to cook the Cuban Black Beans recipe.
The book itself inside does not contain any pictures, which I usually love to have when using cookbooks, but these recipes are not like looking at a cake decoration where you want to see the details. The recipes in this cookbook is all about the flavor!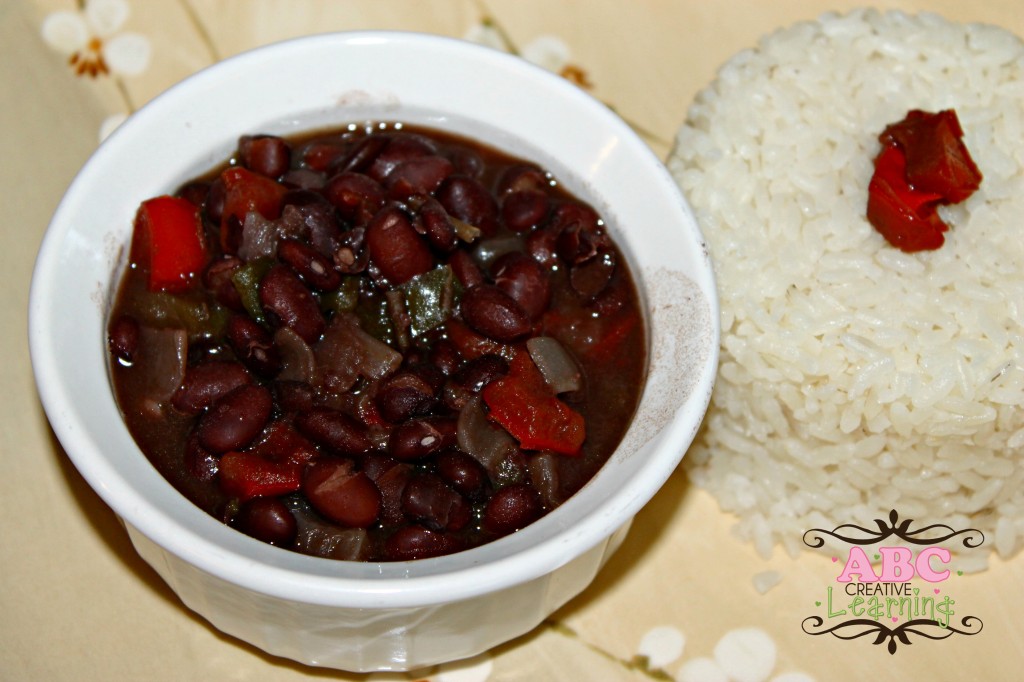 I have to say, I really expected the recipe to be bland and just not have a lot of flavors.  I am from Puerto Rico, so I'm used to the food having lots of flavor and spices.  I was very pleasantly surprised and so was my husband on the wonderful flavors the Black Beans recipe had!  It's definitely one of my favorites so far!  I already have some great ideas where I can use this recipe in this summer!
I definitely recommend the book to any cook, not just vegan cooking!  I have to admit that I also made some steak for the hubby on the side 🙂  I preferred it by itself with a little bit of white rice on the side.
Vegan Beans from Around the World covers every taste sensation, including:
•Boston Baked Beans
•Southwestern Chili
•Mexican Refried Beans
•Cuban Black Beans
•Colombian Red Beans
•African Curried Black-Eyed Pea & Coconut Soup
•Greek Lentil Salad
•Tuscan White Bean Soup
•Dutch Split Pea Soup
•South Indian Dal Tadka
•Korean Mung Bean Salad
•Japanese Red Bean Ice Cream
Cuban Black Beans from Vegan Beans from Around the World Cookbook

Ingredients
1 pound dried black beans, soaked overnight, then drained and rinsed
1 red bell pepper, chopped
1/4 cup olive oil plus 2 tablespoons olive oil, separated
1 large onion, diced
1 green bell pepper, chopped fine
5 cloves, minced
1 teaspoon sugar
2 bay leaves
1 teaspoon ground cumin
4 teaspoons salt
1/2 teaspoon fresh ground black pepper
1/3 teaspoon dried oregano
2 tablespoons apple cider vinegar
2 tablespoons wine
Instructions
Place the beans and red bell pepper in a large pot and cover with water by 1 inch. Bring the water to a boil, cover, and reduce heat to a simmer on medium low. Cook the beans until they are tender, but not mushy, approximately 30-45 minutes.
Heat the 1/4 cup of oil on medium-high heat in a medium-sized pan. Saute the onion, green bell pepper, and garlic and cook until soft, stirring occasionally. Measure out 1 cup of the cooked beans and add them to the onion, bell pepper, and garlic. Mash them all together with a fork. Add the mashed beans mixture to the pot of cooking black beans. Add the sugar, bay leaves, cumin, salt, black pepper, and oregano. Turn heat up to high and cook on a boil for another hour. If the bans are too wet, continue to cook on higher heat.
Add the vinegar and wine. Keep covered and simmer on a medium-low temperature and cook for another hour. Add the last 2 tablespoons of olive oil right before serving.
I am so excited to announce that one Lucky Reader will have a chance to Win the Vegan Beans from Around the World! Just enter below!
If you are looking for an easy to follow recipe book with lots of fun and delicious ideas, I would definitely recommend the Vegan Beans from Around the World!  I can wait to try out the Homage Hummus Recipe!
Do you like cooking with beans?