This is a sponsored post written by me on behalf of Nationwide Mutual Insurance Company. All opinions are 100% mine. #MakeSafeHappen #IC #upandaway
I'm so excited that for the next few months I will be working with Nationwide as one of their ambassadors during their Make Safe Happen initiative. I will be bringing you lots of great educational information to share with family members, links, and some tips! This month we are going to start off on Poison Prevention In Your Home With Nationwide.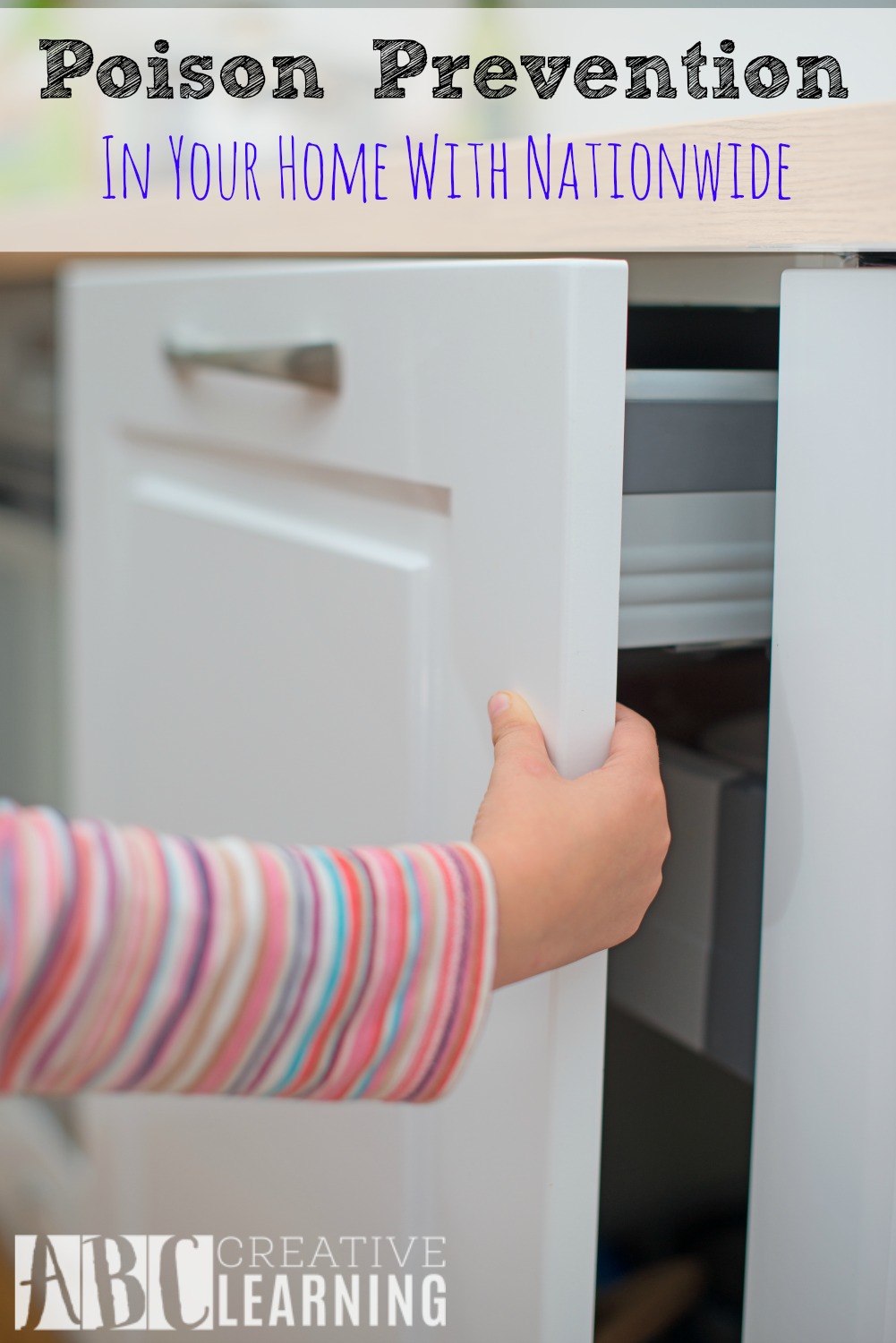 Poison Prevention In Your Home With Nationwide
As parents one of the things that we first do when we have children is to secure our home. We want to make sure that our children do not have an accident that could have been prevented. Remember those baby locks on cabinets and doors? Well, sometimes we need to keep these safety locks in place even after our children grow up from the toddler phase.
I for one still have locks in all of our cabinets where we keep certain items like detergent, cleaning soap, medicine, and even where we keep sharp objects. I want to make sure that everything is as safe as I can make it in our home! Always, safety first!
Make Safe Happen is a program dedicated to reducing accidental injury – the leading cause of death of children. According to the Center for Disease Control and Prevention, nearly nine million children are treated at emergency rooms across the country and more than 9,000 children die each year due to accidental injuries. A champion for child safety and wellbeing for more than 60 years, Nationwide launched Make Safe Happen in 2015 to empower parents, caregivers and children with tools and resources to make homes safer.
Use Safety: Although you may be familiar with many of the items that are poisonous, there are many more that also need to be kept out of your child's sight and reach. It's best to avoid even using chemicals in front of kids, especially if they are five years old and younger.
Safe Storage and Disposal: Keep any household cleaners or medicines in the original containers, out of sight and reach, and in a locked cabinet. Immediately dispose of old or unused chemicals and medicines.
Be Prepared: If you suspect or know that a child has ingested or come into contact with any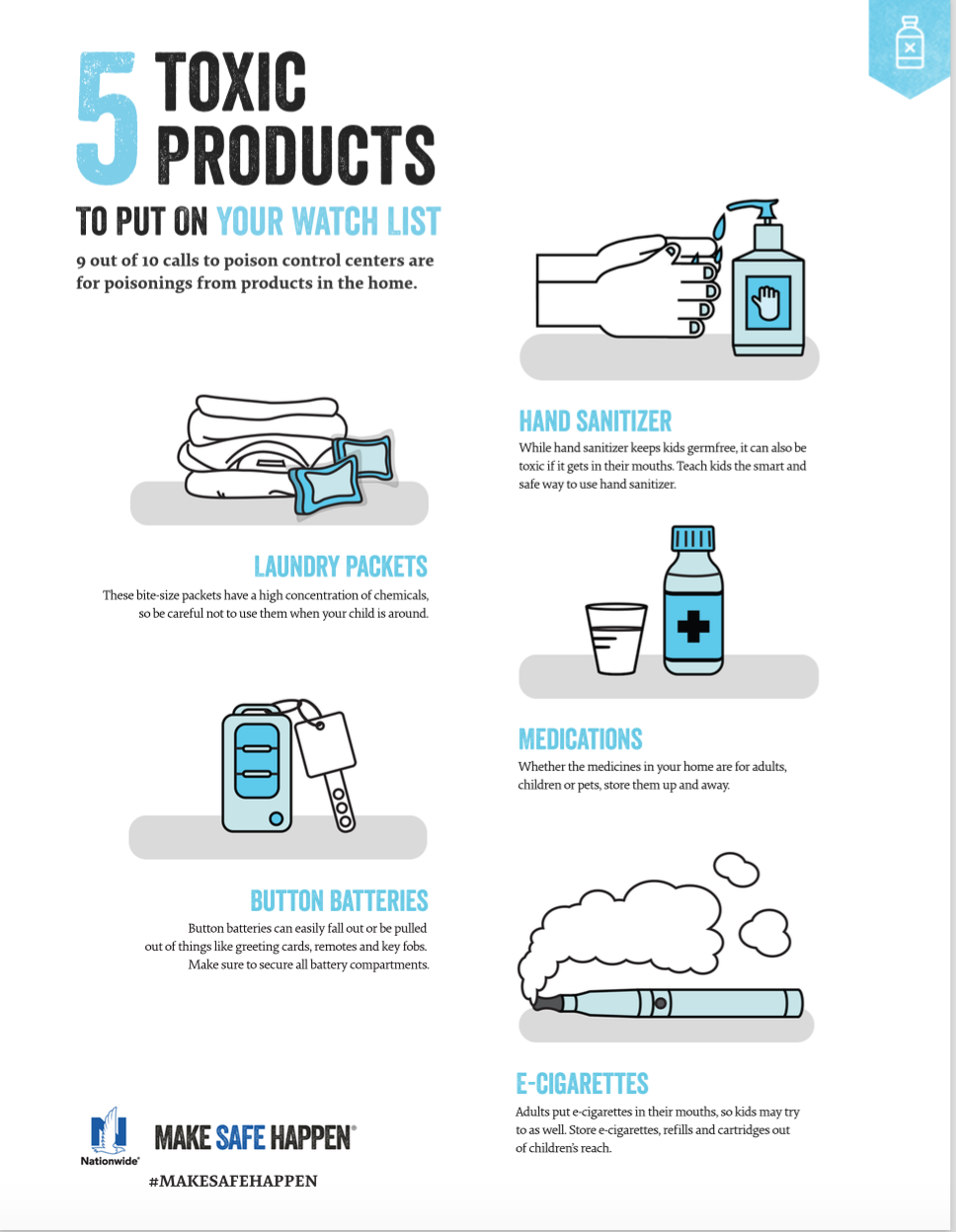 Here's a list of items that we sometimes don't think about either locking or keeping up high where our children can't reach. Print out a copy!
Hand Sanitizer: Hand sanitizers might look/smell like candy but may have dangerous levels of alcohol, presenting risks to children when ingested.
Laundry Packets: Laundry packets are often bite-size, colorful packages that looks like child toys, yet contain high chemical concentrations which are harmful to children when ingested. Risks also include chemical burns to the eyes, skin, nose, and mouth as well.
Button Batteries: Button batteries are often small tablet-shaped objects that are enticing to children to put in their mouths, but can cause electrical/chemical burns when swallowed. These buttons can be found in kids' favorite things like mom or dad's cell phone, singing greeting cards, keys, watches and more.
Medications: Kids often can't tell the difference between medicine and candy. Additionally, those child resistant medicine lids and packaging aren't always 100% child proof. All this can lead to accidental ingestion. It's also good to check purses and drawers. These are common places where medicines are kept and kids have access.
E-Cigarettes: E-cigarettes are filled with flavorful nicotine that smells and tastes sweet, but the levels of nicotine can be harmful to children.
Here are some some amazing resources to always keep in handy! These would be great to either write next to your phone and to save on your cell phones!
Poison Help line: 1-800-222-1222
Nationwide Facebook page: https://www.facebook.com/nationwide
Nationwide Twitter page: https://twitter.com/Nationwide
Nationwide Make Safe Happen – Poison Safety: http://makesafehappen.com/articles/poison-safety
Make Safe Happen App: http://makesafehappen.com/get-the-app
Five Toxic Products To Put On Your Watch List Infographic: http://bit.ly/1WJ55IK
Accidents will happen and kids will be kids, but it's our job to do everything we can to make sure that we avoid one if we truly can! Please, take the time to read this great information over and secure your home for your children!
**Tip: Save this information in your phone, including the picture above. Having these handy can save a life when you need it the most!
What steps do you take or can take in your home for poison prevention?