For our Pirate Theme Poppins Book Nook the girls could not agree on a book, which really is a good thing, because they both have their favorites. Kaidence wanted to do an activity based on the Disney book Peter Pan and Kaelyn wanted to do an activity with Do Pirates Take Baths? by Kathy Tucker. So, I decided that I would let them both do an activity based on each book!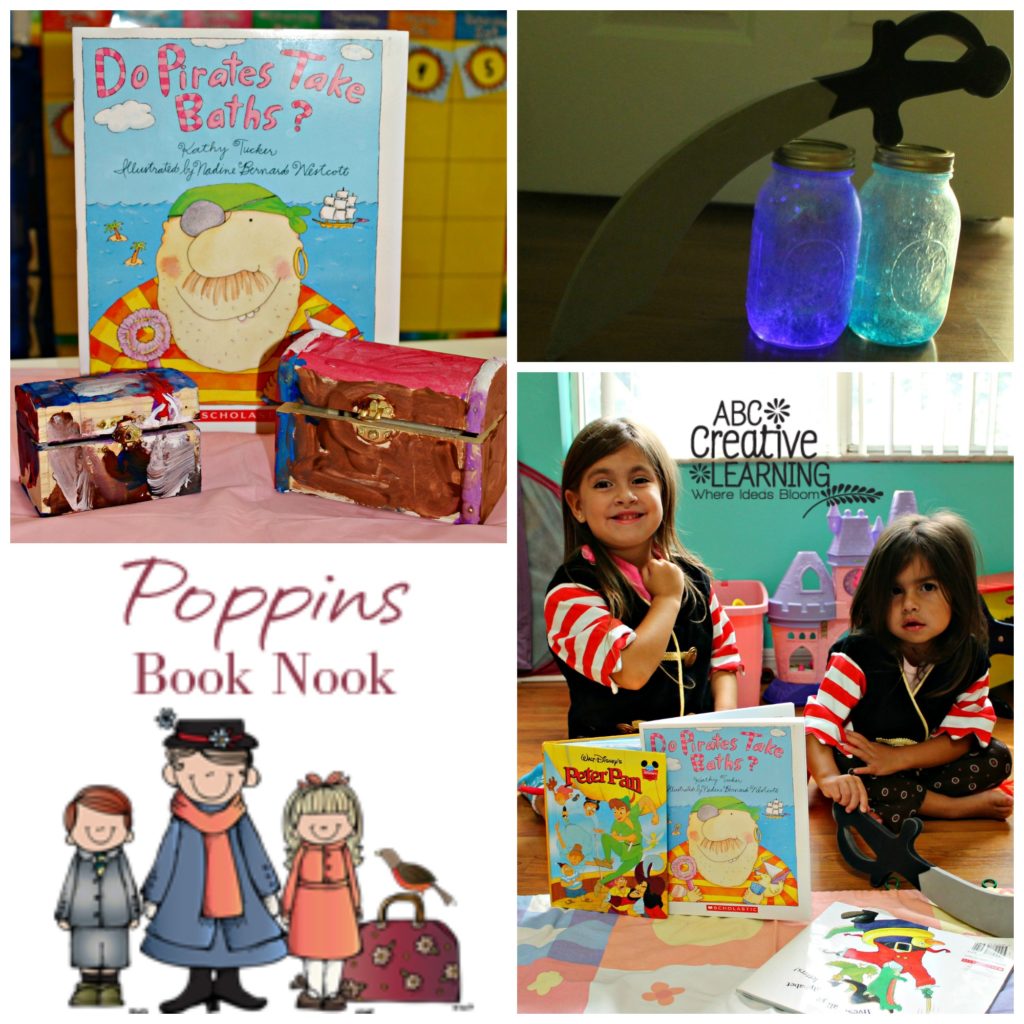 My girls are a big fan of pirates and reading, so we actually have a good full basket with pirate stories! Good thing the girls just picked one book each, if not we would have about 10 different activities for all the books! Hmmm… now that might be an idea! Pirate week book activity, okay might have to come up with something for that! The girls would absolutely love it!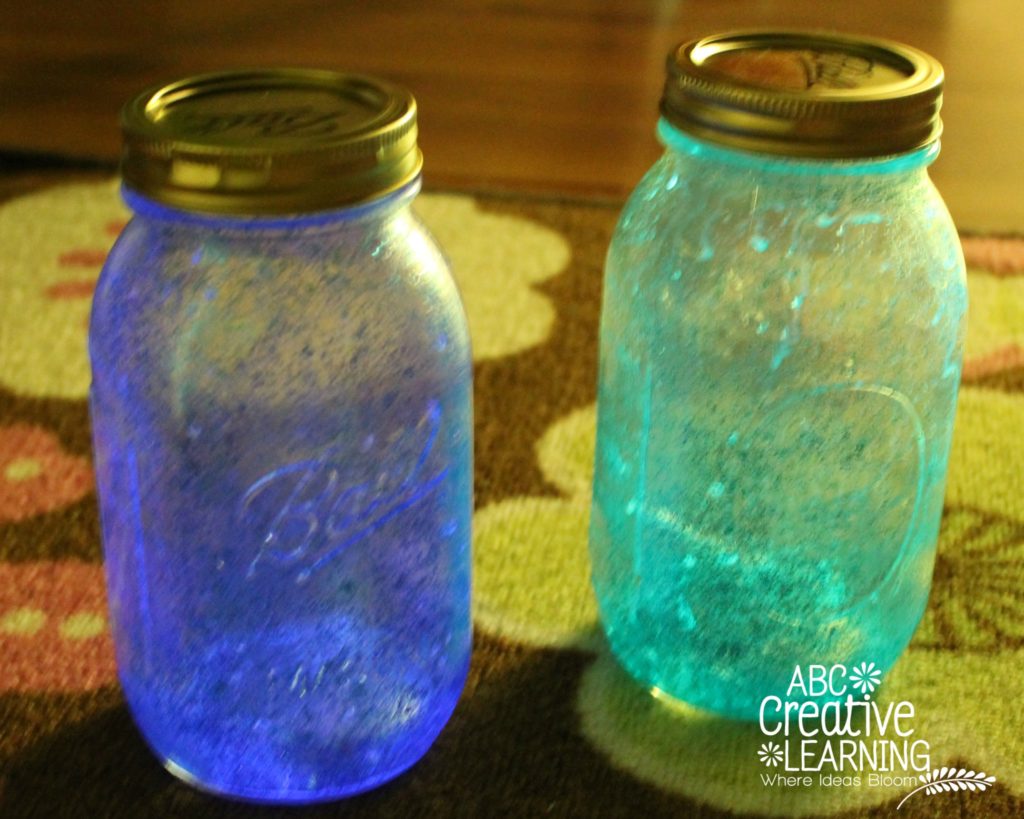 The first activity we did was for the book Peter Pan. The girls have the movie as well and love it, but Kaidence is such a fairy fan! She really wanted to do the Pirate Fairy, but we didn't have the book. We came up with tons of ideas for our activity, but the girls really wanted to pretend to catch fairies, so I had the perfect activity for that! They decided they were catching Tinker Bell and Zarina, which are two fairies which Captain Hook captured in the two books.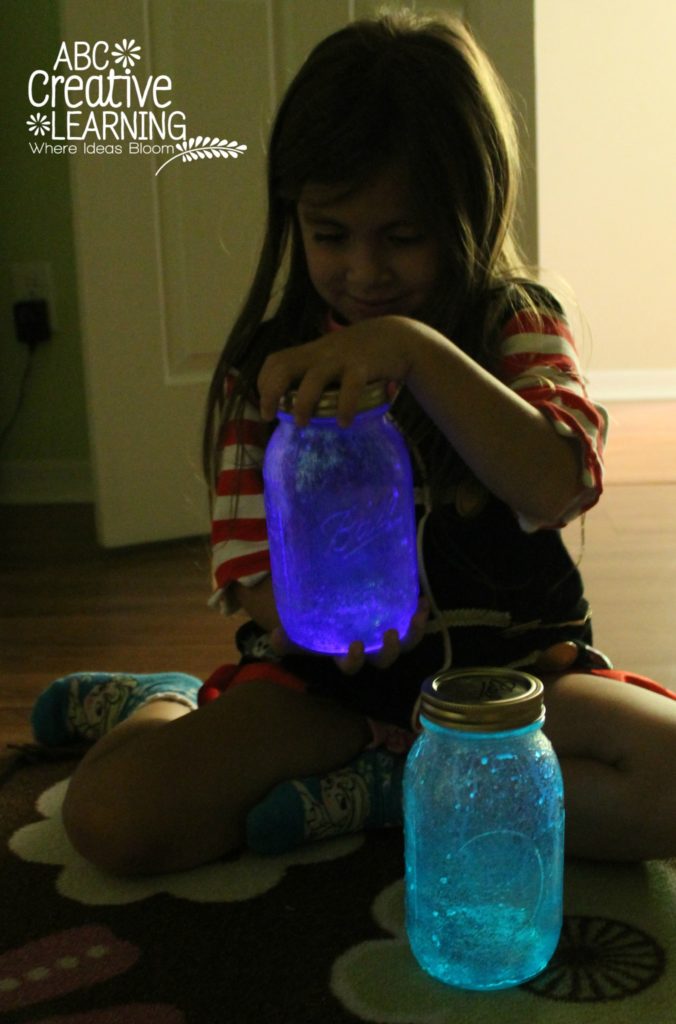 We ended up making these fun, brightly lit, and colorful jars! Now… these aren't ordinary jars. We went fairy hunting, ummm… I mean pirate fairy hunting and ended up capturing Tinkerbell and Zarina! YUP! You heard it here first… fairies are real and we have two in our home! Just take a look at Pirate Kaelyn here with both fairies captured 😉
The girls absolutely had a blast making these fairy jars and even used them as night light in their rooms at night!
Materials Needed:
Mason jar or glass jar with lid
Glow sticks
Glitter
Scissors
Pirates
Creating your captured fairies in a jar:
You can use any size mason jars, but we used the larger ones
Choose your glow stick color, but one end of the glow stick and pour into the jar. Now, be careful… the inside of the glow stick is glass so you definitely want an adult to do this part.
We poured green and silver glitter into the green glow stick jar and then blue and silver glitter into the blue glow stick jar.
Seal lid tightly and shake… shake… shake! Until you have everything mixed together.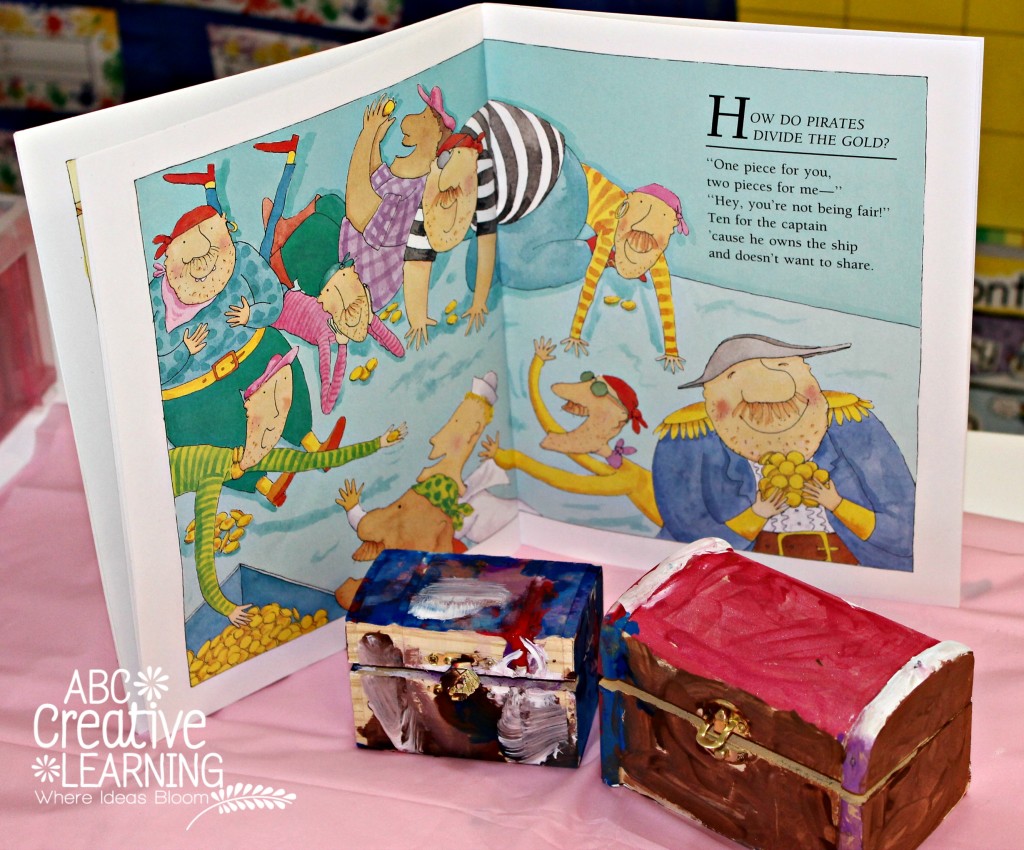 The second book activity we did were Treasure Chests for the book Do Pirates Take Baths? Kaelyn's favorite part of the story is  when the pirates are dividing their gold, so she really wanted to make some treasure chests. I took them to our local crafts store and let them choose their own treasure chests that we took home and decorated.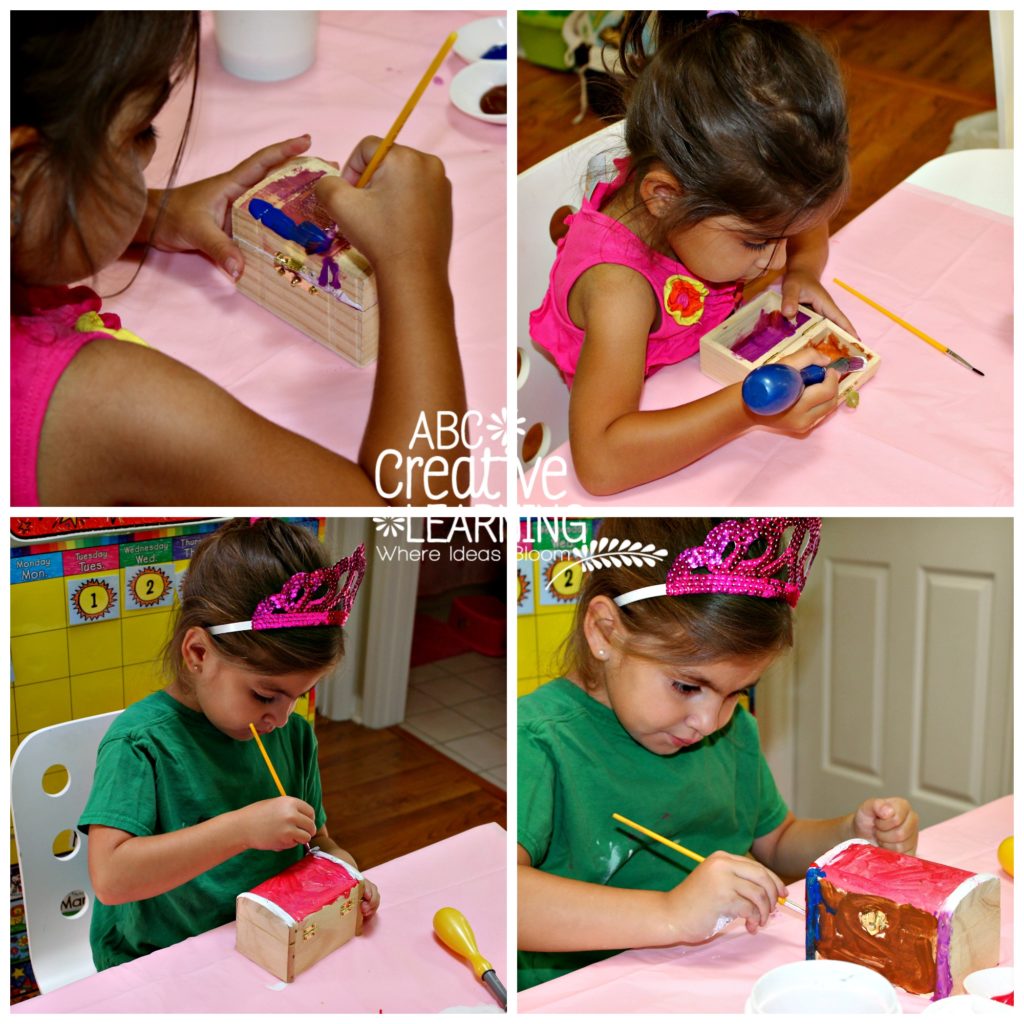 We also added some gold glitter inside to make it look like sparkling gold! The girls went treasure hunting around the house, adding items that they thought to be treasures to only them! The tricky part was that the item had to fit in their chests. Kaelyn chose your mini princess dress up dolls and Kaidence put her pacifier in the chest.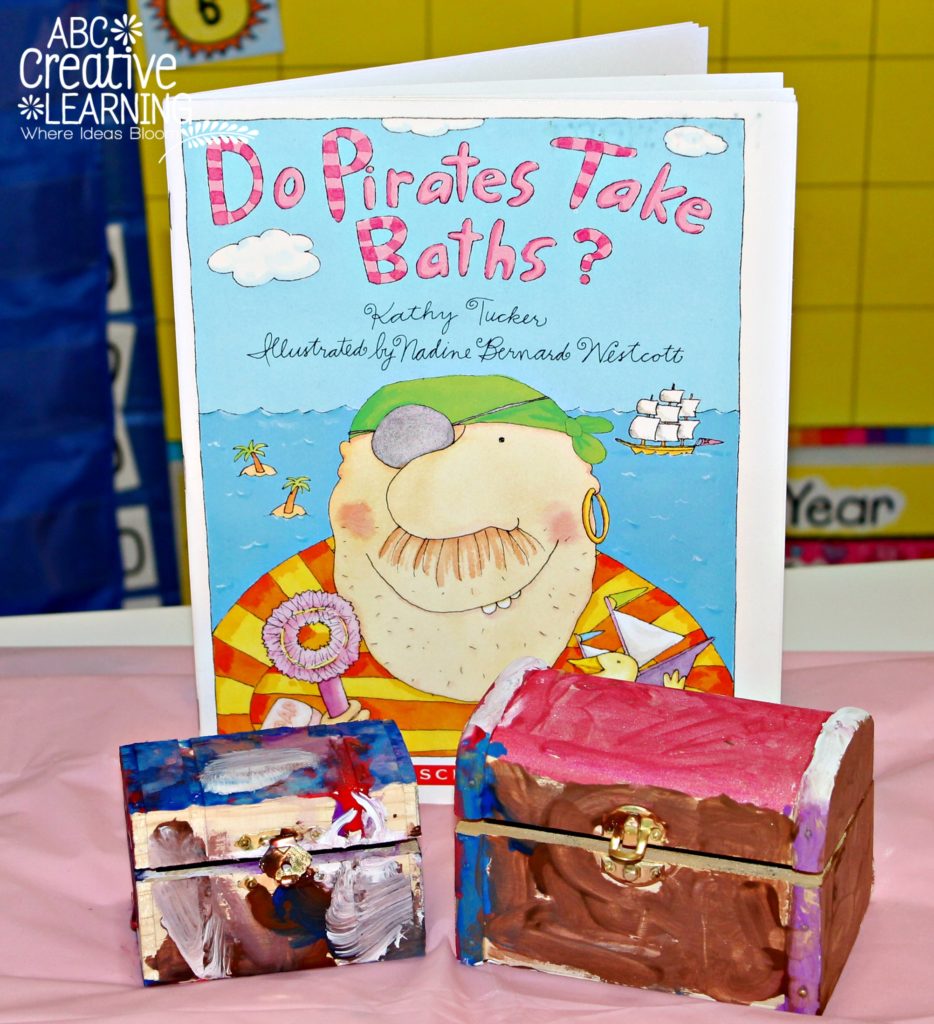 We had tons of fun in the month of July with our Poppins Book Nook Pirate Theme Book Activities! Did you join us? Make sure to link your awesome posts below, check out all of the awesome Co-Hosts activities, and enter the awesome giveaway! Hope to see in the month of August for our What Will I Be When I Grow Up? theme!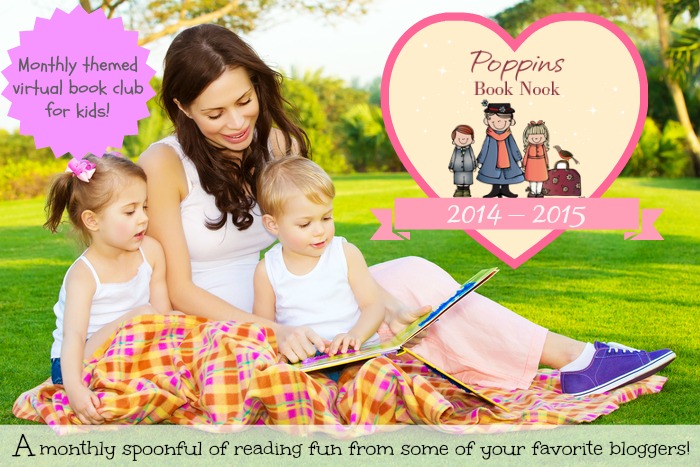 Enchanted Homeschooling Mom ~ 3 Dinosaurs ~ To the Moon and Back ~ Planet Smarty Pants ~ Farm Fresh Adventures ~ Growing in God's Grace ~ Chestnut Grove Academy ~ Learning and Growing the Piwi Way ~ The Usual Mayhem~ Preschool Powol Packets ~ Monsters Ed Homeschool Academy ~ Adventures in Mommydom ~ Teach Beside Me ~ Life with Moore Babies ~ Kathy's Cluttered Mind ~ Are We There Yet? ~ Our Crafts N Things ~ Hopkins Homeschool ~ ABC Creative Learning ~ Joy Focused Learning ~ P is for Preschooler ~ Laugh and Learn ~ A Mommy's Adventures ~ Inspiring 2 New Hampshire Children ~ World for Learning ~ Ever After in the Woods ~ Golden Grasses ~ A glimpse of our life ~ Journey to Excellence ~ Happy Little Homemaker ~ Little Homeschool Blessings ~ Raventhreads ~ Tots and Me ~ As We Walk Along The Road ~ Stir the Wonder ~ For This Season ~ Where Imagination Grows ~ Lextin Academy ~ The Canadian Homeschooler ~ School Time Snippets ~ Peakle Pie ~ A Moment in our World ~ Every Bed of Roses ~ Finchnwren ~ At Home Where Life Happens ~ The Library Adventure ~ Embracing Destiny ~ Day by Day in our World ~ Our Homeschool Studio ~ A "Peace" of Mind ~ Thou Shall Not Whine ~ SAHM I am ~ eLeMeNo-P Kids ~ Simple Living Mama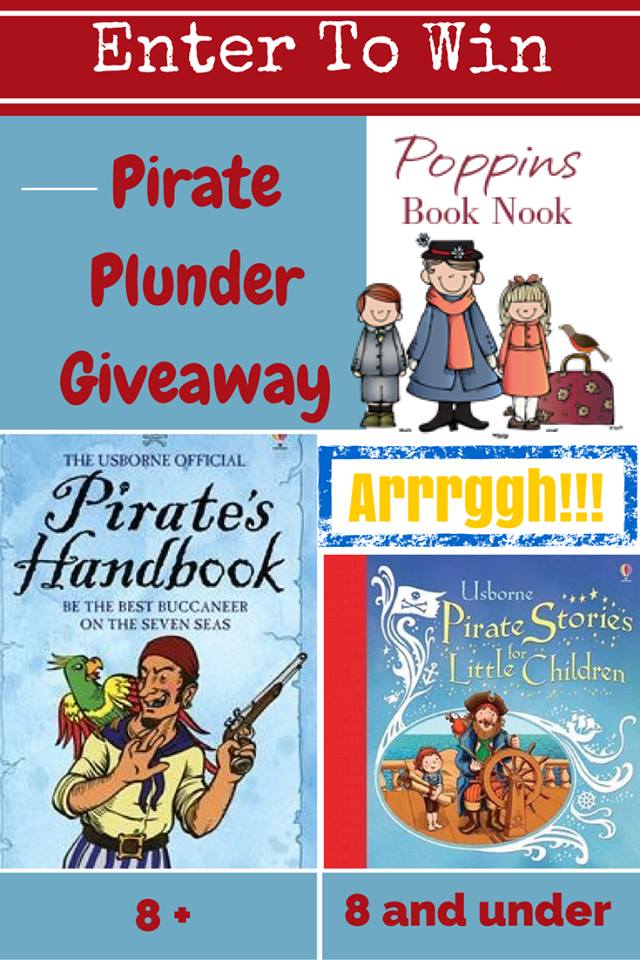 Poppins Book Nook Pirate Plunder Giveaway!
Every month the Poppins Book Nook group will be offering readers a chance to win a brand new storybook or product that ties in with our theme for the month. This month weare partnering with Jennifer Altman an Usborne consultant to bring one lucky entrant a chance to win a copy of either the Pirate's Handbook (recommended for 8 years old and up) or Pirate Stories for Little Children (recommended for ages under 8 years old)books. One of these books is sure to add to your pirate fun!
The winner will be randomly picked by Rafflecopter and will be notified by Enchanted Homeschooling Mom via email and posted here. Entrants must be 18 years or older and reside within the United States. This giveaway is in no way associated with Facebook,Twitter, Pinterest or any other entity unless otherwise specified. Prizes will be issued by Jennifer Altman who is an Usborne consultant. By entering this giveaway you are also acknowledging that you have read and agree to all of the Rafflecopter terms & conditions as well as Enchanted Homeschooling Mom's disclosures found here {http://enchantedhomeschoolingmom.org/disclosures/}. Just enter the Rafflecopter below to win: