This post may contain affiliate links.
I received a pair of Flip Flops by Mottos with Charms to complete my review. No other compensation was provided. All opinions are my own!
As the holidays approach parents and grandparents are trying to figure out what to put underneath the Christmas tree that is fun, different, and kids will enjoy and the Kids Flip Flops by Mottos is exactly that! I personally love items that are created by families to encourage children to be themselves and show their individuality, which brings us our next Holiday Gift Guide item!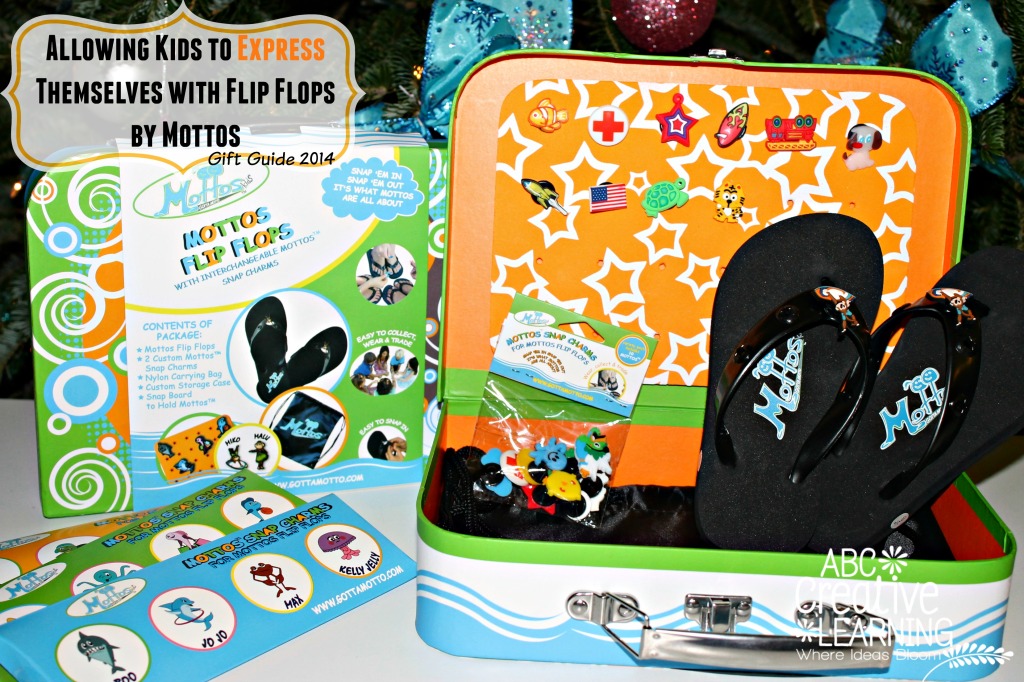 Allowing Kids to Express Themselves with Flip Flops by Mottos is a fun concept that will keep your kiddos busy and entertained while looking stylish! Each set of kids flip flops comes with a retro style lunch-box, 2 charms to snap into the flip flops and a handy nap sack. It was like Christmas when my girls opened up their lunch boxes! You can also purchase tons of different flip flop charms according to your child's personality, hobby's, favorite animals, and sports!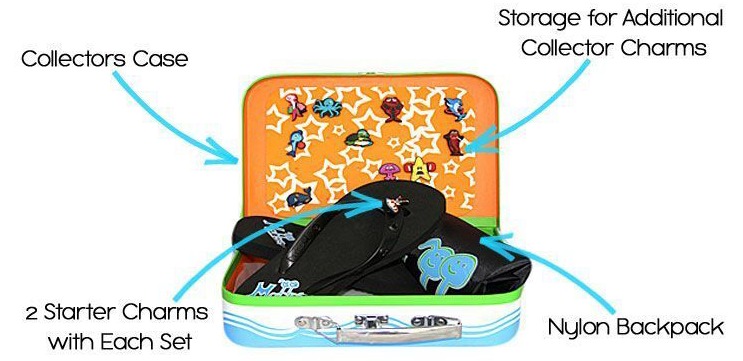 My girls loved changing the charms on their flip flops and exchanging charms with each other. They have been carrying their lunchboxes with their charms and flip flops in them for days! Every once in a while I see them on the floor bartering for charms, it's too funny!
I love how you can change the flip flops charms everyday to match the outfit the girls are wearing, so not two flip flops are the same. Plus, living in Florida this is a big plus! We live in flip flops most of the year, even when the weather is cool outside.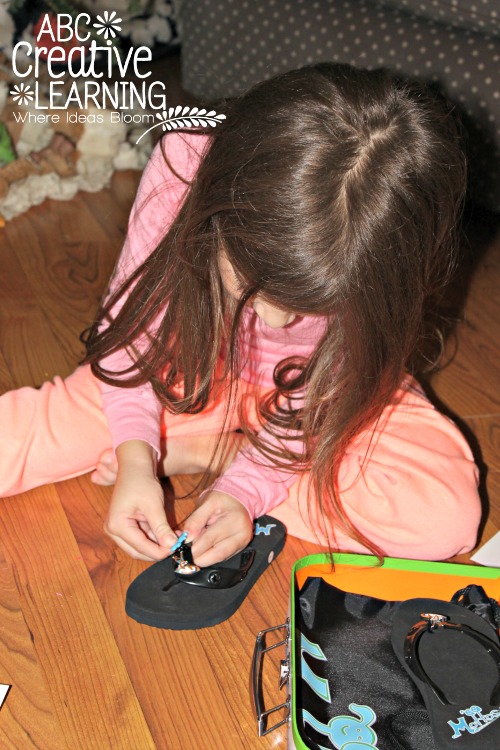 I also love that kids can work on fine motor skills while attaching and detaching their charms on the flip flops. My oldest had an easy enough time attaching the charms once I showed her how to do it, but my youngest had a little bit more difficulty to do so. Which means that the more she works on it the easier it will become to her. This mama is all about anything that can be fun, while working on fine motor skills!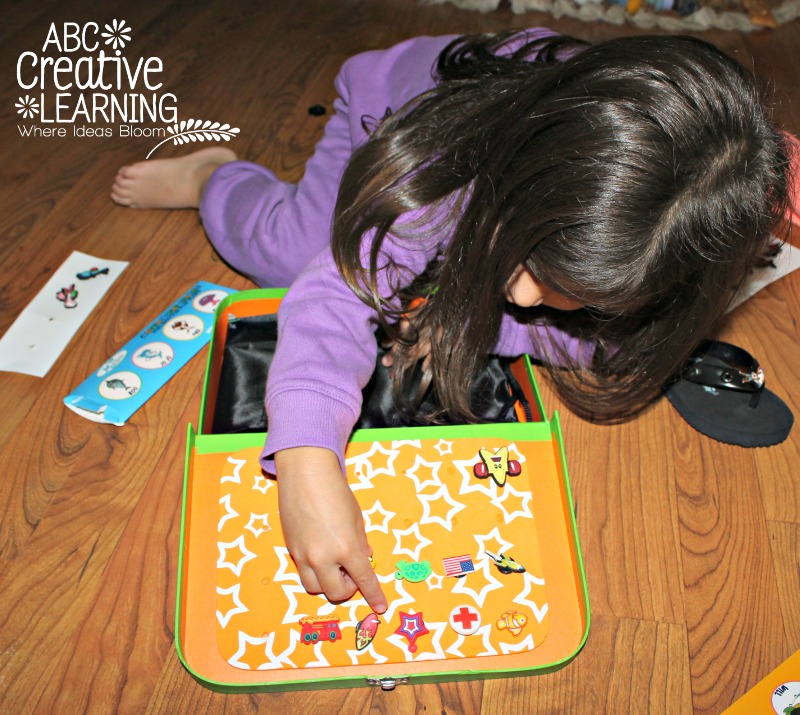 Exclusive benefits with Flip Flops by Mottos:
• Your kids will want to collect all of the one-of-a-kind trademarked and patent pending snap-in, snap-out Mottos™ charms.
• Easy for kids to remove and exchange but they stay securely in the slipper.
• Collect your interchangeable and expressive Mottos™ charms to express the unique you!
• Your kids can trade their Mottos™ as they interact with their friends and caregivers about the characters and their own emotions.
• Mottos focus is to encourage kids to express themselves in positive ways through the use of our own custom designed "emoticon" characters.
• Kids use the Mottos™ charms to decorate their flip flops based on their moods and feelings each day.
• Each character is special in their own way and each encourages kids to embrace their own uniqueness.
• It's like having a new pair of slippers every day!
Motto GUARANTEED – The only popular kid's flip flops that are backed by a full 90-day, no hassle, free replacement guarantee. At Mottos we are committed to kids! And Mottos reputation rests on our steadfast pursuit of this policy.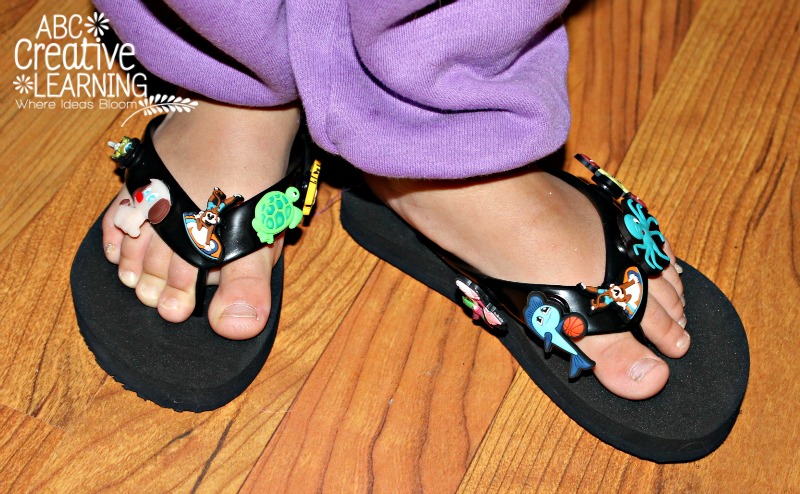 My girls looked so cute in their Mottos Flip Flops! Just make sure to order one size up for a comfortable fit!
I'm so excited to be able to give one of you the chance to win a pair of Flip Flops by Mottos! Just enter the rafflecopter below, Goodluck!
The winner will be posted here at the end of the giveaway. ABC Creative Learning is not responsible for prize fulfillment.
a Rafflecopter giveaway

If you are looking for something fun and different for a birthday present or Christmas, then I highly recommend the Flip Flops and Charms by Mottos! It makes such a great present for kids! Shop here!
Check out the snapping action below!

Make sure to visit Mottos website, on Facebook, and twitter @Mottosflipflops to meet all the amazing characters!
Which charms do you think your child would like the best?