I participated in an Influencer Activation on behalf of Influence Central for Urbini. I received an Urbini stroller to facilitate my review as well as thank me for my participation.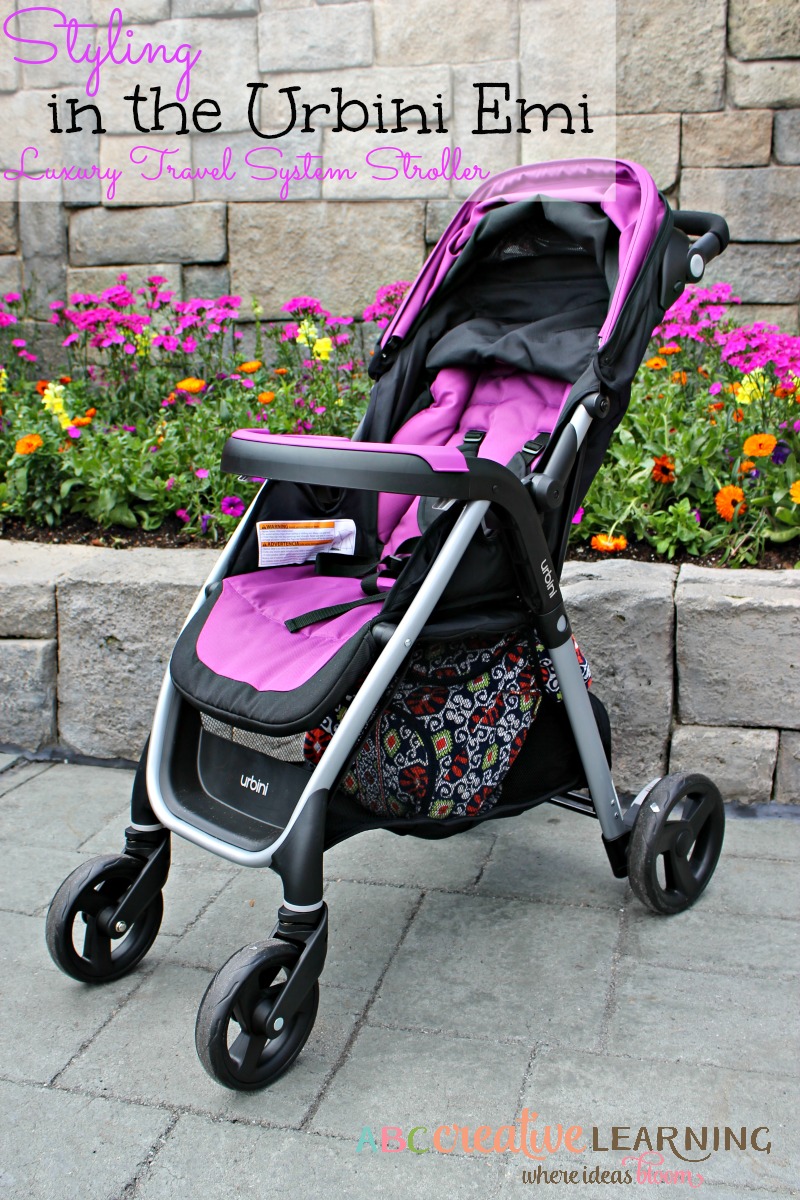 Already owning the Urbini Hummingbird Lightweight Stroller I was very excited to try out the Urbini Emi Luxury Stroller and to check out all the new features it had. We have been traveling a lot and visiting our weekly theme parks, so we really need a stroller that will hold its own and can not only keep our little one comfortable, but also safely seated in her stroller, while having space for our daily items. Especially when visiting the theme parks, because we carry extra items such as snacks, waters, and extra change of clothes that we don't on short trips to the store.
I have to say that the Urbini Emi Luxury Stroller did not disappoint and from the moment I took it out of its box I knew this was going to be our new favorite item for theme park adventures and traveling.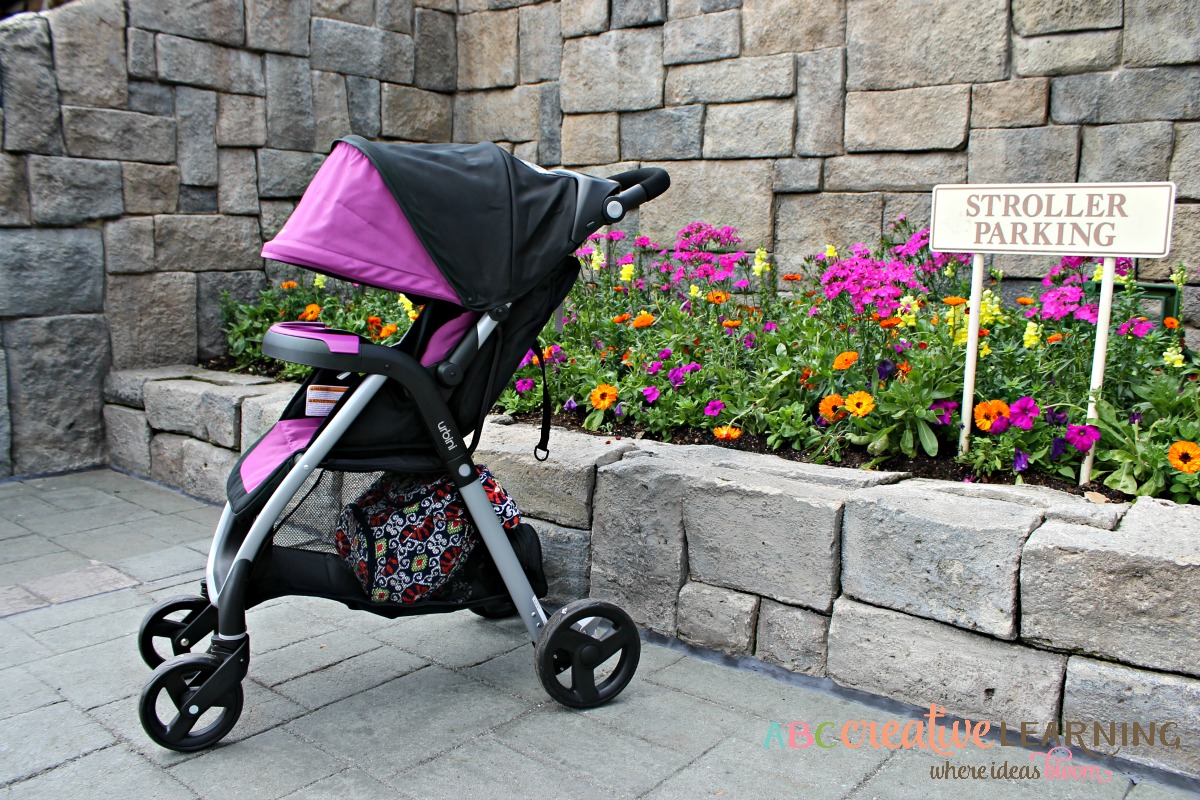 After Kaidence had a chance to ride on the Urbini Emi Stroller she told me that her two favorite things about it was that it's purple (her favorite color), the big canopy (because she does not like the sun in her face), and the tray (she likes having snacks). Which I do have to agree with her, those are some of my favorite features as well.
The foldable and detachable tray can be very convenient for snacks and holding items. Especially important items such as a delicious powered funnel cake! On a regular day we would have to stop and let Kaidence eat her treat, but with the Urbini Emi Travel System we went on walking while she ate.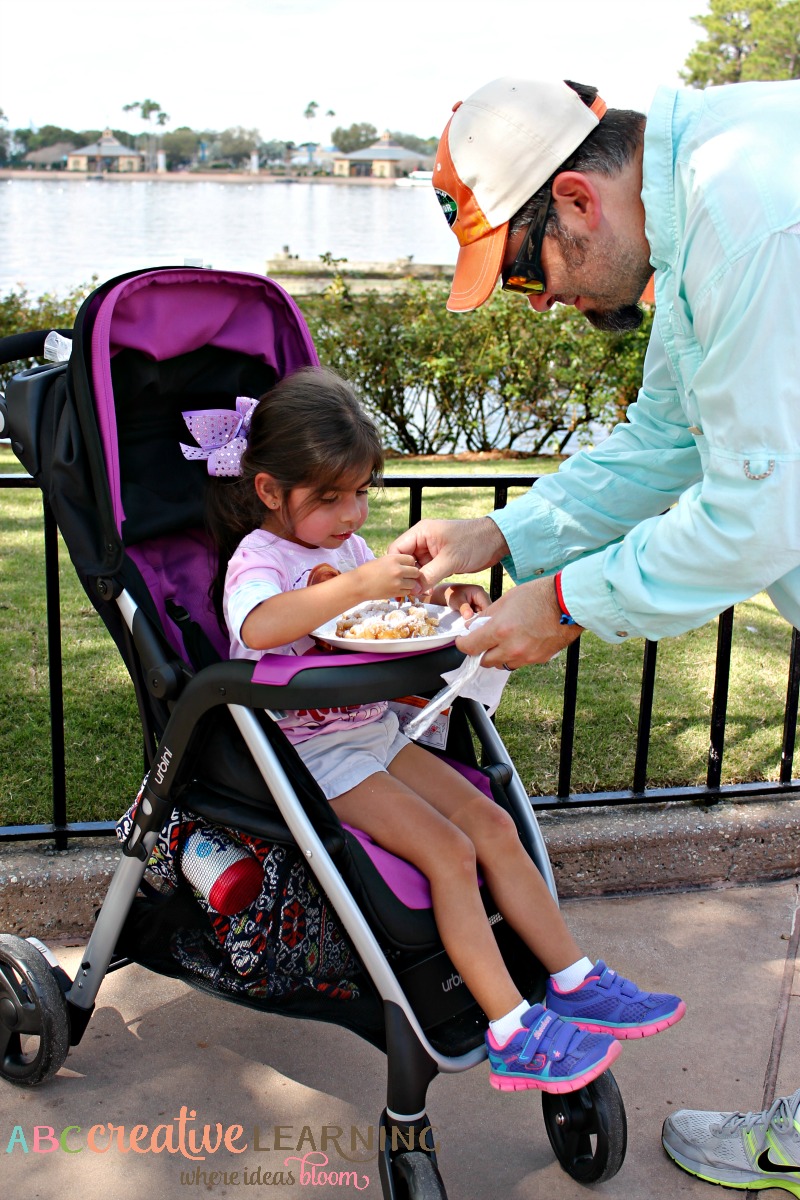 Check out some of the Urbini Emi Luxury Travel System features below:
5 Point Safety Harness
Easy folding
Large storage basket with an extra zippered compartment (perfect for snacks or wipes/diapers for easy access)
Fully reclined seats with an oversized canopy
Adjustable handles for mom and dad with snack tray attached
Easy foldable and detachable snack tray
Front swivel wheels with front and rear suspension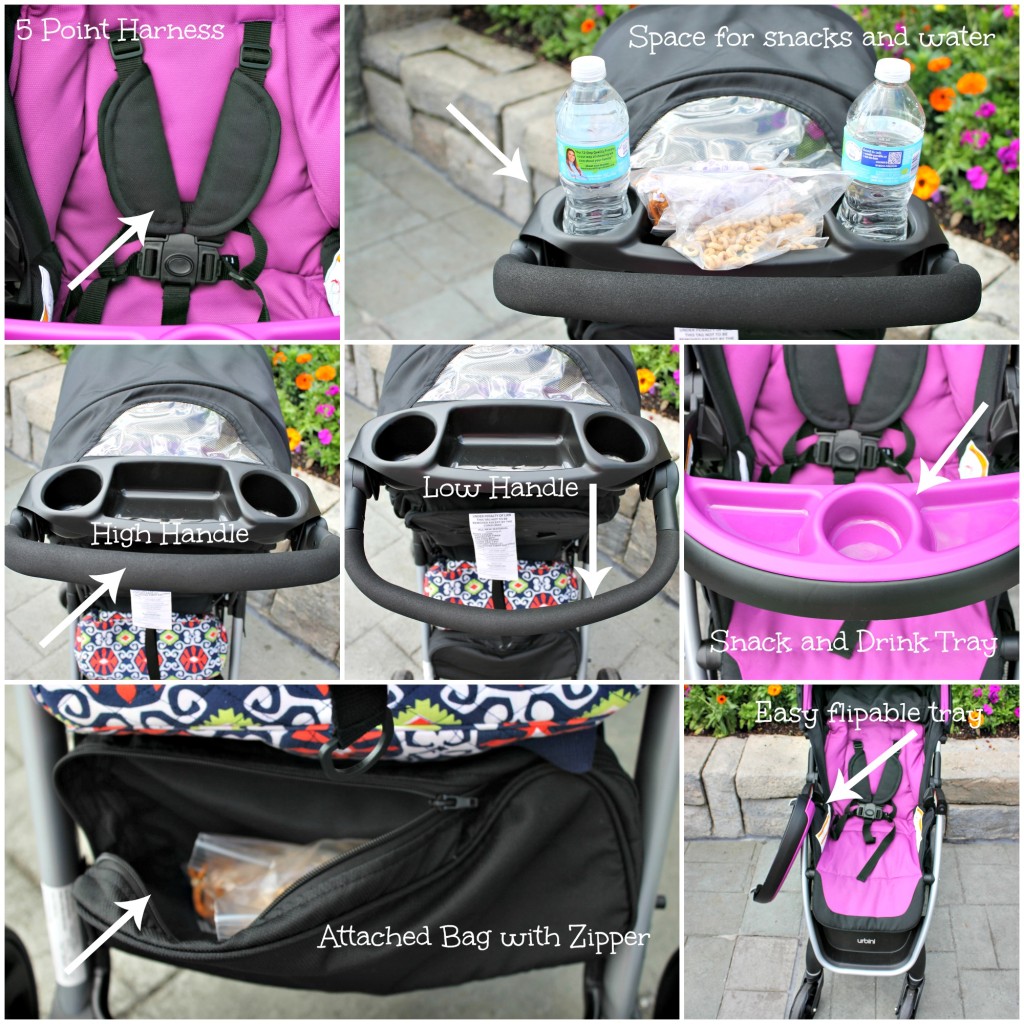 My favorite features of the Urbini Emi has to be that it's easy to fold, especially when you have two little girls running around and only one hand to do it. I also loved the snack tray and that it's detachable for easy cleaning, the snack tray on top that it was perfect for my iPhone 6 plus and our waters, and the large basket with zipped up attached bag.
I absolutely LOVED the attached bag with zipper because I added a bunch of snacks for the girls and they are able to have easy access to them. I don't have to pull out the back pack or carry an extra snack bag.
Overall both the hubby and I were very pleased with the Urbini Emi Stroller.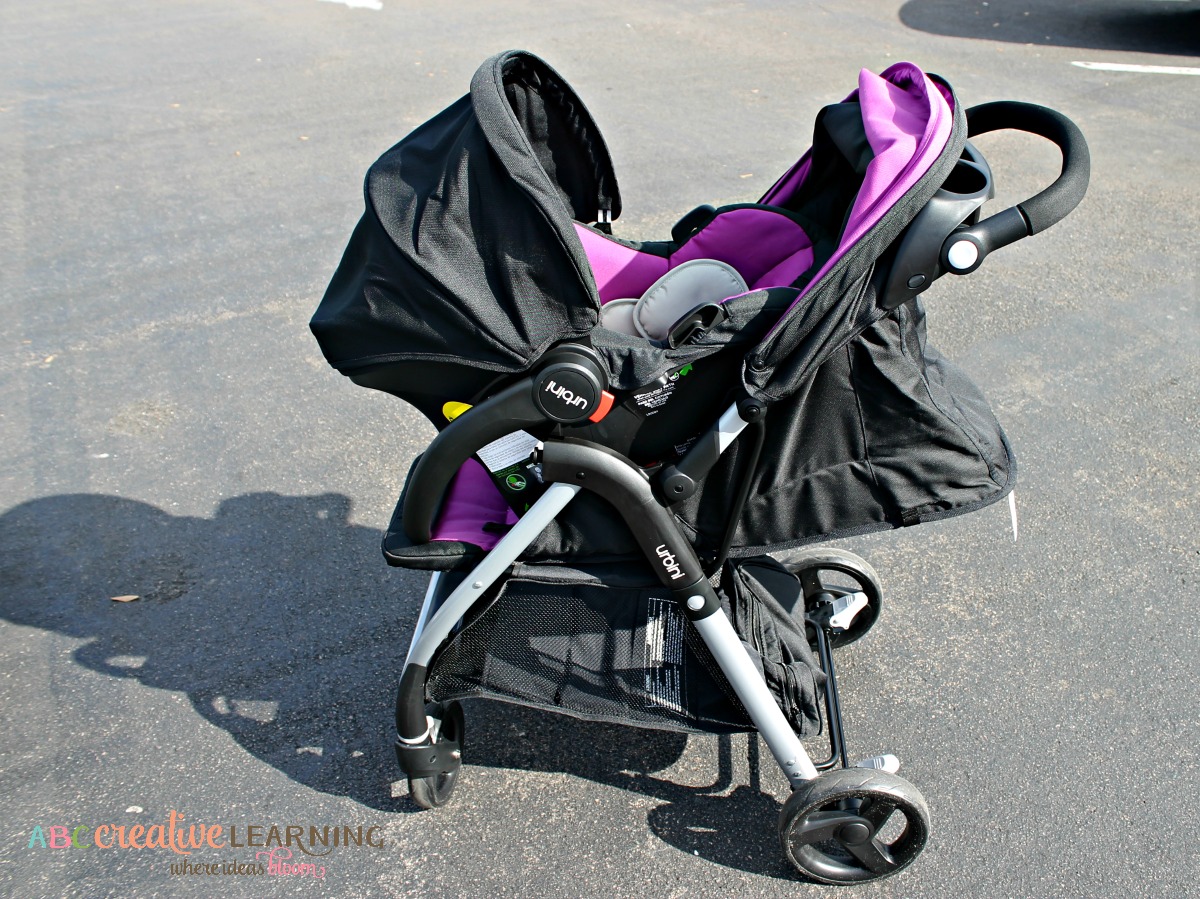 Now, lets not forget that the Urbini Emi Travel System is a stroller that you can purchase from the moment your child is in your arms!
Some of the amazing features of the Lightweight Urbini Sonti Infant Car Seat is that it was designed for babies 4-35 lbs. and up to 32 inches in length. Comes LATCH equipped with a 5-point safety harness and crash and side impact protection.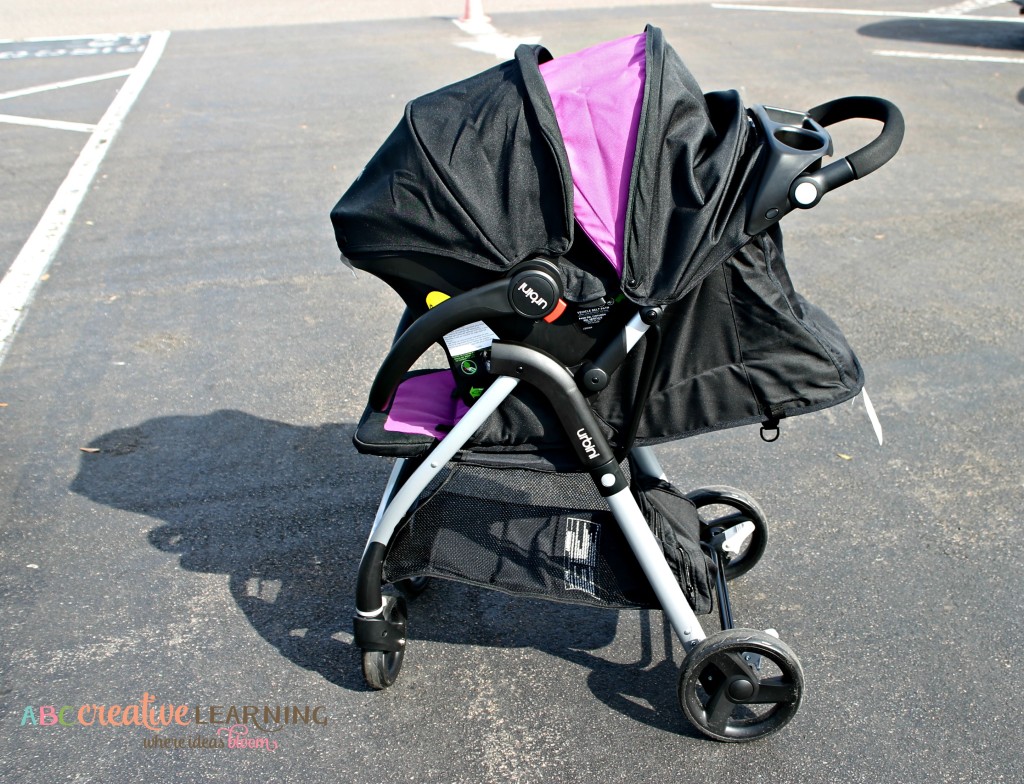 Check out how awesome that oversize canopy is! I would have loved this when my girls were infant to keep the sun off them and to keep hands out when they were born.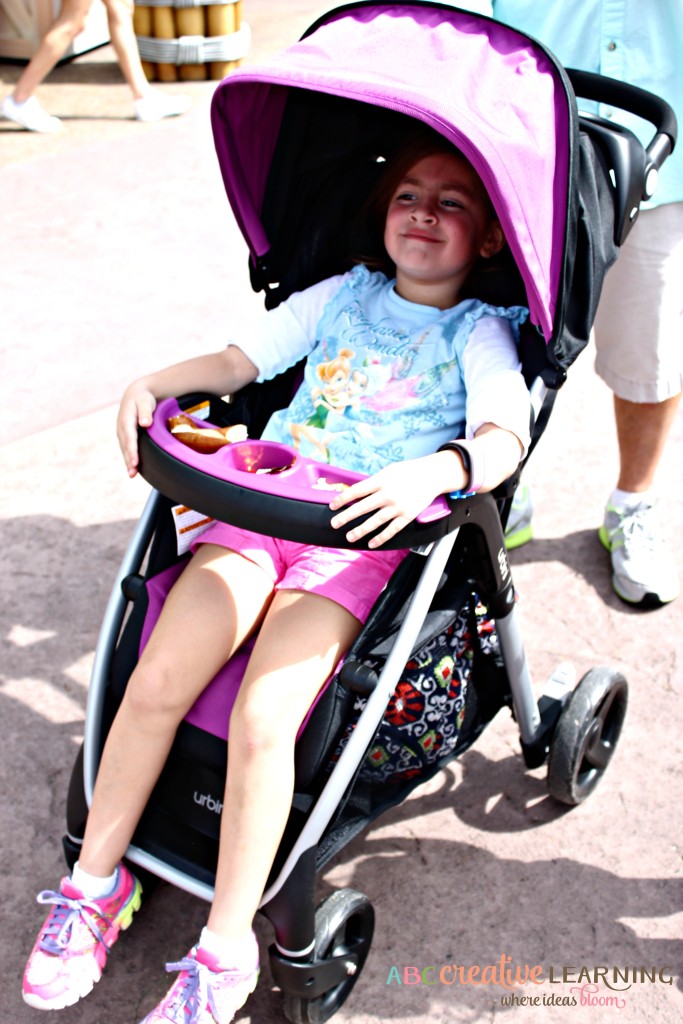 Even our five year old had a chance to relax while daddy pushed her around!
Make sure to visit Urbini on their website, Facebook, Twitter, Instagram, and Pinterest.
Urbini products are sold exclusively at WalMart stores and WalMart.com. The Urbini Emi Luxury Travel System retails for $249.98.
What is your favorite feature of the new Urbini Emi Luxury Travel System?