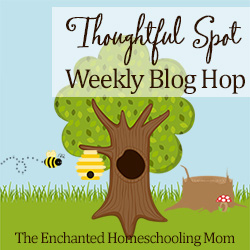 I am so excited to be Co-Hosting A Thoughtful Spot Weekly Blog Hop with Jill from Enchanted Homeschooling Mom! I think with our love of Disney this will be a fun time! Definitely going to have to do some more Disney related themes to share with all of you as well. This weekend was very special because we got to surprise both of our little girls with tickets to see Princess and Heroes Disney on Ice! It was a an amazing show and we had some much needed family time! How do you like to spend time with your family and friends?
A Thoughtful Spot is a place for you to share your amazing family friendly posts, arts & crafts, educational ideas, recipes, and anything fun you can think of! This Blog Hop is inspired by the one and only Winnie the Pooh character in the classic A.A. Milne children storybooks.
We do hope that you will visit our neck of the magical woods every week and take a quick rest by the tree on the tree stump while you read everyone's blog posts that they have so thoughtfully shared with all of us. The posts are presented below in no particular order except that the number one bee always gets here first because it is powered by the most "clicks."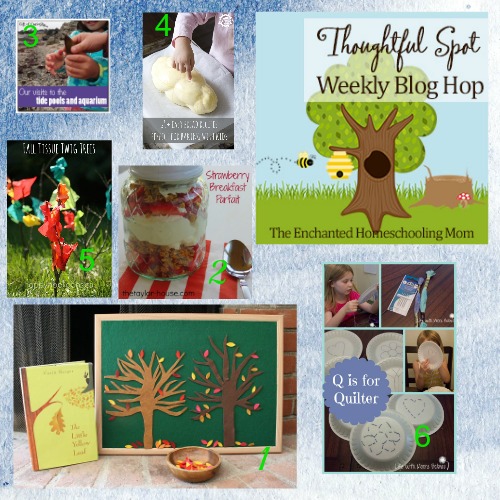 Invitation to Play: Fall Felt Trees & Leaves
by: Buggy and Buddy

Breakfast Strawberry Parfait Recipe
by: the Taylor house

Our visits to the tide pools and aquarium
by: Gift of Curiosity

Making Bread with Kids – 25 Easy Bread Recipes
by: kids activities Blog

Fall Colors – Tissue Twig Trees
by: happy hooligans

by: Life with Moore Babies
* Also make sure to stop by her page Enchanted Homeschooling Mom for a chance to win a copy of The Many Adventures of Winnie the Pooh (hardcover) storybook! Click here to go straight to the Rafflecopter page.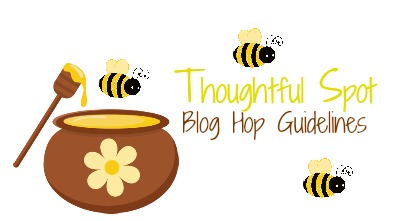 Welcome to the weekly Thoughtful Spot blog hop! Please make sure to link directly to your post (not your main blog page) so we can all find the thoughtful post you want to share. Each week I will select someone's blog link up that my readers "clicked" with the most and share some of my favorite posts that were linked up both in this blog hop! Please be thoughtful and if you link up visit at least 2 other bloggers who have linked up this week. Thank you!
Please make sure to display the Thoughtful Spot Weekly Blog Hop button on your blog post, sidebar or tabs. Were you featured on my Thoughtful Spot Weekly Blog Hop? Congratulations! Grab a featured button to proudly display on your blog or website.
A thoughtful spot to gather every week to share your family friendly posts, crafts, educational ideas, recipes, and more! Inspired by the philosophy of the Winnie the Pooh character in the classic A.A. Milne storybooks for children.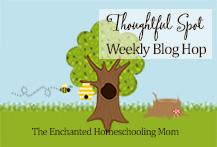 Here is our Pinterest Board so that we can help spread the word on the blog's that have had featured posts on my Thoughtful Spot Weekly Blog Hop. Make sure to stop by and check it out HERE.
Please link up your "thoughtful spot" blog posts below:

*By linking up to the Thoughtful Spot Weekly Blog Hop, you are granting Enchanted Homeschooling Mom permission to use and/or re-post photographs from your blog or website post that you linked up to this blog hop for purpose of use for this blog hop.
Clip art used in this blog hop by:
http://www.etsy.com/au/shop/blackleafdesign
http://www.etsy.com/au/shop/pixelpaperprints
Thank you for stopping by, linking up, and for visiting these amazing blogs! See you next week!

SaveSave