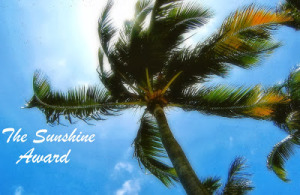 I was so excited this morning to receive a message from Kimberly over at Natural Beach Living nominating ABC Creative Learning for the Sunshine Award!  Very Cool!  Thank you so much Kimberly, this made my day!
So here are the rules for the award:
1- Acknowledge the blogger who nominated you. THANK YOU Kimberly from Natural Beach Living
2- Share 11 random facts about yourself.
3-Answer 11 question the nominating blogger has created for you.
4- List 11 bloggers who you believe deserve to be nominated and recognized
5- Post 11 questions for the bloggers you nominate to answer and let all of those bloggers know that you nominated them for The Sunshine Award. (You cannot nominate the blogger that nominated you).
11 Random Facts About Me:
I was born in Puerto Rico
I am fluent in both English and Spanish
Hubby and I have been together for 13 years
I love reading and writing.
My girls and my hubby are my world!!!
I love to travel, although we don't get to do it much!  We love taking staycations!
I planned our honeymoon around my birthday and St. Patrick's Day!  I wanted to make sure that we were in Ireland for St. Patty's celebration.  We also traveled to London and Italy for our honeymoon!
I am a control freak!!  (There honey, I said it 🙂 )
I love being organized but for some reason I can't seem to get organized!!
At one point I owned an Online Educational Toy Company, which then turned into a Children's Boutique!
If I don't know the  answer or can't figure out how to do something I google it or use YouTube for answers.  All the time 🙂
11 Questions to Answer Created by the Nominating Blogger:
How long have you been blogging?  I have been blogging since I opened up my first company, but I have only been blogging seriously now for about 2 months and I LOVE it!
If you had an hour to do whatever you wanted what would it be?  I would probably sit down with a cup of coffee (morning) or a tasty beverage (evening) and enjoy a wonderful book!  Ahhh!  I can hear the peace and quite now 🙂
Coffee or Tea?  Definitely coffee
If you could eat lunch with one person who would it be?  Robin Williams, how interesting would that be?
How would you describe your teaching style?  I'm definitely hands on!  I will sit with my daughter and play matching games and pattern games together!  I realized that she prefers for me to be involved as much as possible, rather than letting her complete a task on her own.
Do you have any pets, if so what do you have?  Yes, we have a Golden Retriever and a Yorkshire Terrier
What is your favorite Disney movie?  Oh, I have to pick just one??  I would have to say Brave!
What is your favorite book?  Romeo & Juliet
What is your favorite season, and why?  Fall!  Pumpkin patches, hay rides, candy corn, should I say more?
What is your favorite thing to eat?  Anything with cheese 😉
If you were stranded on a deserted Island what five things would you bring? Oh, this one is a tuffy!  Hmmm… I would have to say a picture of my husband with the girls, my iPad so that I can read my books, my planner so that I can write everything I will do when I get back home, a hammock, and a cooler full of water bottles (can't get dehydrated you know).
My Nominations are:
Enchanted Homeschooling Mom
This Reading Mama
Sugar Bee Crafts
My Questions:
Who or what was your inspiration behind your blog?
If you could live anywhere, where would it be?
If you could meet one famous person who would it be?
How long have you been blogging?
Who is your favorite author?
If you could switch places with anyone in the world for 24 hours, who would it be?
Disney or Universal Studios?
If you were stranded on a deserted Island what five things would you bring? ( I had to add this one as well 🙂 )
What's in your CD  player in your car?
The one show you cannot miss weekly is…
Have you traveled outside of the United States, if yes where?
That's it!!  Thank you again Kimberly from Natural Beach Living for the nomination!  This was very fun and I can't wait to read my nominations answers 🙂