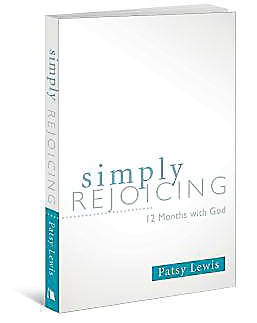 For the past few months I have been reading Simply Rejoicing 12 Months with God Bible study by Patsy Lewis.  As a mommy blogger and homeschooler I am always looking for books that will uplift me and really keep me in check.  Sometimes life gets so busy that I don't realize just how much I'm  letting life slip on by.  Personally for myself I sometimes need something to keep me accountable for my actions and somewhere  I can write how my day is going or how I'm feeling.  Letting me reflect on those emotions later on.
I really enjoyed on how the book breaks up each month with two different focal points for reflection.  Allowing ample time to absorb the information, read, and reflect later on.  Every month begins with a scripture from the Bible, a topic, and a goal to focus on.
Some of the Monthly Focal Points are:
Awaken with Prayer
Turn Your Focus toward Jesus
Fast with eyes open
Follow the master
Witness the Miracle
Tell your story
Open your heart and home
Sing for joy
Throughout each month there are areas in which the author Patsy Lewis allows you to either answer questions or offers a specific guided activity.  There are also areas for you to write down monthly reflections for each topic.
Throughout the book Patsy Lewis uses biblical examples and personal stories to guide the reader throughout each months work and reflection.
I really enjoyed how I could easily sit down a few times a month to do my study, read, and then be able to look back at what I wrote and see if I followed through.  My favorite part was how everything was divided in monthly sections, because with my busy schedule homeschooling, blogging, running errands, and daily life it what the perfect amount of time for me to reflect.
Check out Simply Rejoicing on Amazon.com
Have you read Simply Rejoicing?