When it comes to television shows I can get pretty obsessed. I mean I binged all 7 seasons of Scandal in just a few weeks. With so many new shows coming out I'm going to help you out by sharing Reasons To Watch Deception a new show coming to ABC. Plus Interviews with creator/ executive producer Chris Fedak and magician/co-producer David Kwong. Thank you, Disney, for allowing me to attend an early screening and Deception interviews. All opinions are my own.
Reasons To Watch Deception ABC New Show | Plus Interviews
If you love watching drama shows filled with action, bad guys, and magic then Deception is the perfect show for you. I'm all about shows that lure me into the characters story, their faults, and how they beat the odds. Deception is no exception, other than the fact magic is involved.
About Deception
When his career is ruined by scandal, superstar magician Cameron Black has only one place to turn to practice his art of deception, influence, and illusion – the FBI. Using every trick in the book and inventing new ones, he will help the government catch the world's most elusive criminals while staging the biggest illusions of his career. The series is from writer/executive producer Chris Fedak ("Chuck") and executive producers Greg Berlanti, Martin Gero and Sarah Schechter. Illusionist David Kwong ("Now You See Me") will co-produce.
Great For Families With Older Kids
Deception is a drama filled with suspense, action, and of course bad guys. Although the show is created for later in the evening I still believe that it's perfect for a family with older kids. You won't be seeing me watching the show with my eight and six years old anytime soon, but it will be our go-to Sunday show as a couple. I'm sure your teen who loves action shows will enjoy every second of it, especially if they are into magic!
Using Magic To Fight Crime
Deception is not your regular crime-fighting show. Instead, the new ABC show is taking a twist in solving a crime, with a bit of humor in between. Main character Cameron Black is a well-known magician who begins to help the FBI solve a crime while using his magician skills. In between we see him fight the bad guys all while creating illusions to solve the case. Whether you like drama, action, or just plain magic. Deception has a bit of everything everyone loves.
Creating A Show Based On Team Work
One of the things that creator and executive producer Chris Fedak shared with us during his interview was the fact that he wanted to create a show that was based on teamwork. Essentially creating a show that was about family.
Deception At The End Of Every Episode
Another major factor that Chris Fedak wanted to accomplish with the weekly show was instead of ending each episode in a fight, it would end with a big deception. Which, is what I believe is going to lure audiences in every week to watch. You're going to want to see what happens next and how they solve the deception.
Bringing The Love Of Magic To Television
Magic is not an easy thing to pick up and takes lots of practice. Magician and co-producer David Kwong shared that Jack Cutmore-Scott, who plays magician Cameron Black is very dexterous and loves magic. Even though he didn't know any magic tricks, he picked up everything easily and quickly. So, much so that when he was cast as part of the show they would need to use David Kwong's hands to create the illusions and tricks. Instead, Jack did all the tricks for the first episode of Deception.
He's getting too good too fast. – David Kwong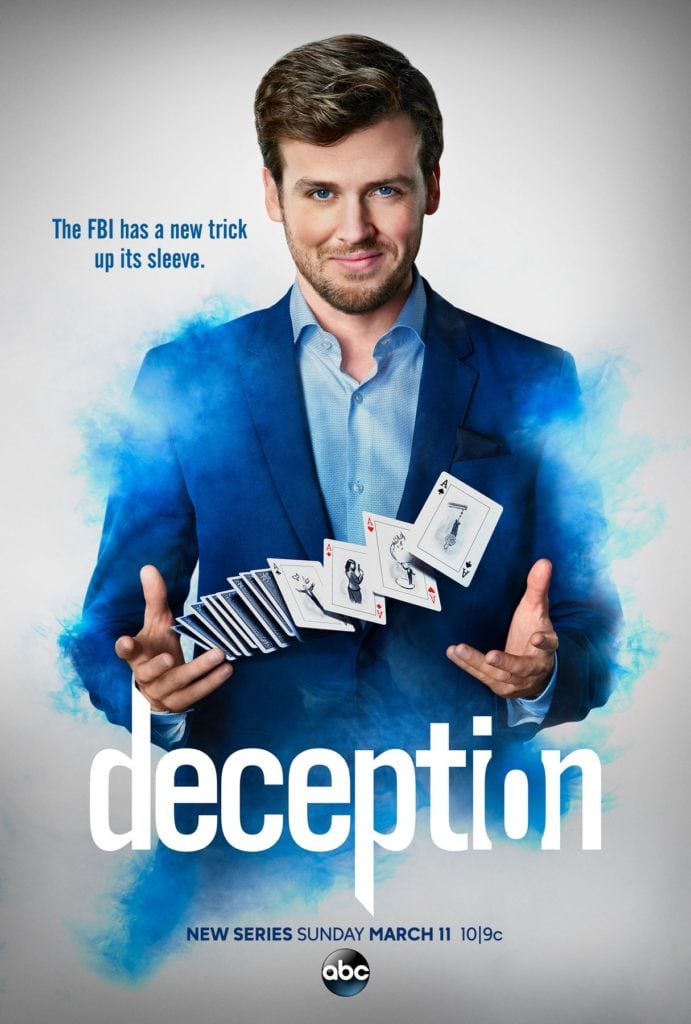 Deception Premieres Tonight March 11th on ABC at 10 pm EST

You Are Also Going To Love:
If you loved reading about Reasons To Watch Deception ABC New Show and Interviews, then you will also love the following interviews I have put together for you:
Will you be watching Deception tonight on ABC?