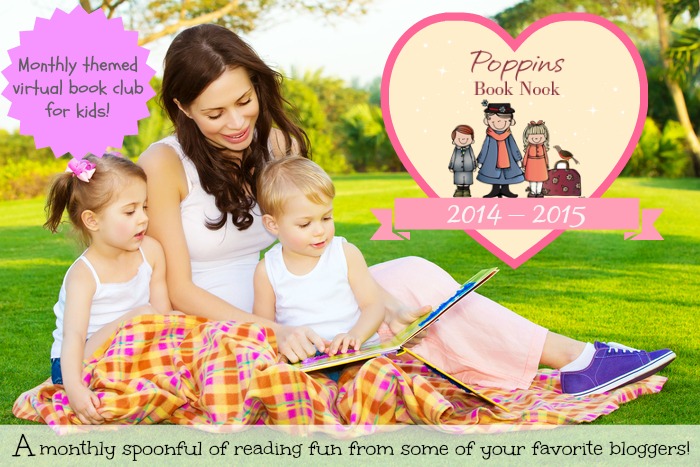 The month of March is a start to a wonderful collaboration with some amazing bloggers alongside our amazing Host Jill from Enchanted Homeschooling Mom!  Today the New 2014-2015 Poppins Book Nook Monthly Virtual Book Club for Kids begins!  Today is extra special because Poppins Book Nook is turning One Year Old and we are having a Birthday Celebration!  So, first of all I would like to say Happy Birthday Poppins Book Nook and how excited I am to be apart of such a wonderful book club!
Make sure to visit Enchanted Homeschooling Mom by clicking on the picture below to pick up this months Freebies!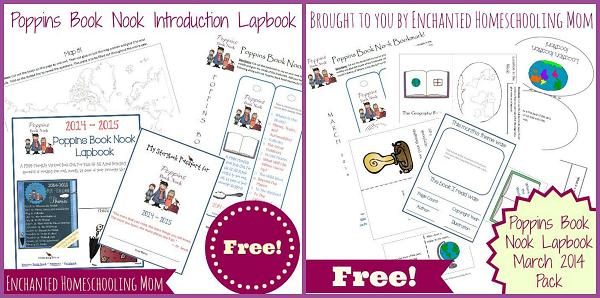 What is Poppins Book Nook?
The Poppins Book Nook is a free monthly book club where some of your favorite bloggers and I will be taking a themed monthly topic and selecting a book that is appropriate to the theme and our children. Then, on the last Monday of the month we will present our book and a homeschooling related activity to that book to all of you.  The grade level can be anywhere from Pre-K to 12th, because each blogger is creating and formatting the themed lesson according to our homeschooling children.  If you are reading ABC Creative Learning, you will find a themes activity to my book for the ages of 2-4 years old (preschool to kindergarten), because those are the ages of my girls.  So, the more co-hosts you visit the more ideas and fun creativity you will find!  So mark your calendars, get your library cards ready, and join us each month at Poppins Book Nook!
Below you will find all the amazing themes for the 2014-1015 Poppins Book Nook Virtual Book Club for Kids!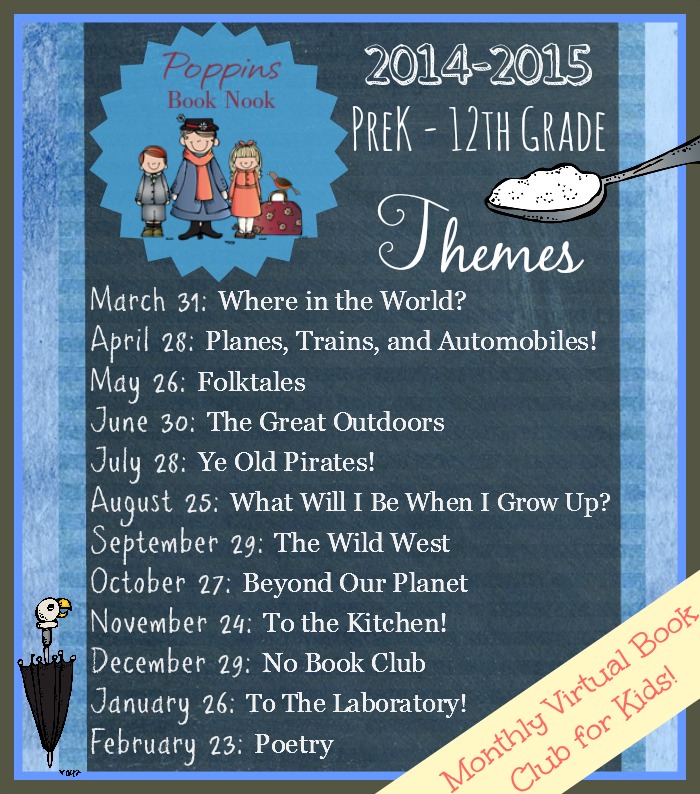 The Poppins Book Nook co-hosts are proud to present to their readers the opportunity to win a fabulous FREE Kindle Fire HD 8.9″ 32GB WiFi 4G w/ Charger to one lucky entrant. This way, you can download and read all of your favorite eBooks you have and will collect along your learning adventures.  You could be having absolutely fun times doing all the things that this Kindle Fire 32GB WiFi 4G w/ Charger can do, be it learning activities, free reading, or let's face it, playing that just released new version of that game you know and love so much, whatever that may be.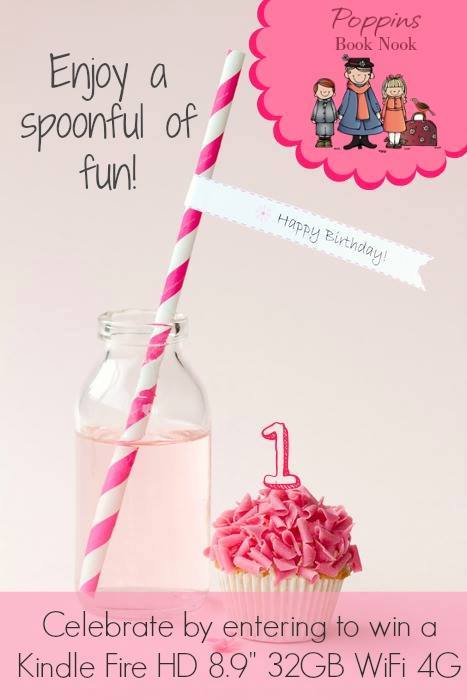 Poppins Book Nook Giveaway! Thank you all for your continued support and for following along with the Poppins Book Nook Book Club! May this bring a spoonful of reading fun into your households for your children. Enjoy this Kindle Fire giveaway!
The winner will be randomly picked by Rafflecopter and will be notified by Enchanted Homeschooling Mom via email. This giveaway is open to all people ages 18 and over with an active USA address for delivery (United States Domestic and APO/FPO/DPO as designated by the USPS) of the prize. This giveaway is in no way associated with Facebook, Twitter, Pinterest or any other entity unless otherwise specified.
 By entering this giveaway you are also acknowledging that you have read and agree to all of the Rafflecopter terms & conditions as well as Enchanted Homeschooling Mom's HERE.
Check out your amazing group of Co-Hosts below!
Enchanted Homeschooling Mom ~ 3 Dinosaurs ~ To the Moon and Back ~ Planet Smarty Pants ~ Farm Fresh Adventures ~ Growing in God's Grace ~ Chestnut Grove Academy ~ Faith and Good Works ~ Learning and Growing the Piwi Way ~ The Usual Mayhem~ Preschool Powol Packets ~ Monsters Ed Homeschool Academy ~ Adventures in Mommydom ~ Teach Beside Me ~ Life with Moore Babies ~ Kathy's Cluttered Mind ~ Are We There Yet? ~ Our Crafts N Things ~ Hopkins Homeschool ~ ABC Creative Learning ~ Joy Focused Learning ~ P is for Preschooler ~ Laugh and Learn ~ A Mommy's Adventures ~ Inspiring 2 New Hampshire Children ~ World for Learning ~ The Kennedy Adventures ~ Ever After in the Woods ~ Golden Grasses ~ Our Simple Kinda Life ~ A glimpse of our life ~ Journey to Excellence ~ Happy Little Homemaker ~ Little Homeschool Blessings ~ Simplicity Breeds Happiness ~ Raventhreads ~ Water on the Floor ~ Learning Fundamentals ~ Tots and Me ~ As We Walk Along The Road ~ Stir the Wonder ~ For This Season ~ Where Imagination Grows ~ Lextin Academy ~ The Canadian Homeschooler ~ School Time Snippets ~ Peakle Pie ~ Mom's Heart ~ A Moment in our World ~ Every Bed of Roses ~ Finchnwren ~ At Home Where Life Happens ~ Suncoast Momma ~ The Library Adventure ~ Embracing Destiny ~ Day by Day in our World ~ Our Homeschool Studio ~ A "Peace" of Mind ~ Thou Shall Not Whine ~ SAHM I am ~ eLeMeNo-P Kids ~ Simple Living Mama
Will you be joining us on our Book Club Adventure?