Today I'm sharing how Painting Kitchen Cabinets with Chalk Paint is easy and affordable. I have been waiting to redo our kitchen since we moved into our home 14 years ago. Painting my kitchen cabinets with chalk paint from Dixie Belle literally took it from 80's drab to farmhouse fab.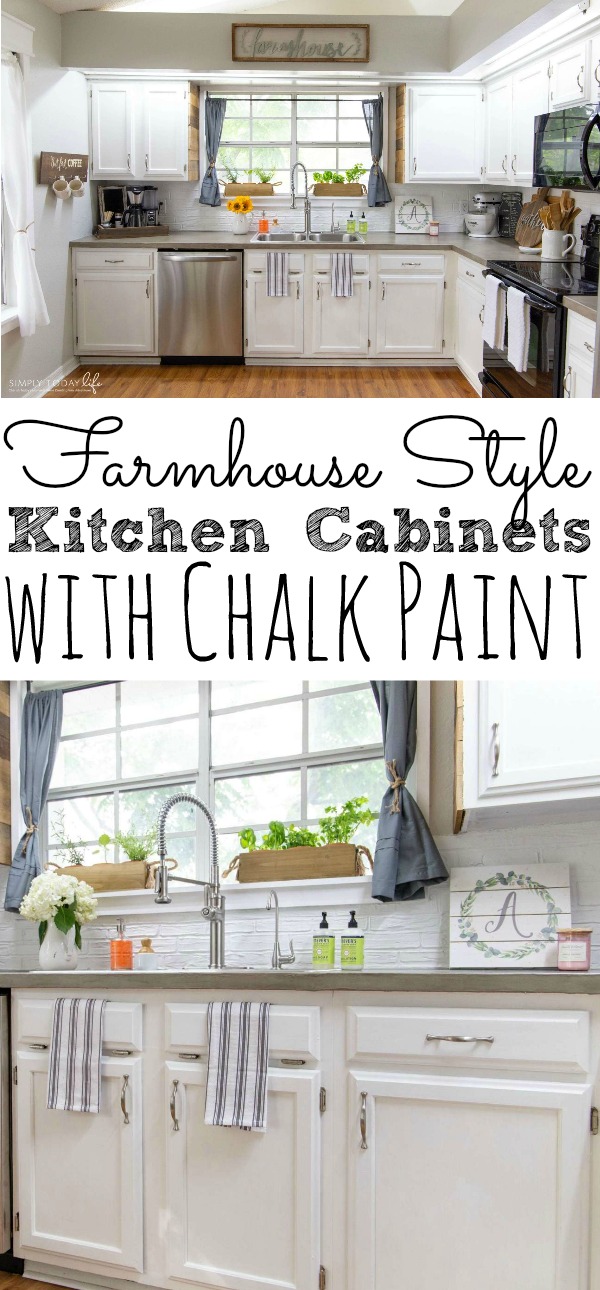 Painting Kitchen Cabinets With Chalk Paint From Dixie Belle | From 80's Drab To Farmhouse Fab
Have you ever lived in a home that you just love, but know that some updating needs to be done? I know the feeling oh too well. My husband knows I've been dying to get my hands on our 1980's kitchen cabinets since we moved in. Sometimes, purchasing new cabinets just isn't in the budget and I'm all for a budget-friendly DIY's! That's why painting my kitchen cabinets with Dixie Belle's chalk paint was the perfect choice for me.
This post contains affiliate links. This post is brought to you by Dixie Belle Paint. I am a Dixie Belle Paint brand ambassador, but all opinions and DIY renovations are my own.
DIY Farmhouse Kitchen Cabinets
I knew that I wanted to create a Farmhouse look for our kitchen renovation. I just needed to find the perfect materials, paint, and color to make my farmhouse kitchen dreamhouse a reality. One of the things that I love about Dixie Belle Paint is all the different colors they carry. No matter if you're looking for dark or light colors, count on Dixie Belle for the perfect match.
Another great thing I love about Dixie Belle's chalk paint is that there is no need to sand or prime before painting furniture. I was dreading the sanding part, especially after I re-did my kitchen countertops. I will share how I did those soon, promise! I wanted to get more of a clean, bright, and farmhouse look in my kitchen, so I chose Dixie Belle's Cotton paint color. I knew it would be the perfect shade of white for our kitchen.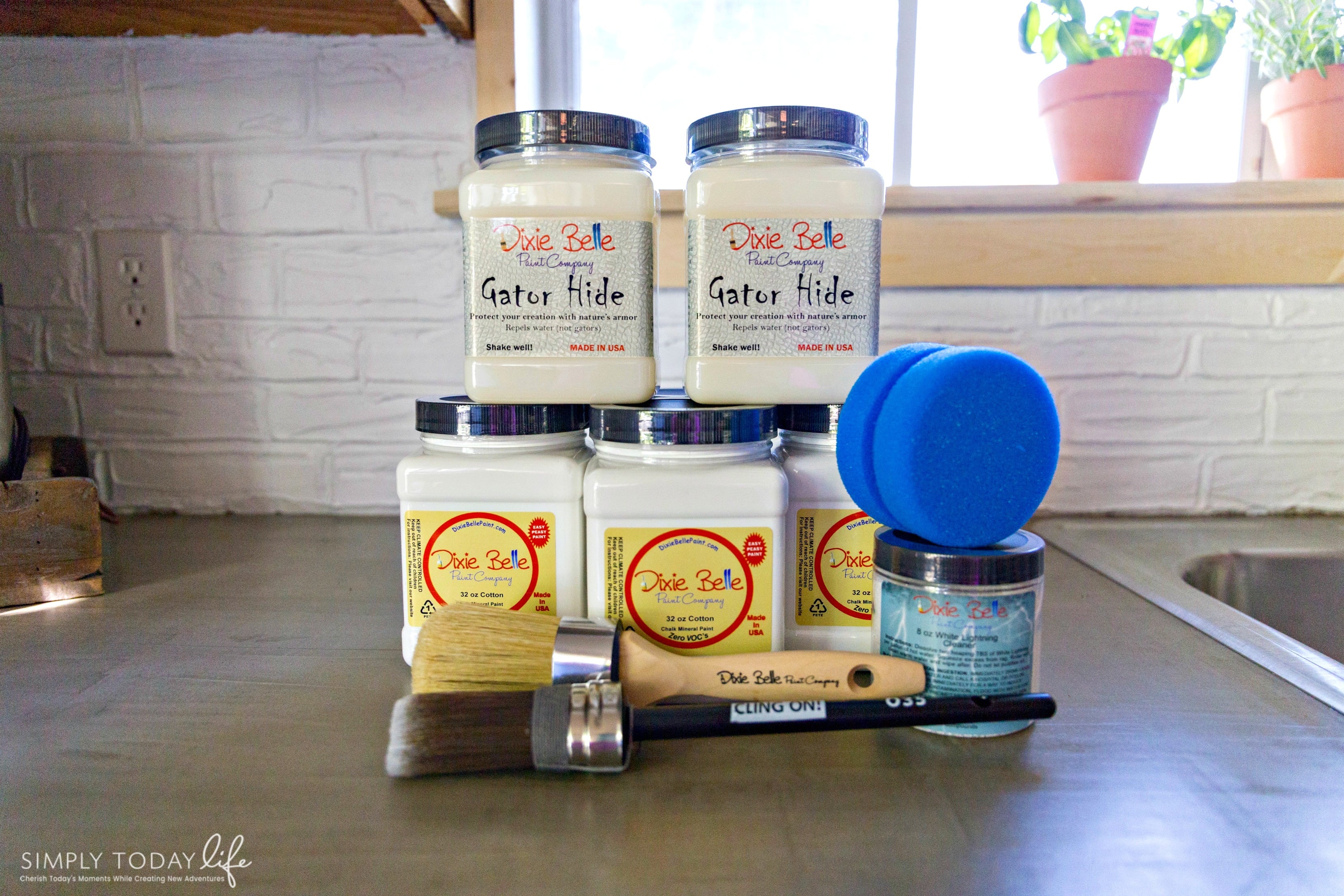 I compiled a list of materials that I used to redo our kitchen cabinets. Some of these materials you most likely will already have at home if you've done any home renovations.
Materials Needed To Paint Kitchen Cabinets
Dixie Belle Paint, your color choice, I used Cotton
2 small buckets or spray bottles
2 washcloths or small towels
Screwdriver
Small baggies to keep all hardware
Painters pyramid stacks (holds cabinet doors away from the floor to dry)
Towels or sheets to cover countertops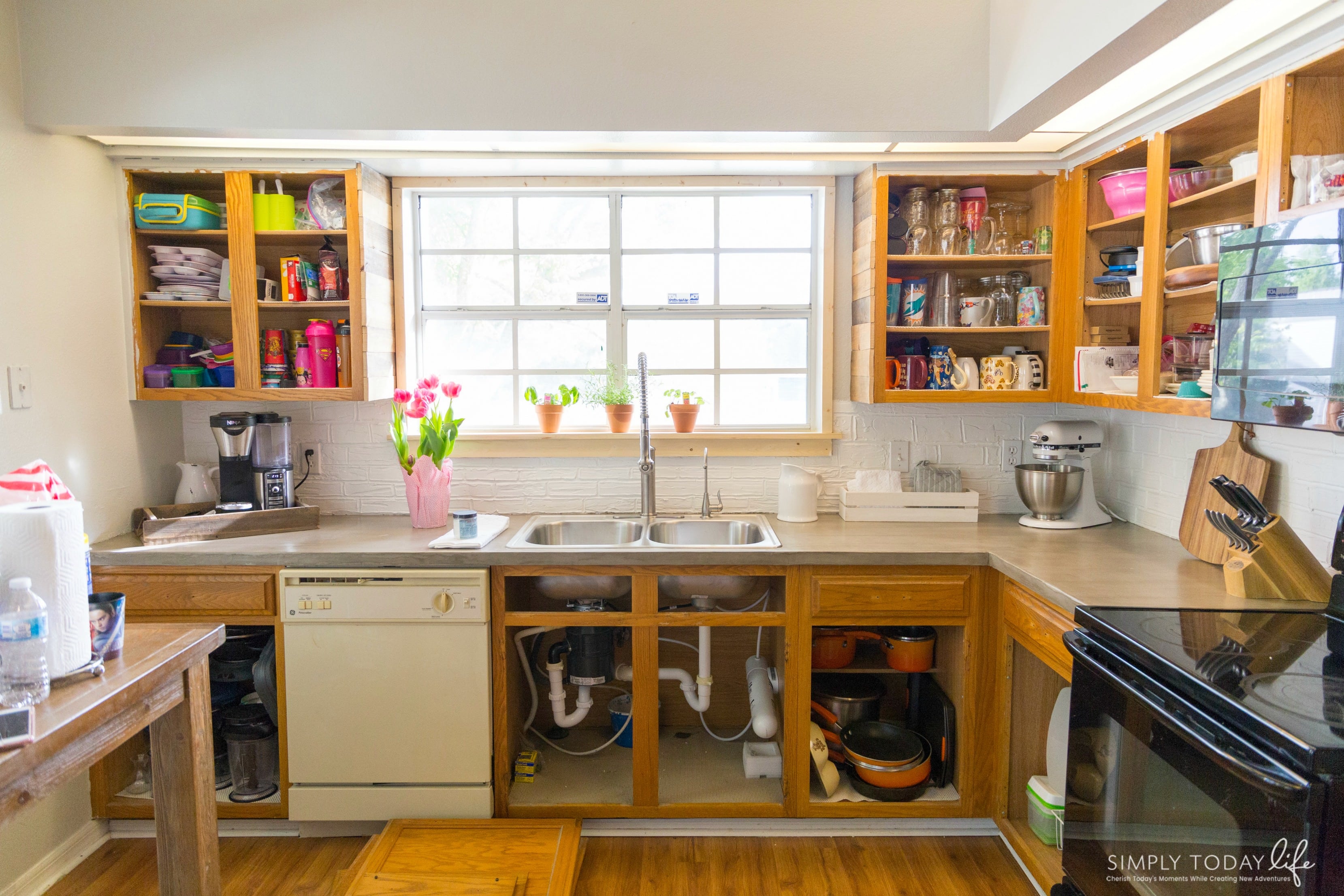 Painting Kitchen Cabinets DIY
The first thing I did was take my cabinet doors off and the hardware. Believe me when I say that you will thank me for doing this. Yes, it's a pain, but the painting will be so much easier and cleaner. Especially if you are going to re-use your hardware as we did.
If you are going to use your hardware, make sure to clean them. It will give the cabinets a nice shiny new look.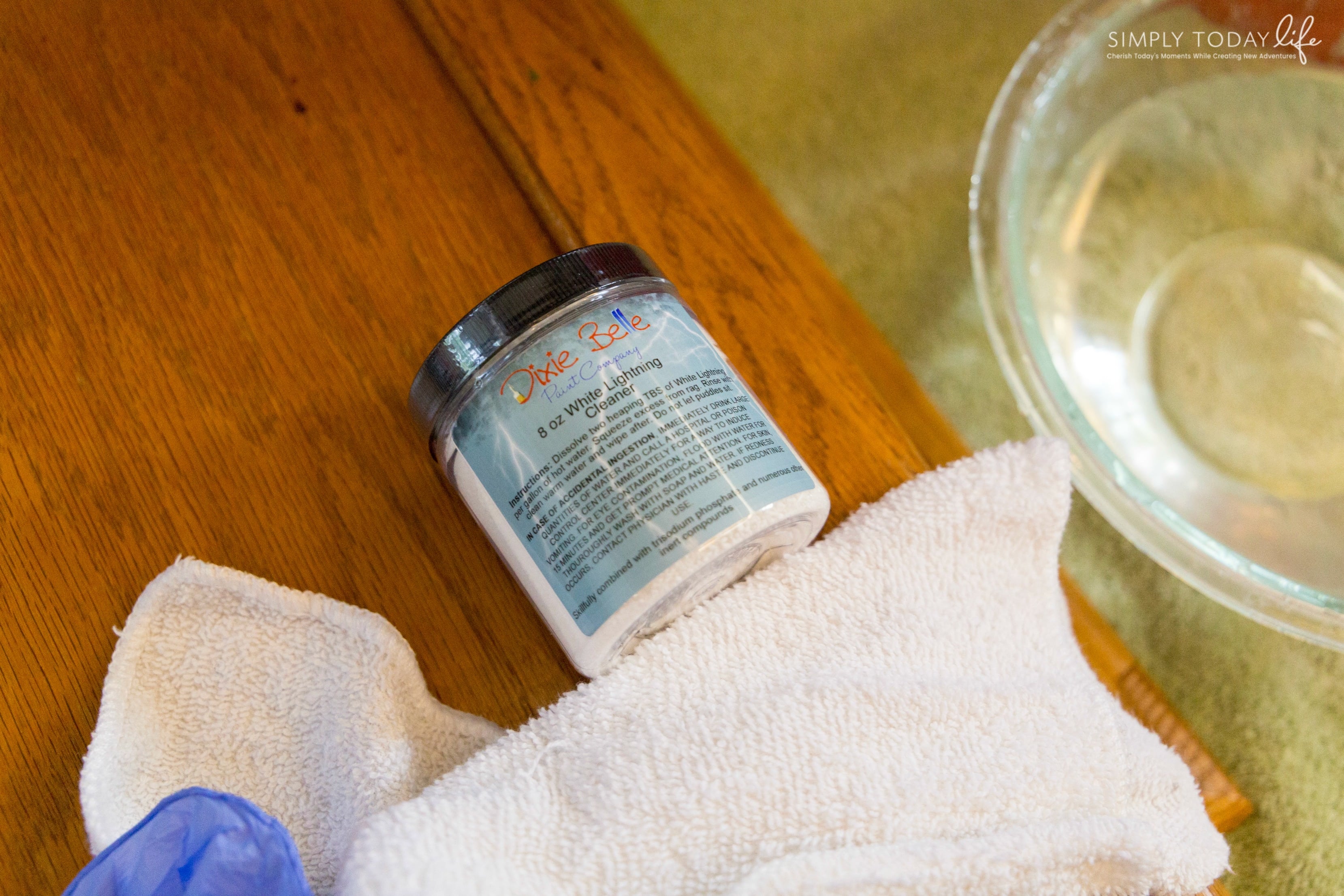 Once all the doors and hardware were off I used the Dixie Belle White Lighting Cleaner to clean all of the cabinets and doors. This helps the paint stick a lot better on the furniture, plus you don't want any extra dried pasta on your cabinet doors.
Make sure to get into the cracks of your cabinet door. Especially if they are as old as ours are.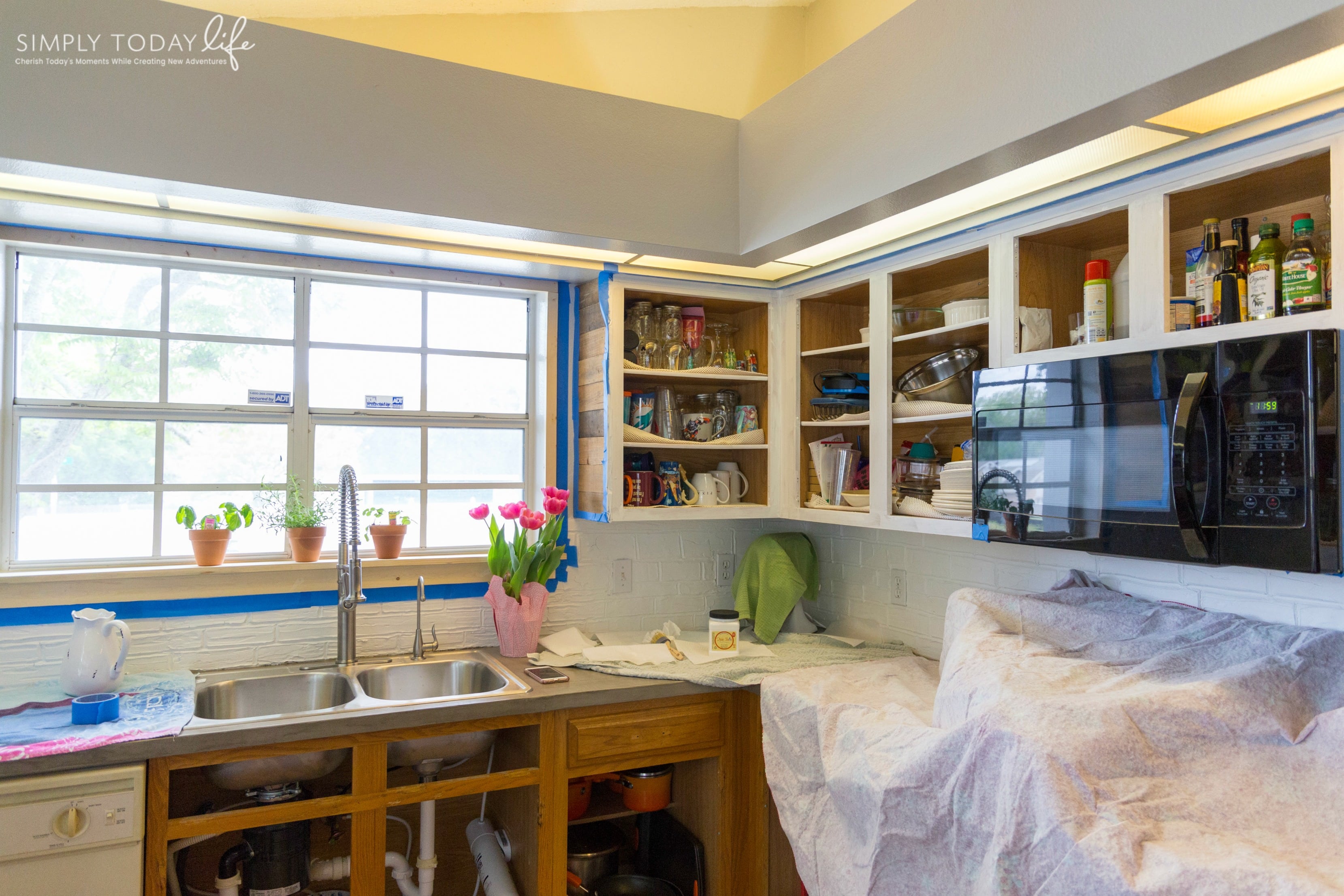 With Dixie Belle paint sanding and priming is not necessary. I decided to prime my cabinet doors because I wanted to make sure that the white paint lasted a long time. Especially since my girls are getting older and starting to make more of their own meals. I didn't prime the cabinets themselves, just the doors.
The process was easy and the paint dries quickly, so by the time your cabinets are ready for a second coat that first coat is already dried. This helped the process go a lot smoother and faster.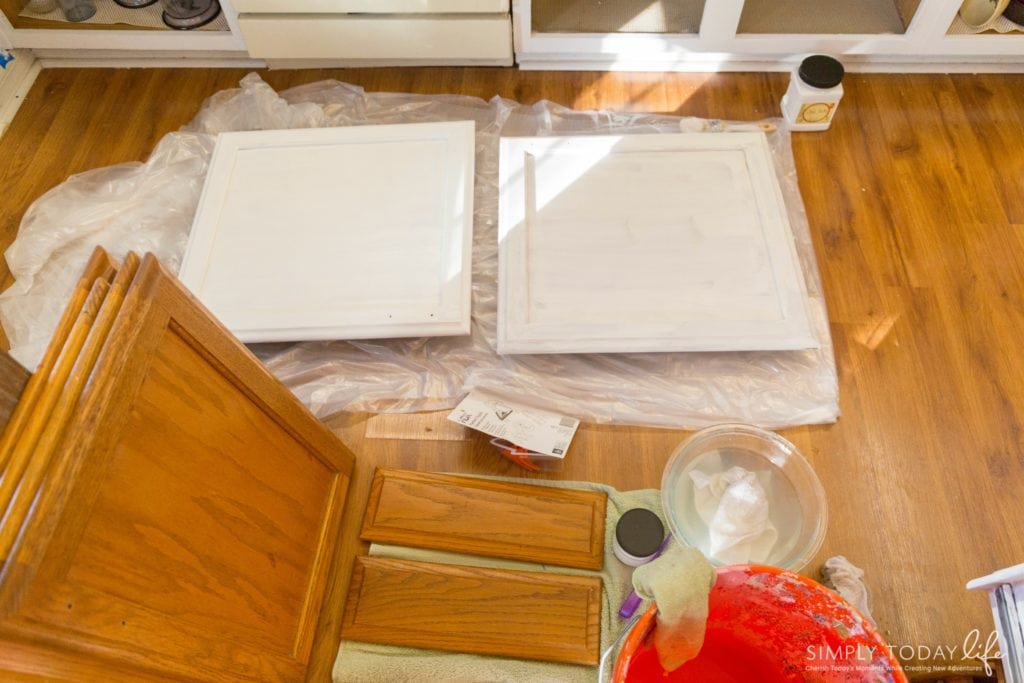 I knew with our darker kitchen cabinets I would have to do more than one coat of paint. One of the great things about Dixie Belle's chalk paint is that it's very thick and covers the cabinets well. I decided on two coats for the cabinets and two coats for the cabinet doors on top of the primer. If you have lighter cabinets you probably won't need to do two coats.
I used painters pyramid stacks to keep the cabinet doors off the floor and easier for me to paint. I suggest two packets as they bring 5 in each pack. You will need about 2 pyramid pieces per door and 4 for larger doors.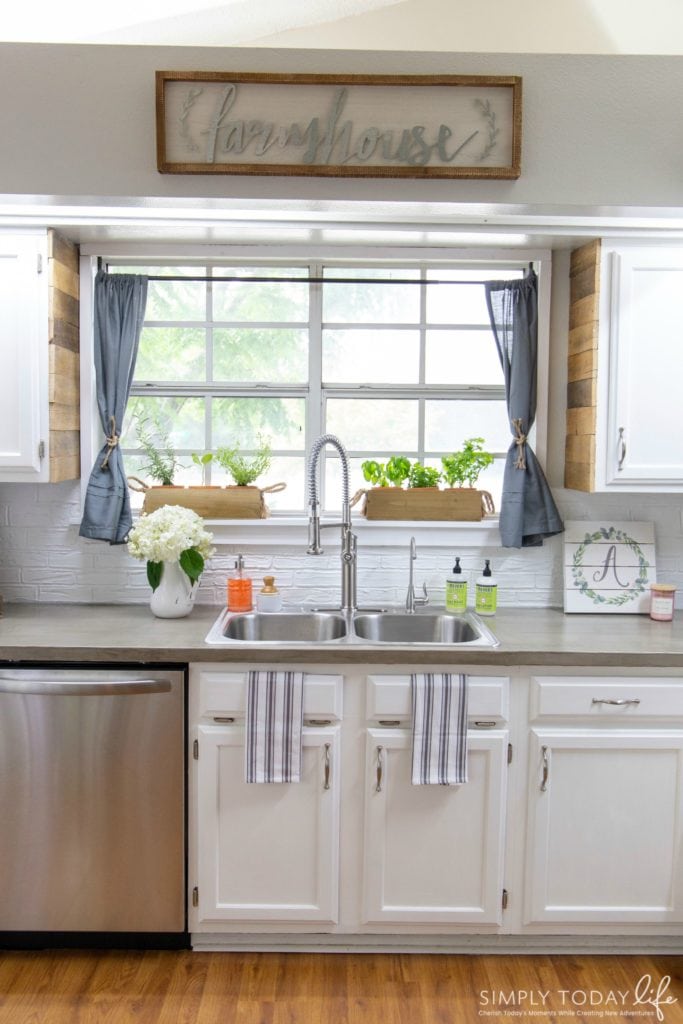 The last step is to cover everything with Dixie Belle's Gator Hide. This will protect the cabinets from stains, water damage, fingerprints, and will take away the chalky feel of the paint. I applied the Gator Hide using their blue sponge.
This helped with drippings and spreading the Gator Hide evenly. It's not thick like the chalk paint, so it runs easily. Once it dried, I applied two more coats. I wanted to make sure these were sealed perfectly, especially with two little girls running around.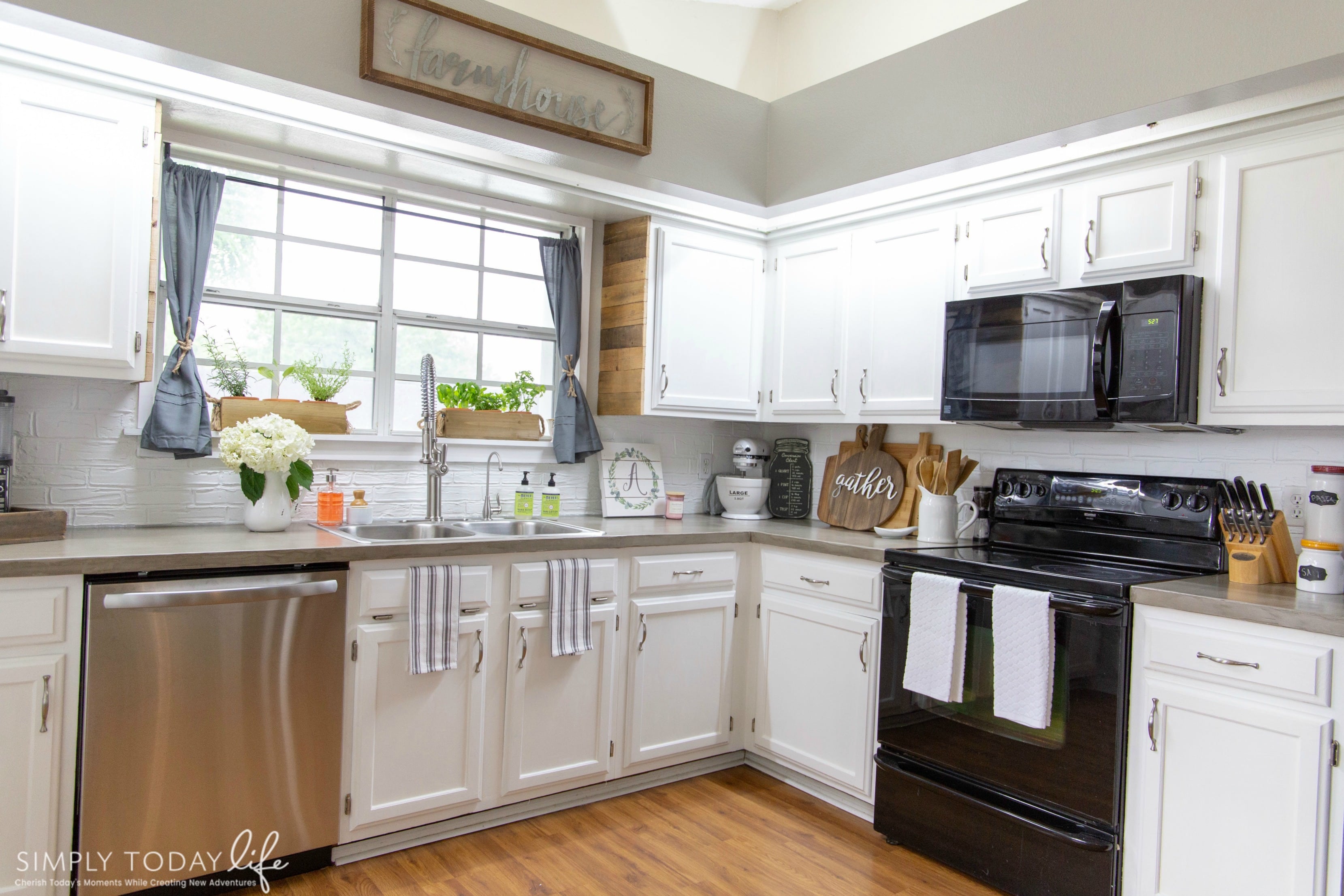 I'll be sharing lots more DIY's with Dixie Belle Paint on the blog, so make sure to follow along. Also, check out my Instagram stories where I've been sharing my budget-friendly DIY farmhouse kitchen idea videos.
Shop Dixie Belle for paints, brushes, stains, and much more!

You Are Also Going To Love:
If you loved this Painting Kitchen Cabinets DIY, then you will also love the following house renovation DIY posts I have put together for you:
What do you think of my Kitchen Farmhouse Renovation?