Today I am going to take you all on a quick tour of our learning area. As a former Pre-K teacher I personally love having a big space to teach, but we unfortunately we do not have that luxury at home. We don't have a teeny tiny home, but it's a little smaller than we would like for our family of 4 where the husband works from home and I homeschool our children. We do not have a spare room to use for lessons, so I have made our dining/living room into our learning area 🙂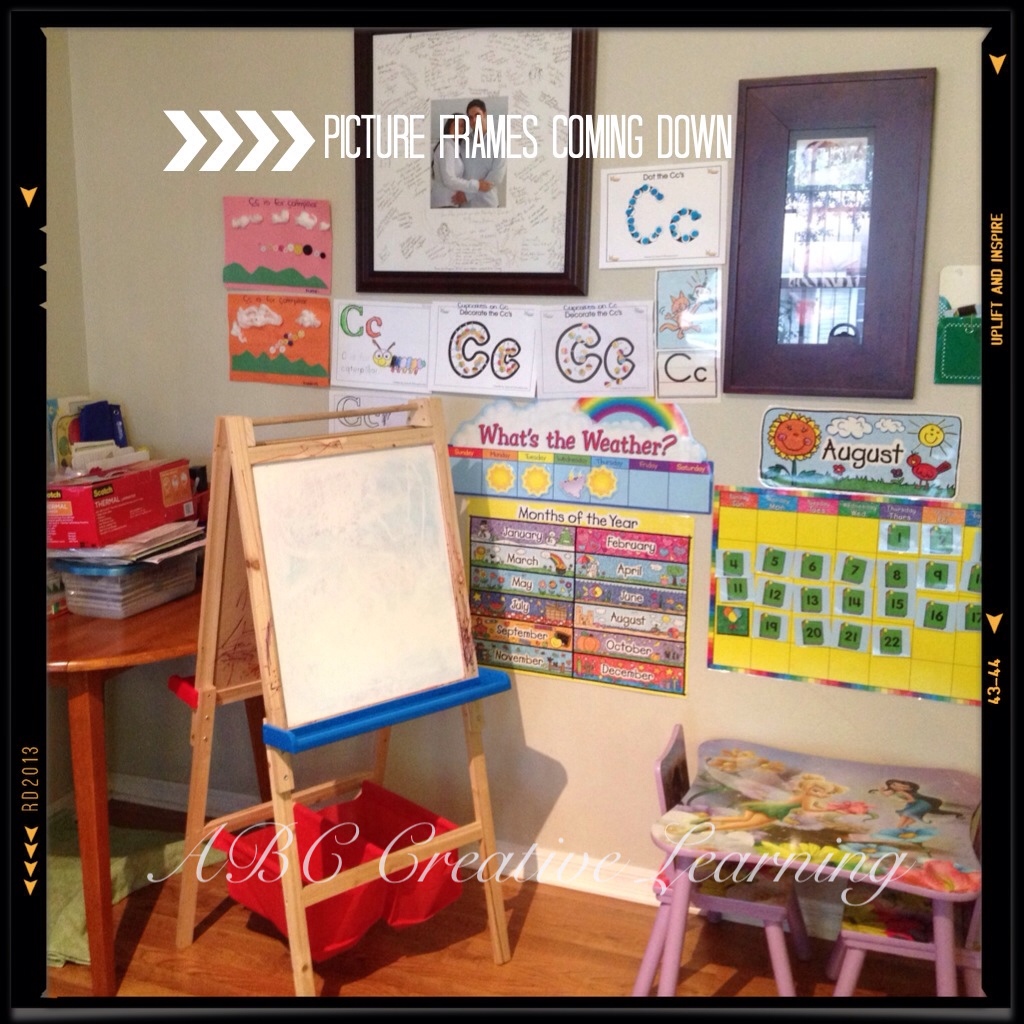 I use this one area for morning circle, calendar & weather, art work/daily work pin up, and white board area. I also have their table & chairs here, but they usually get moved around the house as needed. I am looking on adding a big floor rug here soon. I will be taking down some of my picture frames to make room for the girls art work and daily work. I love displaying their work because it gives the girls a sense of pride of what they have just accomplished :).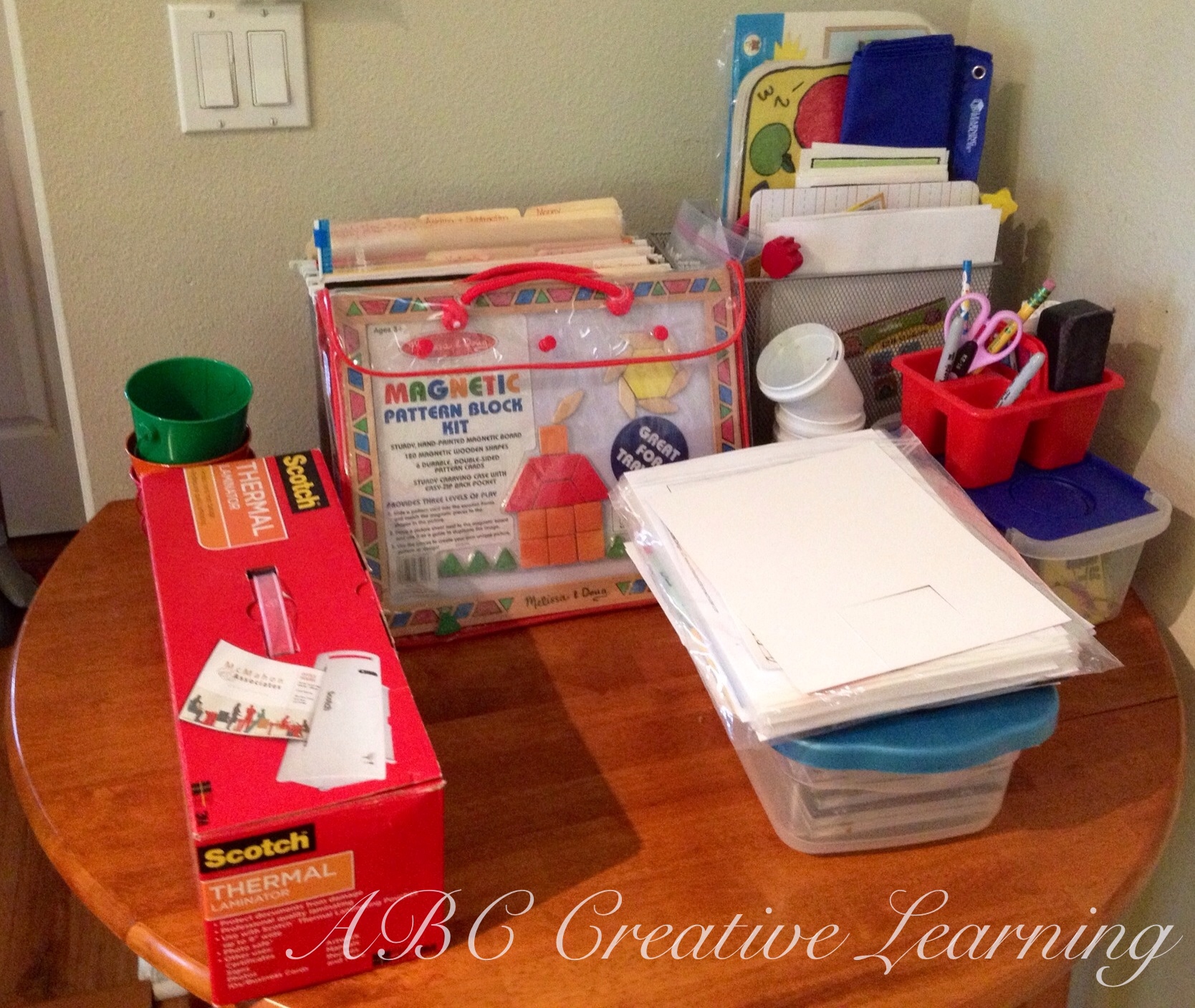 On the left side of the Calendar & Weather I have a tale set up with my daily materials.
On this table I keep:
Daily music used, plus any other songs I'm incorporating on a lesson that day.
Laminating machine with pouches
Letter cards
Calendar months
Supplies such as pens, pencils, erasers, sharpener, markers, and scissors
My file folder with any extra ideas for the year
My weekly folder with activities

In my husbands office I also have a plastic bin container which is divided by the days of the week. In here I add our weekly lessons, materials needed, my lesson plan book, and anything else I will need for the week.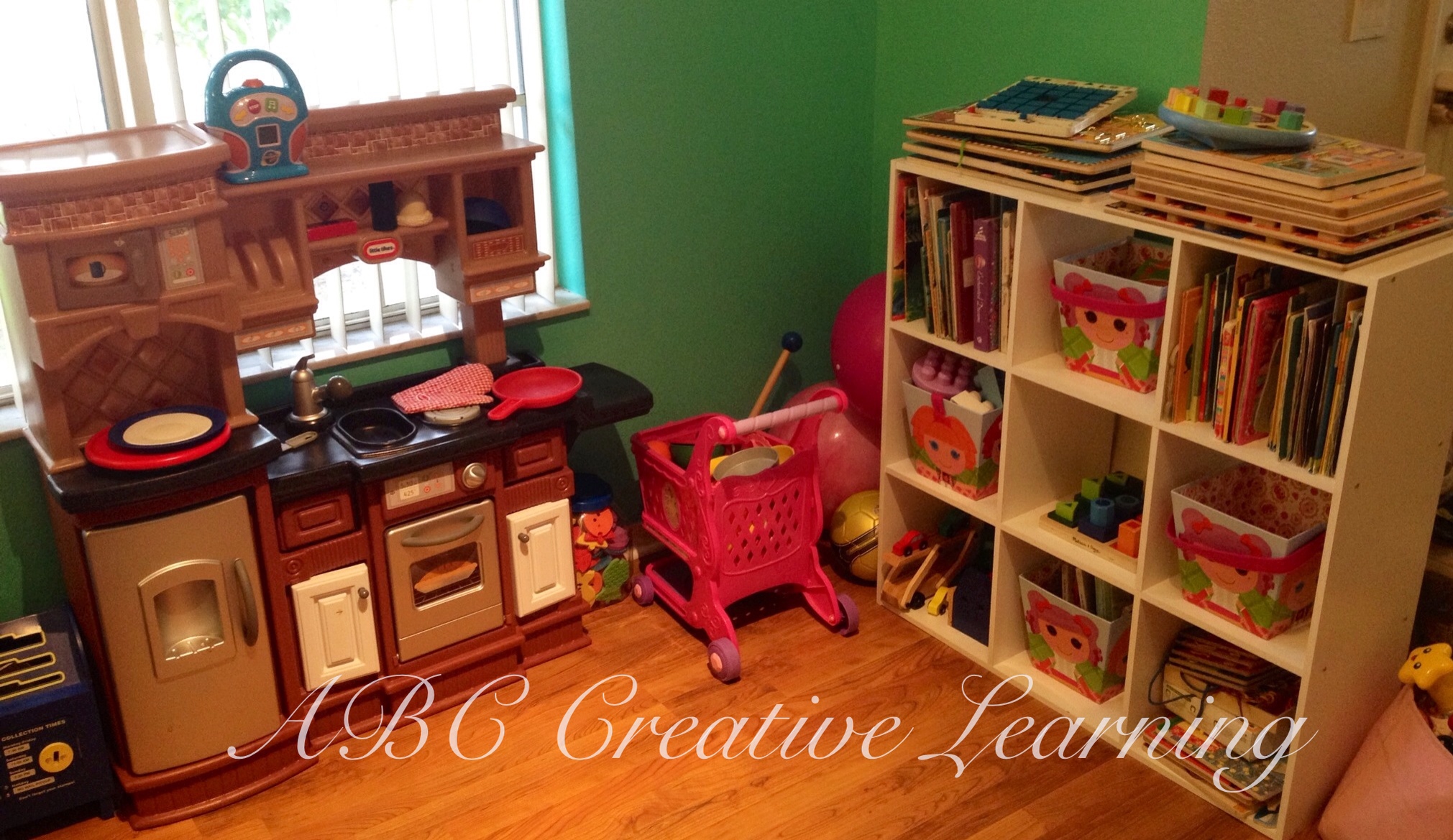 On the opposite side of the room I have organized our centers. We have our blocks, reading books, and electronics on our shelf. We also have our pretend play area. Here we have our kitchen, shopping carts, mailbox, piano, dressing up box, and our fold down Princess Castle.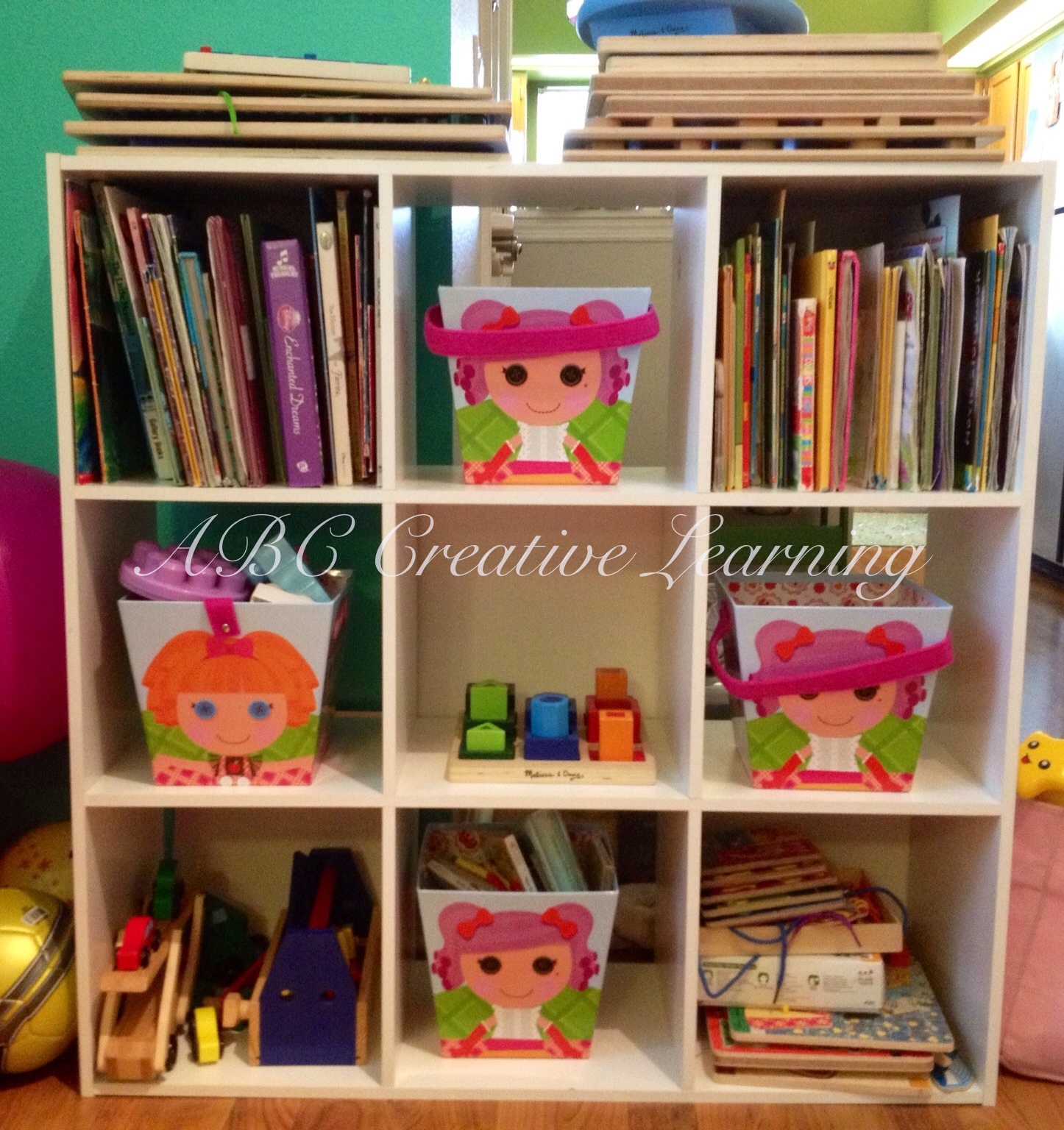 Here I will rotate toys, puzzles, and books around. Especially our books. As a former teacher I have hundreds of books and I wish I was joking about that :). What can I say, I LOVE books! I will add books on our shelf that coincides with our weekly letter, theme, and season. This keeps the girls interested in reading and its a great area to have when mommy or daddy need some quit time 🙂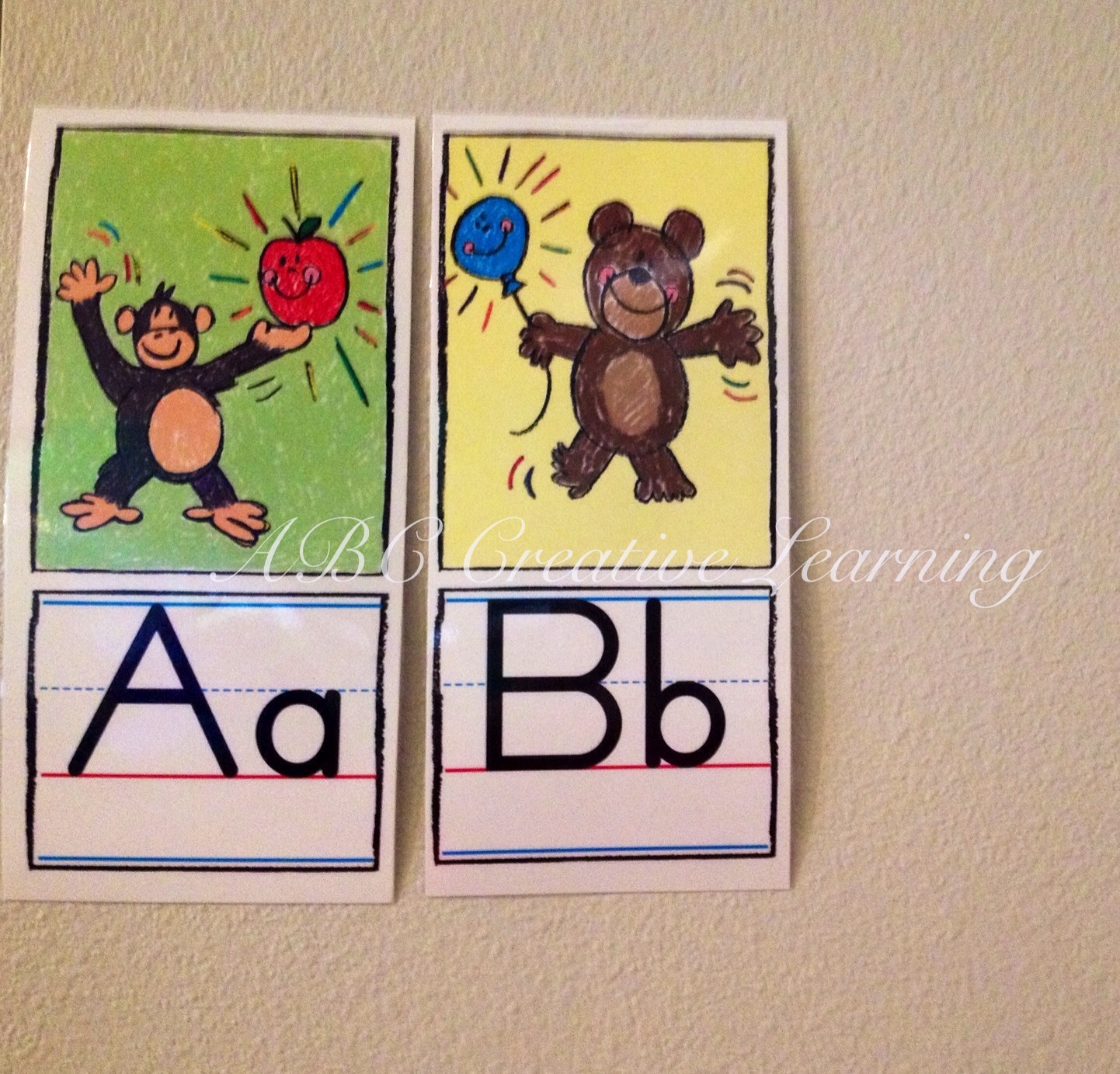 I have recently started adding the letters we have completed on our wall. I am currently working on also adding our weekly sight words either underneath the letters or above them.
Well, I hope you enjoyed my little tour of our homeschool room! It's not very big but it works perfect for us :). Share with us your homeschooling or learning room!