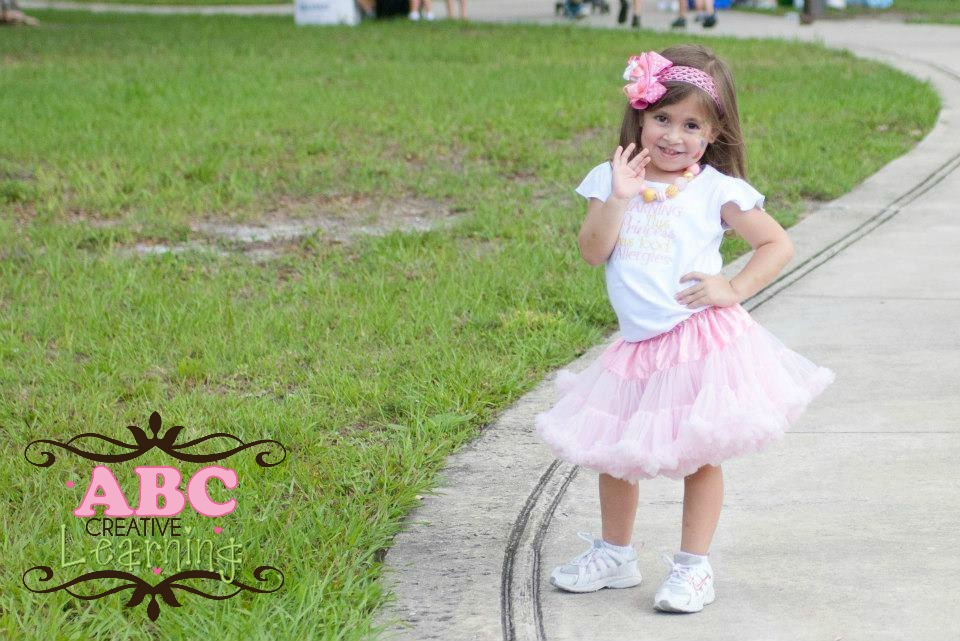 This picture was taken at the 2013 Orlando FARE Walk
I don't know why, but I've never really shared our Allergy Story here on the blog and I've gotten inquiries from several of you on how we found out.  So here is our story 🙂
Our food allergy story begins when Kaelyn was only a few hours old. After she was born they took her away for further observation because she had ingested meconium when she was born. After a few hours of being admitted to my room they finally brought her to me. I was worried that she had not eaten anything in 2 hours, but I was told by my nurse that they had fed her a formula bottle. I remember asking her if she was positive and she pointed out to the spit up on her blanket. I was very upset because I had told the hospital that I would be only nursing. I then noticed all the tiny red spots that covered her body. I was told they were stork bites and common in newborns.  As first time parents we didn't know any better, so we just believed what we were told.  This was the beginning of our Food Allergy journey!
For the next 6 months Kaelyn suffered from really bad eczema, cradle cap, and once in a while she would get "stork bites" again. We thought this was normal and were told by our family doctor at the time that they were in fact stork bites.  After 3 months I went back to teaching, but I would leave milk for my husband to feed her while I was gone.  Then one day I had not left my husband enough milk for her, so he had no choice but to feed her a bottle of formula until I got home. When I arrived home Kaelyn was covered in hives from head to toe. I then decided it was time for a second opinion. I  immediately called a pediatrician close to home, who saw us within hours and as soon as he saw her he knew that it was probably food allergies and decided that some testing would have to take place to confirm it, but because he wanted to take it slow just to make sure the first thing was making sure that when she was nursing there was nothing in my system that would trigger a reaction.  Our new pediatrician (who we love and have been going to for 4 years now) sent me home on a strict diet if I was determined to only nurse Kaelyn.  I went from eating anything I wanted to not eating anything with dairy.  Can you imagine how hard that was?  Well, it certainly was!  I am a cheese and ice cream girl, but I was going all in or nothing!  So, as soon as I got home I got rid of anything that contained diary.  I honestly did not realize that milk was in so many products!  The plus size was that I literally lost so much weight in weeks that my clothes were not fitting because they were so lose 🙂  Baby weight gone!  Woohoo!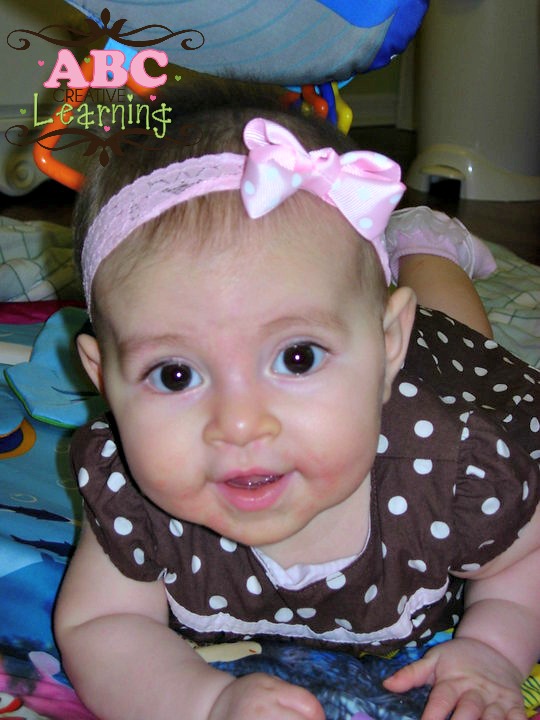 In this picture you can actually see that she has a reaction around her cheeks and face.
Once we realized after a few weeks that Kaelyn's eczema was improving and she had not had a reaction our doctor confirmed that it had to be food allergies, so now he wanted to get a blood test preformed just to make sure and see what types of foods she might be allergic too. At this time it was the hardest thing to do.  I was not prepared to see my baby girl get a blood test and my husband being afraid of needles had to stand back, so it was all me when it came to holding and comforting her.  Sure enough her test came back positive to milk and peanuts. We finally had an answer and we were relieved to know, but we had no idea how our lives would change from now on.  We were then referred to an allergist specialist where they would do a skin test to make sure there wasn't anything else. At this time she was 7 months old and after the test we also added eggs to her allergy list.   I was committed to keep nursing, so I had to make sure my milk was not being contaminated with anything she was allergic to. I cut out all dairy, peanuts, and eggs from my diet by this time and the weight kept coming off!  From this point forward we got rid of everything that contained dairy or peanuts in our home.
 When Kaelyn was 10 months old I had a family emergency that took me out of work for a few days, but also away from my family.  I had no choice but to add soy formula to her diet and within a few weeks she was only drinking soy formula.  She did well with it and no reactions, which was good!  Because of her food allergies our pediatrician decided that we would introduce foods slowly and for a longer period than just a few days, just to make sure that she wouldn't have a reaction.  By the time Kaelyn was about to turn one I had done so much research and read so many articles on food allergies that I would make sure to cook and bake amazing foods for her birthday, but making sure that they tasted good for everyone to enjoy!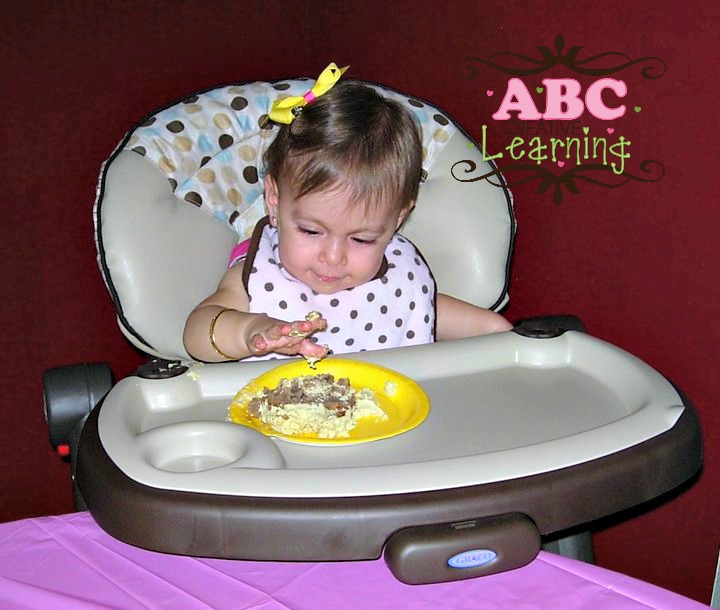 Kaelyn at her first birthday party enjoying her Dairy, Egg, and Peanut Free Banana Cake that I made!
Our life changed so much and there were times that I would sit and cry because other moms didn't understand, but I knew that there was a reason God had given me such a beautiful little girl who suffered with food allergies!  I remember going on a playdate when Kaelyn was about a year old and although the parents knew about Kaelyn's peanut allergy one of the moms sat her son next to Kaelyn and proceeded to feed him a peanut butter sandwich!  At that moment I realized that others really didn't have the respect or unconsciously just didn't think about how one decision could harm my baby.  I remember getting up and leaving.  I then vowed that no matter what, my child's life will not be put in danger, even if it meant losing friends!  We have our own way of life and others may not understand, but as long as it keeps our daughter safe, then I think we have done our job as parents!
For more information about Food Allergies visit FARE and Kids with Food Allergies.
Do you know someone who suffers from food allergies?