My girls have been craving sweet, but cold treats this summer! Who can blame them? It's way too hot to be outside and not have a delicious cold treat! My girls love ice cream, but with Kaelyn's dairy allergy we need to purchase specialty non-dairy and peanut free ice cream, which can become expensive. It was time that we made our own Non Dairy Ice Cream in a Bag!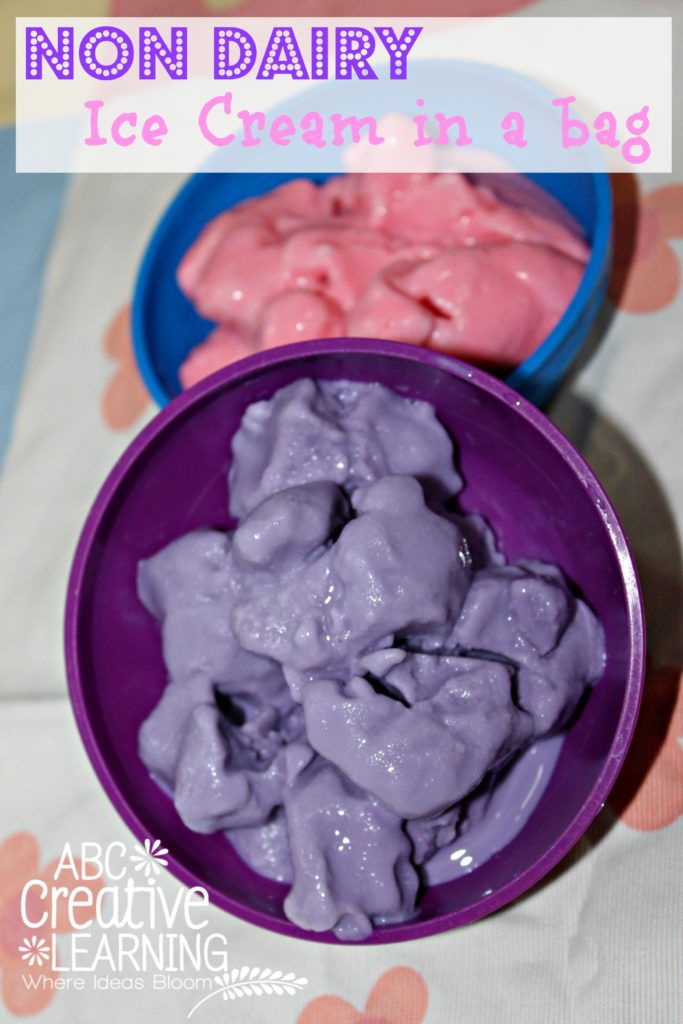 Non Dairy Ice Cream in a Bag
I've made ice cream in a bag before when I used to teach in the classroom, but I always used regular dairy milk. I had not tried it with our non-dairy Silk milk and I honestly wasn't sure if it would work. I followed the same steps that I would if I were doing regular ice cream, but the girls wanted to add color to their ice cream, so we did.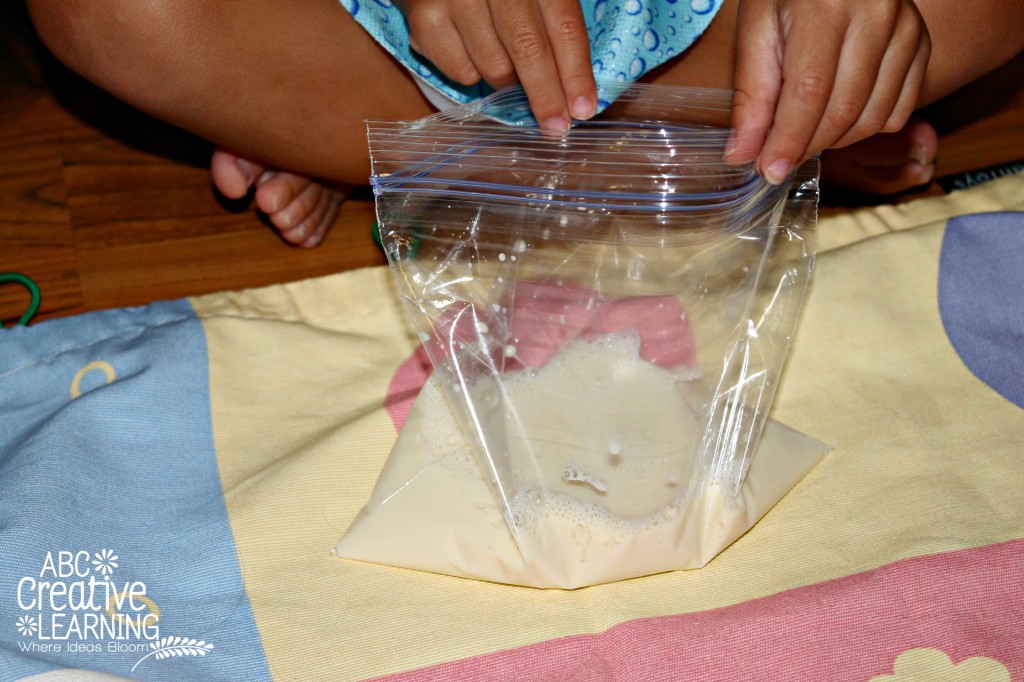 The first step is to take a small sandwich bag and add your milk, vanilla, sugar, and if you wish some food coloring to change the color. Seal it with as little air as you can and insert into your second sandwich bag. We double layer the bags just in case the one holding the milk ingredients pop.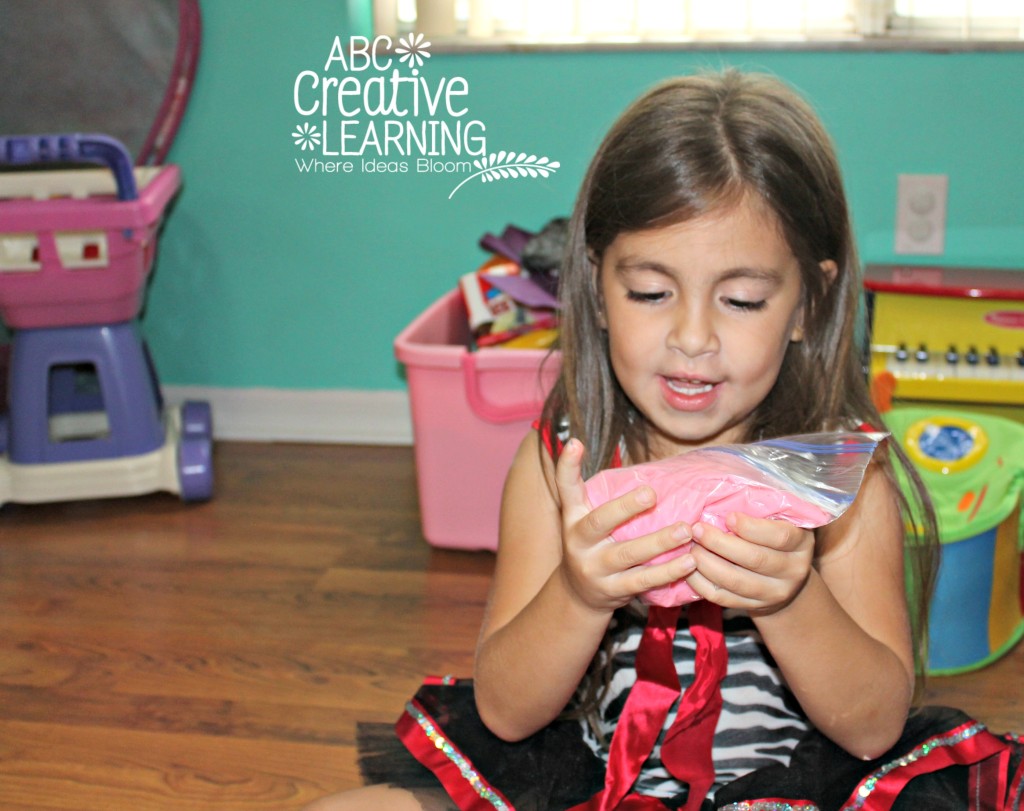 At this point I let the girls shake their baggies so that they could get all the ingredients mixed and feel the texture of their ice cream beforehand.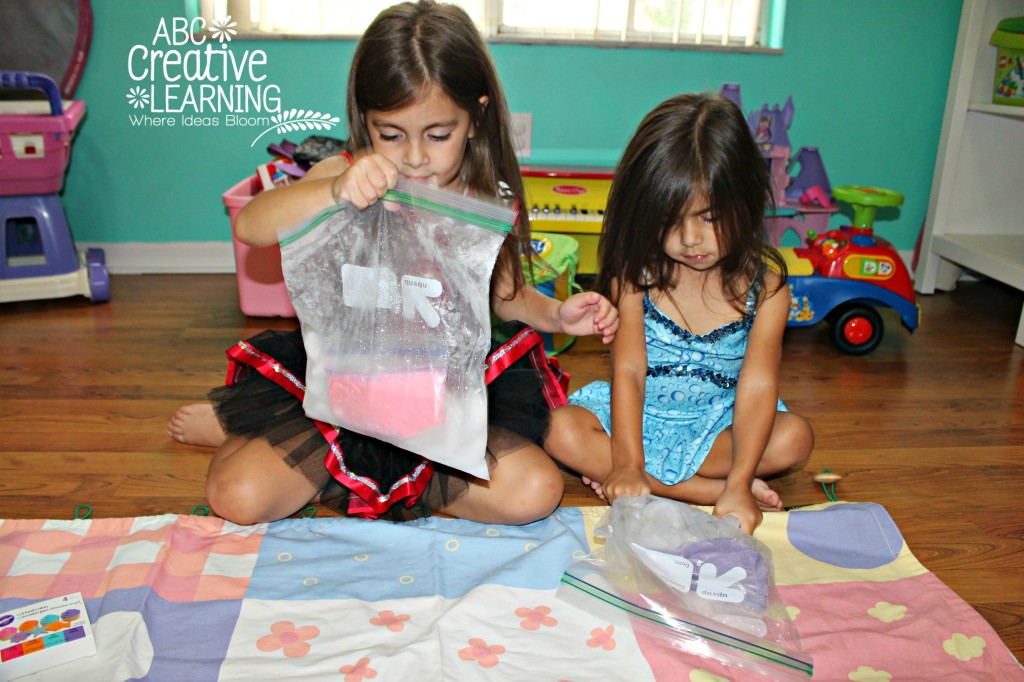 Add your ice and salt to your large gallon bag and then insert your small bag with your ice cream mixture. Seal tightly with as little air as possible to avoid popping and to make sure that the ice is covering the entire milk mixture. The girls had fun for a bit mixing their ice cream in the bag, but their hands got cold quickly.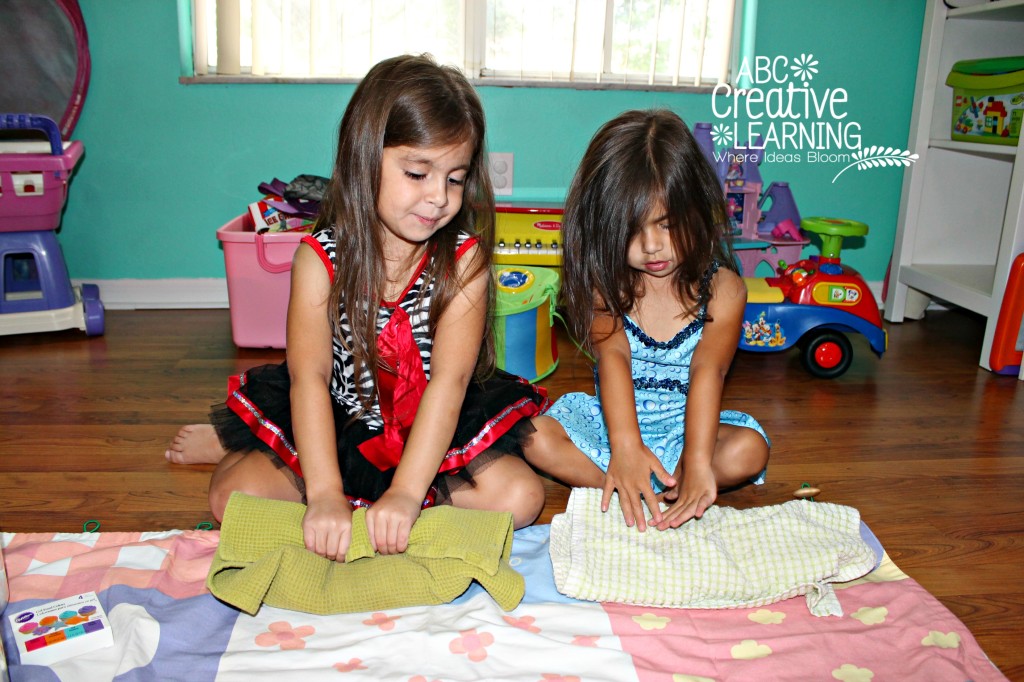 Simply wrap a small kitchen towel around the large bag and proceed to mix and shaking for about 8 to 10 minutes or until you see that the mixture has turned into soft ice cream.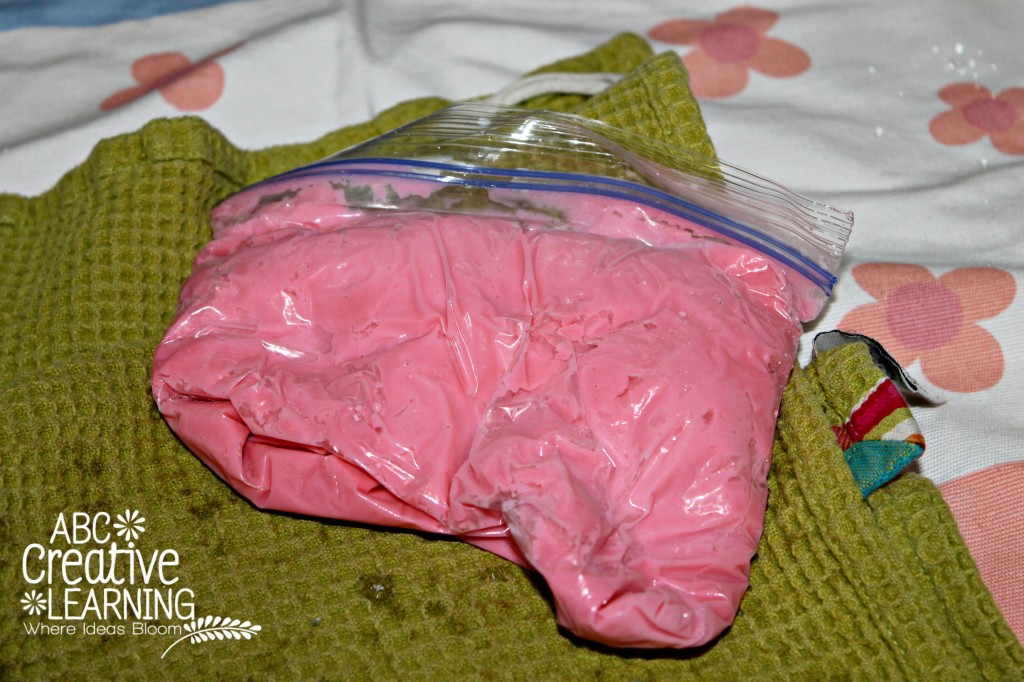 Once you feel that your milk mixture has hardened a bit and has an ice cream texture, it's time to serve in a bowl or ice cream cone!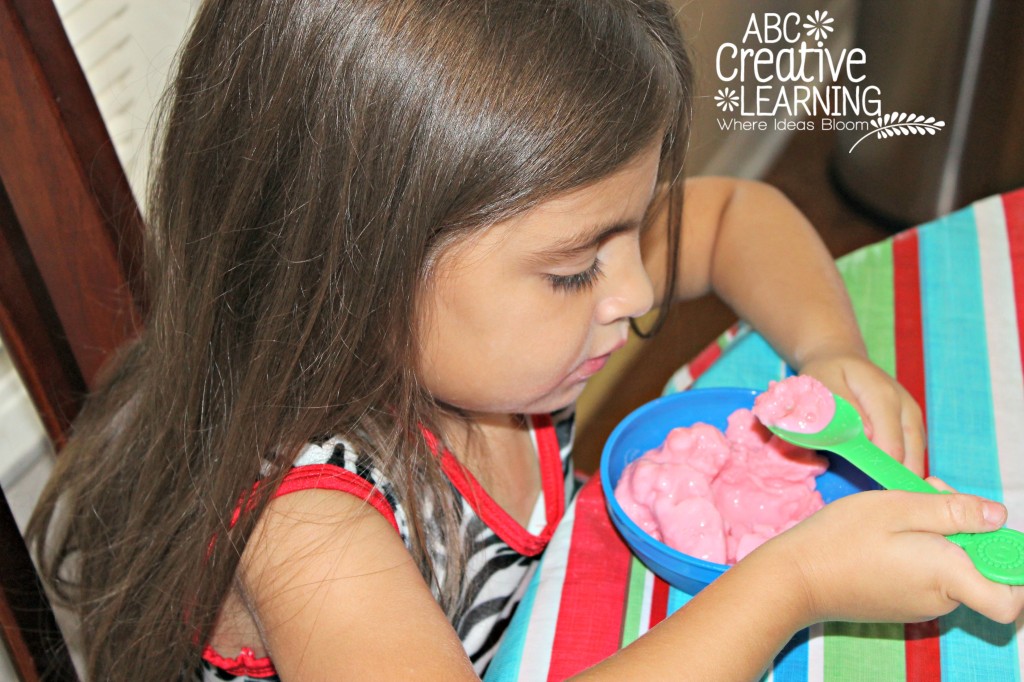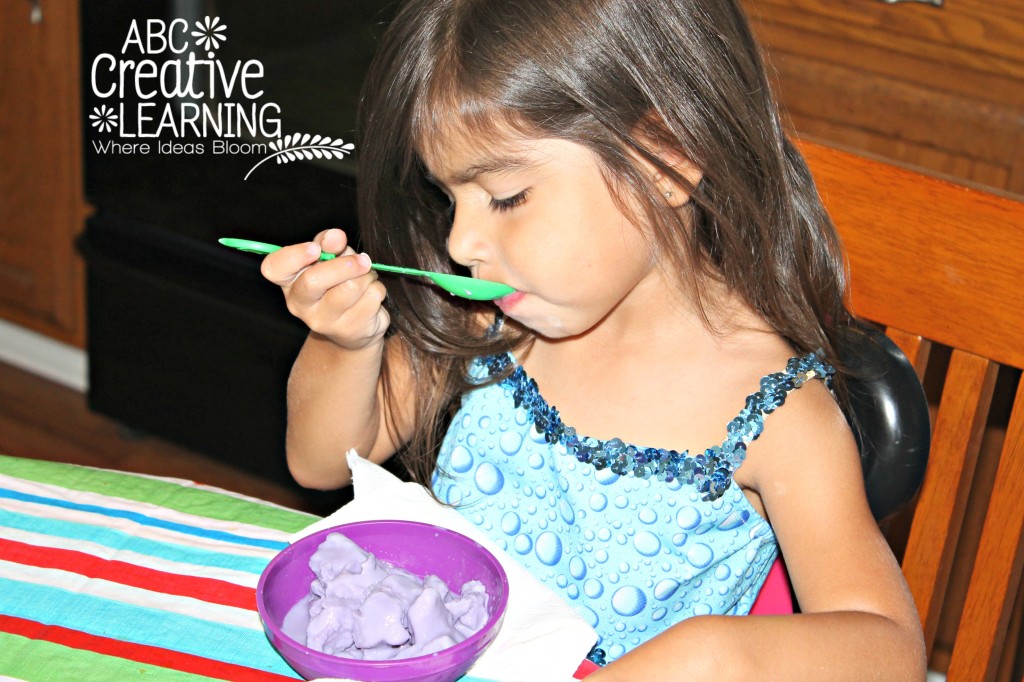 Enjoy your delicious homemade Non-Dairy Ice Cream in a Bag!!
Non Dairy Ice Cream in a Bag
Ingredients
Lots of ice, about 4 cups
4 tablespoons of salt
1 gallon zip block bag
2 sandwich zip block bag
Small towel or gloves - to protect from cold
1/2 cup of non dairy milk - we used Organic Silk unsweetened milk
1/2 tsp of vanilla
1 tablespoon of sugar
1 drop of food coloring - this is optional if you want to change the color
Instructions
Using the sandwich bag mix in your milk, vanilla, sugar, and food coloring. Seal tightly with as little air as possible, so it doesn't pop.
Place the bag that you just mixed in another sandwich bag for double protection. Seal tightly again with as little air as possible.
Insert the two sandwich bags in your gallon bag and add about 4 cups of ice and 4 tablespoon of salt over the ice. Seal tightly with as little air as possible.
Shake and massage the bag making sure that the ice surrounds all the milk mixture. The bag will get very cold, so you can wrap a small towel or use gloves to protect from the cold.
Mix for about 8-10 or until milk has a soft ice cream consistency.
https://simplytodaylife.com/non-dairy-ice-cream-in-a-bag/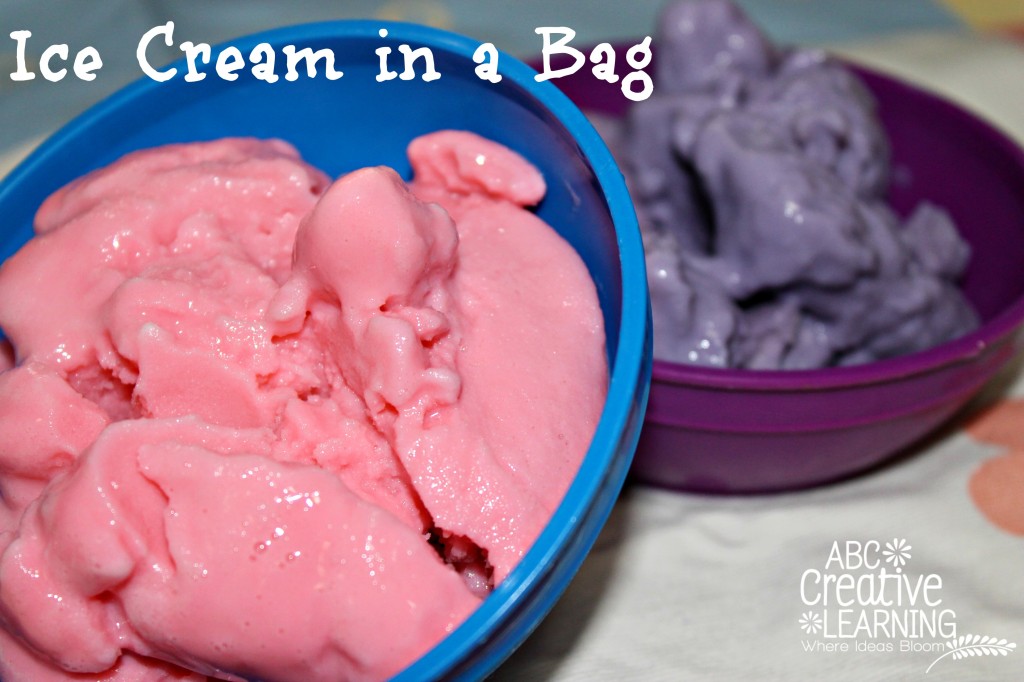 If your kids love creating their own recipes then you need to try out making your own ice cream! You can make this regular dairy ice cream or dairy-free. One of the ways I've been wanting to try is with coconut milk! Yum! A perfect fun treat for the summer heat!

You Are Also Going To Love:
If you loved this Making Your Own Dairy Free Ice Cream Recipe, then you will also love the following treat recipes I have put together for you:
Have you tried making Ice Cream in a bag this summer?