Welcome to our first weekly lesson share!  Last week Princess learned all about the letter Bb and our activities were centered around the story of The Three Billy Goats Gruff!  Unfortunately, our library didn't have any of them available to check out so we decided to download it on my iPad.  I also chose this particular version by Carol Ottolenhi because it included a Spanish version of the story as well.  Princess was VERY excited about this because she is not usually allowed to use mommies tablet, but it worked out perfectly and actually made her more excited about doing the lesson.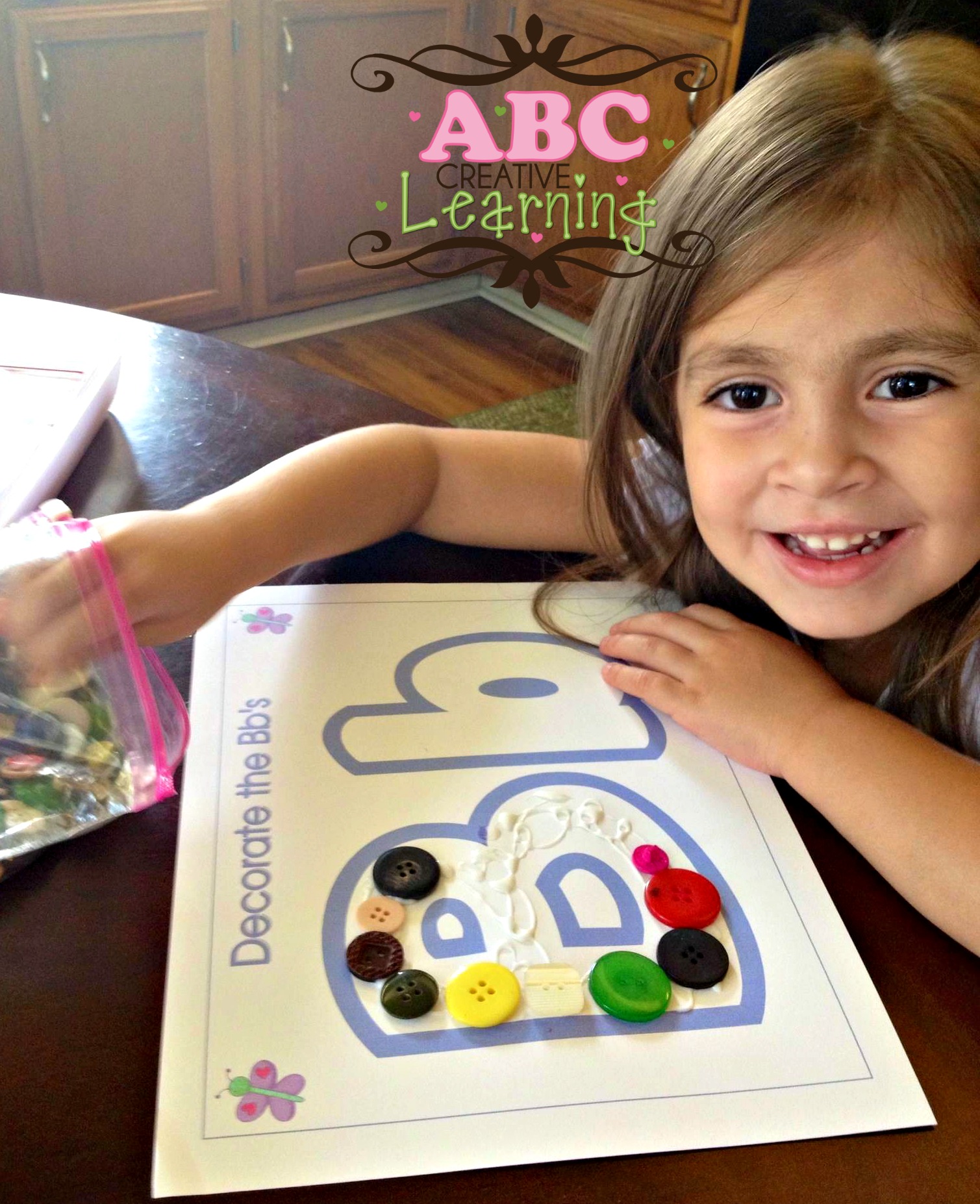 For our daily lessons we did a mixture of manupulatives, arts & crafts, story telling, music, and worksheets.  We also used several different resources for our letter Bb lesson.  We started our morning lesson like we do everyday by starting with Circle Time.  We did our Calendar & Weather and then sang our morning songs by Dr. Jean and Friends.  Then we go straight into a story.  This past week we took some time to go to the library and check out some books that began with the Letter Bb.  Like I mentioned before I used my iPad Kindle App to download The Three Billy Goats Gruff book.  We started off by doing a picture walk of the story and me asking Princess what she thought the book was about after looking at the pictures (predicting).
Once we finished Calendar & Weather we would read the book twice everyday (yes twice!).  She really liked it when the Large Billy Goat Gruff sends the Troll flying! 🙂  One of the games we  played was a matching game of The Three Billy Goats Gruff created by 3 Dinosaurs.  I used the pictures with the words on the bottom and had her read the word underneath every time she flipped a card over.  After we finished playing the game she asked me when we were going to start our lessons!  Exactly what I was trying to achieve!  Two thumbs up for me 🙂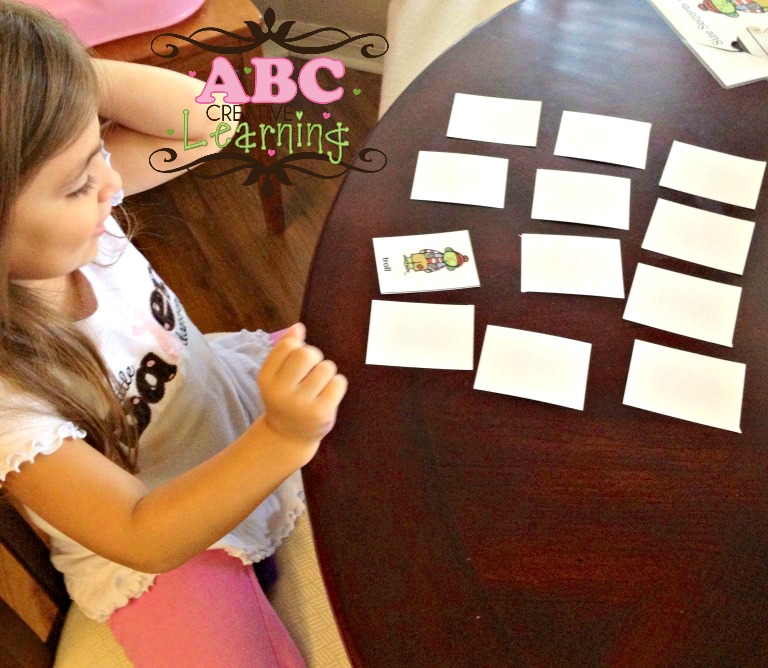 We did several math activities with this packet as well.  Princess got to work on Patterns "What Comes Next?", Size Sequencing using the Troll and the Billy Goats Gruff, Coloring by Size, and many more.  Some of the activities like the Size Sequencing I laminated first and then cut them out.  This way I could add them to their centers area and she would be able to take them out whenever she wanted to practice. Also, I'm hoping they will last for me to use with lil' Cheekkers in a few years. 🙂
One of her favorite activities we did towards the end of the week was the story telling file folder I made her using the Three Billy Goats Gruff printables.  I used a file folder which has a pocket where all the pieces are stored.  I again laminated all the pieces, cut them out and added a piece of velcro behind each.  I then attached the second piece of velcro to the folder.  This gave her an area where she could retell the story using the cut outs.  She was overly excited to share this with her daddy several times during the week.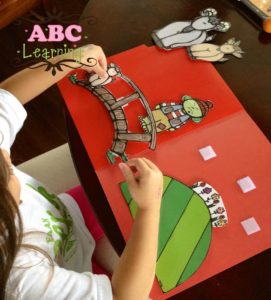 This week we introduced the letter Bb and because we kinda touched a bit on all the letters last year I decided that we would work on letter recognition (upper/lower case) and letter sounds.  I also have flash cards that my Pre-K assistant made for my classroom when I used to teach, so we use them now for every letter.  Each card has the letter, a picture that begins with that letter, and the word with the letter B highlighted.  I do need to redo this stack because it only includes the upper case B and I would like it to have both upper and lower on the cards.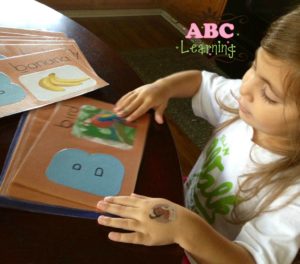 We also used the letter Bb poem from Confessions of a Homeschooler, B is for Butterfly.  After we read the poem several times that week Princess was reciting it with me.  At the end of the week I had her do a letter Bb search.
For the letter Bb handwriting I really liked 3 Dinosaurs Letter Packet.  I laminated the sheet so that we could use them several times in the week and I could add to the art bucket at the end of the week with some dry erase markers.  She really does enjoy being able to erase anything herself if she makes a mistake.  I'm not too picky on her writing right now, but I do make sure that she is forming the letter correctly.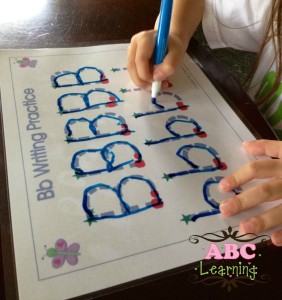 I also decided to try out some sight words and reading this year.  We did a bit last year and she was picking it up pretty quickly, so this year I am using This Reading Mama's Reading the Alphabet letter books.  I personally love them and it's something that I would definitely use in the classroom with my students.  I know that I will be using these and a few that I have saved up throughout this year.  Princess loves to read so I know that it's something she is enjoying very much and loves reading to her little sister and daddy.  On Friday I had her read her book to me, highlight the sight word "can" on each page, and then circle all the letter Bb's in the book.
We also did several letter Bb arts & craft activities throughout the week.  Lil' Cheekkers always participates.  It's definitely her favorite thing to do with her big sister!  Some of the art work we did was making butterflies, gluing buttons on Bb, we read "Baby Bear, Baby Bear, What do you See?" and made little bears.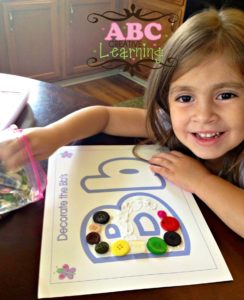 As you can see we had a very busy and fun week learning about the letter Bb!  Hope to see you soon for our next Pre-K Lesson!