Are your kid's fans of Disney movies like Teen Beach, Descendants, and Zombies? Then they are going to love the newest movie Freaky Friday: A New Musical, which is now on DVD! Your kids are going to be singing about biology in no time! Pick up your own copy and you'll see what I mean! This is a sponsored post on behalf of Disney, but all musical opinions are my own. Post contains affiliate links.
Freaky Friday: A New Musical Now On DVD
My girls are both fans of the original Freaky Friday movie, but this version of Disney's Freaky Friday: A New Musical is right up their alley! Think modern, lots of choreography, and jokes they understand. After watching the film a few times this past weekend, they had some of the songs already memorized! Unbelievable! Why can't they learn their school spelling words just as fast? Here are a few reasons why you and your kids are going to love Freaky Friday: A New Musical!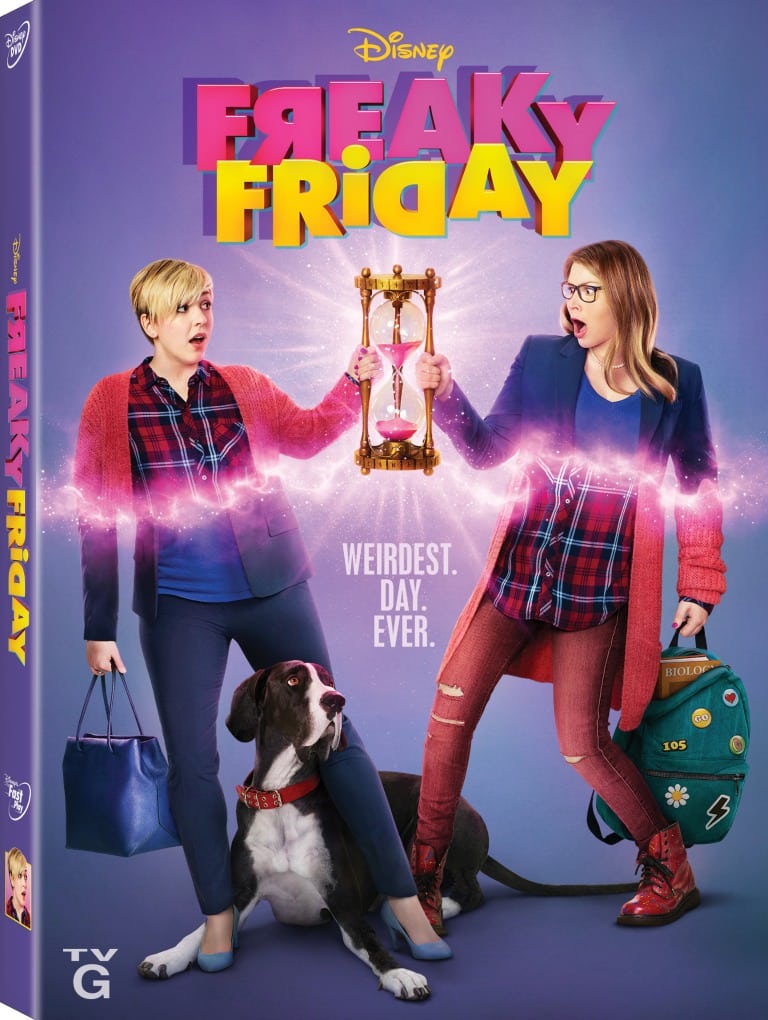 About Freaky Friday: A New Musical
A contemporary musical update of the classic comedic story, "Freaky Friday" is based on Disney Theatrical Productions' stage adaptation of the celebrated novel by Mary Rodgers. Sixteen-year-old Ellie Blake and her uber-organized mom Katherine, are constantly at odds about Ellie's messy room, sloppy clothes, and seemingly careless attitude. Ellie really misses her dad who passed away a few years ago; she bickers with her younger brother and argues with Katherine who's getting ready to marry her fiancé, Mike – tomorrow. As mother and daughter quarrel, they accidentally break the treasured hourglass given to Ellie by her father and then, suddenly, they magically switch bodies. Now, Ellie and Katherine must trade places at work and at school, and, during one crazy day, they'll learn to understand and appreciate each other.
A Fun Musical
Musicals are back and the kids are loving it! I mean Disney knows how to get a song some attention and this case my girls were singing about biology all weekend! Yes, you read that correct, biology! Who sings about biology and makes it fun? Disney that's who! So make sure you leave some dancing room while watching the movie and watch your kids be kids!
Positive Messages For Kids
One of my favorite things about Disney's newest version of Freaky Friday is how the touch base on real-life issues kids are experiencing themselves now. From school cliques, body image, and getting along with parents. I like how the issues were brought up in the storyline, but then they all took a positive turn all while keeping the musical theme to it. Think about it. Kids pick up on songs so easily, but when it comes to real-life issues we can go blue in the face. Instead, they pick up these songs with a positive message.
Check out "Just One Day" below from the film Freaky Friday!
If you want your kids to enjoy a fun family movie then make sure to pick up your copy of Disney's Freaky Friday: A New Musical now available in stores or order your copy on Amazon today. DVD includes Bonus Features, Bloopers, and Audition Tapes!

You Are Also Going To Love:
If you enjoyed reading about Disney's Freaking Friday: A New Musical, then you will also love the following Disney movie reviews I have put together for you:
Have you watched Freaky Friday: A New Musical?